Content Creators
How Sunia Mukherjee Managed to Leave Her Full-Time Job After Joining Pepper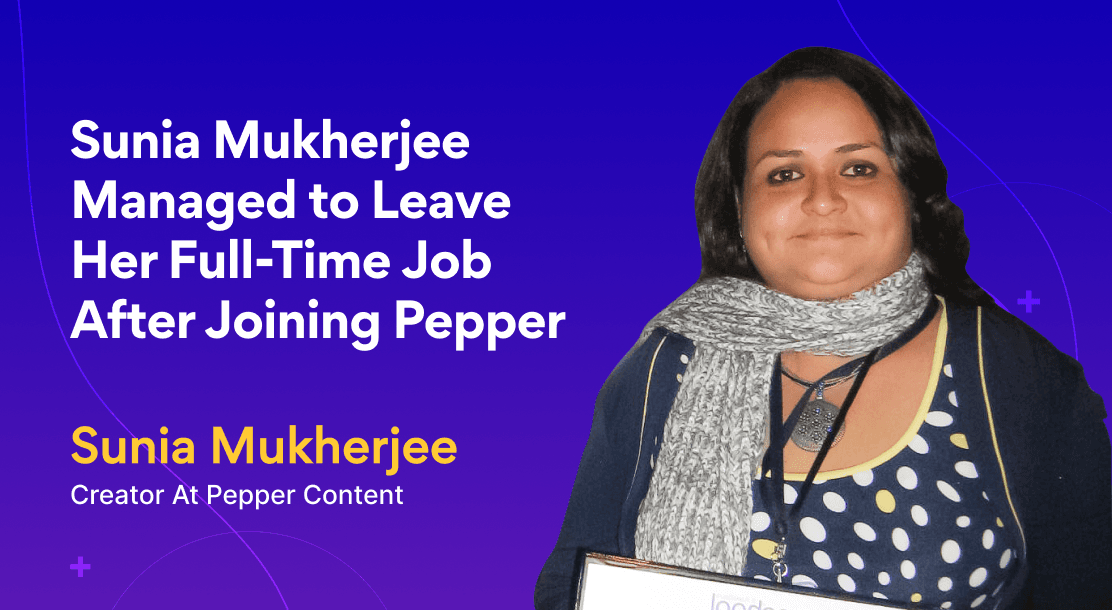 Sunia is a 45-year-old experienced freelance content writer based out of Bengaluru. She has expertise in the lifestyle, business, and entertainment niches. She nurtured her fascination for language during her school days and went on to write poetry, essays, and journals in college.
"There were many contests happening in college. I used to participate in many, and bring home awards. It helped me develop my writing skills," says Sunia.
Writing being her forte, Sunia won a three-year achievement award from Lady Sri Ram College, presented by honorable Dr. Manmohan Singh. Sunia always considered writing a cherished hobby but held on to her corporate career. She worked for companies, such as GE, Infosys, and Accenture, in the 2000s.
Starting Her Freelancing Journey
As she climbed the corporate ladder, she realized how job security was a major issue in the corporate world. "Never depend on a single income (sic)." Heeding these words from her idol, Warren Buffet, she decided to look for secondary sources of income to support herself. A colleague at Accenture motivated Sunia to explore freelancing.
It was then that she got introduced to her first few clients, and a stream of consistent work through referrals began soon after. At first, freelancing was a side-hustle, which she juggled with her full-time business development job. She had been managing both since 2014, and only recently decided to quit her full-time job.
Personal Struggles
Being a single child came with its own set of struggles. She was the sole breadwinner of her family and took care of her parents. Since she was living alone in Bengaluru, she also had her own expenses to manage. So, an alternate source of income was a huge support to her.
Enter Pepper
Sunia recalls how before joining Pepper, freelancing was quite an unstructured process for her. Freelancers often have to deal with delayed (or withheld) payments and vague feedback, with no one to mediate. When she started her journey at Pepper Content, she was impressed by how the procedures, support channels, and technological infrastructure were in place.
She was introduced to Pepper Content through an online job board. She says that Pepper has been her highest-paying gig to date, and it has provided her with the much-needed financial security. It gave her the courage and confidence to leave her full-time job in November 2021 and prioritize her personal well-being. She felt more at peace and loved the freedom that came with it.
Her Writing Career So Far
Even though Sunia has expertise in a few verticals, she does not limit herself. She likes to explore new niches, such as crypto and finance, which motivates her to keep learning. She shares that writing has taught her more than any job she has ever taken up.
Sunia wishes to pen an autobiography and help people with all the good and bad experiences she has had. Her primary motivation behind it is her late parents, who were also authors. She also has a passion project of translating her mother's book, The Spiritual Journey of Rabindranath Tagore, from Bengali to English. The book serves as a promise of love to her mother, as well as a warm farewell.
Battling Hardships
Sunia faced many ups and downs in her corporate career. From unexpected layoffs to inconvenient transfers, it has been a turbulent journey. The stress of finding and keeping a job is immense, especially for someone who is managing everything on their own.
But Sunia is a woman of will and determination. She turned her life around by taking ownership of her career. She managed her corporate and freelancing life for years, excelling at both. And yet, along the way, she managed to keep her passions alive, and still inspires many to explore the field.
Message to Fellow Writers
Sunia advises fellow writers to keep building their writing skills. Although automation is making many skills redundant, content writing still requires a human touch. From translating and publishing to social media management, content writers are needed everywhere. So it's a good time to get started.
"If writing is your passion, do it. It's a good idea to have writing skills, as they come in handy in every sphere of life," says Sunia.
With this, we conclude Sunia's story. Pepper will continue to help supercharge her freelancing career. We are building a community of thousands of such creators who are driving monumental changes for our clients. Come, be a part of our growing family.