Content Creators
How Priyansha Mittal Got Her First-Ever Freelancing Gig With Pepper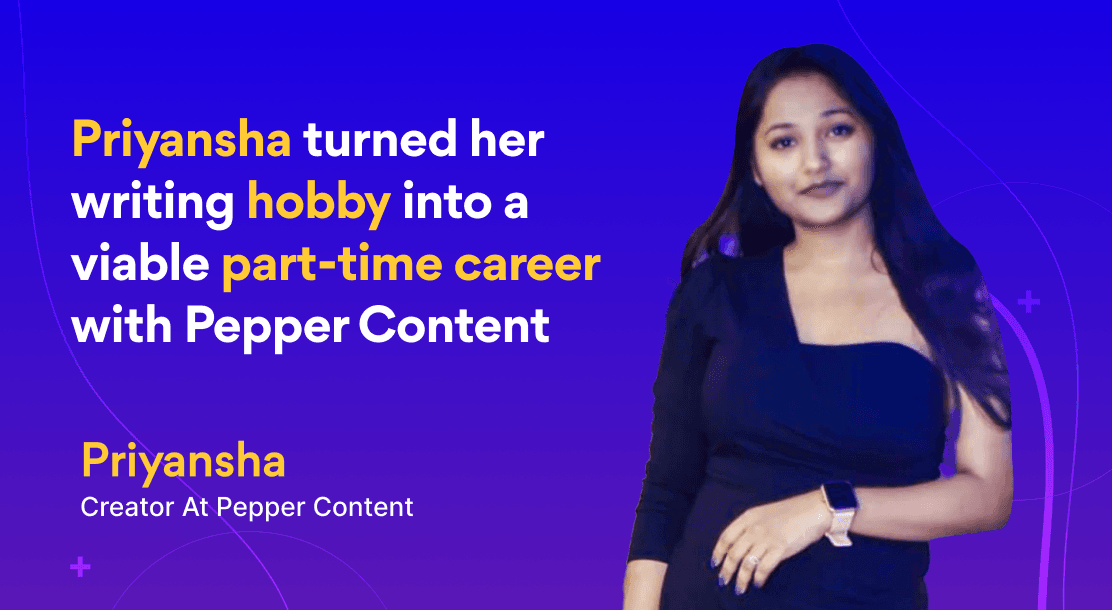 We share the story of Priyansha, a content writer and HR professional, who started freelancing with Pepper and built a great source of passive income.
Brought up in Lucknow, the city of Nawabs, Priyansha is a 22-year-old content creator working with Pepper. She is an HR by profession, who has a penchant for writing and a curious fascination with the automotive industry.
"I've always loved jotting down my thoughts and ideas. I used to write journal entries, but never saw it as a profession before Pepper came along," says Priyansha.
Priyansha credits Pepper with kickstarting her freelance journey and helping her turn her hobbies into a viable part-time career. Writing also gives her an opportunity to stay updated on the current happenings and trends in the fields she likes.
Discovering Pepper
Priyansha learned about Pepper Content while scrolling through her Instagram feed. She came across a story from another Pepper creator who posted their earnings dashboard. She was instantly interested in Pepper's vision for creators and the opportunities she might get.
"That's when I was convinced that I should try it too. I can write well and should see where this goes," she recounts.
Priyansha went ahead and signed up as a Pepper creator. She passed our writing tests with flying colors. She has been with Pepper for about five months, and within such a short time, her skills have grown by leaps and bounds.
Her Goals
When asked about her future plans, Priyansha conveyed her determination to pursue writing, at least as a part-time career. "I'm still undecided about full-time freelancing because my core profession is something else," she shares.
Priyansha likes where she is right now, in terms of her career. Content writing has helped expand her knowledge beyond the boundaries of her full-time profession. It is one of the factors that fuels her writing prowess. Self-growth is equally important to her, and she plans on maintaining her focus on self-development.
Initial Challenges
Being new to the field, Priyansha faced several hurdles while transitioning from creative writing to content writing. Even though she had basic knowledge and great interest in the automotive industry, she felt a little lost when writing on complex topics. But she faced the challenges head-on and polished her research skills.
Her writing process involves spending 60% of her time researching the topic. "This used to take a lot of time in the beginning. Now, it's getting slightly easier," Priyansha tells us.
Projects outside the automotive genre were a harder nut to crack for Priyansha. But the research skills she has developed now help her tackle any project deftly.
Growing With Pepper
Before joining Pepper, Priyansha was on the lookout for other income sources, and she is pleased with the additional passive income she's earning now. Although she may not be able to continue her full-time job (due to higher studies), her freelancing income will remain consistent.
"Pepper always comes up with great ideas to engage creators. This creator story feature, for example, will be a huge motivation for me," she says.
Time seems to be a major constraint for Priyansha. As she manages a nine-to-five job along with her personal life, it leaves little time to devote to freelance work. She tries to tackle the issue by segmenting her work schedule. She focuses on her full-time job during weekdays and takes on freelance projects over the weekend. "Fortunately, I can just turn off my availability on Pepper's creator portal when I don't have the bandwidth for assignments," she tells us.
Message to Fellow Writers
According to Priyansha, consistency is extremely important, as you advance in your freelance career. She feels if you are not consistent with your efforts, you are more likely to quit. She also suggests that when starting out, newbie freelancers stick to what they are passionate or confident about.
"It can get challenging sometimes. But sticking to your passion makes you grow and achieve something worthwhile," Priyansha expresses.
It's just the beginning of a long, glorious freelancing career for Priyansha. We are committed to helping creators turn their hobbies into viable career opportunities. Creators like Priyansha are crucial to our efforts to change the content landscape of India. So if you wish to give wings to your passion, join us as a creator today.