Marketing
Content Distribution vs Content Syndication: A Guide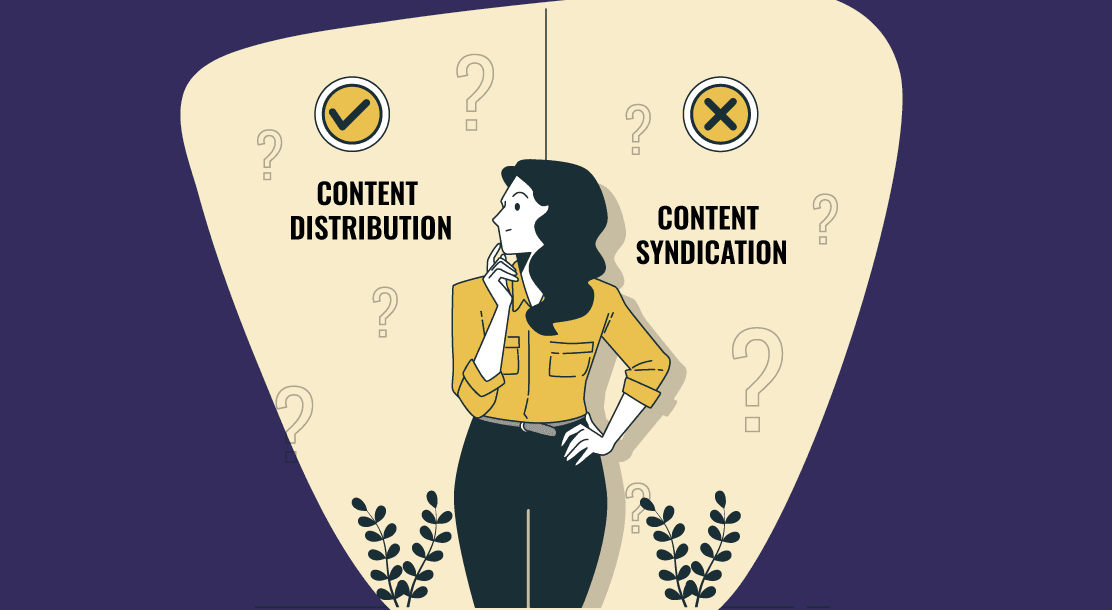 Table of Contents
What Is Content Distribution?
What Are the Benefits of Content Distribution?
What Is Content Syndication?
What Are the Benefits of Content Syndication?
Best Practices for Content Distribution and Content Syndication
Conclusion
FAQs
Brands that want to stand out connect with an online audience that needs high-quality, entertaining content. However, the location of such material on the internet can have a significant impact on who sees it and whether it increases conversions.
To put it in another way, if you're only generating outstanding material on your website and don't have a plan or strategy in place to distribute or syndicate it, you are restricting your content's reach and impact. And you're probably allowing your competitors to take advantage of new leads and clients too. This blog is a guide to understanding content distribution vs content syndication, and how each works to scale up your company's needs.
What Is Content Distribution?
The act of promoting material to internet audiences in many media types via various channels is known as content distribution. Owned, earned, and paid media are the three types of channels available for content distribution.
Owned content distribution refers to the distribution of content to your web properties, such as your blog, email newsletter, social media, or microsite. Third-party content distribution, such as press coverage, guest article contributions, retweets or shares, or product reviews, is known as earned content distribution. Paid content distribution is when you pay for the distribution of your content. Payment can take numerous forms, but it most commonly takes the form of pay-per-click (PPC) advertising, in which the content owner pays the platform a certain amount each time someone clicks through to read the material.
What Are the Benefits of Content Distribution?
Content distribution has many benefits, a few of which are mentioned below.
Increased shares
Gaining exposure for your material by securing coverage or paying for placements on reputable media outlets might result in a big increase in social shares. Earned media coverage will take on a life of its own, generating social shares and linking back to your content. Paid advertising, such as native advertising, will drive more traffic to your content, resulting in more shares.
Increased traffic
The traffic to your branded content will be greatly increased as a result of the earned and sponsored media you've advertised your material to, as well as increased social shares. There are dedicated media outlets whose sole business model is content having a higher readership than corporate blogs. To attract more visitors to your branded content, tap into their audiences directly through content promotion.
What Is Content Syndication?
When a third-party website republishes web-based content, it is known as content syndication. Blog entries, articles, infographics, videos, and other types of digital content can all be syndicated. Consider it a sort of barter arrangement. While the content provider offers relevant content to the third-party website, the former receives exposure and attention, as well as backlinks to their website, resulting in increased organic traffic.
What Are the Benefits of Content Syndication?
The following are a few benefits of content syndication.
Target audience exposure
Syndicating your material allows you to reach people in your target demographic who would otherwise be ignorant of your existence. Some of the biggest syndication platforms have large social media followings that you may tap into, potentially causing your material to go viral.
SEO improvement
Syndicating your content appropriately delivers additional author bylines as well as high-quality links back to your website. You may also have the option of customizing the link's anchor text, which will help your SEO. You can often include links to your website or social network handles in your author profile or provide a call-to-action inside the text of your post.
Lead generation
Your portfolio of qualified leads may develop as a result of boosting your visibility to a new audience. Republishing content helps you to meet a section of your target audience where they are, providing them with the information they seek, and in the places where they are already looking.
Brand reputation
Republishing your material on well-known and high-authority sites elevates your brand's profile and establishes you as a thought leader in your area. People are more likely to believe in your message if they consider you a trustworthy source.
Increased awareness
One of the most important advantages of content distribution is that it can greatly boost the visibility of your branded material. Earning a placement (or, better still, syndication) in a popular media outlet or community frequented by your target demographic helps new readers discover the brilliance of your content. A blog-and-pray strategy, in which content marketers rely solely on corporate social media accounts and organic search to promote material, might severely limit your content's visibility.
Higher conversion rates
We make no apologies for the fact that the primary reason we develop content is to increase conversions. Increased social shares, traffic, and exposure from earned and sponsored media will lead to more conversions unless your content isn't set up to convert. In many circumstances, media outlets will link straight to high-impact information behind a gated lead form, such as guidelines and studies.
Best Practices for Content Distribution and Content Syndication
While content distribution is a means to disseminate your content to various media outlets and online platforms, content syndication is the republishing of your content by third-party websites by seeking your permission.
While there are small but significant distinctions between content distribution and content syndication, the good news is that there are some best practices that apply to both strategies— and that you can use them to simplify and optimize your content distribution and syndication processes. Here's a rundown of some of the most important best practices for distributing and/or syndicating your company's content.
Clip longer content
Just because you're distributing your content through other sites or platforms doesn't mean you have to post the entire piece. It may be more effective to just publish or syndicate a fragment of your material with a link back to your site (so the audience has to go to your site to see the rest of the piece).
This might be a good approach to ensure that your content syndication and distribution initiatives are bringing traffic back to your site. It can also help your site's SEO by increasing the number of high-quality backlinks it has.
Optimize and customize
Create metadata (e.g., title tags, descriptions, etc.), for each piece of content you'll be distributing and/or syndicating so that search engines can easily figure out what it's about. Customize the metadata for each content distribution channel when you share or syndicate a piece of content. This can assist a piece of content in blending in with the rest of the site and resonating with its target audience. It can also aid in the prevention of content duplication or penalties.
Don't forget visual and audio content
Don't forget to include videos, podcasts, and other non-written content in your distribution and syndication plans. Certain parts of your target audience may find these forms of content particularly intriguing.
Involve your audience
Engage your audience in the distribution and sharing of your content by encouraging them to share it. You may even design incentives for them to keep them motivated (like offering some discount, giving them a free product, etc., in exchange for them republishing your content via their LinkedIn profiles, websites, forums they belong to, etc.)
You can even go a step further and ask your audience to create content for you. A contest or challenge that needs your audience to create some piece of content for you (such as a film) and then share it as a method of participation is a terrific way to do this.
Choose between free and paid mediums
While there are many free choices for distributing and syndicating material, there are also commercial options that can help your content reach an even larger audience. Paying for more distribution or syndication strategically can help scale up your overall content marketing efforts.
Monitor analytics data
Analytical data will reveal which platforms and/or third-party sites are bringing traffic to your website. This might help you figure out which solutions are the most (and least) effective for distributing and syndicating your material in the future.
It can also help you determine which themes are more attractive to your target audience, whether it's time to pay (or stop paying) for distribution or syndication, which calls-to-action (CTA) are generating more conversions, and so on. Essentially, by tracking analytics data, you can determine what is and isn't working in terms of content, allowing you to continually modify and improve these techniques.
Reciprocate
While you should have a good plan in place to get your material spread and syndicated online, you can also increase the authority and rankings of your site by sharing or syndicating the content of others.
To put it in another way, don't just create content to share or syndicate. Look for ways to become a distributor or syndicator of other people's high-quality content. This is a simple method to publish useful material on your site, which will also help you cultivate relationships with affiliates, thought leaders, and influencers.
Conclusion
When learning about content distribution vs content syndication, it is important to know that both are crucial components in making any brand's content marketing initiatives as effective and profitable as possible. Rather than depending on the "if I publish it, they will come" mantra, content distribution and syndication allow marketers to be proactive in getting their content in front of their target audience online.
FAQs
1. What is content distribution?
The process of sharing, publishing, and promoting your material is known as content distribution. It's the method by which you distribute your content to your target audience via numerous channels and media formats.
2. What is content syndication?
Republishing the same piece of information on one or more websites is known as content syndication.
3. What are the benefits of content distribution and content syndication?
There are several benefits of using both content distribution and syndication, the most significant of which is boosting your website traffic.
4. What are some commonly used paid distribution channels?
Paid distribution channels require you to pay for the content to be seen, accessed, or promoted. Google Ads, social media advertisements, influencer advertisements, and banner advertisements are a few of them.
5. What are the steps in a content distribution strategy?
Here are a few steps in a content distribution strategy. 
– Find your target audience
– Decide on the goals of your business
– Choose distribution channels
– Choose content types
– Distribute
– Analyze and test
– Improve with past data