Branded Content
Marketers, Avoid These 6 Branding Mistakes to Stay Ahead of the Game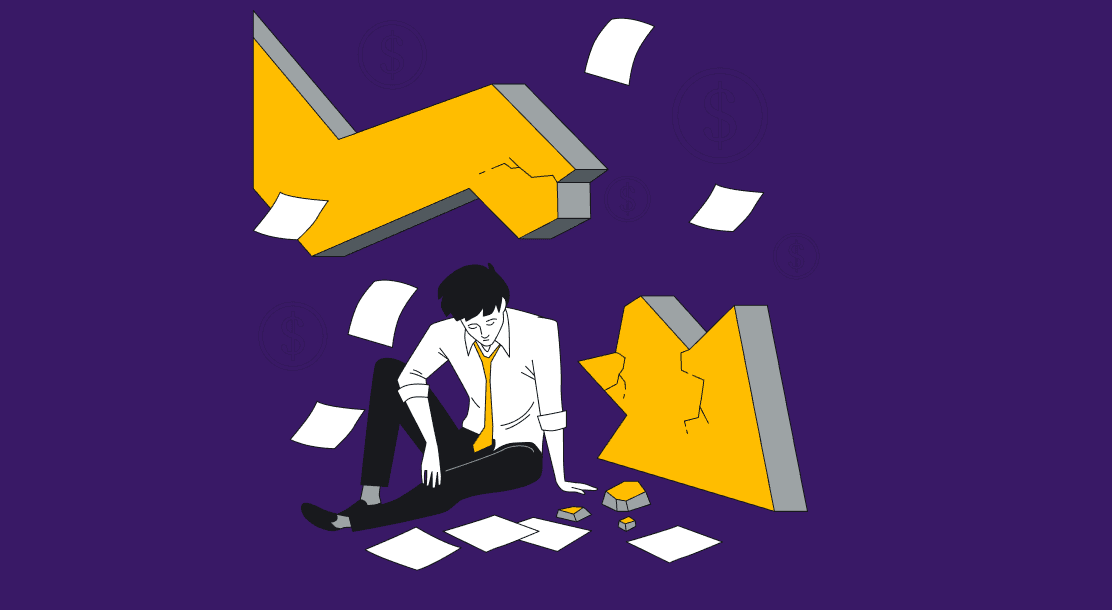 One branding mistake can break your marketing game. Here are some of the common branding mistakes to avoid.
Table of Contents
6 Branding Mistakes To Avoid 
Key Takeaways
Conclusion
FAQs 
Branding can make or break your marketing game. So, it must be treated with caution. One mistake and your branding strategy is done for. Of course, more prominent companies and conglomerates can bounce back. But it's not the same for smaller businesses.
Take, for example, the toothpaste brand Colgate's foray into ready-to-eat meals in 1982, complete with the same logo and branding. The concept of a toothpaste company coming up with something as different as a ready-to-eat meal confused customers and didn't convey the right message well enough. Unfortunately, things didn't work out for them, and they closed down that side of the business.
This blog lists down the 6 common branding mistakes to avoid to ensure your marketing strategy runs smoothly.
6 Branding Mistakes To Avoid
1. Not communicating the brand message effectively
One of the most common branding mistakes businesses make is forgetting to address their intended message to their audience. They fail to meet the essential requirement to sell their products instantly and meet their targets. As a company, if you want to get a lucrative return on investment and efforts, you need to ensure that your target audience is fully informed about your message. 
To ensure this, you can divide your audience into separate groups. One of the most significant things you need to study and understand is your target audience. Decide who you want to target and what their needs are. After that, finalize the logo, design, and images to get better audience engagement and a perfect experience on the web.
After that, start curating the message you think they would relate to. One thing that you should bear in mind is to have a mobile app and an optimized website. People these days like to keep everything on their mobiles and use smartphones for everything.
2. Being inconsistent
If you want to be on your customers' favorites list, you need to maintain consistency across all your platforms. Inconsistency will make you and your brand look unprofessional, and it will also harm your credibility. You must use the same logo, theme, tagline, font, pattern across all the company's platforms—social media, website, advertisements, and print collaterals. Go wide with your efforts, and leave no stone unturned when it comes to this. Don't forget, every single step counts. In an ideal scenario, your customer must hear your brand name, logo, tagline time and again.
Inconsistency is one serious branding mistake that should be avoided at any cost. You can also create a guide with specified font, color, theme, and other details and use it to reference all the projects and platforms. 
3. Mixing branding with PR
Another common branding mistake that many organizations tend to make is equating public relations with branding. However, they need to understand that branding and PR are two different aspects and cannot be merged. Branding is not only about managing the organization's reputation. It has two distinct elements: communicating with the target audience and providing customer experiences. Communication with and reaching out to the audience will not work unless you fulfill your promise and deliver what you have promised. 
4. Getting a new name for a new product
Let us talk about another branding mistake example— introducing a new brand name for a new product. If you have a decent reach and audience base for your existing brand, it's better to launch new products under the existing name. 
The reason behind this is straightforward and logical. If you start working on a new brand, you will have to start everything again. You have already invested vast sums of money, time, and workforce on building your existing brand and winning the trust of your audience.
Starting again from point A will require you to do all of this again, and even after that, the same success rate and brand reach are not guaranteed.
It has often been seen that companies that have tried to launch new products under a new name have failed. Companies like Apple and Samsung are the few names that have expanded their umbrella under the same name.
Another branding mistake you need to avoid is getting overconfident with your brand. That is what went wrong with Colgate's ready-to-eat meal campaign, which we mentioned at the start of this blog. They were overconfident that their name would be enough for the product to sell. They continued to use the same strategies, which proved to be their biggest branding mistake, and as a result, the audience couldn't understand the company's message. 
5. Being unsure of how the world will perceive your message
One common thing among several organizations is that they don't know how the global audience will perceive their message. The thing that works at one place might be of no use at the other. Even though you are not a multinational company yet, we are sure you are looking forward to hitting the international charts soon. And, if that is the case, you need to have a proper understanding of how the audience from different countries will understand your message.
Let us help you understand this with a branding mistake example from Pepsi. This well-known cold drink company launched itself in China with the tagline, "Pepsi Brings You Back to Life." The company translated the tagline into Chinese to run its campaign. This is where things went off-track. Due to translation errors, it translated into "Pepsi Brings Your Ancestors Back From Graves." 
In a country where people follow their customs religiously and worship their ancestors, this error cost the brand its reputation and existence in the country. Hence, while running such campaigns, it is essential to keep religious and demographic factors in mind.
6. Being irregular with customer feedback
Another branding mistake to avoid is being irregular with customer feedback. While some organizations tend to overlook this factor, it plays a crucial role in building the brand's image and holding the audience's trust. Along with it, the importance of customers in your business goes without saying. Hence, knowing what your customers feel about your brand is crucial. Ask for your customers' feedback regularly. Ask them how they like it or if it needs any improvement. It will make them feel valued and improve your brand image. 
Key Takeaways
Branding plays a crucial role in making your product a great hit or a big flop. Hence, when it comes to branding, go the extra mile if you must. 
One of the most common branding mistakes that organizations make is that they don't communicate their message to the audience clearly. 
As a brand, avoid the branding mistake of not staying consistent across all the platforms. Use the same logo, name, color theme, and tagline on your social media and your website. 
Never end up mixing the concept of PR with branding. Both are different things and have different requirements. 
If you are thinking of launching a new product, don't go with a new brand altogether. Continue with the existing one; it will save your time and money. 
Consider the global audience based on their religion, customs, and location. Respect their sentiments, and make sure none of your branding elements hurt their feelings. 
Collect your audience's feedback regularly. It will help your brand grow. 
Conclusion
Many brands make most of these branding mistakes and hinder their growth. If you are starting now, we would advise you to have a deep understanding of what good branding is and how it can affect the development of your organization; it will save you from making costly mistakes.  
FAQs
1. What are some common branding mistakes?
Not being clear about your brand's strategy.
Not being able to define your brand. 
Being inconsistent.
Not delivering the message correctly. 
Inconsistency in collecting customers' feedback.
2. What mistakes do companies make with branding?
Not having a proper logo. 
Underestimating the power of effective branding strategies. 
Not going through the content before publishing it. 
Ignoring the customer's feedback.
3. What brands are failing?
One of the most common reasons behind the failure of several brands across the globe is the usage of outdated branding strategies. Organizations need to understand the importance of staying updated with their strategy and delivering services accordingly.

4. How can we build a strong brand?
Analyze your competitor's strategies, 
Study the audience
Use the latest branding strategies. 
Maintain consistency.
5. Is building a brand hard?
Honestly speaking, no, it's not difficult to build a brand. However, given the competition, it is difficult to maintain your company's name. But with proper branding strategies, even that becomes easy.
6. What is a brand identity?
A brand identity is defined as the visible elements of a brand such as a logo, color, tagline, design that help the customers identify the brand in their minds.