Branded Content
What Are Branded Games, And How Can They Help Content Marketing?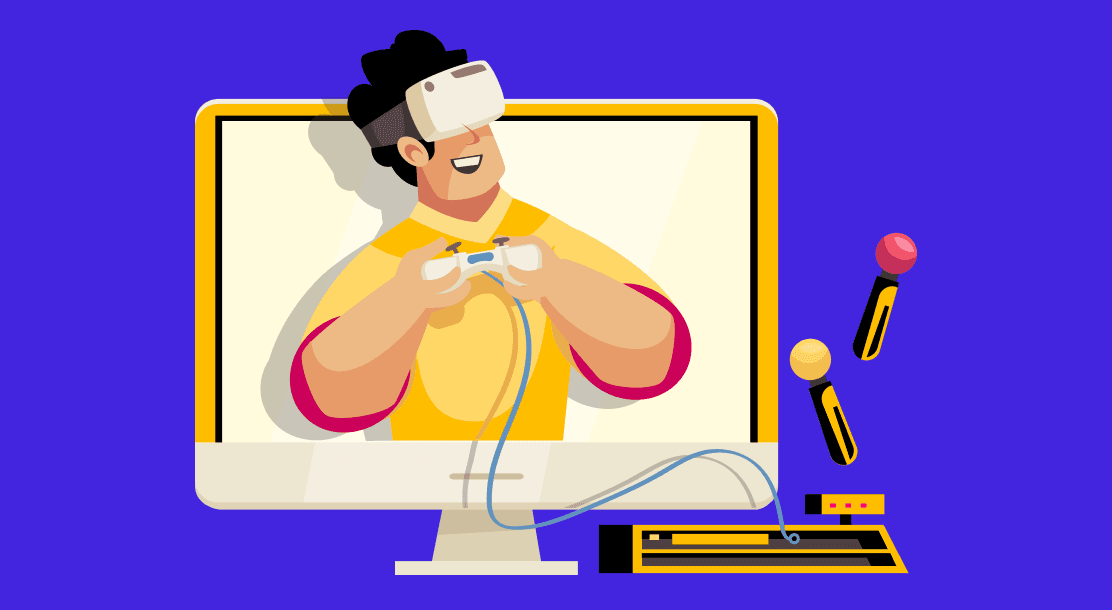 Let's understand what branded games are, and how they are helpful in boosting content marketing.
Businesses, nowadays, pitch their products and services to customers in novel ways. Marketers are now using more and more sensory material to reach out to buyers. This material includes images, videos, animation, and most importantly, branded games.
Using interactive media, such as branded games and graphics, makes the content even more engaging. With the rapid growth of technology and digital media, it is imperative to be able to engage customers with your marketing messages.
Gamified content has become an essential part of content marketing, and is gradually being used by a number of brands today. Branded games like quizzes, who-would-you-rather questionnaires, contests, etc., involve the customers in a two-way engagement, thereby delivering the marketing message to segmented and targeted groups in an interesting manner.
What Are Branded Games?
Games crafted by brands for marketing purposes are known as branded games. They usually contain an advertisement or a marketing message. Branded games serve the purpose of engaging the consumers in a meaningful manner. Today, the most effective way to lure in visitors and convert them into potential customers is by engaging them in interactive branded games. Branded games also have a high cost-value ratio. And by analyzing their performance, you can get important insights about your customers.
In today's rapidly evolving digital realm, branded games provide crucial digital spaces for brands to interact with their customers. In a way, branded games are more than just marketing. They can be seen as extensions of a brand's identity.
How Can Branded Games Increase Your Content Marketing Potential?
Branded games, also known as marketing games, are highly effective in boosting the potential of a brand's content marketing efforts. Branded games are mostly HTML5-based. They work on web browsers and can be accessed on all devices, ranging from tablets and desktops to laptops and smartphones.
Branded games help a brand communicate with its customers while entertaining them at the same time. While other marketing methods may get a little redundant at times, branded games are slowly turning into a preferred choice of promotion for many marketers. This is because they are an assimilation of education, information, and entertainment.
Due to the interesting elements of the gaming mechanics, customers end up spending more time with your brand's marketing message. This leads to higher retention and recall value, in turn, elevating your brand's awareness. Branded games allow you to reach a wider audience. People might not want to engage with a stoic advert telling them to buy a product or service, but they consciously or unconsciously will indulge in interesting games and quizzes.
The built-in features of a branded game make it a highly shareable commodity. This is why games tend to get viral. Therefore, the brand has to spend a lesser buck per unique user. Brand gamification has been observed to boost engagement levels and compel users to take specific actions. Branded games can also enhance already existing loyalty programs.
Top 4 Examples of Branded Games
Here are four marketing campaigns that have incorporated branded games quite innovatively.
1. Mona Lisa's "spot the difference" game
A Barry Callebaut brand, Mona Lisa specializes in chocolate decorations. They created a "spot the difference" game to engage customers and also create awareness around their brand. There were two sets of images, wherein the customers had to spot the differences in the products, and the winner could scratch and claim their prize. In order to do so, filling out the lead form was a prerequisite. Through the lead form, the company collected customer information for its newsletter database.
2. Callebaut's scratch-and-win game
Callebaut, a Belgian chocolate brand, devised a scratch-and-win game to attract new visitors.
The invitation required the visitors to scratch three matching chocolate bags and win a sample of the product. The instant win factor is what made their branded gaming effort a success. This also gave the brand a chance to interact with the customers in a unique way.
3. The Perfume Shop's Valentine's game
An interesting marketing game created by The Perfume Shop, it was aimed at boosting the brand's sales on the occasion of Valentine's Day. The game involved a total of four chances, in which the participants had to locate the bottle of perfume behind three hearts. The brand used each of the turns to impart information about its products to the customers.
4. Benefit Cosmetics' interactive calendar
In order to add to their email list and create overall brand awareness, Benefit Cosmetics created an interactive calendar. The 24-day calendar had options that the customers could unlock. Each lock had some form of interactive content (think quizzes, personality tests, and the like) hidden underneath. Customers across many countries participated in this. Thanks to this branded game, Benefit's email list grew massively (75,000 subscribers). The game itself received half a million impressions.
Key Takeaways
Branded games foster a two-way engagement between the brand and its target audience. They are an assimilation of education, information, and entertainment.
Branded games also have a high cost-value ratio.
Customers tend to consciously or unconsciously indulge in games and quizzes. Therefore, branded games have the ability to attract a wider audience.
Branded games are highly shareable. Hence, they are also high in virality.
Branded games can also be used to impart information and educate the customers about the brand's products and services.
Branded games can be of various types, ranging from slot games, augmented reality (AR) games, simulations, and more. Coca-Cola, Disney, Toyota, and McDonald's are some of the brands that have already successfully inculcated branded gaming as a part of their content marketing campaigns.
While branded games are of different types and with different levels of mechanics and advancement, they all serve the same purpose. That is offering an entertaining experience to the customers, while simultaneously promoting a product or a service. While creating a branded game, it is extremely important to keep in mind the user experience.
FAQs
1. What is branded entertainment?
Branded entertainment is a type of advertising that has been gaining traction recently. It is the process by which an advertising message is paired with other entertainment content using mediums, such as TV shows, movies, games, etc. 

2. What are the various types of branded content?
There are several types of branded content being used by businesses today. This includes blogs, videos, games, e-books, case studies, podcasts, white papers, and e-newsletters, among others. 

3. What is the difference between branded and sponsored content?
Branded content is content that is produced in-house. In the case of sponsored content, it is produced along with the publisher's editorial team. 

4. What is the use of advergames in marketing?
Advergames (branded games) are games that are created to promote a brand's products or services. With the help of these games, brands can effectively make their marketing or advertising message seem like an embedded part of their digital gaming.