Content
8 Tips to Create an Effective Blog Calendar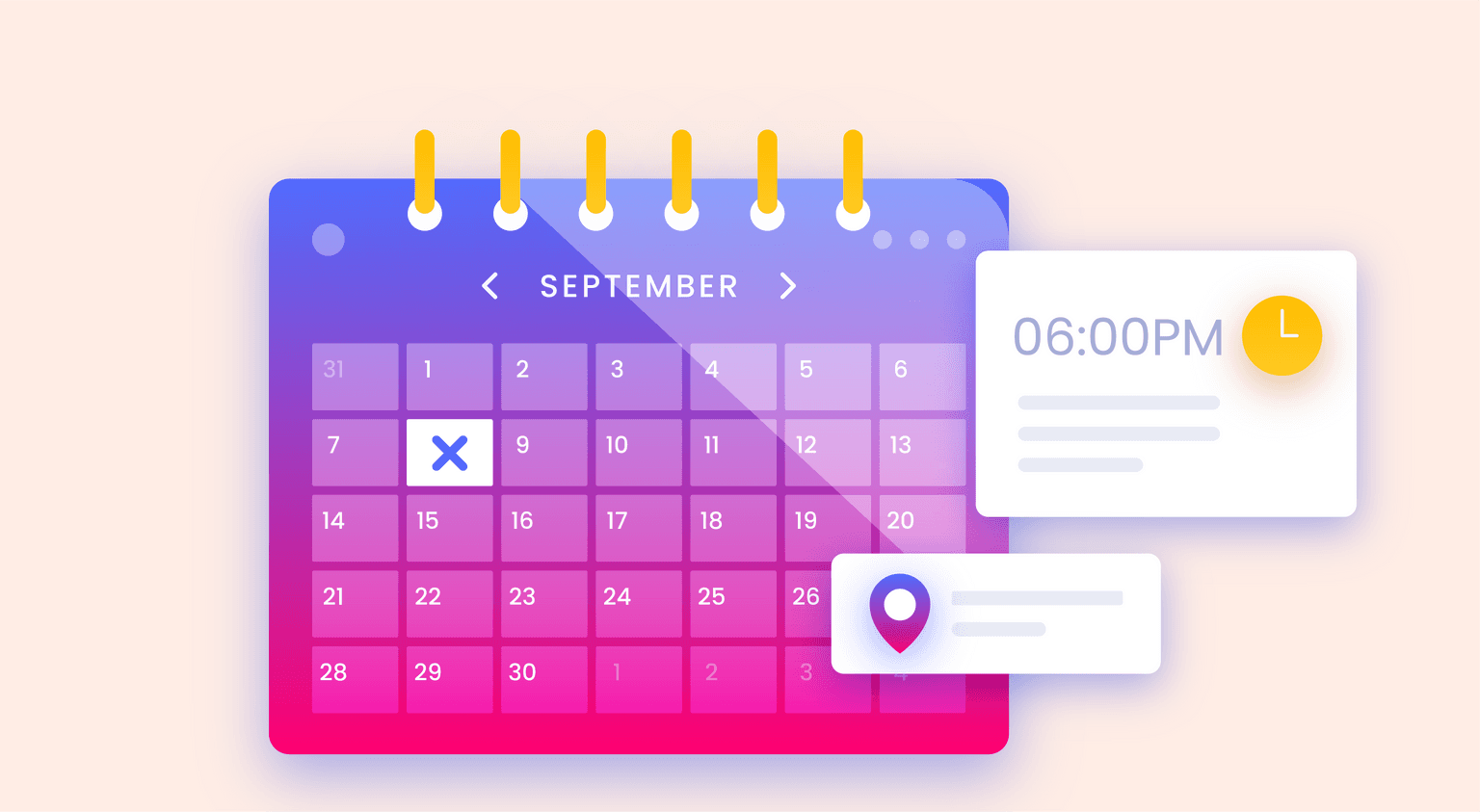 Table of Contents
Why You Need a Blog Calendar
What Is a Blog Calendar?
8 Powerful Tips to Create a Blog Calendar
Key Takeaways
Conclusion
FAQs
Consistency is an integral part of any content marketing strategy, and blogging is no different. However, as much as you would want to generate fresh, original and insightful blogs regularly, coming up with new content ideas for your blogs can be cumbersome.
If you are a blogger who is having difficulty managing a blogging schedule and searching for what topics to write on, having a blog calendar can come in handy. In this article, we examine the anatomy of a blog calendar and understand how having one can help you keep your blogging on track. We have also included a list of eight constructive tips to help you craft a stellar blog content calendar. So let's get started.
Why You Need a Blog Calendar
Despite what you may think, blogging is still a highly rewarding content marketing strategy in 2022. According to HubSpot, blogs were the second most popular content marketing format after videos in 2021. And while this is good news for the blogging community, it also implies that bloggers need to publish quality and relevant blog posts regularly.
When it comes to writing, editing and posting thousands of words on a consistent basis without compromising on quality, pre-planning is a must. And that is what a blog content calendar is meant for. Blogging, for side-hustlers as well as full-timers, is a serious project. Hence, to ensure that blog posts are conceived, edited, proofread, and published on time, having a blog content planner is a must. Having one also enables bloggers to stick to a writing schedule and not dedicate all of their 24 hours to a blog.
But what is a blog content planner (or calendar, as we call it) in the first place? And what all does it comprise? If such questions are popping up in your mind, the next section is for you.
What Is a Blog Calendar?
You can think of a blog post calendar as a tool that prevents your blogging train from derailing. It is a guide that helps you navigate your monthly or yearly (or both) blogging goals without getting overwhelmed. Since consistency is a key factor in blogging, it is essential to know what you are going to write about and when you are going to publish it. Having a blog calendar allows you to keep track of all your blogging topics/categories, their publishing dates/deadlines, and the status of each blog. In addition, when companies and organizations use a content calendar for their blogs, they can also add fields regarding which writer is working on which blog, and who is in charge of a particular blog category.
Blog calendars don't come in any specific shape or size. You can have a simple Google spreadsheet with a few fields or you can have a more detailed calendar that consists of hundreds of fields and keeps track of details such as keywords, market trends, popular blog topics, etc.
Now that you know what a blog content calendar is and what purpose it serves, it is time to make one for yourself. Here, we have compiled a list of eight easy tips that you can leverage to draft the ultimate calendar for your blogs.
8 Powerful Tips to Create a Blog Calendar
Creating a content calendar for your blog is not just about chalking out its layout and deciding what fields to include in it. Drafting an effective calendar takes a good amount of thinking and planning. A content calendar is a long-term strategy. Thus, how you design it is paramount to its efficiency. Below are some tips that will help you in creating the right blog content calendar.
1. Establish definite goals
The foundation for any good blog content calendar is the motive behind its creation. If you decide to create one out of the blue, chances are, that calendar won't be too useful.
You must know your business' needs first. So before you set out to create a calendar, sit down and contemplate why you want one. Is it for any concrete reasons such as attracting more traffic to your blog, increasing your content's engagement with readers, promoting a product or service, or streamlining your publishing process?
Once you have identified the purpose of creating a planner for your blog, you can proceed with the next step.
A quick Google search on blog content templates, and you are bound to be inundated by the multitudes of templates that will appear in your search results. And every one of those templates will claim to be efficacious and the most suitable for your needs. You might even be tempted to try a few of them out. After all, picking a template developed by someone else saves you the trouble of designing one yourself.
However, do keep in mind that most of those templates are generic and if you choose to go ahead with one, you will need to do a lot of adjusting to fit that template within the scope of your requirements. No, we're not downplaying the credibility of pre-designed templates. All we are saying is drafting one yourself is a better alternative.
When you decide on a template, you will already know your requirements. You can decide to have a simple spreadsheet with just three fields: "Date of Initiation", "Blog Topic", and "Date of Publication". Or, you can decide on a sophisticated calendar having several fields for intricate details. But, whatever you do, make sure to not squeeze in too many fields, which may prove to be counterproductive.
3. Determine how often you want to publish your blogs
Once you have settled on a calendar template, the next step is to define a realistic blog-publishing frequency. You don't have to be an overachiever and deliver more content than you can generate. Cases of bloggers setting unrealistic deadlines and blogging goals only to get dejected when they are unable to meet their targets are not uncommon.
Hence, when you plan a schedule for your blog, focus on numbers that you can achieve without straining yourself. You don't have to publish 30 1,000-word blogs. Publish ten, but make sure they are good.
4. Highlight important events
A good way to add more topics to your writing list is to list all the important events that will happen in a calendar year. You can then plan your content around those events and have some predefined goals for your blog content calendar. You can also do this on a monthly basis.
5. Keep some leeway in case of mishaps
You probably understand how unpredictable life can be. Any accident can occur out of the blue, and you might not be prepared for it. In such cases, having a margin of freedom in your busy schedule can prove to be a saving grace.
Hence, when you design a calendar, make sure it is not strictly rigid. A good calendar should be flexible enough to accommodate any unlikely incidents. Also, there might be times when a new marketing trend comes up that you want to write about. If you have an inelastic content calendar, you would not be able to add more content to it. Hence, a pliable content calendar enables you to adapt to rising trends.
6. Keep some space for evergreen content
You might be eager to sprinkle trendy topics all over your blog calendar. But, what's trendy will not always drive a blog to popularity. Evergreen blog topics are just as crucial to keep your audience engaged.
Throwing in some timeless blogs in between the contemporary ones keeps your content dynamic and also tends to attract more readers. Also, in case you are running behind schedule, you can repurpose an evergreen one and publish it as an alternative.
7. Update the calendar constantly
If you think designing a content calendar is a one-time thing, you are wrong. Although a blog content calendar is a long-term strategy, it is the daily modifications that you make to it that keep it viable for a long time. What we mean is that you need to ensure whether the content in your calendar is relevant at a specific point in time.
For example, according to your calendar, you need to write on cryptocurrencies in the third week of January. However, you realize that non-fungible tokens (NFT) are gaining more traction and will be in trend throughout the month. Will you still write about cryptocurrencies? The logical answer would be to go with the flow and start researching NFTs.
Hence, when you are done designing a calendar, don't follow it to a T. Keep updating your calendar on a regular basis. A blog content planner is an "usher", but it should not be the sole guiding force behind your blogging goals.
8. Keep the performance of your blogs in check
Writing blogs is not just about delivering quality content. You also need to analyze how the audience is consuming it. Now, you may ask, "How is the performance of my blogs related to designing a good content calendar?"
After you have spent a good deal of time publishing quality content, you need to use certain metrics to check if your blogs are working as intended. If yes, then you can continue with your schedule. But, if the answer is no, then you need to check whether your content strategy is lacking somewhere. And that also means reviewing your calendar.
Key Takeaways
Blog calendars are tools that guide the process of writing, editing and publishing blogs.
A blog post calendar should respond to the needs of the writer and not vice versa.
No calendar template is ideal.
Ensure that your blog calendar is flexible to adapt to untimely setbacks.
Do not include only trendy content in the calendar. Add some evergreen topics to maintain variety.
Don't try to cram the calendar with unfeasible objectives.
Conclusion
Creating a blog post calendar is all about managing your time, whilst staying on top of your blogging game. The goal is to segregate the entire process into several sections that you can focus on one at a time. Now that you know what goes into creating an editorial calendar, get started on building one for yourself. Good luck!
FAQs
1. How do I create a content calendar for my blog?
The first step to creating a calendar is to determine your reasons for creating one. After that, you need to set aside some concrete objectives and use them as a foundation for your calendar.
2. What should be in a blog calendar?
A blog content calendar should broadly consist of all your blog topics, the current status of each blog, deadlines, future writing plans, and some margin for updates in case of upcoming trends.
3. What is a blog content calendar?
It is a strategy employed by businesses and individual bloggers to lay out a schedule for their blogs. A blog calendar ensures that your blog is delivering quality content consistently.
4. What is a blog schedule?
A good blog schedule is one that provides you with ample time to write, edit, and publish blogs, without putting you through physical or mental stress.