Marketing
The 7 Best Video Marketing Examples from IXIGO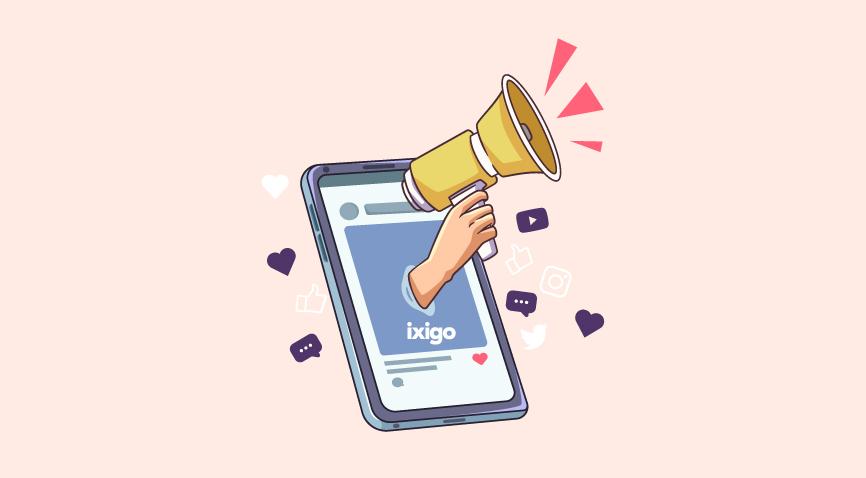 Table of Contents
How To Make A Viral Video
Topic Selection For Videos
7 Lessons From IXIGO's Video Content Marketing Strategy
Key Takeaways
Conclusion
FAQs
One of the breakout trends of the last 10 years or so is the effectiveness of video marketing. According to Wyzowl's State Of Video Marketing Report, 86% of businesses were using video as a marketing tool in 2021.
In 2016, this figure stood at 61%. From the marketers surveyed, 93% shared that video is increasingly playing a very important role in their marketing strategy. This trend has been further accelerated by the onset of the pandemic, which saw consumers spending more and more time online.
However, some of the best video marketing examples can be traced to much before the pandemic. AI-based travel platform Ixigo has been leveraging video marketing for the last six to seven years and is an early mover in this direction. The brand has successfully executed several video campaigns that have gone viral.
For instance, Ixigo's video "Stuff you can take from hotels" was quirky and highly relatable, and it inspired millions of organic shares and conversations across their social channels. The video also helped the brand build curiosity around its offering without "selling."
So, what makes their videos so endearing? What makes Ixigo capture the pulse of consumers so well? Video marketing expert Aashish Chopra, who has led Ixigo's video campaigns, shared in an online interview, "Video is powerful if you know how to use it!"
Today, India has over 650 million Internet users, of which a large percentage use smartphones. With the cost of data and mobile phone prices getting more competitive, this number is expected to reach 800 million. Businesses can capitalize on this exponential growth by investing in building stellar video marketing campaigns.
Even if your brand or business hasn't ventured into video marketing, it's not too late to get started. In this blog, we've curated seven key takeaways from Ixigo's iconic video campaigns to support video marketers in surpassing their business goals.
How to Make a Viral Video?
There's a lot of pressure on video marketers to make videos go viral. This has resulted in video marketers resorting to gimmicks to drive up numbers – from leveraging influencers and celebrities to resorting to fake views. However, video marketers must remember that the video must serve a core purpose to align with the brand's business outcomes. If audiences love a video, but the brand connection is completely missing, this can defeat all the efforts to create such content.
No doubt, Ixigo aims to hit a million views and beyond for every video without investing monies in marketing spends and ads. However, their approach is to build high-quality, memorable, evocative content relevant to their brand. Ixigo's video marketing strategy is integrated into the larger social media marketing strategy. If you look at their social pages, you will observe that Ixigo's social teams ensure a continuous flow of engaging content in the form of memes, articles, and infographics while plugging in video content at regular intervals, as one element of their ongoing campaigns. Of course, Ixigo's video content marketing strategy has always been a core part of their campaigns and not conceptualized as an afterthought.
Ensuring that video marketing strategy is a part of a brand's overall marketing strategy, and is not treated as a standalone piece, is key to the success of any marketing narrative.
Topic Selection for Videos
Ixigo's approach to marketing is to build content that triggers organic conversations. In doing so, the company has smartly leveraged one of the unique characteristics of digital marketing – engagement via conversation. This is one of the most important video marketing tips to consider when choosing topics.
Typically, topics selected by Ixigo fall into the following buckets – they must inspire audiences, they can solve a user's pain points, capture a celebratory vibe, or weave in topical themes. Of course, every brand may have radically different topic buckets based on brand values, vibe, and target audience.

One approach to zeroing in on topics is to do your own research. For instance, one of the best video marketing examples inspired by Ixigo's internal research is their travel etiquette campaign. Ixigo conducted research on everyday annoyances experienced by airline travelers. Based on these findings, Ixigo conceptualized a quirky video marketing campaign that used humor to showcase acceptable behavioral norms that consumers can follow while traveling.
Some of the common peeves – loud co-passengers, reclining seats during meals, and smelly feet – all found their way into the campaign. Yet, the video was able to drive home a strong message without being offensive! The style of the videos was engaging yet educational.
The Ixigo team also checks video ideas for their potential to generate organic engagement in terms of shares, comments, and retweets. Video ideas will be approved only when they check off these boxes. Ixigo says about 95% of video ideas get rejected during brainstorming meetings! This is understandable as videos take more bandwidth and work to create, even with the latest available tools. So, it's important to get the basics right before going into the production phase of the process.
7 Lessons From IXIGO's Video Content Marketing Strategy
It's easy to get overwhelmed and be under the impression that video marketing comes at a significant cost. A mix of video marketing strategy, consistency, and simplicity is the only recipe for success.
Ixigo was one of the early players to leverage a video content marketing strategy. Its journey offers a great learning curve for video marketers. The brand's video campaigns have successfully built a strong audience connection, received massive engagement, and in turn, translated to higher ROI.
The last part is equally important, as video efforts must translate into results. While there's no guaranteed formula to ensure that a video goes viral, video marketers can learn through successful campaigns.

We break down 7 tips that we've garnered from Ixigo's video content marketing strategy.
1. Make the first 3 seconds compelling
Research indicates that a viewer's experience in the first three seconds of watching the video will determine if they will continue to watch it. This is why the first three seconds of any video must create an impact. It can inspire curiosity, suspense, delight, joy, etc. Video marketers must also ensure that the video thumbnail encourages viewers to click on it.
2. Focus on storytelling
Sometimes video marketers pay more attention to the production quality than storytelling. Storytelling is sacrosanct, especially when making a video on a budget. Even a simple story can go viral if told powerfully. Some tried and tested approaches use humor, music, sound effects, emotions, and creativity. Keep the video content brief, as consumers have limited time to watch a video.
3. Optimize for mobile
The number of Internet users consuming video content via mobile will only increase. Hence, every video you make must be optimized for mobile audiences. This means they shall be watching it on a small screen. For instance, square-shaped videos tend to get more engagement. Ensure it can be enjoyed on mute, too, and keep the video brief.
4. Don't sell, drive conversations
Some brands continue to make ad films, which is very 90s' in its appeal. Today, consumers want to watch real stories that resonate with them, inspire them, and make them aspire for something bigger and better. This trend has inspired more brands to tell real stories through video content while plugging in their products and services in subtle but effective ways. This drives conversations, and in turn, action from consumers.
5. Execute it well!
Planning and executing video campaigns flawlessly increases the chances of virality and campaign success. Build a timeline for all activities, and ensure that execution happens promptly. Have a blueprint for all your video campaigns, and ensure that all stakeholders in the team are perfectly aligned. Social teams, the PR and marketing teams, community leads, and growth team members must work closely to make a video marketing campaign successful.
6. Focus on distribution
Brands like Ixigo typically have benchmarks for every video they put out. For example, 100 shares in the first 10 minutes is a benchmark. So, how do your videos meet the set benchmarks? Well, it's a mix of many things. While putting out high-quality content is important, ensure that multiple factors align nicely and focus on content distribution.
For instance, ensure that the video is posted during peak traffic hours across all social media channels. Even posting time plays a critical role in a video's early success.
Also, consistently build in emailer strategy, blogger and influencer outreach, PR, and other distribution channels into your overall strategy. Even team members are advocates for any new campaign. Ensuring that every team member shares an in-house video contributes to the general excitement of a video campaign. This extra push can help trigger the viral effect.
7. Build engagement
Last but not least, here's one of the most important video marketing tips. Consumers love brands that actively engage with them on social media. For instance, when consumers post conversations, your social team can monitor and respond. If a celeb or major social influencer quote-tweets a video, it's a smart idea to thank them and retweet. Ensuring high-quality engagement in real-time is important to push for virality. It's a good idea if your social pages are monitored at all times, especially when video campaigns are live.

Key Takeaways
A brand's video marketing strategy should tie into the overall social media marketing strategy to grow the larger brand narrative.
Pick topics that fit into core buckets that resonate with your brand's overall vibe, target audiences, and values.
The first three seconds of your video must be compelling enough to make viewers watch the full video.
Ensure that the thumbnail is compelling enough for the viewer to click on it
Plan the execution of the entire video campaign so that it factors in all phases – ideation, creation, distribution, and engagement
Distribution plays a key role in the video's success; ensure that all channels are leveraged strategically to promote it well.
Conclusion
Even if your business has never attempted to leverage video content, this is a great time to start building high-quality video content as a vehicle to reach more audiences. Weave a strong brand connection that will increase consumer love for your brand, build curiosity, and nudge viewers towards the call to action you are looking to inspire. Don't forget to enjoy the journey of building your video content marketing strategy!
FAQs
1. Why must I focus on video marketing?
Today, video marketing is one of the most effective marketing tools, with the number of digital video viewers exceeding 3.1 billion. This number is expected to rise to 3.48 billion by 2023. 
2. Can I focus on video marketing without an in-house team?
Today, several video creation tools are available that make it easy to edit and produce video content. Brands can also outsource video creation and distribution capabilities at competitive costs. The cost of not leveraging a video content marketing strategy will be much higher. 

3. How can I pick unique topics for my video content marketing strategy?
One of the best ways to pick topics is to look within your network of consumers to understand what drives them, inspires them, and what pain points they face. Topics can be based on real issues and stories connected to your brand narrative.
4. Do I need to invest in major ad spends to promote my video?
Videos offering quality content backed by a strong distribution strategy can go viral without any investment in ad spending. When properly aligned to your overall marketing strategy, your video content marketing strategy is more likely to go viral and drive a higher ROI.
5. What language should I make my video in?
It depends on your target audience and what language they are most comfortable with. Adding subtitles can also help drive up viewership. Another approach is to make the video visual and without any dialogues.