Marketing
20 Tools for Creating Engaging Social Media Videos, Image, and GIFs in Minutes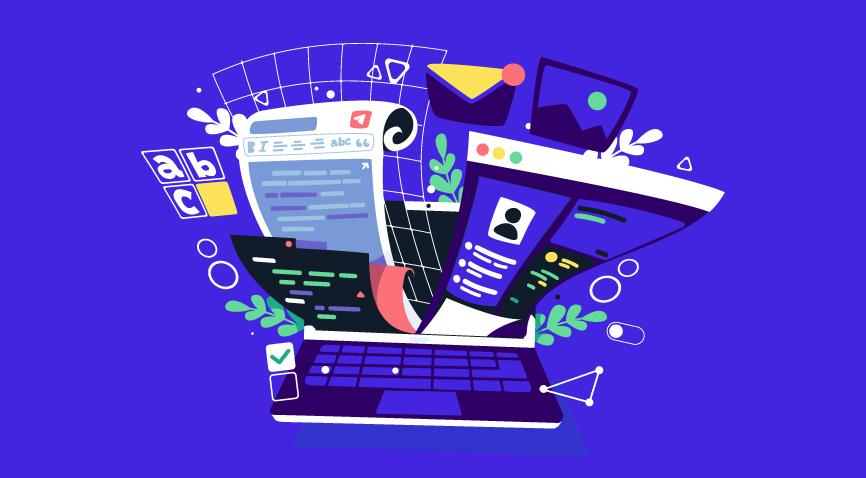 Table of Contents
Introduction
Types of Tools
Conclusion
Key Takeaways
FAQs
The current trend on social media sees platforms embracing short-format videos. Reels on Instagram and stories on just about any platform out there have ushered in a novel category for marketers to create content to engage their audience. Creating high-quality social media content doesn't require a computer whiz anymore with the help of the tools listed below. These best tools for social media content creation can be used for time-lapse videos, GIFs, long or short-form video content, user-generated content, and so much more.
20 Types of Tools for Creating Awesome Video, Images, Gifs for Social Media
Canva has been a popular social media content creation tool for various kinds of requests such as brochures, social media posts, business cards and so much more. With the recent rollout of the Canva Animator, accustomed users will find the interface and options highly intuitive. The user-friendliness of Canva that has made it a hit is very evident in the Animator making it the go-to option to create animations and GIFS in minutes. Canva can very be used as an image resizer for social media posts based on your dedicated channel.
2. Inshot
InShot is among the best video modifying tools used for social media. You can alter your content to impeccably fit any platform and add voice-overs, text, music, channels, and emoticons. InShot is accessible from iOS and Android devices.
3. Adobe Spark
A free social media content creation tool that has been rolled out by Adobe, Spark offers tons of features for web and mobile users to create, edit, and share videos and visual content. It has a noteworthy number of free tools to make it simple for anybody to make fascinating videos that reflect expert creations. The free music library further enhances the overall creation.
4. Crello
The functionality and ease of use are Crello's best qualities, with a bonus being that it is completely free. Crellow is everything great and a few more attractive tools such as animation posts. It offers a huge number of mind-boggling layouts which are completely energized to make your posts extraordinary.
5. Lumen5
Lumen5 is geared toward businesses that create a lot of blog content. Parts of Lumen5 are free that pull pictures and words from your posts, which you would then be able to alter depending on the situation to make a video that recounts the story for you. Make it intriguing to the point of keeping people entertained, however, leave them needing all the more so they navigate for the full story.
6. Quik
Quik is a free application, powered by GoPro, that permits anybody with an Apple or Android device to rapidly and effectively piece together pictures and recordings and make enthralling films. Once the design is ready, you download your animation in either a GIF or movie format, depending on where you wish to use the post.
7. Animoto
Don your social media content creator hat with Animoto, one of the best social media video apps that uses a template interface to create engaging content. The recordings you transferred to Animoto can be distributed onto the online media platforms.
8. Windows Movie Maker
Microsoft has an incredible video editing program, called Movie Maker, and for Windows users, its free of charge. You could likewise get the paid form for extra tools, for example, slow-motion, limitless photograph overlay, Full HD, etc. You can make proficient level video recordings utilizing ambient sound, custom characters, and other visual components.
9. Animaker
Animaker is a web-based tool for making videos. Animaker can be characterized more as a video producer than a video editorial manager. However, it allows you to transfer your pictures and sound recordings to be utilized in the videos. In the free version, videos have a watermark and can be distributed to YouTube or Facebook (and not be downloaded) while the paid version starts from $19/month.
10. HyperLapse
Hyperlapse is developed by Instagram and is geared toward making time-lapse videos. It allows you to speed up films up to 12 times the original speed. You can also record in real-time. Moreover, the application will streamline blurry film and empower you to post a refined video straightforwardly to Facebook or Instagram. A basic, simple to utilize and free, and powerful device.
11. Magisto
Magisto enables you to create stunning video clips for social networks. The app is available for Android and iOS plus as a web-based tool for the PC. The editing and improvement of your raw material are done automatically by the app. Magisto is suited for posting on Facebook, Twitter, Instagram, YouTube, and Google+ as well as directly to your website. Particularly valuable for content promotion are its analytical prospects which give you information on your shared recordings.
12. RenderForest
A social media video tool with an ease of use comparable to anything else out there, Renderforest allows you to publish videos directly to social media channels such as Facebook, Pinterest, Instagram, Google+, and Twitter. The free plan has a watermark on the content made by it which can be overcome by going premium
13. Typito
Typito is a kind of social media management tool that lets you add text to the video clips for better visual aid. This is particularly significant since numerous clients burn-through recordings in a hurry with the sound switched off. Upload photos and/or videos, add subtitles and music, and post the result directly to Facebook or YouTube in a landscape or portrait format.
14. Biteable
Biteable is a simple-to-utilize online media creation tool that emphasizes on creating expert-level videos without spending a fortune. Biteable permits you to make a wide range of recordings, like PPTs, animations, logos, slideshows, advertisements, and more for your business in minutes.
15. Moovly
Moovly offers a huge functionality range including a plethora of icons and graphics to add to your videos. In addition to that, it offers great animations and the possibility to upload your voice recordings for a more personal and inspirational touch to your beloved content.
16. GIPHY
GIPHY is a web search and database tool that permits users to look for and share short recordings called GIFs without any sound. GIPHY permits you to make GIFs and backgrounds and enhance them with subtitles, channels, stickers, and so much more.
17. Gifs.com
Like GIPHY, gifs.com allows its users to convert video in formats such as MP4 into soundless, bite-sized gifs. It also offers features allowing you to add captions and visual effects to said gif.
18. VidLab
VidLab is one of the portable media video producers on our list. It offers a multi-cut, multi-track video editor and allows users to effectively add overlays, shapes, veils, audio cues, and music to make their video perfect. VidLab likewise incorporates bunches of flawless channels and video impacts. Facebook has labelled VidLab as a favored application for making Facebook advertisements for your business and your videos can be shared straight with Instagram without any size changes.
19. MotionDen
MotionDen is a video editing tool for Social Media Content that can be used to create videos and slideshows with images, music, sound effects, and more. The application incorporates loads of effects, GIFs, channels, topics, stickers, sound effects, and video upgrade highlights. The application is not difficult to utilize and is a must-have for novices.
20. Wave.Video
It's incredible for amateurs and exhausted content marketers who need a device with fewer complexities to learn and adapt. You can utilize Wave.video to add inscriptions, interpret recordings, and add or remove sound. In addition, Wave.video can be used to create GIFs, long form videos, and more.
Conclusion
No matter what platform you end up using, remember to study your audience. Set aside the effort to shape online campaigns that are successful. Assuming you speak with individuals about what they need, and collect considerable feedback by creating captivating videos, how is it that they could turn away?
Key Takeaways
Social media is effective provided that your copy is connecting enough.
Content should be a mix of style, representation, and different parameters to be able to make an impact.
Marketing videos are a convincing apparatus for B2C organizations offering well known products.
The most famous social media video editing applications are typically accessible for both Android and iOS phones and can be downloaded through their store.
Fortunately, there are numerous video editing applications out there that make video and photos a lot more authentic than they used to be.
Each social media channel has a frame or size format.
With a lot of content accessible for customers, you want to catch their eye in only a couple of moments before they switch to another video.
FAQs
1. How do you make an engaging video on social media?
Not every person is excellent in tech or sound/video hardware. Thus, making video content is currently simply utilizing the video content creation tools accessible on the web.
2. Is video content engaging more?
More than 70% of advertisers guarantee that video creates a bigger and lasting impact on viewers and holds dominance over other content tools.
3. What is included in content creation?
Common types of content creation have tasks such as updating blog sites, contributing to a website, article writing, photography, videography, online reviews, social media management, and editing and marketing of media.
4. What are the benefits of using Lumen5?
Lumen5 permits the client to handily make the videos just by entering the URL of the blog entries, feature the content, and lastly drag and drop the media documents for each blog.
5. Is Canva simple to utilize?
Indeed, even the people who have never utilized Canva or some other visual editing application – will find the mechanics so easy to understand. When the plan is prepared, you download your creative in either a post, GIF or a video format.