Marketing
9 Key Tactics Pros Use For Digital Marketing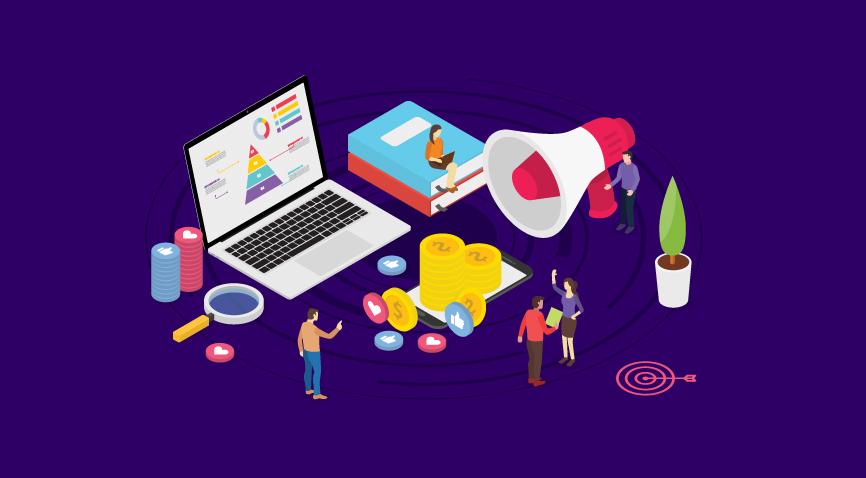 Digital marketing is a broad subject. It covers a lot of different things. In this article, we tell you about 9 key tips and tricks the pros use for digital marketing.
Table Of Contents
Introduction
9 Key Tactics That Pros Use For Digital Marketing
Why Digital Marketing is a Must for Your Business?
Key Takeaways
Conclusion
FAQ
Once upon a time, businesses wanted to learn how to use the web to reach their potential customers on the internet. But today, the game has completely changed. The internet is evolving at an incredible pace, and what was true six months ago is already outdated. It's no longer possible to keep up with the news of the week, much less the news of the month. The best digital marketers, on the other hand, are always up on the latest changes.
Digital marketing has become a new way of establishing a strong foothold on the internet. It has a lot of new features and a lot of new tactics to learn from. With so many areas of digital marketing to explore, it can be hard to know where to start. Are you able to keep up with the latest trends in digital marketing? Are you able to grow your business with the latest marketing trends? Here are some of the best digital marketing tactics and tips used by professionals.
9 Key Tactics That Pros Use For Digital Marketing
Smaller businesses may find it difficult to stay up with the current marketing trends in the digital world, which is always evolving. Keeping up with things like social media marketing, SEO, PPC, content marketing, local marketing, and more may be difficult. Many small companies engage marketing organizations to assist them with this, but there are certain digital marketing strategies and methods that you can use yourself.
The digital world is a lot more competitive now than it was a decade ago. The amount of content being posted daily is enormous, and it's hard to stand out from the crowd. You'd have to come up with something important, something valuable for your readers. And that's why a lot of companies, even those that are big and successful, fail to stand out from the competition. They don't do a good job at marketing themselves.
However, if you'd like to be better at attracting and keeping your audience's attention, you need to learn from the best. There are a lot of digital marketing agencies that you can hire to handle your campaign, but it might be more cost-effective to learn from the pros. Here are 9 digital marketing tips and tricks that the pros use:
1. Search Engine Marketing (SEM)
According to monday.com, 81% of individuals begin their search for a product or service to buy on a search engine, with Google accounting for 94% of all queries. Create a series of postings on a current issue that connects to your campaign or brand to draw attention to your business on social media. This digital marketing tactic can help you get traffic from unexpected places, but from people who are nonetheless interested.
2. Pay Per Click (PPC) vs Search Engine Optimization (SEO)
SEO can enable you to boost brand recognition and gain visibility amongst the targeted audience over a period of time whereas PPC gives you immediate results and helps you use your greatest assets to create leads. As per techjury.net, 65% of consumers click on PPC ads. Ads feature a value proposition that your target audience of online searchers and website browsers will find relevant, generally in the headline and meta-tag. Experiment between PPC and SEO strategically to discover where you can get the highest return on your investment.
3. Create better graphics
Create visually appealing content for your brand. People enjoy infographics because they catch their eyes. It's worth noting that our brains comprehend images far faster than words. People will exchange pictures more frequently than texts since a picture is worth a thousand words.
4. Content marketing
The Content Marketing Institute defines content marketing as the best way to turn your product, no matter how common, into something that is not like everyone else's. It includes things like educational articles, e-books, videos, entertainment, and webinars that answer questions people have and provide them with something they can't get elsewhere. While SEO alone is ineffective, integrating SEO with content marketing is one of the most successful marketing strategies. Competition is becoming more fierce as more firms embrace content marketing. To stay ahead of the competition, every company must produce more and better content.
5. Retargeting ads
Retargeting is an important tool for growing your audience. Retargeting places adverts in front of people who want to work with or buy from you based on defined parameters about their online habits, interests, and demographic information.
6. Don't forget your basics
Target the right audience. Depending on whether you're a B2B or B2C business and the pricing of the product/service, your customer demographic data will change. You might need to include the following demographic and extra information:
Age range
Income
Priorities of the job title
Goals\Challenges
Interests
Platforms for social media
Problems in the Industry
Desired products/features
When you're creating profiles, you want to get inside the minds of your potential customers and see things from their point of view. After you understand what matters most to them, you can design a digital marketing plan to address their basic needs and major challenges.
7. Influencer marketing
Don't be scared to reach out to influential people. That's what they're good at. Tag influencers in social media posts if it's something the influencer can connect to and urge them to share. Making a solid connection with people in the social media sector will help your company and its services appeal to a broader audience. This is one of the most important online marketing tricks to boost your business digitally.
As mentioned in financialexpress.com, The Indian influencer marketing industry is estimated to reach a value of Rs 900 crore by the end of 2021, according to GroupM INCA's India Influencer Marketing Report. The market is expected to grow at a compound annual growth rate (CAGR) of 25% till 2025 to reach a size of Rs 2,200 crore, the report added.
8. Mobile-friendly website
Check to see if your site is mobile-friendly. Your website and social media networks should be available from both desktops and mobile devices to guarantee that your information is mobile-friendly. Smartphones and tablets are the most popular ways for people to access the internet.
9. Engage the customer
Nowadays, it's common for a customer to see an ad online, search and compare prices on numerous websites, and then visit a shop to try on the products or make an online purchase. Mobile applications provide access to special offers and discounts, customer assistance, and comparison tools, all of which help us better understand the purchasing process. A marketer may use digital marketing to follow a customer's complete purchasing experience. This is an important digital marketing tactic.
Why Digital Marketing is a Must for Your Business?
Digital marketing is a must for your business. There are many reasons why you should use digital marketing. With the world going digital, you need to have a strong digital marketing plan to stay ahead of your competitors. Digital marketing is the most important thing you need to focus on if you want your business to survive in these modern times.
Your digital marketing strategy is the backbone of your business. It's what turns your website visitors into customers. You can have the best products or services, but if your marketing isn't up to par you won't see the results you want. Digital marketing is constantly changing, and it's hard to keep up.
Digital marketing is critical for increasing online visibility and traffic to your business website. The increase in the number of individuals turning to the internet to find businesses, read reviews, and purchase products. It's important to have a strong digital marketing plan in place to ensure your company is marketing itself effectively.
Key Takeaways
Digital marketing involves several digital different creative and technical elements. It's a creative process that uses a variety of tools to drive results. It involves a lot of different things and it's not enough to just create content and publish it online. You need to consider your target audience and how you can reach them. You also need to ensure you're always reaching your audience with the right content. Sometimes you might want to focus on improving your conversion rates. At other times, you might want to focus on increasing the amount of time that people spend on your site.
Conclusion
In this blog post, we've given an overview of the nine key tactics professionals use for digital marketing. Digital marketing is a broad subject. It covers a lot of different things. There is a lot to learn and digest. We hope you found this article helpful. Hopefully, it inspired you to try some new tips and tricks to help you grow your digital marketing efforts.
FAQs
1. What are the most popular digital marketing tactics?
Some of the most prominent digital marketing strategies include SEO, content marketing, advertising, email marketing, and social media marketing. Because each has its own set of benefits and drawbacks, the optimum technique for each marketer may differ.

2. What are the key digital marketing strategies?
Different types of digital marketing strategies include:
1. Social media marketing
2. Influencer marketing
3. Email marketing
4. Content marketing
5. Marketing for Search Engine Optimization (SEO)
6. Pay-per-click (PPC) advertising
7. Affiliate marketing
8. Mobile marketing

3. What is the most effective method of marketing?
1. Make use of social media
2. Make a video instructional
3. Blogging
4. Recognize the importance of search engine optimization
5. Make use of influencers
6. Create a powerful lead magnet
7. Use retargeting with Facebook advertisements
4. Why are tactics used?
A tactic is a single action or a set of activities designed to achieve a certain brief goal. Every action can be broken down into one or more tasks. Chess, sports, businesses, protest, and military situations use the term
5. What are tactics and strategies?
Change is a gradual, laborious, but yet doable process. Strategy is the overarching strategy or collection of goals you want to attain. The particular acts or measures you take to carry out that plan are known as tactics.