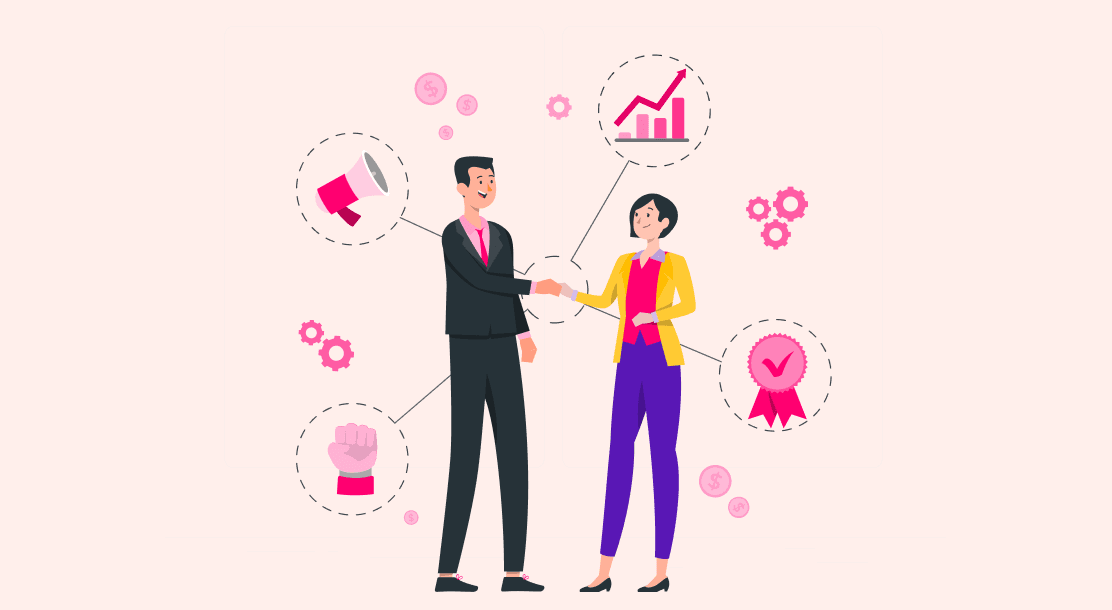 Searching for the best CRM tool for your business? We list 6 best CRM tools in the markets to boost your business and scale new heights
CRM tools are a boon for all types and scales of businesses. The efficient and proactive customer relationship management tool enables businesses to connect with potential customers and help them seek better profitability in operations. Let's dig at the different CRM tools list and their benefits.
What is CRM?
Are you an aspiring business owner? If you're nurturing a venture and trying to explore better possibilities with it, integrating a customer relationship management tool can be the perfect idea to get started.
CRM tools help put across the best marketing practices with the assistance of technology under a standard software package. This can enhance the business visibility and bolster capabilities to cope with the client's needs.
Incorporating CRM tools enables businesses to channel a more aligned and transparent communication amongst the vendors, suppliers, and customers.
You can begin with a trial session of the best free CRM and upgrade to its paid version considering its usability. Adoption of CRM technology helps businesses to track customer data, engross in customer interactions, and develop better customer relationships.
Most CMR tools are either based on functionality or installation. Therefore, you can review top software tools and narrow down the most suitable options for yourself.
Before reading reviews on the CRM tools list below, it is essential to glance at its utility for small businesses. Customers' growth is imperative for every business, and if you are a newbie in the market, losing out even a single customer can impact your entity.
6 Best CRM Tools for Small Businesses
Are you looking to get the best CRM for small businesses? It is a master key to searching, developing, and retaining your customers by maintaining elaborative data for better business functioning. Enhanced profitability and better networking are the top benefits of these tools.
In a few words, CRM tools are a complete package of customer support, sales, marketing, and taking feedback from the customers. Appropriate utilization of these tools could pull up the profit quotient of your business and take it to the next level. Let's take a look at the compiled list of best CRM tools for more details below.
It aces the list of CRM tools and works perfectly for small businesses. Developed and founded by Sreedhar Ambati in 2017, EngageBay is a one-stop marketing software tool to manage sales, marketing, and customer support under a single umbrella.
The top features of EngageBay are:
All of its features get bifurcated into four products, namely the Service Bay, Marketing Bay, CRM and Sales Bay, and All-in-one Suite.
It is one of the best free CRM tools that never incur any charges despite adding multiple users to the CRM list.
The CRM telephony features make it possible to engage in better customer interactions and track their conversations. Sales teams can look back and chalk out perfect strategies for making sales and other business decisions.
You can get more qualified leads resulting in sales conversions.
Integration of email through the tool, infusing 2-Way sync, and accessing the emails through this platform are the top benefits.
You can retain healthy market competition by glancing at the leaderboards and gamification to top the game.
Rich sales reporting is another benefit that helps tailor data as per your needs and sneaking metrics like the revenue, growth, bar graphs, and the lead conversion in charts.
Automated data entry scheduling meetings are also possible, thus enhancing the overall productivity of your businesses.
EngageBay also advances your functionalities by additional integrations through apps like CallHippo, Xero, BigCommerce, and Plivo.
This customer relationship management software tool is accessible in the open market, and it's one of the best free CRM tools. If you aim for more inbound links to your business and higher market visibility, this is a good choice.
The top features of HubSpot are:
HubSpot is the best CRM for small businesses due to its good functionality and higher usability. Live chat is a prominent feature that helps solve customer queries after live chats. Even bots can send a response in the absence of humanitarian assistance in the office.
You can schedule meetings with the customers to manage regular communication.
Tracking prospects is another salient feature of this best free CRM. After all, small businesses need to aim at customer growth as a stepping stone to success.
Pipeline management like timely reporting and data analytics are the other features of this CRM tool that help give insights to the users.
Driving small businesses with HubSpot facilitates its integration with other tools such as Wistia, Zerys, PandaDoc, Databox, and Seventh Sense.
Moving on to another best free CRM that helps in customer retention, growth, and management is Salesflare.
It automates a significant amount of data, and you need to track leads appropriately for this. Salesflare is a problem-solving customer relationship management tool found in 2014 and helps small businesses to step up and gain success. It is easy to use and has ample positive, genuine reviews that prompt you to believe.
The top features of Salesflare are:
Salesflare automates the company and contacts-related data by typing the firm name and searching correctly. It prefills the company profile and makes all the info available publicly.
Businesses can curate sequences for tailored emails through their authentic workflow with this CRM tool. It is also possible to track the number of clicks, opens, bounces, and replies per pre-defined goals.
LinkedIn Sidebar is the next advantage of this CRM tool. The addition of new accounts and contacts into the software through the LinkedIn data is possible here. Businesses can manage all their communications, complete email sequencing, and associate with teams to create a business hype.
Generating a clear overview of the sales pipeline and updating and tracking its progress are the few things you need to do. It is possible to develop maximum pipelines in this manner.
With Salesflare in your CRM tools list, there's no more copy-pasting of data and email signatures into the software. It rather auto-detects and creates a signature for updating the contacts.
Website tracking and email marketing are other features with Salesflare, including sending emails through Outlook or Gmail.
This CRM software also ensures to undergo a follow-up with customers, revert to customer queries and emails, and send meeting notes.
Salesflare integrates with multiple tools you already have a knack for, such as LinkedIn, Gmail and Office 365, Slack, MailChimp, and Trello.
If you are still scouting for the best CRM for small businesses, PipeDrive is an essential addition to your CRM tools list. This is specialized in comprehending the sales CRM along with pipeline management. The tool came into existence in 2010 and has become famous for most small-scale businesses.
The top features of Pipedrive are:
Advanced reporting is its priority feature, giving Pipedrive CRM software an edge over others with advanced KPIs and metrics. It also comprises conversion rates, deal stage conversion, scheduling activities, and completing them for further predictions.
Sales data syncing is another great feature.
On the Pipedrive dashboard, you can get centralized data on a single platform. Other functionalities include preparing emails, editing customer notes, and importing customer contacts.
A dedicated mobile app enables you to generate customers and better leads through a dedicated sales pipeline.
The Pipedrive CRM tool has an additional drag and drops feature to complete stage movement for navigating customers seamlessly through the platform.
It also constitutes various automation features and reminders for a quick follow-up, and it is also possible to sync it with the Google Calendar.
Some widespread integration with the Pipedrive CRM tools is Asana, Trello, Google Maps, Slack, and Toky.
FreshSales is amongst the best CRM for small business tools and is recommended for business growth and establishment. FreshSales was featured in 2010 by Shan Krishnasamy and Girish Mathrubootham. Their original creation was Freshworks, and its subset platform is Freshsales.
The top Features of Freshsales are:
Its primary feature is efficient mobile integration with advanced features. A sales team can also line up appointments, avail push notifications, and even incorporate voice notes.
Utilizing such CRM tools can also facilitate detailed reporting wherein you can retrieve sales activity reports, trendline reports, complete revenue analytics, and even send personalized visual sales reports.
Adjustable sales targets, detailed list view, display of stage probabilities, and managing multiple deals are other additional features.
It also automates various other tasks such as call logging, assigning, and managing workflows.
Auto-profile enrichment and lead scoring are its other add-ons.
Few integrations of the Freshsales CRM software ate Trello, 3CX, Shopify, Revv, and Survicate.
Insightly dates back to 2009 when it was started in San Francisco. It is one of the most reputable and best free CRM tools that automate several processes and infuses technology into media, consulting, advertising, non-profit, and manufacturing industries.
The top features of Insightly are:
Adding this option to your CRM tools list can help establish a social connection. With the addition of the business email address, it is possible to sync multiple social networks with Insightly, including Twitter, Facebook, and LinkedIn.
It extends mobile accessibility that helps you to connect with the team anytime and anywhere.
Business owners can also track the progress, activate tasks, and develop reports to check the future of the software.
With this best CRM for small businesses, you can also sneak through customers' contact details, history, and background and streamline the in-depth sales processes.
Insightly integrates well with several other popular software and apps like CircleLoop, RingCentral, Kixie, PieSync, and Everhour.
Benefits of Using CRM Tools
The moment you derive any new leads, the prompt action is to convert them into potential buyers. All such tasks are well-managed with CRM tools, and you can rest assured of positive outcomes through your marketing strategies. So, let's take a look at its top advantages:
Productive and profitable venture
It is not possible to automate and manage business tasks with efficacy without good CRM tools. You can avoid manual intervention as you have the CRM data readily available, like customer interaction history.
Happy customers
Having a glance at the interaction records, getting familiar with the sales approach, and lining up customer communication are other benefits of CRM.
Better lead generation
With these CRM tools listed above, you could amp up the process of attracting qualified leads for your businesses. Again, filtered customer interaction helps in better business avenues.
Reliable sales predictions
Keeping track of your business earnings and utilizing the analytics tools can comprehend better results. After choosing your desired CRM tool, you'll witness the paradigm shift in your business growth.
Key Takeaways
The best CRM tools are capable of gathering customer data through diverse mediums, apps, and, storing it under a centralized location.
It can automate marketing, sales, and other types of customer service processes.
It can track customer purchase history and identify further prospects.
It scouts for cross-selling or up-selling opportunities.
Scaling Your Business to New Heights with the Best CRM Tools
There are several benefits of CRM tools that could help startups and other business organizations. First, check and test the CRM tools on their features, integration, price, and usability to determine the best choices. We're certain that the six best CRM tools we've reviewed above will be really useful for your business.
FAQs
1. What are the top aspects of CRM Tools?
Choosing the ideal CRM tool is based on customer contact support, exploring sales prospects, recording service issues, marketing campaigns, and a centralized framework for customer interactions.

2. What are the three popular types of CRM?
In all, three essential types of CRM systems could increase business viability. It includes operational, analytical, and collaborative.

3. Which is the best CRM for small businesses?
All the above-stated CRM tools list could positively favor your business growth. It could enable you to get well-versed with customized applications, campaign management, etc.

4. Which is the best CRM Model?
The perfect CRM model refers to the workflow that aids in managing the team interaction with potential prospects and customers. It can also facilitate a better customer retention framework to generate leads and target their conversion.

5. What is the importance of CRM for SEO?
CRM is the stepping stone of brand development as it helps establish connections with customers. This leads to better business visibility and higher profitability.