Marketing
Best Content Marketing Examples: Decoding Buffer's Success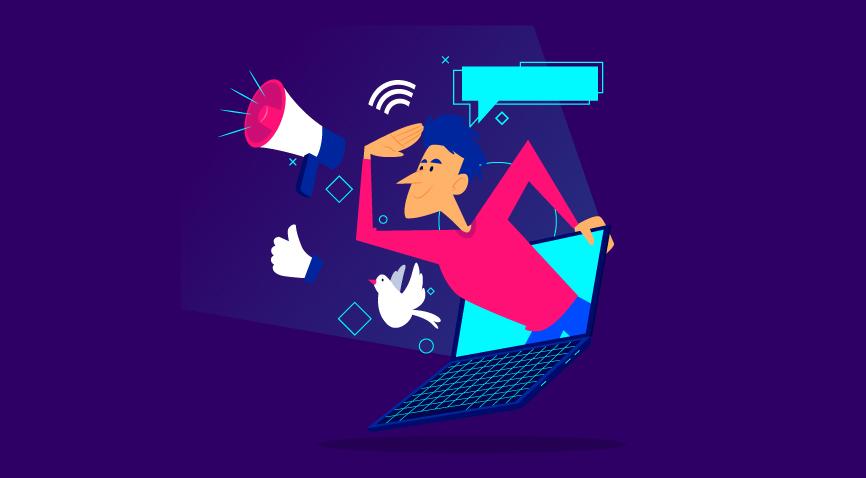 Table of Contents
What Makes a Good Content Distribution Plan?
Elements of a Great Content Marketing Plan
What Are Some Content Marketing Campaign Examples?
Tips to Build the Best Content Marketing Campaigns
Lessons to Learn From Buffer's Content Distribution Strategy
Key Takeaways
Conclusion
FAQs
If you have been an active Twitter member in the last five to ten years, it is likely that you know what Buffer is, and why it became famous. Just like the best content marketing examples, it offers its audience simplicity and ease of use. It is a simple social media sharing and scheduling app that allows its users to search relevant content and schedule content distribution for future sharing. But the secret to its success is that it uses an algorithm that analyzes and determines the best time to share your content based on high visibility and engagement. This is a great content marketing example, as it allows you to optimize viewer engagement. It also helps streamline the content management process across different social media channels. This is extremely useful for businesses that depend heavily on social media users and digital marketers.
Before diving into what makes Buffer so great, it is important to first understand what content distribution is, how it can help your business, and what are some relevant examples of content creation.
What Makes a Good Content Distribution Plan?
Content distribution is the process of marketing content through various online channels like social media platforms to targeted audiences or businesses. There are three different types of content distribution channels.
Owned content distribution
This strategy includes distributing relevant content through your own web platforms like emails, newsletters, social media pages, or blogs.
Paid content distribution
Some businesses pay for content distribution every time a viewer clicks on the content link. Payment is usually done on a pay-per-click basis, where you only pay when someone clicks through your content posted online.
Earned content distribution
This content marketing plan example involves distributing your content through third parties. The media used are guest articles, retweets, shares, and product reviews, among others.
Elements of a Great Content Marketing Plan
The best content marketing campaigns have the following features in common:
Content audit
To execute a successful content distribution plan, you first need to carry out an audit of your current performance to assess what is working and what you need to drop.
Content distribution goals
If you do not set yourself a target, you are unlikely to achieve any results from your content distribution campaign.
Customer analysis
Once the goal is set, it is mandatory to carry out an analysis of your target audience's behavior and needs. This will help you bring more relevance to your content.
Choosing content type
Your content has to be relevant to the chosen audience and cannot be generic. Make sure you write unique content that offers value to the user.
Content promotion
Identify the channels of marketing and promoting your content based on the audience and format of the content. A few channels to promote your content include your website or blog, social media, and platforms such as Medium.
Reassessment
At the end of the campaign cycle, remember to evaluate its performance and re-strategize for the next campaign.
What Are Some Content Marketing Campaign Examples?
A good content marketing campaign is one that is able to generate web traffic for your business and convert leads into sales. Take a look at these content marketing strategy examples to understand better:
Buffer
It has a three-pronged content marketing strategy, wherein it uses its own blogs, guest blogs, as well as email marketing to attract target audiences.
HubSpot
The growth hacking strategy adopted by HubSpot includes writing their own blogs about relevant issues based on precise market analysis, upgrading their content through ebooks and other mediums, and adding videos on social media channels.
Zomato
This food delivery platform does more than help you find good restaurants or deliver food to your doorstep. It weaves a culinary story that makes your mouth water. And you crave to order more food, building them more business.
LinkedIn
This professional networking platform has nailed it with its own ebook on how to create winning marketing strategies. Apart from that, it also enables users to publish posts regularly.
General Electric
General Electric has created one of the most inspiring examples of content creation. Its Instagram marketing leverages social media users to instill life into otherwise boring products like wind turbines and jet engines.
Old Spice
This age-old brand was once in danger of becoming irrelevant because of tougher competitors in the marketing space. But it turned the tables with a series of video content marketing campaigns that were made relevant for the younger generations.
Tips to Build the Best Content Marketing Campaign
Good content marketing strategy examples will help you decode the process of creating an effective campaign. Here is a step-by-step guide to building the best content marketing campaign for your business:
Step 1: create the content
Before you begin, ask yourself these three important questions:
Why are you creating the content?
What type of content will align with your audience?
How do you acquire the required content?
Step 2: state your content goals
Before jumping into writing the content, set SMART goals for your campaign. Your goals must be,
Specific
Measurable
Achievable
Relevant
Time-bound
Step 3: identify your audience
Do a thorough audience analysis before writing the content to understand what to write or create.
Step 4: do a competitor analysis
This is a good way to understand what is working for your audience and also to draw inspiration for your own content.
Step 5: do a content audit
Analyze what types of content you are already distributing and what is working. This will determine the strategy for your campaign.
Step 7: make a content promotion workflow
Remember to always create content that is relevant, compelling, and meaningful. Once the creation part is over, you need to craft a promotion plan, which will include promotion platforms, the time periods to promote the content, etc.
Step 8: publish the content
Now that you are satisfied with your content and promotion strategy, it is time to publish it for viewing and wait for the results.
Lessons to Learn From Buffer's Content Distribution Strategy
Buffer is a social media sharing and scheduling app that is hailed as one of the best content marketing examples in recent times. The business was founded in 2010, but the core product has evolved significantly since then. The idea was to offer extended features and functionalities that were tailored to suit business needs. Currently, they service over 4 million users who are paid and free subscribers. And most of their success has been organic, which is what makes their story so unique and interesting.
Buffer has successfully leveraged the power of social and content channels, becoming a case study for many content-first startups' growth strategies that run on basic advertising budgets. It was Buffer who paved the way for a new-age content marketing strategy as a viable business growth pillar.
Buffer is one of those few SaaS startups that have built a multimillion-dollar business in a decade, without any external funding to rely on for the first year. They raised a seed round of $ 450K, which they exhausted in building a massive content marketing strategy. It was not until later that they raised their Series A funding of $3.5 MN to accelerate growth. The platform attracts a sea of paid customers, who are drawn to Buffer's viral articles, which still remains their primary user acquisition strategy.
The lessons from Buffer's content distribution strategy over the years are now material for learning for many big businesses and startups alike. Here is a decoded version of some of the secrets to their enviable content marketing plans.
Guest posting to generate initial traction
In the initial days, Buffer relied heavily on guest posts to create brand awareness and drive traffic to its website. This helped the platform develop a niche audience for itself and get ahead of competitors without spending a fortune on advertising. The initial guest posts included listing effective marketing tools including their own to build product visibility.
Leveraging existing research
It can be cumbersome for most creators and businesses to create fresh content that has the same appeal every single time it is published. This is a big hurdle in the content creation business which may act as a deterrent to generating relevant traffic. Instead, Buffer uses content that is already available. It basically generates content on a given topic from research available online and gives it a fresh twist.
Increasing social reach
Buffer leveraged the advantage of having an audience who are already heavy users of social channels. This is anyway a key pillar of any content marketing strategy, and it worked in their favor. Also, they successfully use their own product as a distribution channel. Buffer's own content is among the top suggestions for users for this very reason.
Recycling content
Buffer is a genius when it comes to repurposing content. They effortlessly turn old blog posts into a series of graphic posts to engage new audiences. This brings in new customers and also utilizes old content while saving on time and effort.
Integrating transparency as a strategy
Buffer has done this beautifully. They share everything from salaries to impact metrics with their audience. It is not only a goodwill gesture but also a tactic to attract key customers in the form of startup founders and the like, who are looking for just this kind of content.
Key Takeaways
Content distribution is the method of publishing relevant content online for targeted viewers.
Content distribution can be owned, paid, or earned.
Audit, goals, analysis, types, promotion, and evaluation are the key elements of a good content marketing plan.
The content marketing cycle follows an eight-step process, from identification to publishing.
Buffer is one of the most successful content platforms, having established itself as an effective social media sharing and scheduling app.
The five key elements of a good content marketing strategy include guest posting, leveraging research, enhanced social reach, content reuse, and transparency.
Conclusion
The lessons from Buffer's content marketing are important takeaways if you are a business that relies on social media for scale and outreach. The best content marketing examples have these commonalities that help them scale up and innovate. And the success of your business depends as much on effective marketing as it does on great content.
FAQs
1. What is Buffer?
Buffer is a social media sharing and scheduling app.
2. What is a great content marketing strategy?
A great content marketing strategy is one that helps you optimize your content reach by targeting niche audiences through selected marketing platforms.
3. How to create a successful content marketing plan?
A successful content marketing plan is one that has the elements of audience research, identification of content type, audit of existing content, and curation of content.
4. What are the different types of content distribution channels?
The three different types of content distribution channels are owned, paid, and earned.
5. How to decide where to distribute your content?
Based on the product, you need to conduct market research and identify your audience. This has to be followed by a deep analysis of consumer behavior before curating and rolling out content.
6. Why is content distribution important?
Content distribution serves the purpose of identifying potential customers for your business in an organic way. This is different from sales, wherein you take your product to customers rather than them seeking you out.