Marketing
15 Best SEO Tips From HubSpot And Other Digital Super Brands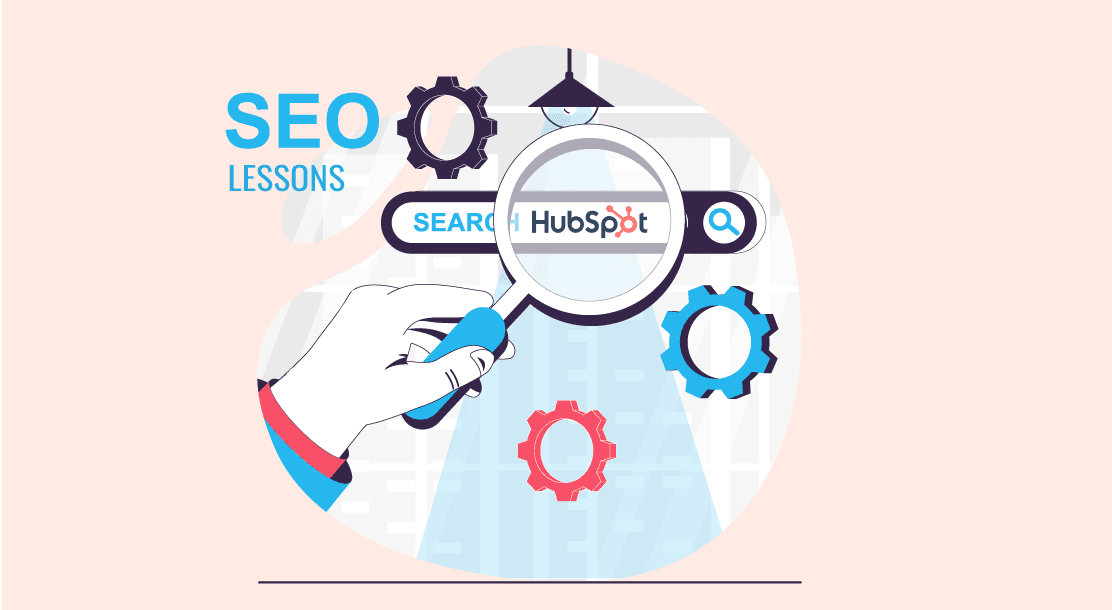 Table of Contents
What Is An SEO Strategy?
Importance of SEO Strategy In Building A Brand
Content SEO Strategy
SEO Process
Top 15 SEO Lessons From Hubspot And Other Digital Super Brands
Key Takeaways
Conclusion
FAQs
With so many major search engine updates being brought up constantly by Google, major players in the digital marketing area such as HubSpot, Ahrefs, and Moz have discussed how their clients' web pages are being affected by these updates. These digital superbrands are at the forefront of providing their audience with useful search engine optimization (SEO) tips for digital marketers out there.
According to a Hubspot survey, SEO is gaining traction because 70% of online marketers say that SEO is better than PPC for generating sales.
In this blog, we'll discuss the best SEO tips from these marketing gurus and help you understand how you can create your SEO strategy to help your brand achieve a scalable online presence.
What Is An SEO Strategy?
An SEO strategy is organizing a website's content by topic and reading level to improve the likelihood of appearing in search results. Essentially, you follow the process to gain organic traffic from search engines and have your target readers navigate your website easily.
According to Hubspot, about 64% of marketers actively invest time in SEO.
Importance of SEO Strategy In Building A Brand
SEO strategy is important to build a brand because when it comes to Google and SEO – you need to work on preparing a website that's high quality, ranks well, and provides a great user experience. As we know, Google really cares about users on all devices – so make sure your website develops around the needs of your audience and improves website response.
The more traffic you have to your site, the better your business will be. You can increase traffic to your site by investing time in SEO strategy. Time and effort must be expended sufficiently on the content you create so that it reaches a greater audience. The more people that are exposed to your brand, the more likely they are to buy from you.
'According to Think with Google, 60% of mobile users have contacted a business directly using the search results.'
Content SEO Strategy
Content strategy is a marketing process that helps your team achieve business objectives. No matter what job you're doing – copywriting, strategy, or design – you need to be thinking about how content will help you achieve goals.
It's important to identify the key objectives of your marketing strategy and use the content as a primary means of transformation to achieve those objectives.
According to SemRush, 79% of marketers reported "generating more quality leads" to be their top content priority in 2021. Content strategists are the main contributors to an online publication's brand voice. Before getting down to writing strategies and tactics for boosting web traffic, these people must know why their work is precious compared to other content on the web.
The right content at the right place and written with a particular tone will help define a brand (or sometimes lead it). However, if this voice or place is not always appropriate, problems like bad search results rankings, etc., the need may arise.
The content strategy starts with an SEO process that you'd follow that'll help you incorporate SEO best practices 2021 and create a website that's SEO friendly using the best SEO tips and tricks.
SEO Process
You can effectively build an SEO strategy to gain traction and increase your visibility online. But to have ongoing success and visibility, it is important to continuously monitor results so you can learn from what's working and what isn't.
Here's an SEO process that'll help you get started on your journey to create content for your website:
Research
It's important to note that your research will be divided into two distinct parts when conducting research. Both of these parts are important to develop an effective strategy.
Keyword research involves finding keywords that you can incorporate in the content to optimize it for Google Search.
Determining the most frequently occurring search phrase that contains your targeted keyword(s) is often an easy task. You can use tools such as Google keyword planner for researching relevant keywords.
But the most common search phrase is usually still quite competitive in terms of total search results and may not be where you want to invest your optimization resources. A far better approach is to find a set of related search phrases that are lightly used by searchers but very relevant according to searched frequency.
For example, if someone is searching for a laptop, that person might be looking for a laptop in Mumbai. When you compare the two keywords – "Laptop" and "Laptop in Mumbai", you'll see that the competition for "Laptop" is steep.
When you'd search for a phrase such as "Laptop in Mumbai", you'll find that even though the term is still heavily used by searchers, it's less competitive. You will then target those phrases in the site optimization portion of our SEO work.
Having established the target keyword phrases, work on an exhaustive competitive analysis of your website against its 7 – 10 biggest competitors. You can use many SEO metrics, including indexed content, Alexa rating, inbound links, and domain age, to gauge the site's starting position against its competition and identify its areas for improvement.
For example, if you see that a particular client has 50% less indexed content than their competition, then revamping their site would be a priority in the planning phase.
Set defined goals
After establishing targeted keyword phrases, it's important to pay attention to the keywords that your competitors are using so you know where they're ranking. It will help you see exactly where your site can improve, and it will give you something to work towards in the coming days and weeks as part of your marketing campaign.
Access to website traffic information is very important. By using it, you will be aware of how your potential customers or target audience are finding and interacting with the site, i.e., which engines they're using, what keyword phrases they've entered into search bars, bounce rates, and so forth.
After looking at the site's starting position, SEO goals are set for how it will progress. These goals are measurable (one big advantage of SEO over other advertising options) and tied to the specific business objectives of the site. They can be adjusted as new insights become available, and you can follow up with reports and assess how close you are to reaching these goals.
Content building
Content is the cornerstone of any good SEO campaign. The search engines love text and if you provide them with a high volume of content, rich in quality and related to your business they will want to keep coming back for more because they will want to make sure that they are getting all the information they need from you.
That's why search engines prefer websites that provide them with more material for their system to consider when ranking your site based on the search terms people are searching for that match your website's content.
Clients' sites often don't produce as many indexed pages during the competitive research phase. In those cases, it becomes vital to prioritize a higher level of content on your site so that your search rankings can reflect this as quickly and efficiently as possible.
Page optimization
You are required to optimize every page for a website with keywords that you want to rank on. There are prominent aspects in a page that'd need to be optimized effectively.
Ensure that your site's page titles connote just what content or offer is on the page that people are about to read. Make them descriptive and impactful, so when a consumer sees it, they know at once what it is they're reading or looking at.
Ideally, they need to lead off with your targeted phrase for that page and follow up with your company name as a secondary element.
Keyword placement in content
Placing the keyword phrase near the top of your webpage or within the first paragraph can give you an advantage in ranking within search engines.
It's not enough to place your keyword phrase here and there throughout the text on your website, but it needs to be emphasized. For example, using two different-sized fonts in bold can make a difference when visitors view your site.
A sitemap includes all the information about the web pages within a website. It's essential to develop a sitemap to help you index your web pages on google. You can use the google search console to generate a sitemap for a particular website.
ALT tags refer to the text that describes an image in images — words you see pop up as your mouse hovers over some photos. In optimizing a company's name, an ALT tag placed behind the picture of a company's logo is ideal.
Meta tags are lines of code included in the uppermost section of a website's code. They communicate the page's subject matter and relevancy to search engines like Google or Bing. Further, a short description of your site included on some search results is pulled from the meta description tag of the home page to better market your site's features and should, therefore, be used to its advantage.
There are many important, technical SEO issues that deserve our attention and affect the success of your overall SEO strategy. These issues include site speed, security, URL structure, crawlability, and mobile responsiveness, among others.
Link building
Link building is the best way to make your website better. It's a simple matter of providing value to other sites in your niche. Other sites will respect your hard work, and they will link back to your website. The more links to your website, the better Google will think it is and the higher it will rank.
Each link you build for your website is like a brick – the more links, the stronger you are. Google views these links (as long as they're from high-quality sites) as votes for your site, so building links and getting backlinks is critical to your overall success. You can check your backlinks with various free online tools such as Moz, Ahrefs, etc.
Revisit your goals and analyze results
The same reporting done earlier can be done again at regular intervals post-optimization. Rankings, site traffic levels, social signals, and other key metrics can then be compared against pre-optimization levels, giving measurable results to your efforts as a marketer. The specific metrics used in an SEO plan will depend on the goals of that campaign.
Top 15 SEO Lessons From Hubspot And Other Digital Super Brands
1. Pay attention to the SERPs (Search Engine Result Pages)
Even though a search engine algorithm dictates what appears on the results page of a search query, sometimes, it rewards web publishers that craft the best content on the internet.
Understanding the keywords that drive traffic to your website is crucial for optimizing it for search. Answering why users click on certain search results often comes down to analyzing the content and seeing what problems are being solved in your industry or niche.
Pay attention to the following, depending on the goals you've set:
Search features
Type of content that's getting rankings (products pages, blogs, tutorials)
Websites that are ranking (databases, business, media sites)
How far down the first organic result appears (ads are shown on top)
How your page shows up (title, meta description, date, jump links, schema if applicable, etc.)
2. Optimize for Google passage ranking
Beginning in October 2020, Google launched what they have named Passage Ranking. The premise behind this new system is to rank individual passages on a web page as opposed to the entire page itself. This means that search engines can pull out a section of content from a webpage – regardless of whether the entire content on the webpage is based on that search query or not.
For example, let's assume you wrote a post about website optimization and user experience covering different aspects of web designing and its components. Your page might rank for responsive website design, even though you may not have optimized for that keyword. Because Google sees a relevant passage about responsive website design in your post, it's indexing that specific passage.
3. Rank For "Topic + Statistics" keywords
If you try to get ranked for the "topic+statistics" keywords, you are essentially inviting other people reading about the topic to look into the relevant stats. So, there is a greater chance that they will see your article and pay attention. Keywords such as "30+ stats related to content marketing in 2021" or "35+ Video Marketing Statistics You Can't Ignore in 2022" are likely to gain interest from audiences.
More time spent on your website and less bounce rate are some of the aspects/examples of good SEO that compels top websites to write articles with high competition keywords.
4. Focus on On-page SEO
On-page SEO is the process of optimizing a page on your site with front and back-end components that help improve your website's search engine rankings. Some of these components include:
High-quality content
Page titles
Meta tags
Image alt-text
Schema markup
Internal linking
Page URLs
Site speed
You should prioritize creating optimized page copy to improve your SERP rankings. What you write should include your target keyword, be contextually relevant to your target keyword, and answer questions your users may have. Ultimately, the goal is to indicate to search engines that you've answered questions a user might have about a query related to "Page Copy."
5. Target a mix of high- and low-volume keywords
You see, high-volume keywords bring in a lot of significant traffic, but they also have extremely high levels of competition to rank for. On the other hand, low-volume keywords are the cream of the crop. They're extremely specific and often have a good amount of search volume attached to them but much less competition.
The trick is to find a good balance between these two types of keywords. It's a balance that will help your website thrive and grow.
6. Keep your content updated and relevant
It's important to reduce the number of indexed pages by deleting old, irrelevant content (that doesn't add value) from your site.
As websites grow, you'll see some pages don't necessarily perform as expected. As that pile gets bigger, the result may be slow or glitchy behavior on your website. Some pages are not critical to the performance of the rest of your site and can be taken down. This is a critical step in successful website growth and prevents undue headaches that come with large volumes of unnecessary content!
7. Repurpose your content
You can repurpose your singular content to create blog posts, email newsletters, YouTube videos, and social media postings. This process is an effective and incredibly resourceful way to gain traffic for using the same content to spread the word about your company's services or products.
Depending on the scale of promotional efforts associated with further distribution of this information, you may be able to help increase brand loyalty and credibility.
8. Develop page authority
As with many other things, page authority is a factor search engines use to determine rankings. Some examples of these factors include quality of content, the number of inbound links, and the time it took the website to receive such attention.
For example, if you have an established blog that's well known for having quality content as well as links from reputable sites (such as TechCrunch or Forbes), your website may rank higher than pages on other more recent sites.
9. Create a link-building strategy
Earning high-quality inbound links from websites on domains with a good reputation is crucial for boosting your domain authority (DA). Unfortunately, as nice as it would be, "If you build it, they will come" is not a viable SEO tactic.
The best way to earn quality backlinks is by networking with other sites and experts in specific fields related to our content. Another great way to gain high-quality links is by making sure that our content is relevant to the linking websites' content.
You can follow Backlinko's skyscraper method to earn quality backlinks.
10. Don't change URLs
When you change the URLs, it is possible to lose backlinks and web pages in the important and relevant process for the website. This can decrease your website's SEO ratings.
It is vital to create a sitemap for all of the pages on their domain and redirect any outdated pages via a 301 (permanent redirect) to a new page on the website domain with the same content and topical focus as before.
11. Compress and optimize multimedia files
Compressing your multimedia files may not seem like a top priority of your SEO strategy, but it definitely should be. Having large, uncompressed multimedia files can hamper the speed with which a web page is loaded.
Increased page load speed is an important factor in Google ranking. Your website can get penalized for long page load speed, which can cost you in return.
You can use the following tools for multimedia compressing:
12. Use image alt-text
The bots that scan your site can't understand your images unless they include alt text descriptions. If a bot doesn't understand an image, it will consider that image a mistake and try to target it with updated code so that the image is no longer visible on your page. Image alt-text is also helpful for ranking your site pages in image-based SERPs.
13. Leverage CTAs whenever possible
Optimizing your page to rank in search engines doesn't do good if your pages aren't optimized for conversion. One of the most important things you can do is implement calls-to-action (or CTAs) on each page, which we define as a button or other link that encourages visitors to take a certain desired action on your site.
Your CTAs must be strategically placed since they will urge users who otherwise might have just been "browsing" to take action by filling in a form or making a purchase – or potentially purchasing something else.
Hubspot's website is one of the best SEO examples and you can take inspiration from it when it comes to placing your CTA. They have tactically placed two defined CTAs to drive customers to try out their product.
14. Engaged and build a strong relationship with developers and designers
Hitting your SEO goals can't be done in a room alone. Like any marketing effort, it involves collaboration with all team members to generate ideas and put them into place.
Relationships play an essential role in success, especially when working within a team! Because of this, it's important to create an ongoing relationship with your design and development teams.
15. Conduct a technical SEO audit
When a search engine bot crawls your site for indexing, it needs to understand what your site is. That refers to content but also how your site is set up. An unorganized website – one in which the pages aren't internally linked or semantically tagged – will be hard for Google to figure out, and as a result, these pages won't rank in Google SERPs.
This technical component of SEO includes many things such as:
Page speed
XML sitemaps
URL structure
Site architecture

A technical audit for your website will help you avoid strikes from bots and help you grow your website in the best possible manner.
Key Takeaways
Have a plan before you start working on an SEO project.
Keywords are an integral part of SEO, so make sure you spend time researching.
Focus on the quality of content for carrying out a successful SEO campaign.
Take inspiration from the best SEO site examples and incorporate the same in your website.
Follow the top SEO tips given by a leader in the market.
Focus on all aspects of SEO – on-page, off-page and technical.
Set milestones and audit your performance at regular intervals.
Conclusion
Whether you are a new, aspiring SEO professional or you've been in the industry for a while, it's always good to know the latest tips and tricks to optimize your content and boost your rankings. The best SEO tips will help you create the best SEO campaign to understand, follow, and then implement the SEO best tips 2021 mentioned above for best results.
FAQs
2. Is SEO worth it?
SEO is great at bringing people to your website. It's not just about generating traffic, though — it's also good for leads and sales.
3. How many types of keywords are there in SEO?
There are nine different types of keywords: Short Tail, Long Tail, Short-Term, Long-Term, Product Defining, Customer Defining, Geo-Targeting, and Intent Targeting. These keywords have their special strengths that will help you multiply your efforts in SEO for your website appropriately.
4. What is white hat SEO?
The term "white hat SEO" refers to SEO tactics regarded as safe and acceptable by the major search engines, including Google.
5. What is the difference between primary and secondary keywords?
Primary keywords are those terms you want to rank for, and secondary ones are those phrases or words that play a supporting role.
6. How do I choose SEO keywords?
Use keyword planning tools such as Google keyword planner, Ahrefs, Moz, etc., to do keywords research. You should refer to the best SEO tips to understand how to choose the best keywords.