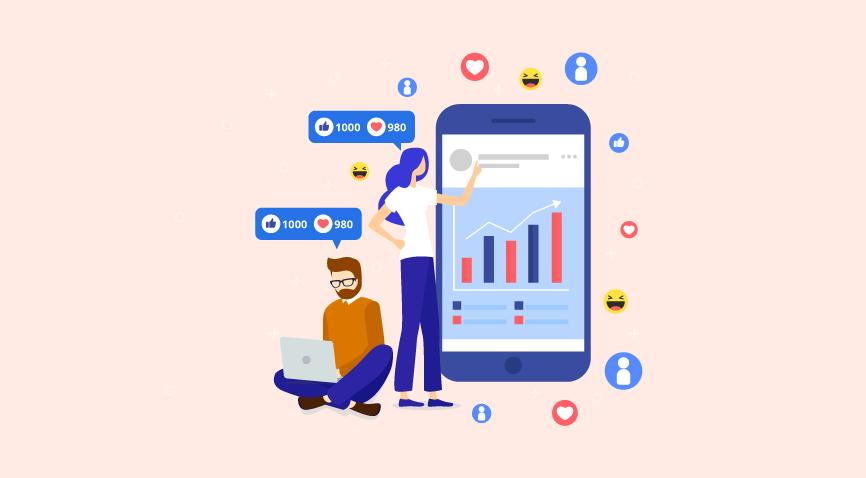 Table of Contents
Importance of Content on Facebook
Types of Facebook content
Top three Content Formats that work for Facebook
Key Takeaways
Conclusion
FAQs
There seems no end to Facebook's popularity, and with the introduction of Meta, or Metaverse, marketers and brand managers are now looking for new ways to engage their audience.
The social media giant offers a gold mine of opportunities for big and small brands to build up their digital presence and connect with a global consumer base by following the right approach. Creating content for Facebook greatly determines your brand's success on the app. Let's take a look into what all forms of content can suit your business to get the maximum out of the app.
Importance of Content on Facebook
As the world's largest social media platform with over 2.91 billion active users, Facebook is a great place for brands to engage and woo their target audience.
However, just creating a Facebook page and sharing posts occasionally won't do any good. To leverage the most of social media, you must regularly update your followers with the latest news, drive engagement, and even hold one-on-one interactions.
Posting relevant content on Facebook builds credibility for your brand
Content helps drive more engagement
The right content connects the general audience with a particular brand
Content helps increase conversion rates and opportunities
The right content enables you to gain authority and prominence in your industry
The type of FB content you post plays a vital role in achieving social media objectives like brand recognition, lead generation, engagement, and even page optimization.
With relevant content, you'll have more engagement such as likes, comments, which results in the Facebook algorithm showing it to more people. In fact, your page's performance is directly proportional to your paid ads' performance, and nobody would like to spend money if their ads don't get the desired results.
Types of Facebook Content
Even after creating your Facebook page, posting content, and understanding the importance of the right content, you still might be confused about what options you have to create an engaging post on Facebook.
Hence, we bring the most engaging and popular Facebook content with examples to make the journey easy for you.
1. Text-based status updates
A simple post without any images, videos, or attachments is called a Facebook text post. Though it's very rare brands or companies post updates with only texts, these can be used as a great tool to take feedback or share important information at the spur of a moment. Do note that these posts usually don't get much reach on the platform, and brands typically avoid them.
2. Images
The image-based posts on Facebook are extremely popular and are best for featuring your products and services. These are great for important announcements or interacting and entertaining your followers. An optimized Facebook image post is ideally square-sized, followed by a description that elaborates on the catchy phrase you've used in the image to grab the user's attention.
3. Carousels
Carousels are a group of four to five images shown as a series to tell an intriguing story, elaborate on a particular topic, or showcase a single product from different angles. These, at times, may also have videos or external links.
You can create a carousel from the Facebook Business Manager by clicking on 'create a post' and then choosing 'Carousel' from the options. You can also create a carousel-based ad like the one shown below to drive engagement.
4. Events
Facebook Events are an excellent way to announce and invite your target audience for an event. Just click on the "Events" button right where you get the option to create a new post, select the type of event you want –offline or online, free or paid, and then enter all the necessary details.
You can also add your friends as co-hosts to the event. The above image demonstrates what an ideal event invite on Facebook looks like.
5. Video Posts
Short, quick, and easy-to-grasp videos are a great way to attract the right attention and boost engagement. You can either upload a pre-recorded video or start a Facebook Live, which has gained immense popularity in the last couple of years.
6. User-generated content
When brands reshare what their followers have posted about them, it is called user-generated content. User content can be in the form of photos, videos, simple text, reviews, and a lot more.
User-generated content works well because 90% of people trust a brand if recommended by other people over advertisements or other forms of branded content. So, if you want your business to do well on social media, share user-generated content every once in a while.
7. Contests
Contests are a sure-shot way to win people's hearts and captivate even those casual scrollers. These can be run any time of the year. You can create a simple image or video-based post for contests, or use Facebook Contests App to do the job in a highly effective manner.
Contests offer a great way to increase reach, overall followers, and brand engagement. Discounts, sales, special offers, and puzzles all fall under this category.
8. Polls
Polls are an effective way to conduct consumer research on a platform where most of your audience loves spending their time. All you need is to ask a question, provide custom answers with a minimum of two or more options, and you're all set. You can ask anything, be it brand-related or humorous, just like the image below.
9. External links
Sharing links to blogs or external content on another platform is another way to keep your audience entertained. Paste the desired link in the composition box, add a suitable yet catchy description, and you're done.
10. Stories
Just like Instagram and WhatsApp, Facebook also has a "stories" feature which disappears in 24 hours. These can be image-based that lasts for 5 seconds or video-based that lasts for 20 seconds.
11. Facebook Watch Party
Watch parties are the latest trend and have become even more popular than Facebook Live. These are meant to screen a public video on Facebook in real-time so that both you and your followers can watch it together. It's a great way to build buzz around new releases or launch events.
12. Other Hot Options
Apart from the ones we've listed, you can also do a quick Q&A (question and answer), a check-in post, gift-card options, or advertise jobs by just clicking on the appropriate button.
3 Best Content Formats for Facebook
You now know what type of content you can share on Facebook as a brand. But, you might not be able to explore all the options, so we bring you the top 3 most engaging Facebook business content formats.
1. Videos
When it comes to videos, most users prefer a quick explanatory video over a lengthy one. That's why videos garner the highest engagement rate on Facebook. These can be humorous, explanatory, informational, promotional, or any other type that adds value for your target audience.
Videos can be in the form of Facebook Live, simple video-based posts, or even hosting a Facebook Watch party. The fact that a video ad costs just 10% of a carousel or image-based ad also adds to the popularity of this content format.
2. User-Generated Content
User-generated content is neither sponsored nor follows a particular format but is the most effective means of building credibility and trust.
People trust the claims made by a brand only when it is recommended by someone else, either a famous figure, a regular user, or a first-time trier. User-generated content is now gaining a high prominence on the platform and more brands promote posts where their users have complimented them.
3. Images
When it comes to creating content for Facebook, nothing so far beats the use of image format. A lot of brands and marketers share other content types like polls, contests, giveaways, event announcements, etc., through images that are accompanied by a short description.
Take a look at this announcement by Domino's India in the image below.
The announcement could've been shared as a pinned post, a status update, or even through the announcement option on the app, but by creating a simple visual, it attracted more attention.
Key Takeaways
You should only post brand-relevant content on your Facebook Page to retain customer's interests
You can't drive engagement and achieve desirable results if you're only posting content on Facebook. Engage with your followers through messages, respond to their comments, look for feedback and thank them, or even appreciate them for taking the time out to interact with your page.
You must continually experiment to find out what engages your followers the most and post only that type of content.
Facebook is not just about ads. So, understand your audience and deliver what they want. This way, you can get high conversions even from organic, non-paid posts.
The only posts that do well on Facebook are the ones that are short, have a clear message, and have creative content and visuals.
Conclusion
Facebook is a vast and highly complex tool that offers great engagement when leveraged the right way. Creating content for Facebook and sharing it at the right time is how you can get the most out of this platform.
Now that you know what needs to be done and how to decide the best Facebook Post content, start devising an effective Facebook content marketing strategy with scope for lots of experimentation. It'll help you establish authority on the platform and even get quality leads and users for your product or services.
FAQs
1. What are the top 4 Facebook ad formats?
Image ads, carousel ads, video ads, and lead form ads are highly popular on Facebook.
2. What content works best on Facebook?
Any content that relates to your brand and garners high engagement from your targeted audience will work the best for you. There is no one-size-fits-all strategy while creating content on Facebook.
3. What should you not post on Facebook?
As a brand, you must never post offensive content, strong opinions, or personal information, whether it's yours or someone else's. Avoid posting anything irrelevant to your brand on a Facebook business page.
4. What is the ideal number of photos for a Facebook post?
It depends on the type of post you are creating. A photo album may have as many as 1000 photos, slideshows have 3-10 pictures and image carousels can have up to 10 images.
5. What is the best type of Facebook Business Content?
Facebook Business content should always be brand-relevant. You cannot post content relating to food if you are a lifestyle brand or share B2C content if you only deal with B2B customers.
6. What types of content can help me get the most engagement on Facebook?
Behind the scenes, trending topics, infographics, telling relevant stories, industry tips, contests and giveaways, discount or sale announcements are the different content on FB that will help you get high engagement.