Content
7 Benefits of Content Writing [+Tips for Success]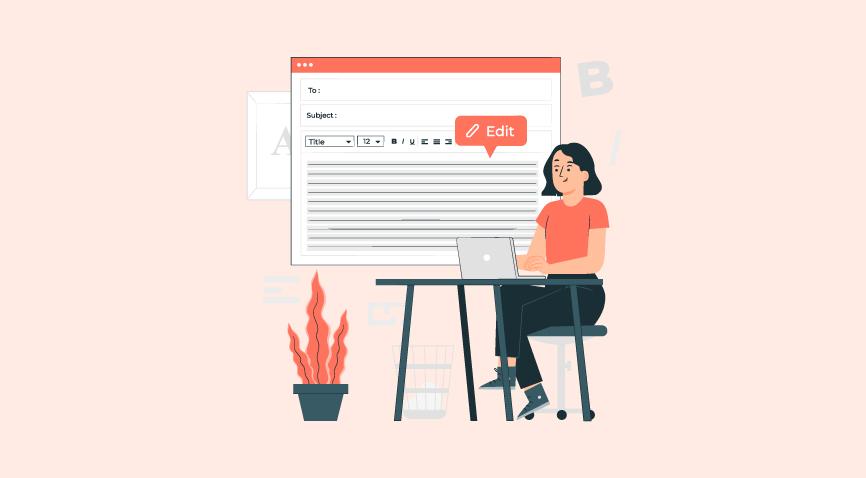 Increasingly, we are witnessing content writing become a valuable and commercial practice. It has evolved from a hobby to something substantial enough to be a full-time job, especially now, with the boost in the credibility of blogs. The benefits of content writing, apart from the obvious ones, such as expressing your creative skills, also extend to it being a profitable form of marketing.
Considering the newness of digital marketing as a whole, there are no rules set in stone to guarantee your success as a content writer for a business. However, there are a few content writing tips and tricks that you can follow to write attention-grabbing content that will help the business grow.
What Is Content Writing?
Content writing, as suggested in the name, is the process of researching, planning, writing, and editing content meant for an online platform. It includes everything from web content writing and technical writing to SEO writing. Usually, whenever you hear the words content writing, you think of articles, but there are different types of content that are written for a business. These include, but are not limited to, the following:
Content for websites
Email campaigns
Blogs
Product descriptions
Keynote speeches
Email newsletters
Social media posts
Unlike copywriting, content writing isn't solely aimed at selling products. It is also used to inform the customer about the company as well as the product.
What are the Benefits of Content Writing for a Business?
The advantages of content writing services are hard to overlook. Technically speaking, every company already participates in content writing. You have already rendered content writing services if you have ever sent out a newsletter on behalf of your company or even an email. However, as a business that intends to grow, the benefit of content writing can only be observed if you utilize the services smartly. Here are some ways in which content writing is useful.
1. It boosts search engine optimization (SEO)
SEO is an integral part of digital marketing. The idea behind it is fairly simple; SEO is the process of increasing the traffic your website receives from search engines. The best way to boost your SEO is to get an SEO content writer who will write SEO-friendly content. By following a few SEO-friendly content writing tips, you will be able to optimize your statistics with considerably low effort.
2. It boosts sales
The advantage of content writing is that it allows you, as a business, to showcase your product in an ideal light. Good content will influence the decision-making process of the consumer. Regardless of whether it's an e-commerce business or a service-based one, you can sell your product using well-written content.
3. It represents your brand
The website you create will reflect your company, allowing the customer to learn more about you and what you represent as a business. Keeping a consistent voice throughout your website and other digital marketing content will allow you to create a strong brand image in the minds of your customers.
4. It retains viewers
Let's suppose you produce content that can be consumed at regular intervals, such a newsletter that you send out, or weekly updates to the blog, or even new information on your website regarding the products being sold. In that case, it gives the viewers a reason to keep coming back regularly. Well-written content is addictive, and people will definitely want more of it.
5. You can recycle or repurpose content
Writing new content time and again takes a significant amount of effort. However, utilizing the content already published on your website and giving it new life by turning it into videos, infographics, podcasts, and such allows you to save time and effort. Repurposing content is an efficient solution to an age-old problem.
6. It boosts conversion rates
Imagine if you require the people who visit your page to fill up a survey; well-written content that is engaging for the viewer will ensure the person finishes the survey. This completion of a particular goal is what is known as the conversation rate.
7. It helps you reach new audiences
Engaging and well-written content will always flourish, especially if you follow a few SEO-friendly content writing tips. It is slowly becoming necessary for a business to have a social presence to amass a greater audience in this day and age.
7 Tips for Content Writing Success
Once you have decided on what voice you wish for your business to have, you should focus on creating that voice. The content should be engaging for the reader, while also being informative. Follow the tips given below to ensure the success of the content you produce.
1. Research keywords
SEO is the key to success. SEO research lets you know what Google, and by extension, your customers, find what's most remarkable about your content. So invest in an SEO suite, such as Moz Pro, AWR Cloud, Deepcrawl, or SpyFu, so you know what keywords to use in your content.
2. Write a catchy headline
This one is pretty self-explanatory. A catchy headline will help attract the attention of the viewer. Therefore, it's recommended that the headlines either begin with "How to" or have a number in them, such as "10 Best Marketing Tips."
3. Use a call to action (CTA)
The main aim of your website is to make the viewer complete action on said website. Using terms, such as "Sign up now," "Download now," or "Subscribe to newsletter" helps out considerably.
4. Give the audience a reason to care
Unless you provide the reader with a reason to care about the product or services you render, all this is a moot point. Writing an introduction helps you engage the reader bit by bit, while also giving them something to care about.
5. Use visual aid
Adding infographics, photos, and the like helps you catch the reader's attention in a much easier way, and even helps maintain it. Visuals make it easier to consume data and keep the viewer engaged.
6. Keep the audience in mind
What kind of audience are you writing for? You must write the content according to the demographic of your readers. Your audience will play a key role in deciding the kind of content you produce.
7. Distribute it on social media
Social media has become part and parcel of forming a business. So, if your content is not suited for different social media platforms, you will be missing out on a significant chunk of the potential audience. Make sure the content you write can be chopped up (if required) to be circulated on social media platforms, such as Facebook, Instagram, and LinkedIn.
All in all, the benefits of content writing allow businesses to flourish considerably. By following the suggestions given above, reaching out to new audiences, boosting SEO and engagement with viewers, the website you create is sure to succeed. While it might seem arbitrary, content writing makes a significant impact on your website's traffic. If done smartly, you can utilize this service to your advantage by following these tips for effective content writing.
FAQs
1.

What is the advantage of content writing for a business?
Content writing helps businesses grow by improving the search engine ranking of the website and attracting new people.
2.

Why are content writing services?
Content writing services are firms, groups, or companies that provide content writers who write blogs or content for websites. There are several different benefits of hiring content writing services over individual content writers. These include saving time and effort, better experience, and superb organization. 

3.

Does content writing pay well?
According to Web dew, an experienced person can expect about 3.6 lakh per annum. Meanwhile, A content writer with experience between 2-5 years can expect a good salary, around 5 to 8 lakh/annum.
4.

How does content writing help businesses?
Content writing allows businesses to boost their SEO, which increases the traction they get on their website.
5.

What is the most important thing for a content writer?
The most important thing for a content writer is to write informative content that also manages to be engaging while utilizing keywords to boost SEO.
6.

What is required to be a content writer?
A Bachelor's degree in communications, marketing, English, journalism, or related field.