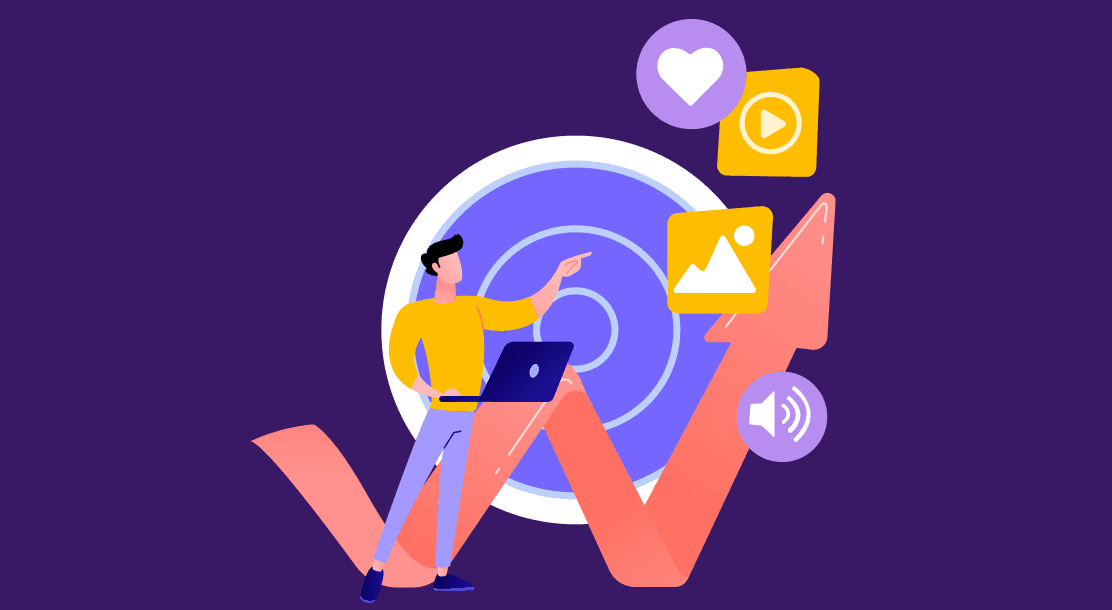 A good B2B social media strategy is essential even for B2B businesses. That's what we aim to discuss and also provide you with five must-have elements.
This widespread misconception that social media marketing is primarily for B2C businesses prevents B2B businesses from reaping the benefits of this powerful communication and collaboration channel.
When we speak of B2C brands, we refer to those who sell directly to consumers, whereas B2B brands sell to other businesses. Despite the benefits of social media marketing, B2B businesses lag behind their consumer-facing counterparts.

Hence, we'll cover the importance of social media for B2B businesses and five important elements of every B2B social media strategy.
Importance of Social Media for a B2B Business
The main goal of social media marketing is to nurture relationships to increase brand loyalty and advocacy. Although social media may not directly generate sales for B2B businesses, the value is in gradually increasing a buyer's interest in a brand. Social media is a soft instrument that helps achieve hard metrics such as customer retention or sales.
Social media helps build brand awareness and visibility for B2B brands.
Social media serves as a well-established distribution platform for content, services, ideas, and offers of B2B businesses.
B2B social media marketing can be used to establish a company's reputation as an industry thought leader.
By building brand advocates, B2B businesses can create public relations (PR) opportunities, favorable web mentions, SEO, and brand loyalty.
Social media can improve SEO by increasing positive mentions, third-party links, and interest in a brand's content.
B2B social media strategy can drive new leads into the funnel when combined with content offers such as factsheets, whitepapers, or other items of interest.
To better understand the needs of potential customers and leads, social media can play the role of a B2B customer review program.
With B2B, social media businesses can better educate their customers and help them understand the aspects that influence their decisions. This process of educating fosters consumer and brand trust.
B2B customer care service and loyalty programs can also benefit from social media.
Now that you've understood the key importance of a B2B social media marketing strategy, let's dive into five important elements every B2B social media strategy should have.
5 Important Elements Every B2B Social Media Strategy Must Have
1. Set goals
Setting goals is crucial for businesses of all sizes, but it is especially important for B2B businesses. After all, there's a lot of competition out there, and there are so many marketing channels to choose from.
But, you shouldn't be on social media just for the sake of being on it. Consider how a B2B social media approach differs from a retail or e-commerce strategy. Most B2B organizations utilize social as a top-of-the-funnel marketing channel, primarily for content promotion and awareness, rather than focusing on selling.
Based on the recent B2B social media marketing research, marketers and B2B businesses should prioritize the following goals:
Increasing brand awareness
Educating the public
Developing credibility and trustworthiness
2. Use customer-centric strategy
We frequently hear the urge for brands to be more "human." B2B businesses are no different. That's why you should prioritize your customers throughout your social media campaigns.
Customer engagement can instantly make your brand feel more personable, no matter how technical or unique your product is. Excellent customer service puts you in the good books of your customers and shows potential customers that you're mindful of their concerns.
Consider using customer stories in your B2B social media content strategy. This also allows you to promote your services without being too sales-y. All in all, customer interactions should be at the heart of your B2B social media strategy, both in terms of service and content creation.
3. Align your strategy with business initiatives
This is an important aspect to emphasize. One of the most common misconceptions about B2B social media marketing is that it has little to no return on investment.

It is mainly because many marketers either go wrong in linking social media performance to company-wide data (think: sales, traffic) or fail to communicate those outcomes across departments.
On the other hand, social media is an excellent area to support company-wide strategies. From product launches through public relations and beyond, it's critical to maintain contact with people outside of marketing and add context to your campaigns.
4. Overcome the stigma of "boring" B2B content
Sure, words like "security," "finance," and "software" may not make people jump up and down. Even if you're not in a particularly exciting business, your prospects will be interested in your service. It can be difficult to make your social media presence less boring, but it's not impossible.
Let's look at some tactics to implement to make your B2B social media strategy less snooze-worthy.
Stay on top of trends
Refine your brand voice
Adapt your content to social-friendly formats
Embrace employee advocacy
5. Emphasize the most B2B friendly platforms
When it comes to promotion on social media channels, B2B businesses must make the most of their time. According to recent data from the Content Marketing Institute, a few B2B social media outlets are worth considering for good results.
To avoid spreading oneself too thin, we recommend targeting one or two of these social networks.
LinkedIn: LinkedIn is the ideal B2B network, known for thought employee engagement, leadership content, and a sophisticated ad platform.
Twitter: Twitter is an excellent resource for finding new trends and interacting with clients and business influencers.
Facebook: While much B2B marketing on Facebook is focused on ads, it's also a wonderful place to post employee-centric, non-promotional B2B social media content.
YouTube: YouTube is ideal for instructional videos, interviews, presentations, and advertising.
Instagram: Instagram is great for visual content (think infographics and quick how-to-do videos) and culture-focused content.
Although B2B's presence on platforms like Pinterest is expanding, the five networks listed above are crucial for B2B social media marketing.
Conclusion
B2B companies simply can't afford to ignore social media any longer. Whether you're trying to raise awareness or promote your products and services, the five best practices listed above can assist you in developing a plan that makes sense.
FAQs
1. Why is social media marketing good for B2B businesses?
Social media marketing is highly beneficial for B2B businesses in today's digital world. It helps B2B businesses focus on brand awareness, visibility, and lead generation.

2. How to make a social media strategy for B2B business?
To create a B2B social media strategy, start with setting goals, refining your brand's voice, and emphasizing the best B2B-friendly social media channels, among other practices.