Peppertype.ai
An Ultimate Guide On Writing Attention-Grabbing Headlines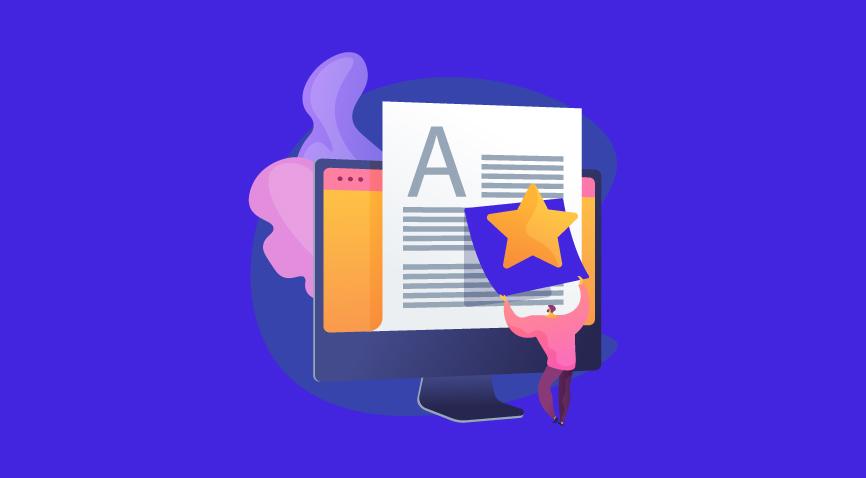 Table of Contents
Key Elements of a Viral Headline
How to Write an Effective Headline?
Key Takeaways
Conclusion
FAQs
Impactful headlines are essential to driving website traffic and engagement. Most copywriters will agree that writing effective headlines is as significant as the content itself. A copy title sets the tone and expectations of the content. Just as advertising is to sell products, headlines are to sell content. The primary principle of headline writing is to make it exciting and foster an engagement with the audience.
If your headline doesn't impress, the main content isn't likely to see the light of day. A few words can make all the difference in headlines that affect the click-through rates. So, how to write a viral headline? Read on, for here; we reveal attention-grabbing headline writing tips and techniques.
Key Elements of a Viral Headline
First of all, remind yourself what purpose does a headline serves? The foremost objective of a headline is to grab users' attention and make them want to read the content. And there are several ways to achieve that. The headline should somehow lure readers into the LEAD. A lead is the first few sentences of any article which involve the who, where, what, why, when, and how of the subject of the content.
Like the 5 Ws and 1 H in news writing (and any good lead), we have something of a 101 in writing attention-grabbing headlines. So, before you dive into headline writing tips, let's begin with the key elements of a compelling headline:
Unique
The world is so done with things on repeat – movie remakes, copies of copied tik-tok trends recopied on Instagram – you get it, right? It's the same scene in the content market. There are plenty of blog posts and materials on similar topics that our problem is no longer so much a lack of content as the redundancy of it.
As content writers, you must be aware that there's already a plethora of online content similar to what you are working on. And, as wise copywriters, you already made in-depth, superior content, hopefully. But how do you tell readers, "Hey, this is the one you must read, the one better than the rest"? Headlines, that's how. So, write an attention-grabbing headline to outshine your competitors; tell them how yours is different and not the same old.
Ultra-specific
What exactly have you got for the readers? State right-out, and let them know what the content is about. As a writer, you probably heard the tip about not giving too much away in your headline. There's the lead coming up, but provide enough information in the headline to help the readers decide. To write an attention-grabbing headline, do not solely on readers' curiosity to lead into the content. Tease around the subject for a while.
When you aren't specific with your offer, customers might get confused or, worse, uninterested – aka mission failed.
Urgency
Copywriters are well aware that headlines are written to sell their content. A crucial principle of headline writing is to treat the headlines as an ad for a product. The headline of a copy is supposed to act as an ad for the content, which in itself is a form of an ad – i.e., meant to drive sales.
Make an offer that can't be refused and tell the readers that the request is valid for a limited time; and that they must get it now or they'll be missing out on the best.
Also, Use CTA or Call for a prompt action – i.e., to keep reading.
Useful
Ask yourself what the purpose of this content is? Convey to readers how the content will benefit them. If the content offers solutions to problems, announce them in the headline. Don't rely on customers to figure out things by themselves. Also, do not be afraid to state the obvious in the headlines.
So, those were the '4 Us' of writing attention-grabbing headlines. You don't have to incorporate all of them in one headline. The quest is to try.
How to Write Effective Headlines?
If you think about it, the headline writing process is similar to that of content writing. Let's have a look at how:
Know your audience
To write a viral headline, you must know whose attention to attract through your headline. You have to research in-depth about your target demographic. What kind of language does your reader use? Check user surveys to find out how the audiences are talking about a particular topic. Mimic their language.
Better go bold or stay humble in your headline, never in between. Most users prefer genuine headlines but would also tolerate those over the top.
Use choice keywords
Make the headline SEO-friendly to have better chances of showing up in search engine results. This will easily tie in with the 4 Us of writing attention-grabbing headlines if you already have specific words or terms mentioned there.
Power of 'power words'
Headlines don't always have to be puffed up with keywords. To write a viral headline invoke the readers' emotions – fear, curiosity, anger, relief, concern, gain, amazement, etc. Whether positive or negative, your words should be strong and persuasive enough to arouse readers' interest.
Outline
This one's a fun trip. You know how you lay a skeletal structure for your content, layout specific words you can't miss in your headline. Then, frame your title around those keywords; you might achieve the 4 Usof writing effective headlines.
Research
Another important principle of headline writing is to research in-depth about your target audience, the kind of content they consume, and the kind of search phrases they require answers to. The more you research, the better you know your audience and what keywords work and what don't.
Write for one and all
To write a viral headline, keep it simple. Unless your target audience is narrowed down to a super particular niche, write the headline in such a way that anybody can comprehend it easily. Use an active voice. Keep it as understandable as possible. Headlines shouldn't require a dictionary to decode your 'clever' attempt on grandiloquence or witticism.
Editing
An attention-grabbing headline has probably been revised and edited way too many times. No writer would commit the plunder of forgoing an edit of their content. Don't even think about not revising your headline. As you tweak the first mediocre few, you're bound to come up with better lines eventually.
Practice
The art of writing attention-grabbing headlines, much like content writing skills comes with time; the more you keep at it, the better you get. Craft as many headlines as you can.
One common mistake content writers usually make stopping at the first two to three headlines. According to the rule of thirds (not to be confused with photography's rule of thirds), your best ideas are usually generated in the third/final phase.
You'd have to have passed the stage of mediocre ideas to reach the innovative brainstorming stage. In short, you'll need to do a lot of writing and rewriting to arrive at the best headline.
Know your platform
Are you writing for a blog post, newsletter, email, or will it be in the form of a caption for social media? Set the length based on the platform. Six words are the ideal length of an attention-grabbing headline, according to Buffer. Readers usually focus on the first three and last three words in a headline, so take care of those firsts and lasts.
Stats and Numbers
Statistics have a way of adding believability or amazement for the readers. Using numbers has a way of relaying specificity and simplicity, like '7 Ingredients of a High Impact Freelance Writing Proposal', 'Top 10 ways to earn from blogging, etc.
Pro Tip: Use numerical, not words, for the numbers. Example: '7' instead of 'seven.' Also, odd numbers seem to be working better than even ones.
Evaluate
As with marketing web content, find out how well the headline worked. You'll want to be unique, and thus popular headline formulas may not always work out for you. The only way to see what works (what doesn't) is for you to try using different approaches, test (A/B testing), learn and apply.
If you want to write viral headlines instantly, go for Peppertype.ai, which can help you create effective headlines in a few simple steps.
Lastly, the headline looks like this:
Key Takeaways
One of the critical principles of headline writing is to make it eye-catching and unique. If readers are not hooked from the beginning, they are not likely to make it to the end.
To write a viral headline, keep it specific and relevant. Do not make your headings a clickbait that has no connection to the content. It will turn away readers from your work.
Another headline writing tip is to express a sense of urgency or rouse some interest in your audience. If it is interesting, readers will click on it.
To write attention-grabbing headlines, always keep your target audience in mind. The platform on which your article would be posted also determines the kind of headline.
Another tip for writing effective headlines is to include keywords in them. Keywords are a crucial part of search engine optimization (SEO). It helps your content to rank higher on search engines.
Editing is the most important principle of headline writing. After a few edits, you will find that it is much more concise and appealing after you come back to it.
Conclusion
When a user stumbles upon your blog, your heading is the first thing they notice. It is a make or break for your website. People will probably not read your content if you cannot curate attention-grabbing headlines. You have to entice your readers to open your content. Attractive headlines are the key to attracting readers. And your content also has to be engaging and meaningful to retain these visitors and turn them into paying customers. To write compelling headlines, focus on your target audience. Every social media platform has different content needs. The best headline writing tip is to note the publishing platform. A headline on Instagram would be different from one on Linkedin. Keep editing your headline! Be genuine and unique. Your headline may go viral in no time.
FAQs
1. How to write an attention-grabbing headline?
To write a viral headline, the foremost thing you need to focus on is your target audience. If you target a younger demographic, consider using popular culture examples to appear relatable. You may choose to highlight pain points and draw readers in. The most important headline writing tip is to keep writing, experimenting, and editing! Some other tips for writing a viral headline are:  
Summarize your story in your headline 
Use keywords 
Show numbers and statistics
Give a glimpse but never disclose 
Keep it short and crisp 
2. What are some great headline examples? 
The most effective headlines entice the reader but do not give the whole story. The foremost purpose is to make the reader want to click on the headline. Here are some examples of attention-grabbing headlines.
Top 10 trending outfits to don in 2021 
Don't miss out on this magical diet plan 
What to avoid when trying to lose weight? 
Five common myths busted about our universe
3. Can I copy headlines that catch attention?
The main principle of headline writing is to be relatable, genuine, and relevant. Duplicacy won't win you any points with your audience. You won't stand out, and nobody likes to read boring unoriginal content. Also, you cannot duplicate somebody else's material, as your website may be accused of plagiarism. Instead, you can try Peppertype.ai in case of creative burnout. It can generate 100% unique, attention-grabbing headlines within seconds!

4. What are the types of headlines? 
You can experiment with the five following types of attention-grabbing headlines. Always remember that the key to writing a viral headline is to be relatable to your target audience.  
Direct headline 
Question headline 
FOMO headline 
List headline 
Triggering headline
5. How do you write an Instagram headline? 
Instagram is mostly about video content. However, headlines still play an essential role as the first few words of your caption are visible when someone shares your post. Focus on how your content is benefitting the audience. What are their pain points? What emotion do you want to evoke through your content? The key to writing a viral headline is to focus on the target audience. If your headline evokes an emotion, tells a story, or is humorous, the audience will likely engage with it. Be true to your brand values and keep writing!