Peppertype.ai
How Content Generators Work And How To Use Them Effectively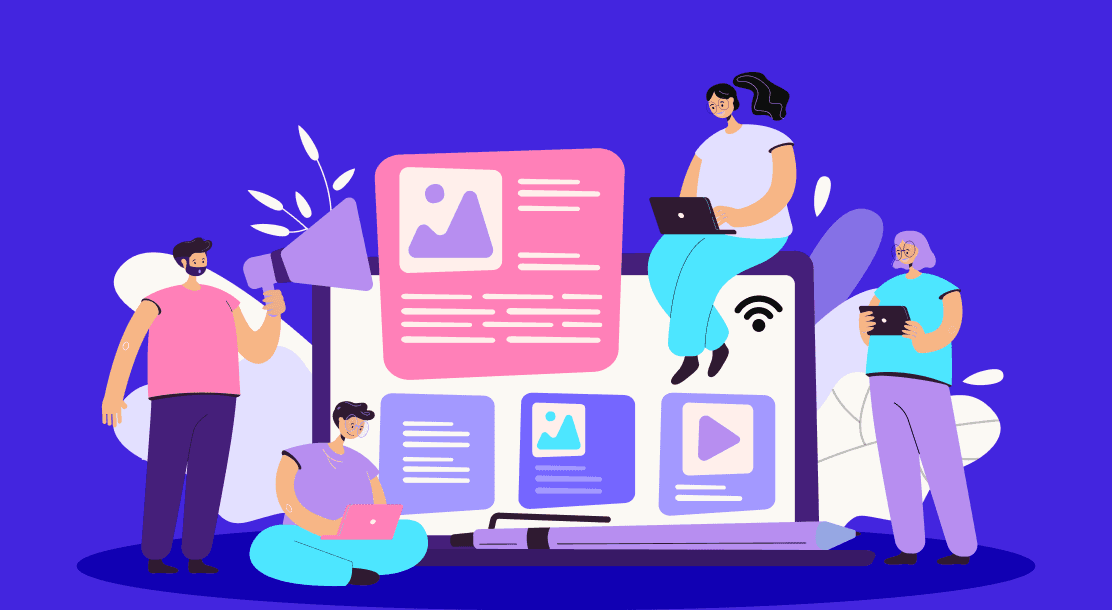 Content generators, like Peppertype.ai, are highly effective writing tools to help aid writer write better. Let's take a look at how these work and to properly use them.
Artificial Intelligence is here to save you from the torment of constructing content from square one. Many leading businesses now invest in AI. Then why should you not believe in content generators? With the advancement in technology, these AI tools have come a long way too. Let us delve into how these generators work, how beneficial they are, and more importantly, how you can effectively use them.
What are Content Generators?
It takes the twinkling of an eye to create a website. Probably it does more for a newbie at web development. But when the website is ready – the next big thing on a business holder's mind is – how to go about the content section? How to fill up the content? That's when the content generators come into play.
An AI content generator is software that uses its tools to generate content without using your creative skills. There are several sections for you to choose from – In case you fall short of them. Choose and get computer-generated content assisted by Artificial Intelligence.
It could be in any form of content:
● Blog topic
● Blog ideas
● Content ideas
● Keywords
● Copywriting
● Ad content
● Story plot
● Testimonials
● Listicles
● Alternative text for images
● Phrases
What can an AI-powered content generator do other than create content?
● Surf through data and mark the questions most netizens ask when online
● Evaluate the competition around those questions and keywords
● Offer recommended content that search engines like Google would recognize and acknowledge as relevant to searched phrases or terms by netizens
Now we take you to understand the benefits of possessing content generators.
How Do Content Generators Work?
Content generators create content for you. You give them inputs, select the kind of output you desire, and wait for it to present the final output to you.
Content generators must be easy to understand for users. Peppertype.ai is one of the best content generators because of its ease of use and desirable outputs. You can choose whichever you want from the varied types of content.
The AI of Pepper Content is so intelligent that you give them a few words or pointers, and they will create long and meaningful paragraphs for you. Follow these footsteps for a better catch at content generators like Peppertype.ai.
● Visit the website
● Check your content requirement
● Choose from the categories you want
● Enter your need or keyword
● The software generates it in the blink of an eye
● Check the content for plagiarism
● Check the content for grammar errors
● Add a human touch because AI doesn't fathom emotions and empathy
● Your content is now ready for use
Benefits of AI Content Generators
1. Produce any type of content you desire
It could be short captions for your Instagram post, long stories, advertisements, product descriptions, or blog ideas. AI content generators can act like robot journalists and write or rewrite any content piece for you.
2. Deliver unique content in no time
Unique content is what most businesses thrive to achieve. Some AI content generators have a score of 94% on Copyscape. It is something that most writers wish to effectuate.
We know the products don't change – they only get modified. Likewise, it cannot be authentic for content. Content cannot get modified. It has to be unique, enticing, original, meaningful, and possess a top-notch quality at all costs. An article generator can get close to procuring it for you.
3. Assured future
Research says 50% of consumers have faith in AI. Other statistics show the global AI market value by the year 2027 will reach $267 billion.
No one knows what the future holds for each one of us. One thing is unquestionable – Artificial Intelligence is not going anywhere in the future. It is here to stay. And stay for a long time. The future belongs to AI.
4. Facilitate writers to get over writer's block
A writer cannot produce new content, or his creative processes slow down a notch in writer's block. There are can various reasons for writer's block.
Content generators can step in and help writers get over their writer's block. In particular, an AI content generator contributes to the works of a writer. They teach the writer to create free articles, obtain content or blog ideas, and generate content to fuel their creative juices.
5. Hit the world at the right time
An incident occurs in the world. Say, for instance, the Russia-Ukraine war, and you are on an extremely short deadline but want to share your opinions with the world – you can pour your trust into a free article generator. Or you can try out a content idea generator.
In no time, you will fill your website and/or social media platform feed with your information. The right timing of content sharing gives you likes, shares, follows, retweets, views, recognition, appreciation, and popularity in cyberspace. AI can foster you with that.
How to Use Content Generators Effectively
We told you about what content generators are and how beneficial they can prove to be. Now is the time to comprehend their usage. It is not rocket science. Most people worry about how to use technology. In particular, Artificial Intelligence. Here are six tips for using an AI content generator.
● Find the space between specific and not too specific
Your search needs to be appropriate enough for the AI to grasp. Not too detailed, neither too obvious. Make sure you give enough information to the tool. It should give you results in the form of creative ideas and not look like the input itself.
● Combine tools of an article generator
They have a myriad of tools to help you create engaging content. To create a blog article, you can blend blog ideas, introductions, lists, keywords, and bullet point expander.
● Create your structure
To be on the right side of the content created by the AI, you must be ready with a good-to-go structure. Use a blog outline tool and let the content generator create a blog article for you in a structured outline after a lot of research.
● Form new experiences with the input
The input section of a Peppertype.ai is your free space to try out many types of bios. You can enter input and watch how the AI generates a bio for yourself. Say by way of illustration – Dr. Arati Kulkarni. Look at how it generated an array of beautiful bios for her.
● Get the facts checked through search engines
Do not trust every word that Artificial Intelligence says. Keep your options open. You must know that AI-generated content isn't always be perfect. Check every sentence mentioned by AI. In addition to good content, it's imperative that it's backed with accurate facts.
● Know the tools of an AI content generator beforehand
Some article generators are not well-equipped with every AI feature. Try to browse through the features of an AI content generator before you pay or sign up for it. Read all the descriptions carefully. Opt for the one that has a maximum number of features.
Key Takeaways
● With many methods and tools of AI-powered content generation in place – you can
○ enter the battleground of search engine results
○ increase brand recognition
○ attract customers to your business
● Be it a blog ideas generator, free article generator, or content idea generator. You can get hold of one of these and begin your online journey.
● AI content generators have not picked up the momentum yet. But they will do so in the coming years. It can create content for marketing purposes.
● Human guidance comes in handy when you choose the right words, keywords, descriptions, one-liners, and clues to the content in question. These tools are in the market but do not replace content marketers, content writers, or copywriting done by humans.
Conclusion
Artificial Intelligence can create content instantly. It has its brain, and it gives a writer absolute rest. The sentences do not have grammatical errors. Even if they have errors – it is way better than scratching your head to form a sentence. Editing is far better than writing the whole content piece.
AI-powered content generators are here to stay and slay. Give your categories a long thought and get hold of an AI writer. It will save you a lot of time, money, and effort. Also, creating catching content pieces for you.
If you are still wondering how to use a content generator, try logging in on Peppertype.ai. Its hassle-free features will immerse you into the Artificial Intelligence process of content generation in no time.
FAQs
1. Can Artificial Intelligence replace writers?
No, Artificial Intelligence will never replace writers. Passionate writers can embrace tools that can speed up their creative processes. These tools can also assist them and help them write better.
2. What is the ideal number of keywords in an article?
Earlier, the score was five to six keywords per 500 words of the article. But it changed to two to three keywords per page. Two reasons are overcrowding of keywords and spoilage of sentences in write-ups. Writers entered the keywords wherever needed, ignoring the sentence structure, paragraph length, and reference.
3. Will Artificial Intelligence take over copywriting?
No, Artificial Intelligence will never take over copywriting. Emotions and empathy are the two main focuses of copywriting. Artificial Intelligence knows nothing about them. It will not replace the creative copywriter's place.
4. Can Google find out about AI-generated content?
Not without the help of human reviewers. Google's systems cannot detect auto-generated content without the help of human reviewers. Even though AI falls under the list of auto-generated content. And auto-generated text can lead to a manual penalty.
5. Which kind of AI gets used in Google?
Multitask Unified Model or MUM is the latest Artificial Intelligence tool of Google. It got introduced in 2021. At the end of 2021, most of the applications started using MUM. It has a lot of promising features.