Content
8 Best Content Writing Services of 2021: Web Content Creation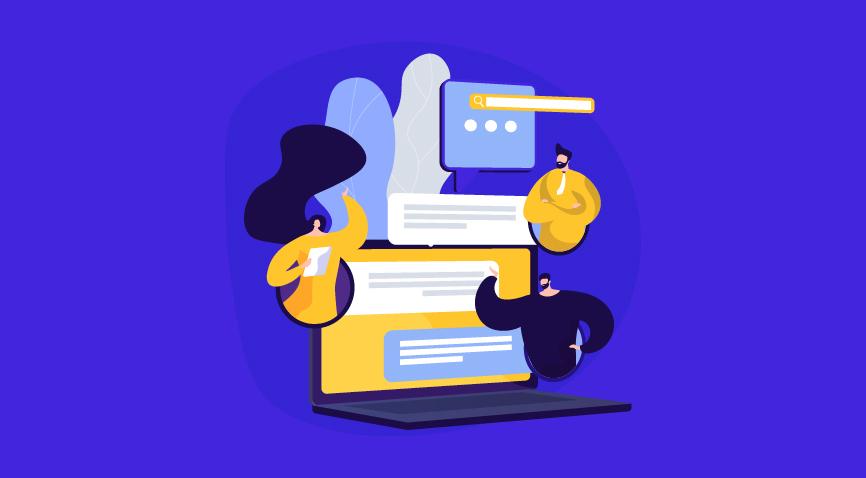 With new digital marketing and online selling advancements, content writing has become optimal for a successful marketing strategy. Be it for search engine optimization (SEO), website content, social media marketing, or any other online channel, creating knowledge-intensive and value-driven content is a must.
Table of Contents
Online Content Writing 101
Best Content Writing Services
SEO Butler
Hire Writers
Verblio
Writer Access
Content Cucumber
CopyPress
Content Development Pros
Pepper Content
Handy Tips to choosing your content writing agency
Why You Should Hire a Content Writing Agency
When Should You Look for Content Writing Services
Conclusion
FAQs
Web content writing, be it SEO content writing services, blog content writing services, or website content writing services, is the art of ideating and creating unique content that helps brands connect to their target audience online. Mainly through different channels or touchpoints across the world wide web.
Web content writing spans multiple verticals and includes services such as:
1. Website content writing services
This is especially useful for online journals, magazines, and even digital newspapers. Website content writing services can include creating content for the website or creating content for specialized pages such as the landing page of a new promotion or customer interest form, a sales page for new products, and even creating ad copy for your social media promotions. A lot of e-commerce websites also hire content agencies to manage their product pages.
2. Blog content writing services
In conjunction with SEO content writing services, this is especially useful to create quality content that helps improve your visibility over the internet. It also helps connect with consumers on various aspects such as product features, after-sales services, and more without always making an alienating sales pitch. Such services are especially useful to marketing agencies, website developers, and a host of other businesses where many consumers turn to the internet for learning and choosing their options.
3. SEO content writing services
Creating SEO-optimized content is the art of planning, creating, and optimizing the content on your website, blogs, or other customer touchpoints to rank higher on search engines, thus improving visibility and reaching a larger number of customers.
4. Influencer marketing
Though this is not a direct aspect of content writing services, many brands today are connecting with influencers to help them relate and connect better with the Gen Z audience.
Online Content Writing 101
Content writing has been the key focus for several brands, playing a pivotal role in ensuring that they successfully communicate their offerings to the target customer. With new digital marketing and online selling advancements, content writing has become optimal for a successful marketing strategy. Whether for search engine optimization (SEO), website content, social media marketing, or any other online channel, creating knowledge-intensive and value-driven content is a must.
But creating quality content requires expertise, time, and resources. Luckily, freelance content writing platforms and online content writing services provide experienced and professional content writers suitable for the work while saving a lot of money for the brand! If you are looking for content writing services, we will share some of the best options to explore throughout the article. These agencies provide everything from SEO content writing services to website content creation services. Here is a consolidated list:
Best Content Writing Services
Pepper Content is a growing content writing service provider with experience working in diverse industries and languages. They offer content writing services in numerous content types like blogging, resume podcasts, whitepapers, case studies, marketing collateral, thought leadership, and several others. What sets them apart is their focus on creating value-driven content and the diverse range of services they offer including SEO content writing services and website content creation services.
Pros
Vernacular content creation and translation are also available in languages like English, Czech, Urdu, Hindi, Polish, German, and several others
Graphic designing services are also included and can help organizations looking for both
Experienced working in several industries and content type
Affordable pricing and offers bulk discounts
Cons
Innumerable options can be confusing to those looking for specific web content requirements
SEO is a core aspect of ensuring that the content created is meaningful and search optimized for content writing for the web. SEO Butler is an SEO tool that offers several types of content optimized for the web. Their content writers are skilled in creating such content. SEO Butler can also help with affiliate product reviews, product descriptions, brochures, technical blogs, whitepapers, guest blogs, and a lot more besides web content.
Pros
Well-written content pieces by native English speakers
Bulk pricing and special offers for particular content
SEO-focused optimized content, ability to create various types of content
Cons
Expensive compared to some of its peers
This is a reliable content writing service with a network of 30,000+ native English speakers who have a diverse background to write on any chosen topic. The platform provides content creation, translation services, re-writing options, lyrics, data entry, and social media content writing. The platform itself is free, and you can find content writers within your budget and needs.
Pros
Variety of content writers and service offerings
Affordable rates and flat prices for services provided
Cons
Other content writing service providers offer more professional and better quality options
A well-known content writing platform in the US market, Verbilio provides a diverse range of writers with all types of expertise, niche, and experience. The service can find writers for blog content, e-books, product descriptions, videos, SEO-based content, and more. You can even get services on content strategy, topic ideas, SEO assistance, and other content marketing options apt for creating your brand marketing for agencies and professional services.
Pros
Quality content writers with diverse expertise, niche, and experience
Flexible plans and advanced features for those looking for a complete content marketing service
Industry experts and agency options for content strategy, SEO, and other marketing services
Cons
It can be expensive if compared with other content providers
If you are looking for a professional writing service, this is the platform for you. The tool uses advanced Artificial Intelligence (AI) search algorithms to help you match the best writer in your niche or requirement. The platform provides a comprehensive portfolio of their performance ratings, samples, details on their prices, etc. The best part is you can not just use the tool for creating content; the one-click integrations with HubSpot and WordPress mean you publish it directly from the Writer Access portal and even manage workflows from there.
Pros
Advanced AI writer search and detailed insights into the writer's background
Easy to manage project deliveries
Easy publishing integrations with third-party tools
Samples and ratings available before hiring
Cons
Subscription-based pricing, meaning you won't be able to order content for individual pieces
If you need content in large amounts, Content Cucumber is an affordable service provider that lets you hire full-time content writers every month. This helps lower costs, and you can get the benefits of having a dedicated content creator to work on your specific needs. There are several packages, and you can even get a full refund if you are not satisfied after 14 days.
Pros
Full-time content writer available on contract
Faster turnaround time and dedicated content creators to work with your teams
Free revisions and unlimited content requests
Experienced content writers with proper background check
Cons
Not useful for small batches of content
Limited project scope hiring multiple content writers can be challenging to follow through
Having a pool of 1500+ expert writers and editors, CopyPress provides content writing services in several areas and industries. They are known for their high-quality content and can be especially useful if you are looking for thought-leadership content or guest blogs from industry experts. Their platform provides easy integrations, reporting, analytics and is apt for research paper writing, editing, and proofreading.
Pros
Skilled and highly trained content writers with expertise in different niches and industries
Excellent choice for thought-leadership content, research paper writing, academic writing, and other advanced requirements
Cons
It can be expensive compared to other content writing services that provide similar services
As the name suggests, Content Development Pros is a reliable service for affordable and professional content creation. They offer content for blogs, ad copy, website, and e-books and help with rewriting and editing content.
Pros
Affordable and flexible costs
Services around all types of content like ghostwriting, SEO content, blogs, etc.
Provides rewriting, editing, and ghostwriting options
Monthly packages and bulk orders are a big plus
Cons
Limited in terms of niche
Not the best choice for complex, industry-focused content
Now that you know the top web content writing service providers, the question arises, should you outsource your web content writing? Why or why not? In what cases does it make sense, and in what cases should you keep it in-house? The below section tries to highlight when and how to hire content writing services.
Handy Tips to Choosing Your Content Writing Agency
While there are a lot of content writing service providers in the market, the below guide should help you understand what you should look for when choosing your web content writing partner.
Understand the breadth of services offered
Nowadays, content is not just limited to articles and blogs; it is an amalgam of various forms and formats such as case studies, emails, e-books, memes, presentations, social media, profiles, and so much more. Hence, the first step to choosing an agency is to understand what is your marketing mix, i.e., will the content writing services be customized to what you need? For example, if your audience is the CEOs of companies, they would be more interested in infographics they can decipher in seconds rather than a 1000 word summary which would take them longer.
This is a no-brainer; if you are going to be paying a lot of money (which you are!), you might as well get the most of what it is worth. Just like you wouldn't want to get Wine Coolers from Harleys, you would want to hire an agency that has expertise in creating the kind of content you need or at least has experience working with brands in a similar space targeting a similar consumer.
Would you hire an agency you couldn't find on the first page of google? As long as their content shows up on the first page of Google, why not? This is why it becomes important to seek a partner who understands and applies the concepts of SEO to your content. No matter how big you are, no matter how good the content or how viral the campaign is good SEO content writing services will only make them better.
Discuss the possibility of a pilot project
A pilot project will not just help you understand their expertise but also help you gauge the best kind of content they can create. This is also a great way to help them understand your requirements better and manage expectations.
Assess the revision policy
Often, the content needs a redo. At the same time, there can be a host of reasons why this happens; not only does this increase your overall expenditure but also considerably delays your timelines. Hence, it makes sense to sort out the nitty-gritty of the worst-case scenario before signing on to an agency.
Check out reviews and ratings
Often, brands sign on new agencies referred by their network; this is because of multiple reasons. First, it is always better to work with a team that you can trust. The second is because this ensures consistency. Underperforming and overpromising tends to be limited. This is also one of the reasons why it becomes important to check the reviews and ratings of companies before hiring them for your content writing services.
While these are some of the things you should look for when hiring blog content writing services or SEO content writing services, there are many other things you should also look at. For one – don't exceed your budget! Given the amount of competition in this space, it should be fairly simple to find an established brand that can help you with your web content writing, however just for reference reiterating all that is super important.
Look for consistency and reliability
Look for relevant experience and expertise in your domain with your customer
Prioritize SEO
Find an End to End Content Creation Service
Research the writing team on the internet
Why You Should Hire a Content Writing Agency
When advertising may or may not be enough to build a brand given the current circumstances, it becomes increasingly important to focus on adding value to the customer. This is where your content strategy comes in. A content strategy not only helps you decide your marketing goals but also allows you to set priorities and ensure that your marketing is goal-driven.
However, all this depends on having great content; while having viral content is not always possible, you have great content that makes your customers laugh, love, or feel remembered. And that is as fine a way as any to connect with your present and future customers. There are many reasons for hiring a content writing agency — marketing goals driven and expertise-driven. For example, why wouldn't you focus on creating great products and outsource all else here are a few that you should keep in mind before you start looking for one.
1. Budget costed
When you are looking to create large amounts of content, whether for your website, your social media handles, blogs, or even just for a retention-driven email marketing activity, individual content pieces become price competitive compared to the overall cost of the operation. A good content writing agency doesn't just enunciate customer-centricity. It also offers end-to-end support through all modes of communication.
2. Industry expertise
Especially if you are a startup still working on acquiring your first 1000 customers, working with a content agency will help you better manage your web content writing and help you better understand your customer. In short, while you may have limited insight into your customer, the content writers who have written about multiple industries, including yours, have a better overall picture of the customer profile and can help you connect with your customers more easily. They also bring the technical know-how of SEO on board which results in optimized content that is ideal for search engines, thus allowing you an unprecedented reach to newer / existing customers at a customizable budget.
3. Scalability
Building an in-house content team sometimes makes sense. But sometimes, your expertise is better limited to creating products and solutions rather than marketing those products or solutions. Thus, content creation agencies can help you scale – not because you don't have to manage everything in-house anymore but because they come with a huge plethora of resources that can be scaled up quickly and efficiently to manage your consumers' regular content needs. Further, a content creation consultancy manages your scalability issues and assists with repurposing content to ensure your message reaches all the target audiences multiple times for the best results.
4. Content marketing
The importance of content marketing cannot be overstated. It answers your audience's questions, allows you to ensure your marketing is goal-driven, improves conversions while improving customer retention and increasing the lifetime value of your customers. Generally, content writing services and content marketing services go hand in hand, thus offering complete content marketing solutions to your brand.
5. Hasslefree array of content
As your content writing services firm grows with you; your web content creation services are not just a short-term ploy but a long-term partner in your strategic growth. Their expertise in handling a wide array of content platforms and their focus on bringing the best SEO on the table also makes them a great value add to your growth trajectory.
Nowadays, many companies are outsourcing their content writing services to not just companies but also freelancers. The gig economy concept, where a lot of the Gen Z audience is working on projects with multiple clients rather than working full time with one company, has also resulted in the increased availability of a lot of freelancers for writing projects. While this is also something you can explore, there are pros and cons to hiring freelancers. Let's cover this in brief as well.
The pros to hiring freelancers are that they are ideal for one-time projects / limited periodic projects, are more budget-friendly than agencies, and provide a customized array of services.
Some of the cons of hiring freelancers are the haphazard communication practices, no quality guarantee, and limited scalability.
While hiring a content writer on board may solve some quality and communication issues, scalability remains.
Now that we have discussed how content writing services help your business let us look into when you should look into hiring content partners.
When Should You Look for Content Writing Services?
You should generally hire a partner to manage all your content writing when you have to manage multiple touchpoints on multiple platforms with multiple consumer personas for multiple products. These services can be used for a variety of purposes.
Let's take the example of a product brand. On social media, the brand may use these services to create ad copy or post copy. As a part of its email marketing, it may use its partners to create infographics that illustrate key product features, thus improving product consideration. Further, the agency can even create content that can be used on their own website or across e-commerce portals to help improve conversions.
Similarly, a service-based offering can use content marketing through SEO-optimized blogs and articles. These blogs would help establish it as a key player on digital media, and it would also add value to the customers, thus pushing them along the sales pipeline. The same company can also get its website landing page content created or modified regularly to test what tonality works for prospective customers.
To summarize, content marketing services are best used when the brand or customer can leverage economies of scale to help them with their topline.
Conclusion
These content writing services are just some of the options out there. There are many best content writing services in the market, with a lot of companies focusing on specific industries and a nice audience. Finding the exemplary content writing service is more or less all about the range of expertise in terms of writers that the platform can afford. While many parameters go into deciding the right content marketing/writing agency, it is important to go through all of this to ensure the content you create for your customers is on the spot and helps you acquire and retain customers. Quality content doesn't just elevate the brand; it can go a long way in helping convert and create the right impact on your target audience.
FAQs
1. What are the best content writing services?
Some of our recommended content writing agencies that provice SEO content writing services, website content writing services, and blog content writing services amongst other are: 
1. Pepper Content
2. SEO Butler 
3. Hire Writers 
4. Verblio 
5. Content Development Prods 
6. CopyPress
7. Content Cucumber 
8. Writer Access
2. What is a content writing example?
Content writing is a detailed process of creating content that helps brands connect with customers. The overall process involves planning, writing, and editing web content generally for digital marketing purposes. The content can include various formats like blogs, videos, podcasts, reviews, tweets, and more.
3. Why is a content writing agency required?
A content writing agency manages your end-to-end content creation needs and ensures reliability, high quality, and consistency in brand tone and language, among others. This results in creating a better connection with the customers, thus improving brand retention and loyalty. They provide SEO content writing services, website content writing services, and blog content writing services amongst other things.
4. What does an SEO content writer do?
SEO content writing services create different types of content which rank better on search engines. This helps promote your brand as an authentic service in your industry and improves your visibility on search engines, thus ensuring more traffic comes to your website. More often than not, SEO content writers focus on creating content in blogs, articles, or even reviews that increase organic traffic to your websites.
5. What are the basics of web writing?
Some of the basics of web content creation are:
1. Be concise 
2. Write in simple easy to understand language 
3. Avoid marketing / technical terms or jargon 
4. Use relevant keywords 
5. Break the content down into headers for easy understanding
6. Make your text skim friendly to allow on the go users to get an overall understanding of your content quickly and effective 
7. Choose a great headline that gets your audience interested 
8. Try to evoke an emotional reaction through your content
6. Is content writing and content marketing the same?
Content writing is the art of creating content around an idea to connect with a target audience. The content can be written in various formats and is generally SEO-driven. On the other hand, content marketing is a holistic plan to align all of your content to specific marketing goals such as increasing customer retention, increasing the lifetime value of the customer, or even acquiring new customers. 
7. What does a content writing agency do?
Content writing agencies provide a host of best content writing services, including website content writing services for a new landing page, a sales page, press releases, and other temporary website pages, SEO optimized content creation for blogs and more. The content is intended to attract prospective buyers and keep them engaged to increase their overall revenues. The content creation is generally based on a comprehensive content marketing plan.