SEO
6 Excellent SEO Blog Content Tips And Methods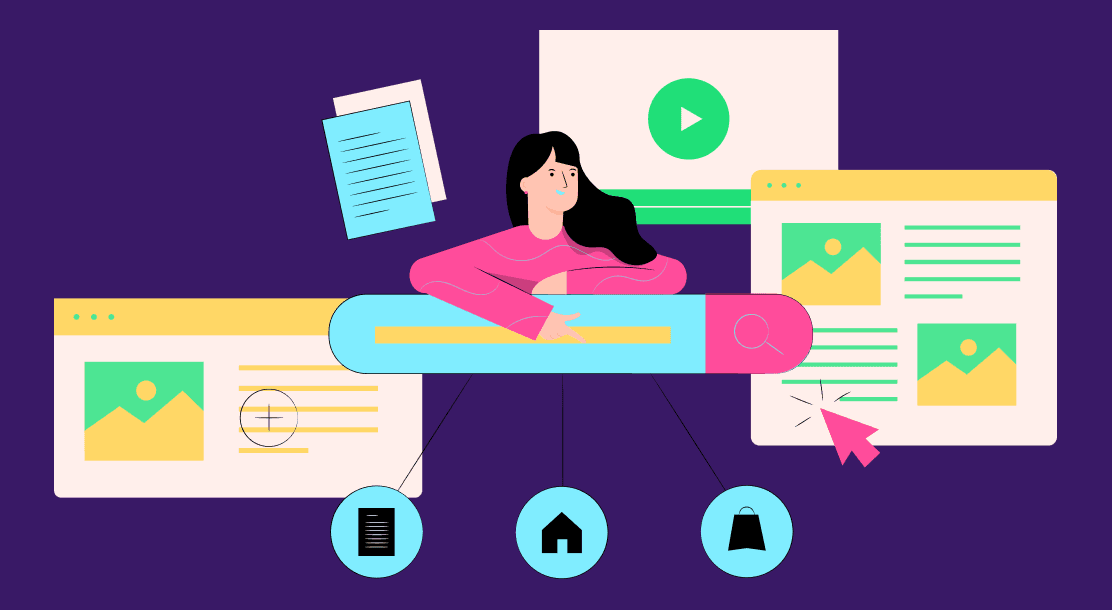 Check out these six ways to optimize your SEO blog content. Also, learn more about the importance of optimizing blog content and much more in this blog.
Did you know that 61% of customers are likely to make a purchase if your blog is read?
That's why 10% of marketers relying on blogging as one of their marketing activities believe it generates one of the biggest revenues. It makes sense to learn how to search engine optimize your blog content, especially if your blog is business-oriented, as SEO blog content makes a big difference. Blogging may be fun for some, but on a serious note, it boosts your message and connects with engaging readers.
Understanding SEO Blog Content
SEO blog content is part of your marketing practice of creating and updating content to improve search results. The approach includes using Google's keyword planner to conduct keyword research, link building, image optimization, and content creation activities.
Nevertheless, after you write your blog, you must learn how to SEO optimize your blog post for the best results. Optimizing your blog helps position your website to provide relevant answers to your target audience's questions. As soon as you learn how to search engine optimize your blog content, you will realize that it makes your website more visible to search engines like Google and Bing and showcase your product or service.
Your SEO blog content must use several on-page SEO tactics to gain opportunities to rank better on search engines, making your website appealing to users.
How Blogging Helps With SEO
Blogging helps enhance your search visibility by boosting SEO quality to position your website as a solution addressing your target audience's pain points. When you write a blog post, you get an excellent opportunity to use most of the target keywords you researched using the keyword planner, which you may not be able to do on your landing pages.
Here is a list of how blogging helps with SEO.
1. Blogs help identify search terms.
Your blog enables you to identify the search terms people use to search for your products and services. Based on the keywords you use, you can get higher rankings. You can use long-tail keywords if they are most targeted, search for other popular ones you can use in your long-form content, or create content silos.
2. Blogs keep websites updated.
Publishing your blogs regularly is one of the best ways to include fresh, organic content on your website. It lets search engines know that your website is updated with fresh content and a good reference for searchers.
Moreover, search engines like Google and Bing prefer websites featuring a lot of content, and with roughly one blog to a page, you can add as many pages publishing as many blogs. Research studies indicate that websites publishing blogs regularly have 434% more indexed pages when compared to websites that don't.
3. Blogs help add internal and external links.
Internal links play a critical role in helping Google's algorithm understand the structure of your website better, making it easy for its spiders to crawl your website. Internal links can be easily included in your SEO blog content, driving more traffic to specific pages on your website.
Similarly, you can use external inbound links, and when Google notices that reputed websites link back to your website, it enhances your website's reputation. The links from other websites are coming because they are in search of top-notch content, and this helps your website rank higher. While most people may not be keen on linking back to your "About us" page, they will happily link if it leads to an interesting, valuable, highly informative article.
SEO blog content, in general, helps you to target more keywords, which may not be possible through the usual route – your website's main pages. It also helps reinforce other ranking factors like evergreen content, extra backlinks, and more indexed pages to make Google's spiders' jobs easier.
How to Optimize Blog Content for Search Engines
1. Identify your target audience
Before you start writing your SEO blog content, you must determine with whom you intend to share it. A buyer persona is your target audience searching for the terms you are targeting through your blog. They need products and services provided by you and your competitors. Identifying your target audience by studying your existing customer demographics is easy. Some may already be engaging with your brand; identify them to help with conversions.
2. Leverage your blog topics with keyword research
As mentioned earlier, the key to optimizing your blog content lies in keyword research, which is critical to your blog's efficacy. You can try writing a series of blogs around similar topics that use the same keywords. You can have a central hub page linking to other blogs with similar keywords. This activity improves your SEO content blog's visibility, making it easier for Google's spiders to crawl. It also helps increase your blog's authority in a specific topic over a period and enables you for a higher range of keywords.
3. Engage readers with media, internal links, and a robust CTA
Did you know that 90% of the information your brain processes is visual? It is because it is natural for humans to love visuals. After all, visuals make an impact and are easier to remember. So, the best way to make your blog unique and engaging is to add videos, images, and infographics.
Even Google recommends incorporating media into your content to increase the mileage. Images help keep your bounce rate in control as people spend more time on a page watching a video. Once you have grabbed your audience's attention with your visuals, you must deploy a robust internal linking strategy.
When you include links to your other pages, you walk your prospects through your entire website, making them linger longer on your platform. It lets Google's spiders discover other authority pages on your website. However, remember not to use more than five words in your anchor text. Also, your anchor text should indicate to the readers what they can expect to find.
4. Impress visitors with your title, meta description, and URL
Many people visit your website through an organic search, and the first impression is the best. Although you do not have absolute control over how your page appears to a visitor, you can enhance the appearance by optimizing the URL, page title, and meta description.
Your page title should give an idea of what lies within. Also, remember that you must not use the same page title on all your pages. It is better to tailor a new title for each page. Similarly, your meta description critically impacts your click-through rate (CTR).
5. Use the appropriate tools and plugins
You have several content management systems (CMS) with plugins to help you streamline your SEO blog content. These plugins can show your pages' performance as far as SEO is concerned. They analyze your SEO blog content length, inbound links, keyword positioning, meta title, and length.
Choosing some of the above plugins helps you save valuable time that you would otherwise spend on on-page SEO. Of course, if you add too many plugins, it may affect the speed of your website, so take care when choosing plugins that offer genuine benefits.
6. Focus on responsive design
Did you know that mobile phone subscriptions worldwide reached 6,567 million in 2022 and are likely to cross 7,690 by 2027? Hence, offering a mobile-friendly website is essential for ranking. Google introduced mobile-first indexing in 2019 because it prioritizes mobile-friendly content compared to desktop versions when it indexes and ranks web pages.
It is easy to check if your website is mobile-friendly.
All you need to do is run Google's mobile-friendly test using its unique testing tool. Such a test will tell you if your website has any mobile-responsiveness-related fundamental issues and how to fix them.
Instead of having a separate URL for optimizing your site for mobile, you can use responsive design, which is more effective. It makes your content more accessible and readable and can be shared across devices. What's more, any backlinks to your SEO blog content won't be split between two URLs, thus making them more powerful.
Here are some quick tips for providing a user-friendly mobile experience:
Don't use large chunks of text, which makes them harder to read on mobile screens
Use as many headers as possible and organize the text better
Do not display text that is wider than the mobile screen
Strategically place your CTAs, making them easily clickable on mobile screens
Avoid tiny fonts that are difficult to read; always use bold, user-friendly fonts in your text
In Summary
The above points help you understand the importance of search engines optimizing your SEO blog content to reach your target audiences and increase conversions.
Key Takeaways
SEO blog content can be of great help with your marketing activities.
Learning how to search engine optimize your blog content helps boost your message and connect with engaging readers.
Optimizing your content helps search visibility by boosting SEO quality.
Optimized content helps target more keywords, which may not be possible through the regular route – your website's main pages.
FAQs
1. How can I optimize my SEO blog content for better search results?
You must first perform keyword research using a search engine keyword planner. For Google's spiders to read your URL easily, you must make it search-engine friendly. You may also want to write a catchy headline and optimize your meta title and description. 
Also, make sure that you optimize your H1, H2s, and H3s. Lastly, you must remember to use images and videos liberally and use plenty of semantic keywords.

2. What is the best way to find out if my blog is optimized for SEO?
You can learn how search engines optimize your blog content by checking the site load time. You can also track your keyword rankings for all or specific keyword phrases. Also, check if your site is mobile-friendly; if not, have it responsive-designed to suit mobile users. 
You must also check the technical structure of your website and the relevance of the content in your blog. Lastly, you must ensure that you audit your internal links regularly.

3. What is the step-by-step method to optimize my SEO blog content?
The first step is identifying the relevant keywords for your SEO blog content. Next, place the primary keyword in your blog headline, page URL, meta description, and H1 text. Also, insert the keywords throughout the flow of the blog content, and insert links to your website wherever possible. Monitoring your page rank regularly helps monitor how well your SEO blog content is optimized for search results.

4. How do I write SEO blog content to drive more traffic?
Spend a few minutes to think before you begin writing your SEO blog content. You must first decide on the structure of your blog post. Next, you must decide on a suitable and catchy blog headline and correctly use the headings and subheadings. 
Please also ensure that the sentences and paragraphs are short and crisp. You must remember to add links, but ensure that the links make sense. Use keywords, but don't stuff your SEO blog content with too many keywords since Google frowns on such practices. Also, you must optimize the length of your blog post.