Grow business with SEO-driven blogs
One platform, multiple content types

100% quality with 100% satisfied customers

Better ranking, higher sales, and growing business
Outrank the competition. Every time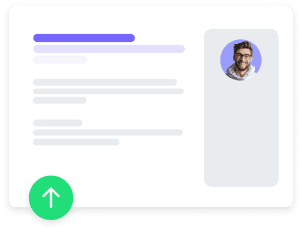 Exclusive network of quality writers
We handpick only the best of the best with our top-notch writer screening process. The result? A powerful network of experts from each industry and vertical.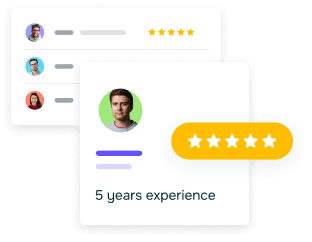 Content that's loved by Google
Changing algorithms, changing times but steady content that ranks. We know the secret sauce to creating content that sticks with readers and crawlers.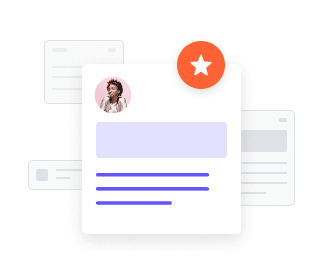 High-quality content, delivered in time
There's no compromise on quality and deadlines. We offer a faster turn-around time than the rest in addition to impactful content with credible research.
Why choose Pepper for your blog?
150,000+
Content pieces delivered
2500+
Brands we have worked with
150K+
Strong creator network
Intuitive Blog Ordering Process That Simplifies Your Content Workflow
Briefs that are a breeze
Create easy, automated briefs with the help of our guided flow to equip writers for success from the beginning.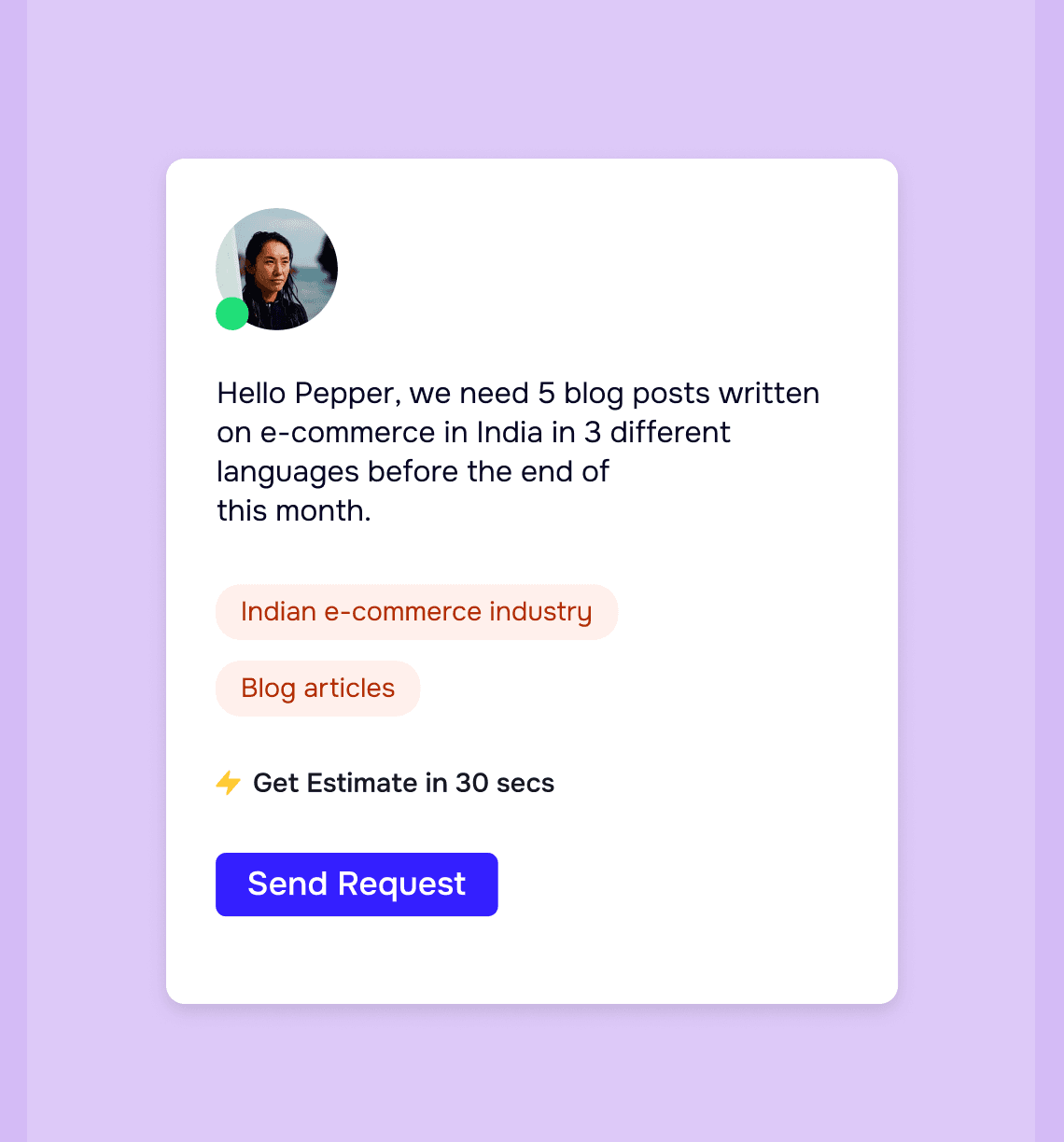 Stellar team and tools
Get access to creators that are the best fit for your content type and industry.
Real-time progress dashboard
Track your projects end-to-end and get notified about status updates.
Order your first SEO blog
Place your order in under a minute
Search Engine Optimized content
Fastest turnaround times
Frequently Asked Questions
1.
What is SEO in content writing?
The use of keywords and key phrases in online content is known as SEO content writing. Writing SEO articles is the best way to improve the organic visibility and SERP ranks of their websites. Pairing high-quality text with relevant search keywords is the best approach to writing for SEO.
2.
How to get more traffic with SEO?
SEO typically involves various activities to help increase traffic on your website and enhance user experience. These activities include on-page SEO, off-page SEO, local SEO, and other techniques.
3.
How does writing SEO articles help my business?
Writing SEO articles helps in better optimization of your business's website pages. These articles that are placed on the website not only help the users with what they are looking for but also adhere to Google's algorithm. They have well-placed keywords, a proper information flow, and unique content.
4.
How long should SEO blog posts be?
The ideal blog length for SEO is 1,760-2,400 words. According to several studies conducted over the last ten years, Google's algorithm favors greater material when competing with shorter content articles–helping blog posts with over 1,000 words do better on average–and considerably raising the average.
5.
How do I add SEO to my website?
You can optimize your website for search engines by publishing relevant and authoritative content with proper keywords and keyword phrases, updating this content regularly with blogging, and having metadata, alt tags, etc.
6.
Will SEO blogs resonate with my brand?
Every piece of content we create is in harmony with your brand's positioning. Before writing SEO articles, our writers follow your brief guidelines and also conduct their own research.
7.
How do I write an SEO-friendly blog post?
You can write amazing SEO-friendly blog posts by first and foremost, writing for your intended audience. Keeping everything under one roof. Making enticing headlines. Using keyword-rich sentences. Creating a plan for your postings. Making use of visuals and using social media to promote.
8.
Is blogging good for SEO?
By establishing your website as a relevant solution to your consumers' questions, blogging may assist improve SEO quality. Blog articles that employ a range of on-page SEO techniques can help your site rank higher in search engines and appeal to more people. By availing of Pepper's SEO blog writing services, you can be sure of ranking higher on Google.
9.
Are you writers well-versed in SEO blog writing?
In the age of the internet, writing SEO articles has become the heart and soul of content creation. Our writers are skilled in writing SEO articles. The SEO blog writing service you avail aims for content that ranks organically at the top.
10.
Should I avail of Pepper's SEO blog writing service?
Yes, of course! Pepper Content worked with the top 3% of talented writers and content creators in the industry, thus you can be assured of quality content. It also has great content operations that make the whole process from demand to delivery very smooth. It also has the best turnaround time and costs in the industry.
Here's what our users are saying

Pepper has been my man Friday for long now. Last-minute requests, difficult content requirements, unrealistic delivery expectations, and many such challenges but Pepper has always managed to pull a trick out of their hat and surprised me with near-perfect delivery.
Himanshu Tomar
Lead-Brand Marketing

Pepper delivers unparalleled content quality. They are quick, efficient and make life easy for our editors, as their content requires minimal corrections to none. Pepper turned out to be great! not only for our content solutions, but as people to deal month on month.

Shahid Salman
Content Head
I believe that's Pepper Content's best quality – I can always count on their team to deliver 100 per cent of what's been said. Pepper made it easy for us to focus on serving our customers by taking over our content headaches. They have some of the best writers and editors on their platform, who go the extra mile to fulfill all our requirements. Pepper Content is THE one-stop shop for all our content requirements.
Akanksha Gupta
AVP - Marketing
The translation team has done an excellent job for the 5paisa campaign. Thanks to their efforts the Moment marketing activity which happens every day in 5 languages is getting executed without any delays. In addition to this, translations for all the other content formats like articles, comic cards, videos, etc are getting delivered as per our schedule. Kudos to everyone who is part of the team. Let's keep the good work going.
Prasun Shukla
Client Servicing Manager
The ability to extend the platform to every stakeholder within our organisation, while consistently being able to keep a track of deliverables is something that has made our lives extraordinarily easy. And the best part about it is the brief builder, which lets us eliminate human error, while giving us a system build for maximum throughput.
Samrat Krishna
Head of Product Marketing
Bringing everything from ideation to briefing along with content optimization and then distributing it - that'd be really cool -
Pepper Content is the hidden gem! You can create content with AI and hire the top 3% of freelance talent. The AI can tell you what keywords are relevant, and the AI can create the first draft which is then shared with editors, and everything is managed in this one cool platform!
Kieran Flanagan
CMO,Zapier
I used Pepper Content for getting on-demand content. We wanted multilingual content in 7 languages within a very short timeline. Pepper Content's quick TAT and lightning fast delivery, that too on a weekend, helped us close the project on the same day.
See how businesses have transformed their content marketing