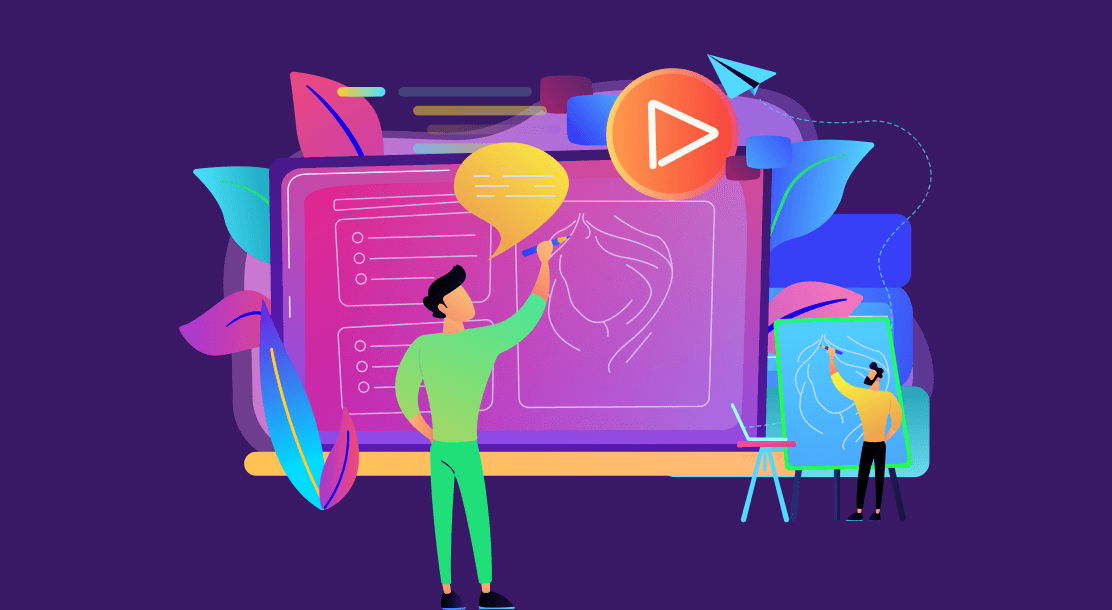 A business needs excellent customer support, and videos like demos and testimonials are great options. This blog lists five ways you can go about video customer support.
Using video as a marketing and sales tool is a proven strategy and has been around for some time. But with COVID-19 changing the way business is done, sales and marketing are just some of the departments to use them.
Video is gaining traction as a potent tool for customer support. After all, customer support teams have newer and more unique ways to deliver a good customer experience. Videos have the power to do just that. Businesses can leverage it in many ways, including making video-driven customer onboarding, knowledge bases, live support, and more. It is a multi-purpose, flexible tool that easily fits all customer support strategies.
Are you looking for more information on video customer support? Read below to learn more.
5 Ways to Use Videos to Improve your Customer Support
Brands can use several video formats to provide a great customer experience. This can include video ads, sales videos, explainer videos, and more. Here are some proven ways to use video to enhance your video customer support.
1. Answer repetitive questions with pre-made videos
You can find information on some repetitive queries using customer trends and data about the challenges faced using a product. It can be a question on how to start the product or how to avail of a service; these should be queries that pop up frequently during customer interaction. Instead of your customer service agents answering the same thing and wasting time, you can create a few short videos that can showcase the solution in the video. Add this to your website's Help, Knowledge Base, or Tutorials sections, and your customer service agents can be more productive.
2. Use video chats to resolve customer issues.
Do you want to take your customer support experience to the next level? Use video support chat to resolve difficult questions in real-time. It gives practical and instant results-oriented support as you tap into the rep's knowledge and experience. Customers get their answers in real-time.
The other advantage is that the customers can get in touch with the agents conveniently. When you incorporate video chat into your software, the ensuing one-on-one rapport can enhance the customer experience like never before. So live video customer support is a winner format.
3. Create a video-driven knowledge base
Customers don't have the time or patience to hold calls for agents to attend. Instead of making them wait, why not use self-serving agents? Make sure your knowledge base is up-to-date, in-depth, and well-researched to make the customer base self-sufficient. Customers can use these user-friendly videos to become experts at their convenience.
The video-driven knowledge base serves the dual purpose of becoming an internal resource for the customer support team. Create a library of such videos to keep the new reps up to date. One can also add troubleshooting and customer onboarding videos.
Use a variety of content to take the knowledge-driven videos up a notch. It can be engaging blogs, tutorials, video infographics, and videos of stories of your best agents. Such content gives your knowledge base a human touch and makes for an interesting read.
4. Customer onboarding videos
Customer onboarding is a struggle, and when you have well-created onboarding videos, the load on the support team is lesser. New customers can view the videos and get answers to their questions instead of reaching out to the support team with basic questions. To create a good onboarding video, understand its purpose. Should it be informative or a sales pitch showcasing your offering?
5. Proactive support via webinars
When you have a list of common questions, you can organize a webinar on these support topics. This can act as a driver of the user-engagement but also offer proactive support. Viewers attending the webinar can speak up about issues they face and their pain points.
4 Reasons Your Business Needs Video Customer Support
Starting a business off the ground may take a great idea and some capital. But excellent customer service can be the differentiator in ensuring your business grows successfully. Here are some reasons your business needs excellent customer support.
1. Preserve customers
A well-established business stat shows that acquiring new customers costs more than retaining existing ones. Customer satisfaction becomes more pertinent, especially for small businesses with limited resources. As per surveys, a whopping 70% of customers move out of a business as they are not treated well. So it is essential to have an outstanding customer support team. Helpful customer service enables the business to retain customers. Happy customers are effective drivers of business through word of mouth.
2. Boost sales
While customer service is about retaining customers, it is much more than that. It is also a great way to boost sales. Both your existing customers and prospects have queries regarding your service or products. Studies show that more than half of customers abandon their purchases online when they cannot find the information they are looking for. Providing customer support online or in other easy ways helps in sales.
3. Enhance your services or products on offer
The customer support team is a critical link to the world outside your business. Unlike other teams, the customer support team gets to know the pulse of the customers. They can also gather information about how customers interact with the services or products and if they have any problems. That can help make helpful product decisions, modifications, and features that customers would like. Customer service can be helpful and drive essential decisions on products or services.
4. Get more chances to upsell and cross-sell
Connect your business with support channels and the software that runs your business. Videos ensure that everyone, including sales, marketing, and customer support, is on the same page about customers. Your current customers are the best source of business. When customer information is shared across all teams, the business can do a great job of relationship building. It can also help uncover cross-selling and upselling customer opportunities.
Benefits of Video Customer Support
Some of the benefits of video customer support include the following:
It increases the speed of resolving queries by providing customers with easy and quick solutions at the click of a button.
It helps the customers to understand the product/service on offer easily.
It reduces the burden on the support team as there will be fewer calls on repetitive questions. From the business point of view, it reduces the workload and boosts productivity.
Since the videos are available 24/7, customers can use them conveniently, making it a kind of extended customer support.
A Quick Summary
Videos for customer support, especially live video customer service, are one of the best ways to deliver more efficient solutions to customer queries. Apart from speeding up the entire problem-resolution process, it also keeps customers happier as they don't have to wait to get hold of agents. That can boost customer retention as they get more out of the service or product.
Key Takeaways
Using video customer support leads to a more productive and positive customer experience. High levels of customer satisfaction can turn even a skeptic into a loyalist.
It also makes sense for brands since video customer support gives support teams a break from repetitive questions.
FAQs
1. Are videos useful for customer support?
Yes. According to surveys, many people watch explainer videos to learn about the product or service. Many marketers believe that video for customer support is important for brands, especially after the pandemic.
2. Is video quality authenticity important in customer support?
Many worry that the videos do not sound or look good. While the quality of videos is important, authenticity trumps it. A webcam and a screen recorder can capture good enough videos; content is still the king, even here.