Webinars
5 Webinar Uses for Your Business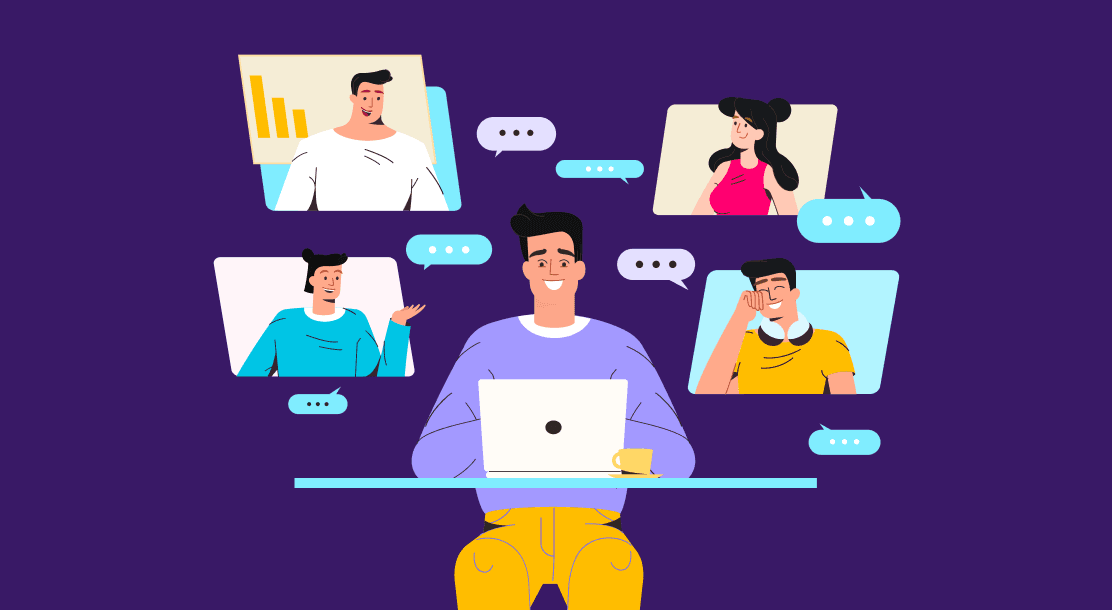 Conducting a webinar can be highly beneficial for your business. Check out this blog to learn about the different webinar uses.
After the COVID-19 outburst, the use of webinars increased drastically. Webinars serve multiple purposes and target varied business goals. These purposes range from training your remote/hybrid workforce to leading nurturing.
But what are webinars? Are you limiting yourself to using webinars only for a specific purpose? What is the different webinar uses? What's the long-term impact of not using webinars in your business? This blog will help answer all your queries.
What Is a Webinar?
Webinars refer to presenting vital knowledge in the form of a live event using relevant software. It involves a single speaker or a bunch of speakers providing information to an audience (large or small) belonging to different parts of the world. Businesses of all sizes often use them for sharing information, discussing industry-related topics, and other valuable interactions. Complex products are also easily explained utilizing this medium of interaction.
In simple terms, a webinar is a web-based seminar available to attend for people, irrespective of where they are located. Therefore, constraints of location are entirely eliminated using webinars. One key use of webinars for businesses is developing and nurturing relationships with prospective customers or clients.
Let's say you are trying to sell a complex product that needs a lot of clarification. You can conduct polls, schedule Q&As, and use other interactive tools for collecting audiences' queries. Solving these queries becomes especially essential when you are dealing with complex SaaS products. You let your prospects know their questions are heard and answered by scheduling webinars. This helps you develop trust, understanding, and an indirect promise of being there when they are actually using the product.
Webinar Uses: Why Should Businesses Host Webinars?
You can significantly benefit by conducting frequent webinars. They are used for strengthening relationships, generating leads, establishing authority, educating team members, and more. The convenience of conducting and accessing webinars has led to their increased popularity. Let's look at the increased advantages businesses can reap using webinars.
1. Increased lead generation
Webinars are a great way to distribute educational content, engage the current audience, and generate leads. For example, the Content Marketing Institute regularly hosts webinars to educate its audience about the different aspects of the field.
When creating a webinar, remember that a clear sales pitch alone is no longer effective. You must learn to provide value along with marketing your services as a solution offered to known challenges. Most top companies leveraged webinars to improve their lead generation process. Here is another example of the company, G2, which successfully uses collaborative webinars for generating leads.
2. You can position yourself as an industry expert
A crucial use of webinars is the building of trust. Webinars are often used to showcase expertise in certain areas. You develop trust and credibility for your brand when conducting frequent webinars on industry-related topics. You can often use your brand case studies to make your point. Lastly, talk about the common challenges and how your team collaboratively works towards finding the solution.
While talking about topics that pique interest, make sure the day and timing of your webinar align with your prospects. However, your focus must remain on providing value to your audience. Value-enriched information eliminates the need to market your product in webinars. The attendees are likely to become customers on their own after analyzing your value.
Note: You (the host) experience personal growth as you keep yourself updated with the industry trends by conducting frequent webinars.
3. Seamless introduction of new products
This is another important use of webinars. Webinars are great when you are introducing a new product. You can share how it benefits your audiences and target their pain points. It's easier to target and convince your existing customers of the value you offer. By conducting a webinar, you can capture your current audience's interest with relevant information, exciting discussions, and a query session towards the end. Based on their responses and requirements, you can make suitable changes to enhance your product.
4. Improved customer satisfaction
Frustrated and confused customers are bad for your reputation. Many businesses schedule weekly webinars that focus on providing effective customer service. Technical assistance is often required when dealing with complex products. With these webinars, you can clarify users' doubts, explain updated features, modifications, and more.
Consider their feedback regarding new feature addition or complain about a specific feature. This information will help you improve your current product and the overall customer experience. So, start setting up weekly webinars before your customers decide to switch.
Take a look at how Wrike conducts frequent webinars to keep users updated with the changes.
5. It keeps your team updated
Webinars can also be used to educate your team members about specific updates, common customer queries, and other core areas. This medium is especially beneficial in a hybrid work setup. Make sure all your employees are updated about the changing approaches, goals, and vision of the company. Also, it's crucial to nurture a knowledgeable community inside the company to achieve business goals.
6 Steps to Conduct a Webinar
Unlike any other video content, webinars are more engaging and allow the speaker(s) to share varied content formats. This includes presentations, videos, voice notes, and any other piece of content adding value to the audience. They are used for different purposes but generally aim to engage the audience. Due to this purpose, they are not limited to any specific business. If you want to engage your audience, then a webinar is the way to go. Let's look at the steps involved in conducting a webinar.
1. Set up a date and start registrations
A webinar is scheduled for a specific date and time using relevant webinar software. Next comes informing your targeted audience about the registrations. Targeting their pain points and creating urgency helps in successful registrations in a short span of time.
2. Send confirmation emails to participants
The next step involves sending confirmation emails to successfully registered individuals. This email consists of the login details or access link to the webinar. Also, you must send a reminder message to the participants a few hours before the webinar begins.
3. Note the technical requirements of the webinar
Here are some key points you must know about:
Webinars are generally supported on a desktop and require a reliable internet connection.
A browser isn't updated if the user cannot access the webinar through it. The user must use a different browser for quick access in such a scenario.
The participants are advised to use a microphone or webcam if they wish to question the speakers or engage in any form of discussion. Generally, they only need speakers or a headset for audio playback.
4. Commence the webinar
The participants attend the webinar using the provided access links or login data. They get access using their browser in most cases. But, some webinars demand a specific client application for access. If so, inform your audience about the same in advance.
Note: webinar links generally expire after ten minutes. Keep your audience aware of the importance of punctuality to avoid missing the interactive online event.
5. Conduct the webinar
Start with the live broadcast and introduce your audience with a brief of the entire seminar. You can easily switch between screens, providing varied content formats to the audience. Generally, the screen consists of a presentation slide and a small box depicting the host. Furthermore, webinars are equipped with chat and poll features for improved audience interaction.
6. End the webinar
After successfully presenting relevant information, the host ends the webinar with a Q&A session. All the doubts and confusion posed by the audience should be cleared by the end of the webinar. This session is especially beneficial when webinars are conducted for introducing a new product. Your audiences' queries often end up being excellent suggestions for improving your current product.
Note: try to keep the webinar length somewhere between 45 and 60 minutes. People are less likely to attend long and boring sessions, and they are more interested in crisp yet detailed sessions covering the core areas.
What Is the Impact of Webinars?
Webinars will save you tons of time, money, and energy invested in conducting physical business events. Apart from the webinar uses and benefits mentioned above, here are a few more key points to note.
Firstly, the number of people attending the webinar depends entirely on your marketing efforts and content.
Secondly, you can pre-record webinars and play them for participants based their convenience.
Lastly, this is a budget-friendly method that assists you in achieving numerous essential business goals.
You can count on the above-mentioned webinar used to grow your business. Webinars can help flourish your business in multiple ways. Make sure you organize webinars while keeping yourself updated with the purpose of conducting them. Keep your focus on providing value-driven and exclusive content. In the end, you will develop a satisfied customer base, generate new leads, and nurture relationships with existing customers.
Key Takeaways
Be aware of the purpose of conducting webinars and choose your content accordingly.
Make your audience aware of all the technical requirements, and send a reminder before the webinar.
Help your brand gain exposure by highlighting key business features in your presentation.
Generate leads by providing value-enriched content in webinars.
Gain credibility using your brand case studies.
Use webinars to nurture leads and tackle the challenges of existing customers.
You can also use webinars to educate your staff (hybrid workforce) about varied aspects of the business.
FAQs
1. If I am unable to attend the webinar due to other commitments, can I watch it later? 
Generally, webinars are recorded, and the participants can get access to them within a couple of days via email. But sometimes, there are live-only events, and access isn't given at a later date. Make sure you know the type of webinar before enrolling in it. 

2. How long is a webinar? 
Webinars generally last for 45-60 minutes. The first 45 minutes are spent discussing the core topic, and the last 15 minutes are reserved for the participants to put forward their queries. Long webinars should be avoided, as people interact better with short yet value-enriched online events. 

3. Do I need to install any software for getting access to webinars?
Most webinars don't require participants to install specialized software. All they need is good internet speed to get access to the webinar in their browser. 

4. Are webinars free to attend or charge a specific fee? 
Most webinars are free to attend, as businesses reap numerous benefits through them. But in cases where they provide exclusive, value-enriched content, they are chargeable.