Marketing
5 Effective Ways You Can Use Content Marketing to Generate Leads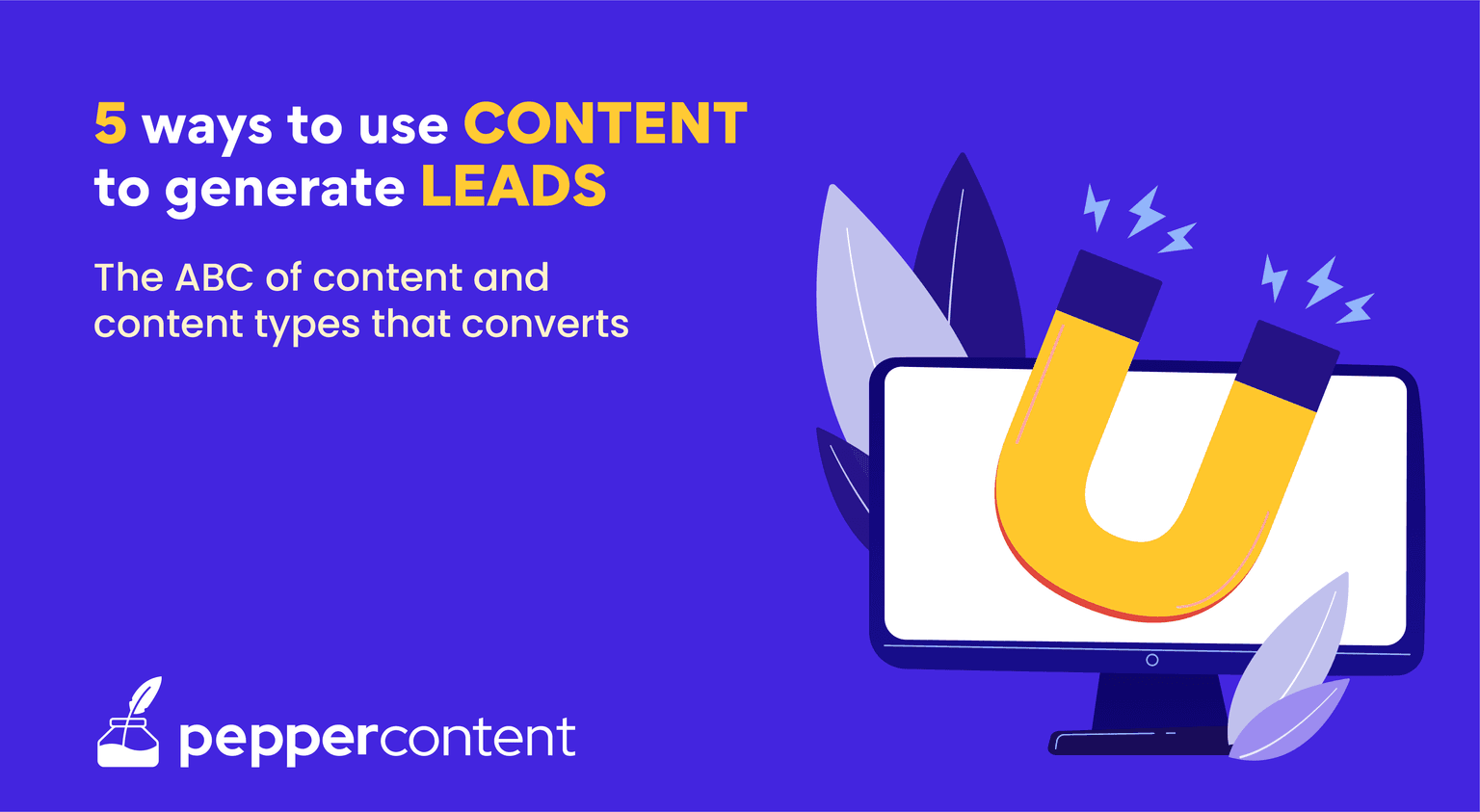 Want to know the ABCs of creating content that can generate leads? Read this blog to know the ins and outs.
Sample this. According to research by Aberdeen, conversion rates are six times higher for businesses that use content marketing as opposed to those that don't.
Whether you're creating a 360-degree campaign that covers traditional and digital avenues or you're looking to generate leads through digital marketing, creative content is at the heart of any marketing strategy.
In this article, we will discuss how to generate leads through content marketing.
Note that the purpose of your content can be multifold. You can use content marketing for:
Brand awareness: Creating campaigns that simply introduce your brand to new audiences. For example, think of a male-oriented company that has recently started a product line just for women. They need to introduce their brand to a previously non-existing clientele.
Brand loyalty: Nurturing your existing customers to return to your product pages.
Customer education: Educate your customers about how your product/service solves a problem. This is especially important for large-cap B2B brands and tech businesses that usually tend to have a long sales process.
Engagement: Simply engaging with your existing audience to entertain or inspire so that you remain fresh in their minds. This is important for B2C brands that have a quicker sales cycle. Think FMCG.
Ultimately though, your customers go through a brand journey with the help of the 'content' you 'feed' through social media, search engines, and other traditional avenues – and it all starts with the lead generation cycle.
5 Effective Lead Generation Ideas
Think of your content marketing strategy as a powerful magnet to generate leads. Here are five things to keep in mind while optimizing content marketing for lead generation.
1. Use LinkedIn to generate leads
Linkedin is 277% more effective than other social media platforms for lead generation, thereby giving it a special mention here makes sense. From posting intriguing content consistently to connecting with decision-makers in your target industries, Linkedin's ability to target and filter is a big asset to B2B marketers. You can use Inmail, LinkedIn Groups, and comments as a way to engage with prospects and become visible to your target audience.
Tools like LinkedIn Sales Navigator, lead gen forms, and Ads can also help you expand your reach and connect with the right people.
Executives in your company holding significant positions can have a compelling LinkedIn presence and start posting content to generate leads. LinkedIn is one of the best platforms to experiment with content marketing ideas and develop a robust following in a relatively short time. It is easy to leverage LinkedIn to promote your content, making it one of the most effective lead generation ideas.
Once your colleagues have established a strong presence on LinkedIn, you can create a LinkedIn page for your company and make it look impressive by having them share exciting content regularly. Ensure that your LinkedIn page is active by posting meaningful and relevant content regularly, and observe how your company benefits from the content marketing tips you can find here. LinkedIn is probably one of the best platforms that show you how to generate leads for business, and what's more is, you can expect some solid conversions.
You must keep your LinkedIn profile and page brimming with activity by posting updates frequently; adding a few videos now, and then makes the activity even more engaging. People will start looking up to you as an authoritative and knowledgeable source, and your credibility gets enhanced manifold. It is easy to connect with like-minded people on LinkedIn and broaden your sphere of activity, leading to more lead generation ideas. Your connections with a similar background may help by sharing your content and introducing you to new networks.
Joining LinkedIn groups your customers are already a part of is a strategic move that can give you fresh ideas on how to generate leads through content marketing, especially on LinkedIn. Listening to what they say can help understand their pain points and get new ideas on how to address their issues. Based on the information you collect, it is easy to create value propositions your customers are looking forward to.
2. Use influencer marketing and guest blogging
There's an old saying, 'Don't toot your horn'. But isn't that what marketing is all about? Well, that's exactly why brand ambassadors are still relevant. Consider this, are you more likely to buy Levi's jeans if Deepika Padukone features in its ad or if the CEO of Levi's tells you to do so?
But we all can't afford an A-list celeb, can we? So, how do you build authority and come across as a trustworthy brand?
In the B2C market, you can generate leads by collaborating with influencers to share your posts and show your product in use. You can also have them post blogs on your behalf, subtly praising your products.
A great way to generate leads for B2B is through guest blogging for third-party sites. When writing guest blogs for different websites that cater to your target audience, you can leverage the content you create, as well as your bio, to generate traffic to your website and plugin a lead magnet or two to get sign-ups.
Finding the right influencers for your brand is essential. Only relevant influencers can contribute to the goals your brand has. It makes sense to look for influencers associated with the same niche as yours to ensure your lead generation ideas get the right impetus. Keenly follow the type of content your influencers create and check if it resonates with your content and brand. Such synchronization ensures the authenticity of your content and helps your brand reach your target audience. Such a well-thought-out strategy will bear the desired results by generating high-quality leads, many of which may turn into conversions.
You are lucky to find influencers with their own blogs because you can guest blog, making it one of the best lead generation ideas worth pursuing. Look up the content your influencers post regularly and create related and relevant (to your brand) guest blogs to post. It may also be an excellent idea to link the influencer's blog post to your website.
Connecting with your influencers' audience may help generate more leads and have increased traffic coming your way. You are even luckier if your influencers' blogs have high domain authority, as that's an excellent source for quality backlinks. Such backlinks help from the SEO perspective and help with the search rankings too.
3. Webinars and podcasts
Webinars are live video sessions where you teach online viewers something new or share content that adds value. Podcasts are similar but in audio format. These are increasingly popular ways to create brand awareness, but more than that, since webinars actually require sign-ups, they are a great lead generation tactic. Another way to popularize your webinar is by inviting an influencer to co-host it with you.
Today, most startups host podcasts (mostly small ones) because they are simple to set up and host. Most podcasts generate spontaneous, healthy discussions from the audience, often an excellent source for lead generation ideas. Most discussions generated by podcasts revolve around sales, HR, products, services, and industry news. Most such huddles often lead to an exchange of recent readings and case studies that have mutual interests.
Podcasts and webinars often present opportunities for sharing live tutorials on a use case. But not necessarily on any brand or product. Live tutorials are a great way of creating and sharing content, especially when they provide a technical solution that members have been looking for online. Podcasts or webinars may also be a rich source of content marketing ideas as every participant is keen on sharing industry knowledge.
Webinars devoted to 'how-tos' and other timely topics are some of the best content marketing ideas that help generate high-quality leads. You may want to send out email invitations and run some social media promotions to make people aware of your webinar and bring new viewers on board. You may be lucky if the invitees retweet your invitation or mention it in the going amongst their circle. Webinars are also excellent for gathering crucial information like contact details.
Webinars are your best bet if you want to engage your target audience at the top of the funnel. Webinars allow you to be bang in front of your niche crowd and present an excellent opportunity for close encounters and interactions. If the webinar you're conducting features a Q&A session, you can lend your ears and hear out the pain points of your prospects. Your audience also gets a chance to understand your brand better by interacting with its creators and promoters. Online webinars undoubtedly present a fantastic opportunity to generate content marketing ideas.
4. Create lead magnets
Lead magnets are auxiliary content resources that talk about your industry in detail. These are long-form content pieces that help you gain customers in the long run. These are time-consuming and labor-intensive, but they will serve as an excellent lead generator for a long time if done well.
Effective lead magnets include:
eBooks are a form of long-form content that gives in-depth information about a subject
Templates are rough outlines that you can map to your requirements
Cheatsheets or a list of quick guidelines, similar to a checklist
White papers are technical documents, long-form, and based on a lot of research and data
Case studies or customer stories typically talk about the impact your product or service had on your customer and can be used in the decision-making process
Checklists or actionable lists that are as easy to consume
In addition to attracting leads, lead magnets help increase them as well. Hence, lead numbers are directly proportionate to potential customers, and the more inquiries you get, the more customers you win over. Based on the contact details you get from your leads, you can easily create a contact database that helps you devise new strategies to generate content marketing ideas.
The trick lies in grabbing the attention of the users, making them curious about your brand. If your content is compelling enough, you can expect your lead magnet to do its job. The only way to hold the interest of your target audience is by creating relevant content, which helps fulfill their needs and resolves their issues. Lead magnets help guide your target audience to your website via search engines. Hence, it is essential to deploy SEO tactics that help achieve better ranking and drive more traffic your way. While creating a lead magnet, you need to consider your target audience's needs and pain points. One way to understand your buyer's persona is by revisiting your previous posts and looking for the ones that had the most comments and were shared widely.
The main objective of a lead magnet is to share compelling content for free, except that you expect some personal details in return, like the names, email addresses, contact numbers, and other relevant information. Hence, your lead magnets need to be structured with the right focus but not appear too complicated. They should be informative enough to grab the attention of the users. Some of the commonly used lead magnets include:
Webinars
Checklists
e-books
Infographics
Tutorials
Whitepapers
Newsletters
Templates (preferably editable)
Guides (PDF format)
The mantra for effective lead magnets is quality content that's made relevant by focusing on your target audience's pain points and needs. If your lead magnets work properly, you get more leads that lead to better conversions. Lead magnets work better when they offer expert insight and an easy and fast way of getting something done.
5. Nail your landing pages
Here are some landing page statistics to get you started (or startled!)
8 out of 10 people will read your headline, and only 2 out of 10 will read the rest (Source: Copyblogger)
Personalized CTA converts 202% higher than normal CTA (Source: HubSpot)
86% of the top landing pages are mobile-friendly (Source: Nifty Marketing)
Your landing pages can make or break your marketing campaigns. If you consistently see a low conversion rate on your pages, it's a great sign that you've got a bad landing page that needs fixing pronto. From getting the headline right to fixing your form length – the devil is in the detail, and you're better of doing a quick audit of your existing landing pages to see where you're going wrong. Running A/B tests, reiterating your value proposition, and making the incentive super clear are just some tips to get it right. Use social proof to build trust, create a sense of urgency, and to make sure the page loads fast are some more tips.
First impressions are best impressions. Whether you're meeting your prospective father-in-law or going a job interview, the first impression can make or break things. The same principle applies to brands online, and the way you engage your first-time users decides your fate. Your landing pages give an idea of what's in store inside and how successful your brand is. Your homepage, or landing page, is your first point of contact for the user, and it doesn't matter if they reached via an organic search or by clicking on a paid CTA button.
Landing pages are the best touchpoints, and provide the perfect answer to the vital question "how to generate leads through content marketing"? Besides being the first brand interaction, landing pages help generate leads via compelling content strategically placed on them. These pages usually feature form fills to capture essential details like names and email addresses, and some go for the contact phone numbers as well, all of which are excellent lead generation ideas.
Landing pages also serve well while launching new products or services. That's why companies go to the extent of creating an all-new landing page during the launch because they don't want to miss this golden opportunity that shows you how to generate leads for your business. Landing pages help keep the focus on specific products and describe their features in detail, making the first-time visitor a definite conversion. Landing pages are concise and to the point, and the few seconds the user hovers on the page is enough to grab their attention. Such directness is what most customers appreciate, as it not only helps save precious time but helps them get what they've been looking for.
Your company's credibility can be enhanced using the landing page. Because it clearly shows that you understand the customers' pain points and help them by providing quick relief. Your landing page can carry details of your track record, and a few testimonials from satisfied customers go a long way in gaining the trust of new users. A display of logos of current clients serves as comforting evidence that the new visitors are in safe hands.
Landing page conversion is impacted by the emotions depicted on the page via the copy, videos, or visuals.
Conclusion
Gaining quality leads is the first sign that your content is "healthy". Make sure you follow these simple rules to improve the ROI of your content marketing budget.
FAQs
1. How to generate leads through content marketing?
Social media today has advanced technology that you can use to generate quality leads. With tons of data to fall back on, it is easy to predict how buyers will react. Social media platforms know their users inside out – their habits, preferences, and behavior. You can run ad campaigns that target precisely the people that are your target audience. Threads appear naturally and blend into the background, prompting users to click by default. 
2. What is meant by "leads" in content marketing?
Lead generation ideas make an integral part of a content marketing strategy, which focuses on the creation and distribution of exciting and engaging content that targets a pre-mapped buyer's persona. The trick lies in learning how to generate leads by deploying lead generation content, also known as lead magnets. This type of gated content makes a valuable resource you can bank on for sourcing key information like an email address, which most people are hesitant to reveal otherwise. 
3. How to make the best use of lead generation content?
Most content marketers are anxious to know how to generate leads for a business. Did you know that you can make content an integral part of your lead generation efforts? It is easy to match your content to the target users' intent or even match your content to CTAs. Your CRM efforts could help with funnel positioning, and you can also use your content to engage dormant leads. Reengaging frequently bouncing traffic is another benefit lead generation content offers. 
4. What is the best way to generate quality leads?
Did you know that when you add upgrades to your blog posts, it converts them to lead magnets that double email opt-in rates? What's more, is it is easy to create and share such content, which experts believe is one of the best content marketing tips ever. Most readers don't mind being interrupted unobtrusively while reading your content if there's more valuable information. Adding a link to activate a pop-up asking for the reader's email addresses is probably one of the best lead generation ideas.
5. How exactly does content marketing help generate leads?
You can use your content as the primary tool to target specific niches. Target audiences are keen to get answers to their questions on such target niches, and every user asking a question is a potential lead that you can convert. What's more, answering users' questions presents an excellent opportunity for personal brand building. Once you gain their trust, it is easy to coax them to buy your product or service.