Design
13 Ways to Design Infographics [+Examples]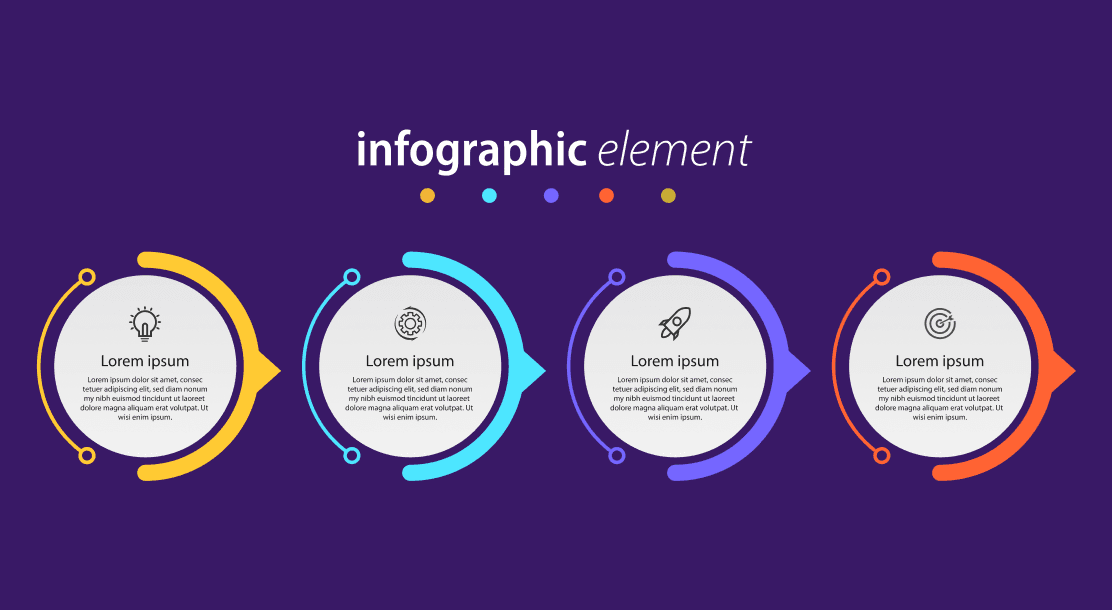 Infographics are integral to content marketing. Do you want to design an engaging one? Here are 13 ideas to get it right and win the attention of your audience.
In today's world, consumers are constantly bombarded with tons of marketing messages; hence, they are spoiled for choices. As a marketer, in such a competitive arena, you have to constantly be on your toes to market your messages innovatively.
The trick lies in being imaginative about packaging information. It's tricky to get there, but here's a solution for you: an infographic is a great way to help your audience understand complex concepts. These concepts can be more easily explained through charts, graphs, or diagrams. After all, you need to make the reading process easier and more interesting for the audience.
Visual representation of your information is crucial. However, finding the right infographic designs can be challenging. You require infographic designs that create a balance between textual and visual content. The infographic shouldn't feel overwhelming to your target audience.
13 Tips for Creating an Infographic
A well-designed infographic can help you achieve your brand objective. Let's learn about how to accomplish it.
1.
Identify your target audience
For effective brand communication, identification of the target audience is the first step. It comprises your consumers and prospects who resonate with your brand.
Identifying your consumer base eases the decision-making process surrounding the creation of infographics. Moreover, segregate your audience based on their purchase journey. It will determine the infographic layouts that are best for your messaging.
2.
Test different typography elements
Even if your infographic is based on text, make it worth reading. Try to make a visual impact through different typographical elements; but always ensure to keep the text brief. Typography is a great way to provide a rich visual experience to your audience, driving more attention.
3.
Choose the layout of the infographic
You should also decide on the infographic layout. Yes, infographics come in various formats: comparison, list, timeline, etc. But how do you choose the best infographic poster template? Study the data you want to share with your audience and pick the infographic layout that will best represent the information. It may require a bit of trial and error.
4.
Use visually appealing images
An infographic isn't limited to graphs and diagrams. You can even include pictures that represent your content appropriately. Images can make your infographics attention-grabbing. However, pick images that are clear and resonate with your consumers. A balance of text and visuals always delivers the best results.
5.
Be clear about your goals
Often, brands find it difficult to craft strategies because they are not clear about their goals. Choose your objective carefully: awareness, lead generation, engagement, etc., and create an infographic accordingly. Remember, business goals play a vital role in the success of your campaigns. If you're planning to hire a design service, make sure you communicate your goals clearly to them.
6.
Strive for color balance
After you have zeroed in on an infographic layout, pick the right colors. While dealing with colors, aim to achieve a balance. Too much of any color may lead to an overwhelming design. Colors are a crucial part of designing. Like content, they can make or break a brand. Below is an example of effective use of color contrast.
7.
Customize according to your needs
Customization has become a crucial element in marketing; it has the potential to drive more attention. But, how can you customize infographics? To begin with, you could use an infographic template illustrator to create on-brand infographics. Moreover, use your brand style guide as a reference to use fonts and colors.
8.
Follow a consistent approach
Consistency is a value bomb in marketing; it is necessary while designing infographics as well. Decide on an approach and stick to it. Make sure there is uniformity in your design, and that it all flows seamlessly. The icons, texts, or graphs used in infographics shouldn't appear forceful. It may hamper your brand image.
9.
Choose the right theme
Pick an infographic theme that aligns with your business goals. An irrelevant theme can make things more chaotic and confuse the audience. Try to be as precise as possible.
10.
Avoid disorganized content
Organizational skills play an important role in both personal and professional life. That said, make sure you follow them while crafting content. Organized content helps the audience navigate information more smoothly.
11.
Keep the messaging clear
Infographic designs are meant to represent the information more concisely. Try to avoid jargon and keep it simple; simplicity works like magic for consumers. Moreover, remember to arm your infographics with a clear call to action.
12.
Opt for data visualization
Your infographic can't work out if you haven't visualized the information in the first place. Work with your data and see how you want it to be portrayed in the infographic. Compare different infographic layouts and try to tweak them per your visualization. Let's say you want to use charts or graphs in your infographics. Search for unique graph designs and select the one that can represent the requisite data in the best manner.
13.
Tell a story
Stories can turn even boring information into interesting ones. Choose the right narrative for your infographic. Narrate everything you wish to communicate with your audience in the form of a gripping tale. Different infographic designs can help you tell unique brand stories.
2 Examples of Killer Infographics
Here are two brand infographics we particularly like.
1.
"How to Actually Enjoy Studying" by IvyPanda
This infographic by IvyPanda is one of the best examples of an infographic that has the perfect balance of visuals, colors, and text. It is rather detailed, but there is enough white space between all the elements, helping the reader not feel overwhelmed.
2.
Visual Capitalist
Do you want to align storytelling with infographics? Well, here's how Visual Capitalist capitalized on it, and you can too. Notice the uniformity in the usage of colors and how they've switched things up through interesting fonts.
From social media to blog posts, infographics are used everywhere. People fall for clear copy, eye-catching visuals, and valuable information. Ace your marketing strategy by following the above-mentioned tricks to create incredible infographics.
FAQs
1. Should infographics be a part of your marketing strategy?
Yes, definitely. Infographics can help in increasing web traffic, creating awareness, and gaining the audience's attention. Many marketers have been leveraging this practice for a long time now. Infographics are great, especially if you seek to disperse visual messages.
2. How are infographics helpful?

Often, consumers find it difficult to understand complex brand communication. In such cases, infographics can be effective for your brand. It's an easy medium that allows people to consume information via an optimal combination of both visual and textual content. Moreover, it minimizes monotony and is attention-grabbing.
3. Should you use pictures as well?

Infographics amplify the creative freedom of marketers. You can see what works best for you; however, using clear and relevant images can increase the chances of audience engagement. Thus, it can help you put your valuable ideas into practice in the best way possible.
4. What are the benefits of infographics in a business?

Infographics have a lot of benefits, which quite explains their importance in business. They help in clearly communicating your key message. They even lure your target audience and potential clients through appealing visuals.
5. Is it necessary to use more than one color in infographics?

There is no hard-and-fast rule for it. However, using contrasting or complementary colors would make your infographic visually attractive. It gets the attention of the readers and makes the content more interesting. Furthermore, colors highlight important data and facts you wish to communicate to your audience.