Marketing
10 Online Content Marketing Courses for Writers and Businesses (Free and Paid)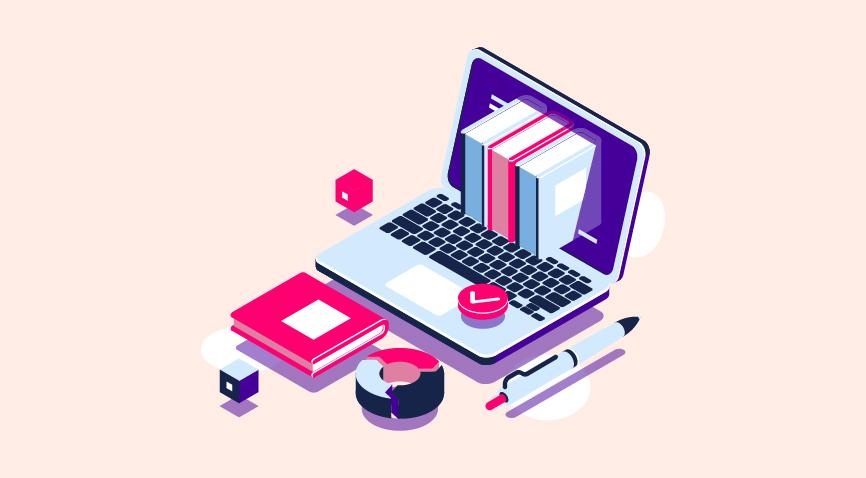 Online courses are a great way to upskill while working from home. These 10 content marketing courses will give you a solid foundation in the discipline and also equip you with tools to implement these at work.
Table of Contents
Introduction
What is Content Marketing?
Free Content Marketing Training Courses
Paid Content Marketing Courses
Key Takeaways
Conclusion
FAQs
With the whole world moving into the digital era, businesses are trying to incorporate content marketing techniques into their overall marketing strategies. The best part about content marketing strategies is that they can be considered more financially viable than other marketing strategies. In fact, compared to the traditional method, content marketing will cost you 62% less and give you three times more ROI, according to Demand Metrics. If you plan to utilize content marketing to draw potential customers or viewers, you simply need to know everything about it. For that, you need to enroll yourself in content marketing online courses.
When you complete the best course available, it will give you the confidence and the ability to create perfect content pieces for yourself that can attract many, many people to your products or services.
In this article, we have curated some of the most highly rated online content marketing courses suitable for writers and businesses. But, before looking at them, let's first try to learn what content marketing is all about.
What is Content Marketing?
According to the Content Marketing Institute, "Content marketing is a strategic marketing approach focused on creating and distributing valuable, relevant, and consistent content to attract and retain a clearly defined audience — and, ultimately, to drive profitable customer action."
The chief objective of such content is to catch the attention of potential viewers and convert them into paying customers.
The key benefits of content marketing are:
Ensures an increase in customer base and sales
Can be a cost-saving strategy with a great ROI (return on investment)
Helps you gain loyal customers
Builds brand awareness
Let's look at the example of Amul to understand how effective content marketing can be for a company. Amul has a very creative strategy whereby it puts forth images that capture trending news, be it from the world of politics or from Bollywood. They use these images to draw people's attention to a current topic that is being hotly discussed in the public domain. Through illustrations and puns, the brand seamlessly integrates its message with the topic of the day.
The Amul Girl ads have always been considered a game-changer in the world of marketing. Since the 1940s, the brand has been studying its audiences and consistently coming up with quality content that has humor and context. What's more, the wit and simplicity of the pun-driven Amul posters are enjoyed by urban and rural audiences alike.
This is the power of content marketing, and if used right, it can open up a world of opportunities.
Now that we have a good understanding of what content marketing is all about and how it benefits companies, we will look at some of the best online content marketing courses that can help you get an edge over others in the online marketplace.
Free Content Marketing Training Courses
If you are starting your journey as a content marketer and hoping to turn into a professional soon, you should check this course out. It offers you an adaptable strategy for your business that encourages you to transform your visitors into potential leads and paying clients.
The course gives you an in-depth knowledge of various parts of content marketing, including content creation, planning, analytics, repurposing, and promotions. This course is not all about learning; you can assess your range of abilities or aptitude by taking 11 tests.
This is one of the best online courses to learn content marketing. The best part is that it is free of cost. This course is ideally suited for beginners as well as for professionals who would like to brush up on their skills and knowledge. This course is entirely online and is provided by SkillShare.
The course's primary target is to show you how to routinely create quality content by taking advantage of the latest content marketing trends. This content marketing writing course was curated by Andrea Goulet Ford, who runs an organization that plays a vital role in helping companies achieve success by developing business personalities.
Here are some salient features of the course. It teaches you:
How to consistently create quality content for your online medium
How to utilize your blog to plan business techniques
How to deal with various creators or benefactors
How to track distribution and advertising endeavors
How to always capitalize on the latest trends
You will additionally figure out how to give your blog a character and help it stand out from the crowd. When you complete this content marketing online course, you will be able to draw up unique and creative content strategies for your blog.
Quick Sprout is a company established by an expert in content marketing, Neil Patel. This online content marketing course is a one-stop center for learning web-based marketing. The university offers a comprehensive library containing video recordings that can familiarize you with each part of the internet-based marketing strategies, including content advertising and SEO. Beginners and intermediates can immensely benefit from this content marketing course.
Interestingly, the course takes you through the best practices followed in this industry. Additionally, you can select any course at the Quick Sprout University without even giving your email address.
To reliably create excellent content that draws your optimal viewers, you will need to sharpen your content marketing abilities and skills continuously. By enrolling in such a course, you will learn how to conceptualize potential content ideas, make engaging content and repurpose it to obtain potential leads and clients.
The main topics covered in this content marketing training includes:
Link building
Social media
SEO
Content marketing
Paid advertisement
If you are a marketer or run a small business or a marketing agency, Facebook Blueprint is the perfect content marketing course for you. It is an all-inclusive resource for everything that you will ever need to run an effective content marketing strategy through your Facebook Business Page. This gigantic source of free, independent online video classes will cover the best practices and top techniques used by the biggest brands.
With Facebook becoming a pioneer in the online world, this is the ideal chance for organizations and marketers to become experts in the field. This will help them take their businesses or careers to the next level with minimum effort and cost.
The main topics in this content marketing training include:
All the basic concepts and terminology that you will need to start your marketing journey through Instagram and Facebook
Best practices to follow while using Facebook and Instagram to attract an audience
Creating the best Facebook page and keeping it up-to-date
How to optimize Instagram and Facebook marketing
HubSpot's inbound marketing certification is brimming with impressive, active-learning materials that permit students to hone their overall inbound marketing abilities and skills. The accreditation process comprises 12 unique classes and more than 4.5 hours of videos to learn from with regard to both text and video content.
Once you complete the course, you will become familiar with SEO, get your blog to the landing page, conduct lead analysis and lead sustaining, and assess the performance of your blogs. This free web-based content marketing course is introduced in various modules. If you wish to get certified, you will need to complete all the exercises and tests.
Topics included in the course include:
Email marketing
Content marketing
Inbound marketing
Inbound sales techniques
Growth-driven techniques for your business
Paid Content Marketing Courses
If you are looking to invest in yourself, then you must consider Udemy's Content Marketing Masterclass. What makes this online content marketing course the very best is the fact that it gives you theoretical knowledge, practical knowledge, and experience.
The course will start from the beginners level, covering all the basic concepts of content marketing. It will also take your lessons to the next advanced level and explain all the details and ideas related to content marketing. So, even beginners can enroll in this course and gradually scale up to the advanced levels.
Furthermore, the content marketing course is refreshed every now and then to consider new trends and techniques so that you can always stay up-to-date with industry practices. In case you are not happy with this online content marketing course, it also comes with a 30-day money-back guarantee.
Topics in the course include:
Classic marketing fundamentals
Web design
Copywriting
Content formats and repurposing
Content promotion
External marketing channels
Content marketing essentials
Types of content
SEO content
Email marketing
Measuring your results
Another great course that merits serious consideration is the Reliablesoft – Content Marketing Full Course. The course is appropriate for novices as well as for content marketing professionals and individuals who need to hone their fundamental skills and abilities to become more experienced marketers.
The course starts with completing the basics of content marketing and then goes into a step-by-step process of using content marketing to attract potential clients and convert them into paying customers.
Once you complete this course, you can also consider taking another course by Reliablesoft itself, as this course is a small part of their digital marketing course bundle.
Topics in the course include:
Introduction to content marketing
How to get inspiration for content ideas
How to get a higher rank in Google search results and try to be the top link
How to use SEO tools and techniques and promote your content so that it gets the attention that it deserves
How to make a content marketing checklist to follow
How to design a winning content marketing strategy
How to create content that can get you likes and social shares on social media platforms
How to SEO optimize your content
Which content marketing tools to use for best practices
If you are looking for a content marketing course that can help you with improving your skills, then this course is perfect for you. Assuming you need to turn into a content author of any sort, follow this at all costs.
The creator of this course, Shani Raja, is an accomplished professional who has worked with organizations like Bloomberg, The Economist, Wall Street Journal and Financial Times. The course has more than 60,000 understudies and a star rating of 4.4/5.
Udemy's Ninja Writing Course will show you how to improve as an author bit by bit. It begins by telling you how to structure content, how to compose a decent introduction for your content, how to make linking paragraphs, and how to shape your words and sentences.
Why try out this course again? Content marketing is the core of online advertising, and if you don't have excellent skills to create good content, you will get no opportunities to succeed with content marketing. Therefore, the initial step to take is to gain mastery over the mysteries of copywriting through this course.
This course won't show you how to advance your content or compose SEO blog entries. However, it gives you something more significant than that – how to provide the right content and properly structure your content for the internet.
This is the only course that helps you figure out how to utilize the various toolkits that they provide in real-life situations. The course available on the website is open to all people; you do not have to be a member of SEMrush.
It is one of the most essential courses that are available covering concepts such as:
Content distribution
Content research and ideation
Content analysis and optimization
Content performance and management
Why should you pursue this course?
Content advertising and SEO work inextricably together, and this course tells you the best way of utilizing content to support your SEO. You can also try it for free and it is accompanied by a content marketing certificate following completion of the course.
You don't need to be a SEMrush client to profit from this course. However, having a SEMrush membership will help you run the various models utilizing the tools from their toolkit.
One of the power sites in content promotion is Copyblogger, and this course is a collaboration between UC Davis University and Copyblogger.
This course is not made for beginners in the content marketing segment; instead, it is a specialized course for people with knowledge and experience. It covers many advanced techniques and strategies, which is why participants should have prior knowledge of the concepts of content marketing.
Compared to other courses, this course is the longest one in terms of the time required to complete it. You will need roughly 19 hours to finish the complete course along with certification.
The course covers the following points:
The Strategic Context (The 7A Framework)
The Strategic Types of Content
The Content Marketing Ecosystem
Planning the Journey: Crafting a Content Marketing Strategy
Dealing with Your Content
This course is best suited for content marketing professionals, so if you are a professional and currently working for an organization, your objective is to figure out how to utilize content to construct an expert brand and authority. You must take this course as it will help you use the right strategy.
The course is quite an expensive one and may not be ideal for a consultant or a freelancer. Still, if you have a company and wish to get your employees trained in the right skill sets and industry practices, this course will be perfect for your organization.
Key Takeaways
Enrol in a content marketing course in case you want to make the most of this new era of marketing that completely revolves around digital marketing, a much more financially viable option.
Content marketing is the art of driving valuable, relevant, and consistent content in one's marketing efforts and communication.
A lot of content marketing courses exist online both paid and free that can help you master the art of marketing. HubSpot's online content marketing course not only teaches you the skills but also helps you asses them.
Skillshare's free content planning course is great to take your blog to the next level and write quality content that will eventually increase the value of your offerings.
Neil Patel's QuickSprout University also offers a free content marketing course to learn from the best trends in the industry and thus maximise your ROI.
Among the paid courses, Udemy's content marketing masterclass is ideal to gain access to theoretical and practical knowledge of content marketing.
Coursera's content marketing course that is a collaboration between UC Davis University and Copyblogger is one class apart from all other courses listed here since it is a special offering for those with experience in the field.
Conclusion
We all know that content marketing is absolutely essential for all advanced marketing efforts. Content marketing plays a vital role in all kinds of online marketing strategies, including social media marketing, content writing, videos, and other online channels.
It is through content marketing that you will choose when to distribute and what content to distribute in order to fulfill your viewers' requirements. Therefore, it is very important to follow the best industry practices if you want to take over the market. For this, you will need to adapt to new changes and strategies, and the best way to do so is by taking up content marketing courses.
Such courses will train you, hone your skills and make sure you have everything to produce the best content for your market. This will also help you gain better brand awareness, which in turn will improve sales and profitability.
FAQs
1. What are the best content marketing courses?
Some of the best content marketing courses available online include: 
Hubspot – Content Marketing Certification
SkillShare – Become A Better Blogger: Content planning (1 Hr)
Quick Sprout University 
Facebook Blueprint 
Hubspot – Inbound Marketing Certification 
Udemy – Content Marketing Masterclass
Reliablesoft – Content Marketing Full Course
2. How do you become a certified content marketer?
Undertaking a well-known online content marketing course is the best way to become a certified content marketer. These courses not only help with theoretical knowledge but also provide practical training.
3. What is the best online marketing course?
Some of the best online marketing courses include: 
Hootsuite Academy Marketing Certification
Google Ads Marketing Certification
HubSpot Content Marketing Certification
Facebook BluePrint Marketing Certification
SEMrush SEO Toolkit Course
4. Is there any free course for content writing?
There are several free content writing courses available online. They include:
1. Media Writing and Editing by Ohio State University via the Canvas platform
2. Perfect Tenses and Modals by The University of California via Coursera
3. Academic English: Writing Specialization by Coursera
4. Academic and Business Writing by the University of California Berkeley via edX,
5. Business Writing by the University of Colorado Boulder. Offered via Coursera
5. How to choose a great online content marketing course?
When you are choosing any kind of course online, ensure of the following things:
1. First understand what you really want to study or gain from the course. Ensure that it aligns with your current goals and requirements as well as time and current commitments. 
2. Read the course reviews and methodology so that you understand what you are getting in to. 
3. Ensure that you are not impulse buying, the way most online purchases are. Re-evaluate your requirements. 
4. Get your priorities straight and understand your timelimits. You should have the time to take this training and it should not be just because your peers are taking it.