Data and Studies
Unhinged or genius? Deconstructing Liquid Death's Marketing Strategy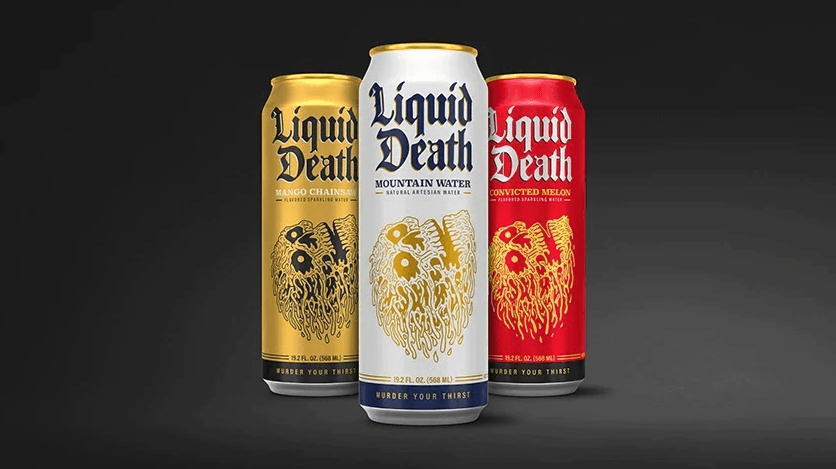 In this case study, we'll dive deep into Liquid Death's origin story, its unique branding, and its unhinged content strategy that has helped the brand raise 189 million dollars over 8 rounds and get to a whopping 700 million dollar valuation.
A canned water brand went from 2.8 million dollars in sales in 2019, to 45 million dollars in 2021, to 130 million dollars in 2022, thanks to its brilliant branding and marketing strategy. We are talking about none other than the brand that's out there to "murder your thirst" and ensure "death to plastic" – Liquid Death.
In this case study, we'll dive deep into Liquid Death's origin story, its unique branding, and its unhinged content strategy that has helped the brand raise 189 million dollars over 8 rounds and get to a whopping 700 million dollar valuation.
Where it all began…
The idea behind Liquid Death goes back to the early 2000s when Mike Cessario, the founder, attended an alternative music concert sponsored by Monster Energy. However, the bands who were on tour actually didn't like drinking energy drinks all the time. They wanted water. Now, as a sponsor, Monster didn't want the bands to drink bottled water on the stage, so they made cans of Monster that looked exactly like the energy drink but had water in them. And they would give that to the bands to drink. And everyone in the crowd would see them drink that and assume they are drinking energy drinks. That sparked the seed in Mike's mind and also made him wonder – why don't healthy products like water market in a fun and amusing way as unhealthy products like fast food, alcohol, chocolates, etc?


To prove that Liquid Death was the real deal, Mike came up with a clever plan. He took a 3D rendering of his can design and went ahead to create a Facebook page in 2018, making it look like Liquid Death was a legit product. To give it that extra oomph, he filmed a two-minute commercial.
But guess what? It worked like a charm!
Just four months later, the video racked up a staggering 3 million views. The Facebook page had nearly 80,000 followers, which, by the way, was more than what Aquafina had on Facebook at the time. The response was overwhelming. They were flooded with messages and comments from people who were absolutely blown away. It was like nothing they had ever seen before, and they couldn't get enough of it.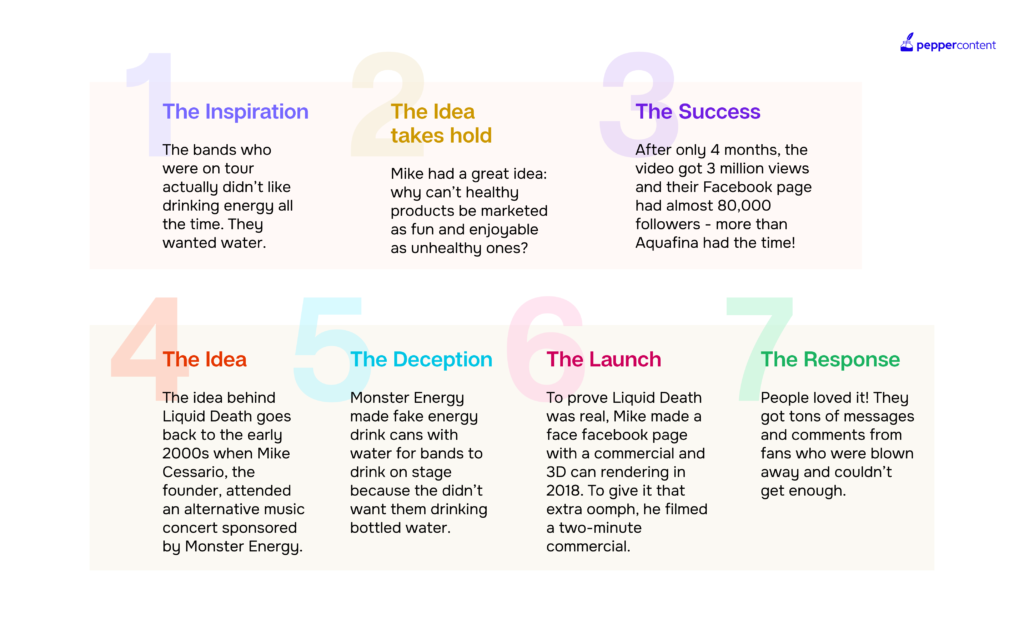 But what makes Liquid Death so unique?
Currently, Liquid Death's making waves in the beverage industry just by selling water! Here are the three pillars of marketing that have enabled success for the brand:
Pillar 1: Differentiation
They say you should always stand out from the crowd, and Liquid Death took that advice to heart. They brewed up a brand that's as bold as their name.'Liquid Death' is an uncanny name for a water brand, but it's also the most memorable!
But it's not just about the name. Liquid Death's got the whole package. Their can designs are wickedly cool with a skull logo and a black-and-white color scheme. Say goodbye to those boring blue-and-green water bottles!
Liquid Death knows who their super fans are: lovers of alternative music, culture, and lifestyle. They've teamed up with some rad celebrities like Tony Hawk and Whitney Cummings, sponsored music festivals, and even created original content like animated videos, comics, and songs.

Pillar 2: Engagement
When it comes to creating campaigns, Mike says that Liquid Death is not in the marketing business, they are in the entertainment business. Their marketing team knows that no one likes seeing ads. You would either skip them or mute them. Hence, the team's bar for creativity has always remained high.
Remember that first commercial that we mentioned in the beginning? It called out marketers for being a bunch of "fuck boys" who have tricked people into thinking water is a "girly drink for yoga moms" that have cute brand names and come in "dainty little bottles". Instead, they positioned water as the deadliest stuff on earth – that kills thousands of innocent surfers, kayakers, and snowboarders. People loved that. They've cooked up some other wild campaigns too.
So, instead of focusing solely on selling water, they stood out by creating captivating, one-of-a-kind content that really grabbed people's attention on social media. It's a cognitive bias, you know, where we tend to form a favorable impression of someone, a product, or a brand, and then apply that impression to everything associated with it. Suddenly, all the cool kids were proudly quenching their thirst with water from a can that looked just like a beer can. Can you believe it?
Pillar 3: Social Impact!
This is where Liquid Death goes from being a refreshing brand to a responsible one. They're using aluminum cans instead of plastic bottles for their packaging. And they're not just here to murder your thirst; they're here to fight plastic pollution and provide clean drinking water to those in need. They've partnered with organizations like Thirst Project, Plastic Bank, and more to make a real difference.
Liquid Death's Financial Success
Liquid Death is sold in 60,000 retail locations in the US. It is also Amazon's top-selling still water brand and second-bestselling sparkling water brand. They've built an online army of over 2.1 million followers on Instagram, over 3.8 million on TikTok, and more than 100,000 members in their Country Club loyalty program. It's like a water-drinking cult, but a fun one. Here's how Liquid Death performed financially:
Revenue Growth
Liquid Death's revenue has seen exponential growth in recent years. In 2019 the company made $2.8, in 2021 $60 million, according to estimates, and in 2022, that increased to an impressive $130 million.
Valuation Growth
Liquid Death has raised more than $189 million over eight rounds of funding. The brand may have started selling water, but through creative content and positioning, Liquid Death expanded into a lifestyle category. Reaching a valuation of $700 million in August of 2021, it's clear that the brand continues to impress investors and customers alike.
Financial success aside, let's not forget about the positive impact they're making. Liquid Death donates a portion of its profit from every can to non-profit organizations. They've saved more than 100 million plastic bottles from ending up in landfills and oceans. That's some superhero-level stuff right there!
The Power of Packaging
The color and design of a brand's packaging can make a significant difference in how it's perceived and purchased. While Liquid Death's unique branding and content strategy helped the brand go viral and capture the attention of millions, the company's packaging choices only complimented this.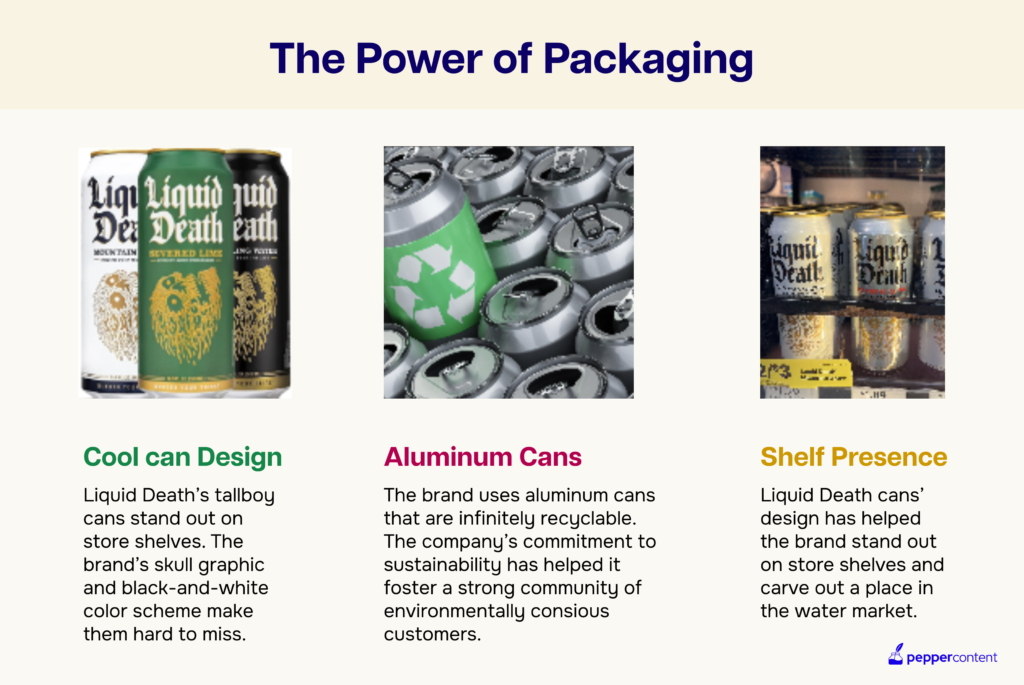 Wrapping up
Liquid Death's success is a testament to the power of branding and content creation. By positioning itself in alternative music and culture, the brand successfully built a passionate and engaged following that identifies with its values and message. It has surprised investors and opponents alike by breaking the rules of traditional marketing. Liquid Death is a prime example of a brand that knows how to slay the marketing game. This sure proves that with the right content strategy, any product can take the market by storm – even if your product is something as basic as water.