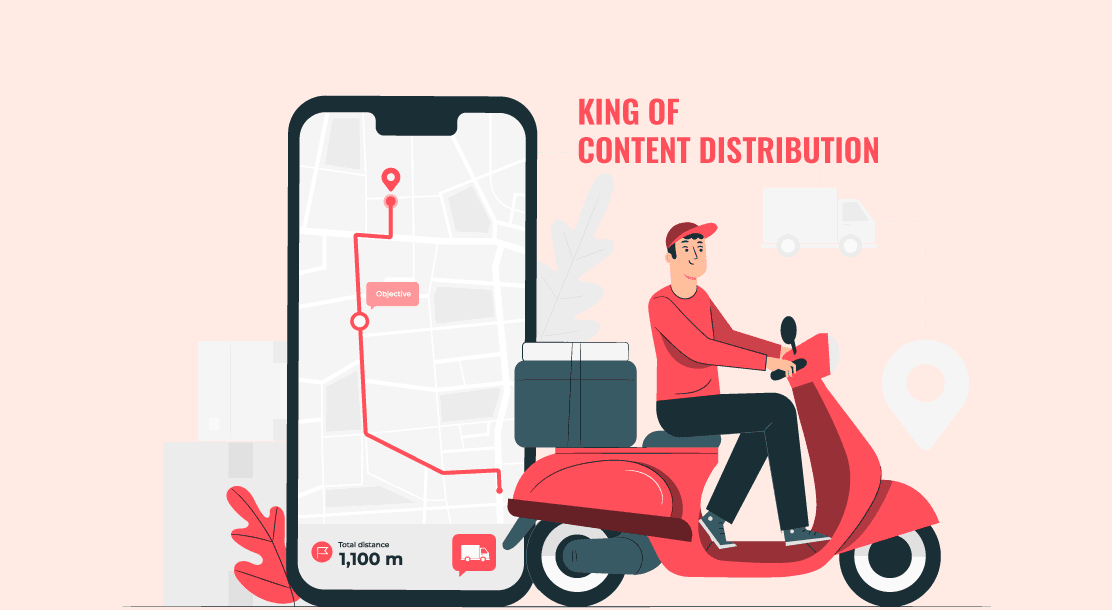 Every modern brand understands the value of marketing in enabling its growth story, and Zomato is definitely one of them. Since its inception, Zomato's marketing strategy has been stellar. The food delivery app focuses on creating content that is ideal for its audience, which includes people between 18-35 years of age.
Zomato focuses on leveraging the trends in the market and uniquely connecting them to the brand. So, from sitcoms and sporting events to any other trend in the market, Zomato's marketing team has created content that creates a buzz for all the right reasons (think the way it capitalized on the Pokemon Go craze and made it its own.)
However, the key lesson to learn from Zomato's promotion strategy is not just how it creates unique and trending content, but also the way it distributes it. Content distribution is as important as creating personalized and interesting content, and many brands seldom fail to identify this. Zomato's content marketing strategy involves not just creating fresh content, but also reusing it across various distribution platforms, and tweaking it to ensure it is apt for each channel. From social media and email marketing to text messages, its content taps into the audience's needs and interests, without being too pushy.
As a content writer, entrepreneur, or brand, consistently creating breathtaking content is important. However, it is also how well you distribute content that matters.
7 Things to Learn From Zomato's Marketing Strategy
Here are a few points that will help you understand the digital marketing strategy of Zomato and analyze its approach to content distribution.
1. Customer-centricity and relevance in content
When selecting multiple channels for content distribution, it is important to understand what kind of content works for each platform. An example of Zomato's customer-centric approach was seen during the beginning of the COVID-19 pandemic.
When the nationwide lockdown was enforced, Zomato understood the plight of its customers and quickly expanded to not just food but even groceries. It had introduced Zomato Market, a feature in the app that enabled grocery deliveries across the country. In addition, it was quick to announce contactless payment and delivery options to customers, which were instantly added to the app. While this is not directly a part of Zomato's marketing strategy, the way its features are showcased to customers even on its app makes a whole lot of difference. In the long run, this focus may translate to customer loyalty and even brand recognition.
2. Notifications for every mood
Nowadays, apps use notifications and timely messages to grab attention, but if the message is too pushy, customers are more likely to ignore it or even go a step further to block it. Zomato ensures that even its notifications are interesting and something the customer will look forward to. Its cheeky humor was even noticed by superstar Hritik Roshan, who shared the below-mentioned screenshot. Not only does it add humor, but it also delivers the message in a way that is subtle yet interesting.
3. Emails that grab attention
Many brands make continued efforts to create email marketing strategies that will help strike a chord with its target audience. Zomato does this not just by releasing offers and other key communication, but also by maintaining brand loyalty using witty one-liners in its subject lines (not to mention the body text that is equally arresting).
Instead of a bland email campaign with a direct call to action (CTA), Zomato designed the email as a CV and replaced "Order Now" with "Hire Now." These unique phrases are sure to get users reading, and even if they do not take action instantly, the recall value is too good to be ignored.
4. It creates fun with statistics
It is a given that your data is being collected by the brands you interact with, but Zomato has a unique way of letting the customers get a glimpse of its stellar analytical powers. For instance, take a look at the recent Zomato badges that feature not just on its app but also as part of its personalized email campaigns and social media posts. It's a fun way to get users to interact with the brand.
5. Behind-the-scenes SEO
Zomato puts a lot of effort into content, but its SEO strategies are no less amazing. SEO is more of an amplifier than a channel, and Zomato understands the groundwork well. SEO, ultimately, is all about creating content focused on users but optimized for search engines.
Just take a look at the keywords it is targeting, and the number of relevant URLs it creates to rank on search engines. This helps search engines know that its pages are relevant to search queries. Zomato also uses trending keywords and phrases in a way that is subtle and strategic.
6. Relatable social media memes
On social media, Zomato is a name to reckon with, not only for its services, but the incredible content it creates to interact with its large customer base. The brand not only posts memes relating to external topics, but it has the ability to make fun of itself too. Take its Twitter profile for example, which is full of hilarious content, all of which ultimately focuses on the brand's offerings. Zomato understands that food cravings are real. In keeping with that, it publishes content that is amusing, yet focused on reminding the audience to order food from them.
7. Advertising everywhere: from billboards to display ads
Any top brand knows the value of targeted advertising on social media and Google ad campaigns. Zomato does this, too, by circulating ads related to food, online ordering, and even some top restaurants. It targets users based on their location and intent, and even uses their data to know which food to mention in its ad copy.
Key Takeaways
Create content that is simple and concise, yet resonates with the audience. Zomato knows its target audience, and uses humor, market trends, and even memes to showcase its brand offerings.
Being consistent with branding is crucial. Zomato is now uniquely known for its quirky content, bright red color, and consistency in creating viral posts.
Knowing your target customer is extremely important, and Zomato does this best by understanding what mood or experiences its customers are looking for. Be it sports, sitcoms or viral trends, Zomato knows what is in vogue and uniquely links it to its own content.
Zomato's marketing strategy is top-notch, and it has only been getting better over the years. It is no wonder that Zomato has risen to be one of the leading online food delivery platforms, and its consistent focus on its target audience helps create its brand presence. You might notice that Zomato is everywhere, from search engines, ads, and television, to billboards and social media, and any other channel you can name.
Instead of being pushy or trying to get the customer to buy something, Zomato uses its marketing to build a connection with its audience and create a strong recall value. A simple nudge using notifications or emails adds a smile to the customer's face, which is important to create a brand identity.
FAQs
1. What is Zomato's marketing strategy?
Zomato's marketing strategy includes a combination of digital marketing channels such as search ads, third-party ads, in-app ads, SEO strategy,  social media marketing, and even billboard or newspaper advertising. Zomato's approach is to reach their target audience using multiple channels, by creating content that is focused on the audience and optimized for each channel.
2. Who is Zomato's target audience?
Zomato allows customers to get their favorite food items delivered to their location, and also provides amazing deals and offers on dining out. So the brand targets people who are between 18 to 35 years of age. This segment comprises students and working professionals who order in and dine out often.
3. What are the distribution strategies adopted by Zomato?
Zomato uses several channels to distribute its content, which are as follows:
– Its own website and blog
– Social media such as Twitter, Facebook, Instagram, and other platforms
– Search ads and display ads
– Third-party advertising
– Billboards
– TV ads
4. How does Zomato monetize its offerings?
Zomato is primarily a food ordering app that is slowly spreading its offerings in multiple segments. Zomato mainly rakes in revenue using advertisements from restaurants and brands that want to use its platform to reach their target customers. In addition, Zomato generates revenue from the commission that it charges restaurants.