Content
Why You Should Outsource Content: 5 Key Reasons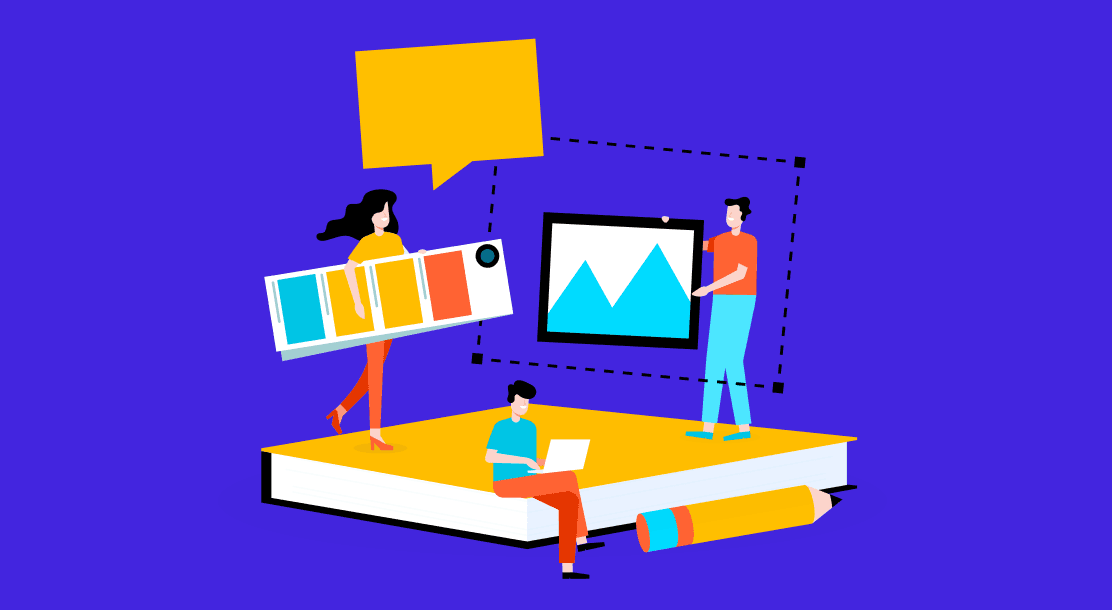 As per a 2020 study by the Content Marketing Institute, 84% of organizations outsource content. Outsourcing content can take a lot of additional hassle off your plate and give you some breathing time in your already jam-packed schedule. You can opt for content outsourcing services either through an agency or with freelancers. With agencies or freelancers working on content, you can publish content more regularly.
Most B2B companies outsource content writing, along with other services, such as content editing, graphic designing, and video creation. Today, for businesses to grow, an online presence is mandatory, and publishing high-quality content regularly is the way forward. Content creation is the base for building brand awareness and visibility. You can create content in-house, but outsourcing content marketing is a cost-effective and time-saving option.
Quality web content writing not only highlights your web presence and increases your brand awareness, but it also gets you more loyal customers. Some of the best content writing services offer tailor-made content that goes hand-in-hand with your business requirements. For most businesses, outsourcing writers can be the best possible solution to publish impeccable and relevant content on a regular basis. This blog will walk you through the key reasons and tips to outsource content creation for the success of your business.
5 Key Benefits of Outsourcing Content
An industry expert might not always be a capable writer. Outsourced content writers, who are experts in their field, have the potential to build your brand on the web and, in turn, generate more leads. It is critical for businesses to have the right web content to engage an audience, establish a market presence, and drive sales. Outsourced content agencies can be involved to write blogs and web pages for your website, among other collateral. Below is a list of five key benefits of content outsourcing services.
1.
More focus on the core business
By outsourcing article writing to freelancers or agencies, you can spend your time efficiently growing your core business. Most business heads have great talents and need to focus on generating revenue building and handling day-to-day tasks. By outsourcing content creation, you can get one task off your hands.
Content creation takes a lot of time, and, for any business, time is money. Outsourcing content can free up your team's time so they can concentrate on other essential tasks that are critical to the success of the business. In most cases, the in-house teams are so involved that they end up writing jargon-heavy content similar to technical briefs. Outsourced blog writing by professionals, on the other hand, consists of language and terms that the readers can relate to and keeps them engaged.
2.
Reduced labor costs
Hiring, training, and retaining full-time employees is expensive. In-house teams need to be paid salaries and given leaves and other benefits. Besides, an in-house content creator has other overheads like furniture, office space, equipment, etc., which an outsourced content writing team does not require.
When you outsource content writing, you simply convert your fixed salary costs into variable costs, freeing up your cash flow for investing elsewhere. For outsourced content services, you pay only for the content you require. You can also scale your content needs organically as the business picks up.
3.
Access to experts
Most content agencies have experts, not just for your domain, but for different industries and formats of work. It is essential you tap into the knowledge and skills of an outsourced content agency.
Outsourced content writers not only come with specialist knowledge, experience, and expertise, but they are also aware of the industry changes, trends, and new techniques for creating content. In addition, a content expert not only has knowledge of content development but is also an expert in SEO and content strategy, which can improve your web page ranking.
4.
Gain new perspectives
An outsider's view always helps drive innovative ideas and strategies. By outsourcing writers, you bring in a fresh pair of eyes and a new way of thinking. As an employee, you end up being too close to the brand and might overlook the customer's perspective. With outsourced content creation, the content is focused on the readers, and written to engage them. A professional content writing agency brings in a fresh perspective with unique and high-quality content that can help you stand out from competitors.
5.
Publish more content, and regularly
Keeping up with your content calendar deadlines can be a challenge if you are juggling content creation with other operational tasks. In such cases, writing assignments will always be put on the back burner. Your search engine ranking is also dependent on the frequency of your posts.
Simply creating top-quality content is not enough. You need to publish it regularly to build brand awareness and improve SERP ranking. With a content creation agency, you can not only publish more content more frequently but also get conversions faster.
Publishing content on different online channels is both time-consuming and labor-intensive. But a dedicated content marketing agency will have no issues keeping up with your content calendar and feeding the web.
10 Tips to Outsource Content Effectively
Here are some common tips you must follow before you outsource content writing.
1.
Identify what type of content you need help with
Once you figure out the specific content type you need to create, it can help you narrow down your search for the right expertise. Also, for specific jobs, such as outsourcing blog writing, you need not outsource a content marketing agency. A freelancer would be just fine.
2.
Create a budget
With outsourcing content, cheaper is not always better. However, depending on your needs, you can choose a freelancer rather than a content marketing agency. Hiring a content designer or video editor may cost you a bit more, as these are highly specialized jobs. Hence, it is crucial to flesh out a budget for your content outsourcing needs.
3.
Decide between an agency and a freelancer
This will purely depend on the volume and variety of content needed. An agency will be better if you require a team with diverse skill sets. If you need to outsource a specific kind of content only, then a freelancer may be a better choice. With content marketing agencies, you will be assigned an account manager as your point of contact. In the case of freelancers, you will communicate directly with the creator.
4.
Evaluate their previous work
Be it a content creation agency or a freelancer, seeking references from other clients is mandatory. You can also ask for some sample work to check the quality and style of the work they've done, and ensure that they meet your standards.
5.
Ask questions
Every question is important and relevant when choosing an outsourced content team. Before getting an outsourced content team on board, ask questions about their content creation process, the team's expertise, and their SEO approach. In short, clear all doubts or questions you may have right from the start, and encourage them to do the same. You and the team should share a transparent relationship.
6.
Provide detailed guidelines and set the right expectations
To meet your exceptions, the content creation team should have access to your style guide and other brand guidelines. A style guide should include details like brand colors, format, fonts, phrases to use and avoid, USP, links to other important resources, etc. Communicate your timelines and schedule with them, and clearly state your expectations.
7.
Create a solid workflow
Even if you outsource content creation, you will need to have a content process and strategy in place. This will ensure flawless collaboration between you and the content writers. A monthly or weekly calendar will also ensure everyone is on the same page and that no deadlines get missed. An example of a workflow is shown below.
8.
Have an open channel of communication
One of the major challenges of working remotely is the lack of or irregular communication. As you and the content creation team will most likely work remotely, it is critical to have multiple open lines of communication. It is also recommended to connect at least once a week for regular updates.
9.
Have a list of topics ready
You should begin with a list of potential topics or keywords. Once this list is ready, prioritize those topics and brainstorm strategies for them with the team. To identify keywords, you can use various tools like Google AdWords and Quora. Your list should ideally have enough topics for at least a month or two. This will give the writers a clear idea about the kind of content you work with.
10.
Review partial work and provide feedback
If you are working with a content agency or freelancers for the first time, it is important to review the half-done work. When you give them feedback during this stage, they can make changes as they go. Initially, minor adjustments will be required, and this is perfectly understandable. Feedback on the content created by freelancers nurtures the process and is the basis for growth and optimization. After the initial constructive feedback, the pace and quality of work should become better and smoother.
Key Takeaways
● Outsource content marketing, and you will bring in a unique and diverse skill set.
● Outsourcing writers increase your in-house employee's bandwidth, and also ensures content creation gets done smoothly.
● Expert content writers produce relevant and high-quality content that provides value to the readers and pushes them to make a purchase.
● Outsourced content marketing teams help create a content plan with their expertise, indicating what needs to be written and when.
There is no denying that outsourced content creation can prove to be more rewarding than an overworked in-house team in the long run. Hiring an experienced and professional content writing agency helps create a dependable relationship with your customers.
Outsourcing writers is a cost-effective way of extending your brand's reach and position as an industry leader. We hope with this blog, you are convinced of the benefits content outsourcing services bring to your brand.
FAQs
1. Why is it recommended to outsource content creation?
Outsourcing is cheaper than recruiting a full-time writer. By outsourcing content creation, you can focus on strategy, marketing, and the growth of your business. Outsourcing is considered a cost-effective way of developing content.
2. Give a few examples of outsourced content creation.
A few outsourced content creation examples to get you started are:
● Blogs
● Articles
● Podcasts
● Cartoons and comic strips
● Visuals and images
● How-to or explainer videos
3. Is outsourcing social media recommended?
Outsourcing social media posts can help you manage customer relationships if you don't have the bandwidth for handling it internally. As far as social media goes, response time is critical for customer retention.
4. How do you outsource social media management?
To outsource social media management, choose a reliable social media consultant. Then, share your content strategy with them. Next, work closely with them and review their work periodically.
5. How is outsourced content writing done?
Outsourced content writing is a combination of writing, editing, and publishing content. Content can be in the form of blog posts, videos, press releases, podcast scripts, product descriptions, social media copy, etc