Content
What Is A CMS And How Can It Benefit Marketers?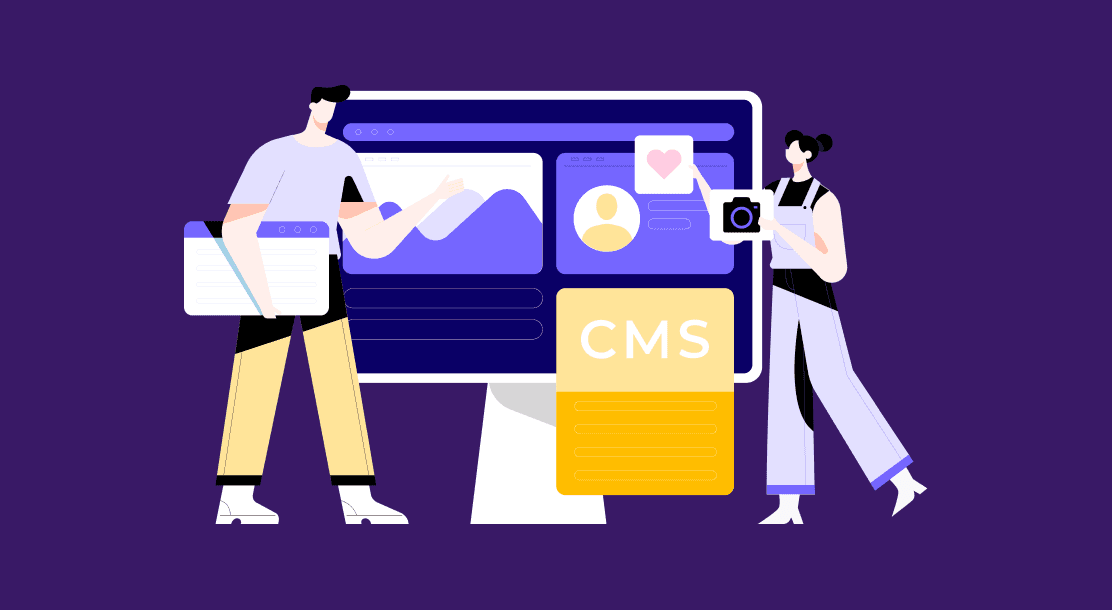 Discover how a Content Management System (CMS) can help marketers create, manage, and publish content. Learn all about its capabilities here.
A Content Management System (CMS) is a software application or a set of related programs that enable users to create, manage, and publish digital content, typically for websites.
A CMS allows users to manage website content in a structured way. This can include everything from text, images, videos, and audio files to more complex elements like e-commerce functionality, user accounts, and custom code.
Content Management System: What Is It Really?
A CMS typically includes a user-friendly interface that allows users to manage their content without requiring them to have any technical knowledge or programming skills. This can be especially useful for businesses and organizations that need to manage a large amount of content and want to be able to update their website easily and quickly.
There are many different types of content management systems available, ranging from simple blogging platforms to more complex enterprise-level systems.
How Does a CMS Work?
The basic workflow of a CMS typically includes the following:
Content Creation: Content creators use the CMS's backend interface to create and edit content. This may include text, images, video, audio, and other types of media.
Content Management: The CMS manages the content by storing it in a database or other storage system. The content can be organized into categories or tags to make it easier to find and manage.
Content Publishing: The CMS allows content creators to publish their content to the website or other digital channels. This is typically done through a publishing workflow that may include approval processes or scheduled publishing.
Content Presentation: The CMS delivers the content to visitors through a front-end interface, such as a website or mobile app. The CMS may use templates or themes to control the look and feel of the content presentation.
Content Analysis: Many content management systems provide analytics tools to help users analyze the performance of their content. This may include data on page views, engagement, and other metrics.
CMSs are used by a wide range of organizations, including businesses, non-profits, and government agencies. They can be customized to meet the specific needs of each organization, and many offer plugins or extensions that provide additional functionality, such as e-commerce or social media integration.
Some of the Best Open Source CMS Platforms
There are several popular content management system platforms available in the market. Here are some of the most widely used ones:
1. WordPress
WordPress is one of the best open source CMS used to create blogs and websites. It allows users to easily create and manage websites with its intuitive interface and wide range of customization options. It also offers a large library of plugins and themes that enable users to add additional functionality and design to their websites.
WordPress can be used to create a variety of websites, including personal blogs, online stores, corporate websites, and more. It is a free system that's highly customizable and easy to use.
2. Joomla
Joomla is one of the free and best open source CMS platforms that are popular for building complex websites and powerful online applications. Joomla provides a flexible interface that can be used to build many types of websites, including blogs, e-commerce sites, social networks, and more. It features a user-friendly interface, a powerful set of built-in tools, and a large library of extensions that can be used to add additional functionality to a website.
3. Wix
Wix is a cloud-based web development platform that allows users to create professional-looking websites without the need for coding knowledge. The platform offers a user-friendly drag-and-drop interface that enables users to customize their websites by adding elements such as images, videos, text, and other design features.
CMS platforms provide a user-friendly interface that allows website owners to easily create, edit, and publish content without requiring technical expertise. This makes it easier for non-technical users to manage their websites and keep their content up-to-date. You can choose from a variety of CMS platforms online. The choice of CMS platform largely depends on your specific needs, budget, and technical expertise.
Beyond CMS: Pepper CMP as a Platform for Content Marketers
While we learn about how CMS makes content tasks easier for marketers and creators, let's also learn about another tool that can prove to be super-advantageous for people on content.
Pepper Content's content marketing platform helps businesses create, publish, and distribute high-quality content to engage with their target audience and drive more traffic, leads, and revenue. The platform offers a range of features, including:
Content calendar
Social media scheduling
Analytics
Collaboration features
With Pepper, businesses can streamline their content marketing efforts by planning and executing their content strategy in one centralized platform. The content creation tools allow users to easily create blog posts, social media posts, and other types of content, while the content calendar helps them stay organized and on track with their publishing schedule. The social media scheduling feature enables users to schedule and publish their content across multiple social media platforms, while the analytics feature provides insights into the performance of their content and helps them optimize their strategy over time.
Now that you know the power of Pepper CMP, sign up for the 7-day free trial!
FAQs
1. What is a content management system (CMS)?
A content management system (CMS) is a software application that allows users to create, manage, and publish digital content, such as web pages, blog posts, images, videos, and more, without requiring extensive technical knowledge.
2. What are the benefits of using a CMS?
Content management system platforms offer numerous benefits, such as simplifying content creation and management, facilitating collaboration and workflow, improving website performance and SEO, enhancing security, and providing customizable templates and plugins.
3. What are the different types of CMS?
There are three main types of CMS:
Open-source CMS: These are free and open-source software platforms that allow users to customize and extend the software as per their needs. Examples include WordPress, Joomla, and Drupal.
Proprietary CMS: These are commercial software platforms that offer unique features and customization options but require a licensing fee. Examples include Adobe Experience Manager and Sitecore.
Hosted CMS: These are web-based platforms that provide website hosting, design, and maintenance services. Examples include Wix, Squarespace, and Shopify.
4. Which is the most popular CMS?
WordPress is currently the most popular CMS, powering around 40% of all websites on the internet. Joomla and Drupal are other popular open-source CMS platforms, while Adobe Experience Manager and Sitecore are widely used proprietary CMS solutions.

5. Is it necessary to have the technical expertise to use a CMS?
No, most CMS platforms offer user-friendly interfaces and WYSIWYG editors that make it easy for non-technical users to create and manage content. However, some technical knowledge may be required for advanced customization or troubleshooting issues.

6. Is Pepper Content Marketing Platform useful?
Yes. Pepper CMP is a flexible and user-friendly content marketing platform that can help businesses and individuals create and manage their online content with ease. It's a software application that helps:
Get data-backed insights into the content gaps
Update your existing content to improve rankings and fetch better click-through rates
Ensure that your content is fresh and trendy