Marketing
9 Ways You Can Get More From Digital Marketing While Spending Less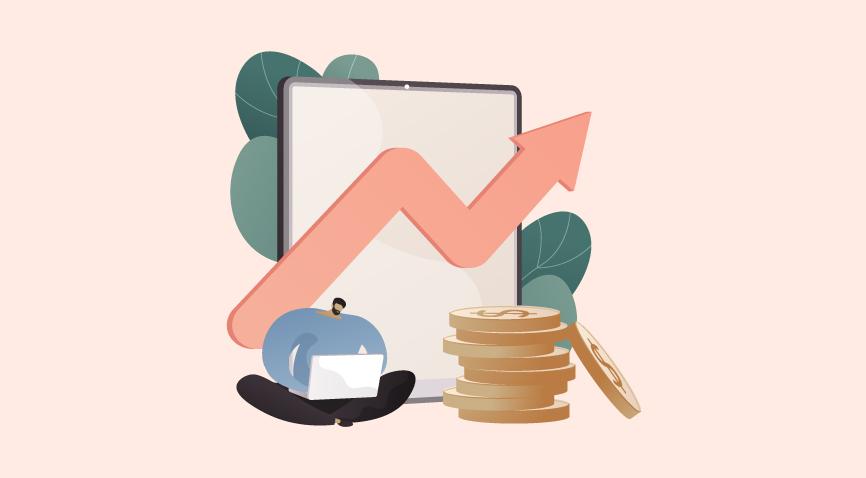 Table of Contents
The Need for Digital Marketing for your Business
Types of Digital Marketing
9 Ways to get more from Digital Marketing While Spending Less
Key Takeaways
Conclusion
FAQs
Any business can benefit from digital marketing, regardless of its size or domain. Digital marketing makes you more visible online and helps create a compelling online presence. Start-ups and other brick-and-mortar businesses are reluctant to try digital marketing because there is no guarantee of success. The good news is that here are some of the best digital marketing tips featuring cost-effective strategies that will help you excel while spending less on your digital marketing efforts.
However, first, let's look at the need for digital marketing in today's world.
The Need of Digital Marketing for your Business
Today, digital marketing is probably the only way to keep ahead of the competition. It pays to heed some digital marketing tips for start-ups who must succeed against all odds they face in the market. It is crucial to reach as many customers as possible, and it is easier to do it online than at a brick-and-mortar store. Plus, digital marketing can happen at a fraction of the cost of traditional advertising, with guaranteed results.
Types of Digital Marketing
While there are more than half a dozen types of digital marketing, digital marketing tips and tricks from seasoned experts focus on just a few:
1. Content is king, and content marketing helps you perfect the art of storytelling, which goes a long way in creating awareness and brand building.
2. SEO or search engine optimization involves deploying organic methods for achieving a higher ranking on search engines. SEO is one of the best ways to generate and direct traffic to your website and convert them to solid leads.
3. Similarly, SEM or search engine marketing is an essential tactic digital marketing companies use to draw attention to a brand. Frequently referred to as pay-per-click (PPC), this strategy involves optimizing and deploying your ads, which appear strategically online.
4. Social media marketing (SMM) is a specialized process used to target specific users present on various social media platforms. SMM is one of the advanced digital marketing tricks that involves posting content customized for a target audience.
9 Ways you can get more from Digital Marketing while Spending Less
1. Identifying your Target Audience
It is not enough to merely get people to visit your website. Some crucial digital marketing tips and tricks include identifying the buyer's persona and directing targeted traffic towards your website. Such targeted traffic doesn't comprise casual browsers but is made up of serious customers looking for useful information on products and services. Targeting such users leads to higher conversion rates, resulting in definite sales.
2. Social Media helps Connect and Convert
It is essential to have a compelling presence on social media, where most of the action is today. Customers know that social media platforms are the best place to research products and services and provide some excellent bargains. Remember that social media knows people better than their friends and family do. Salespersons swear by social media as it helps them close deals faster. Buyers spend a lot of time researching, and any digital marketing company that provides ready solutions gets the rewards.
Some of the best digital marketing tips would emphasize how crucial it is to have a dedicated social media team that knows how to connect with your target audience. The team's job is to monitor the profiles of your potential customers and engage them continuously to ensure results.
To make social selling work, you need to have the best content, which helps you identify the buyers and connect with them. Close interaction with prospective customers lets you know their likes and dislikes, the social sites they frequently visit, and the type of content they prefer.
3. Tracking your Progress to Modify Campaigns
Your marketing campaigns are never foolproof and need to be modified as you go to suit your needs. Digital marketing tips for start-ups harp on the need to track metrics, including the all-important return on investment (ROI), increase in sales figures, repeat visitors, etc., to determine the campaign's efficacy. You may have to tweak your campaign to suit your brand strategy.
Static conversion rates or a sudden drop indicate a weakness in your marketing campaign, which needs to be tweaked. Not all the recipients of your emails are hot prospects, and a poor response suggests you are targeting the wrong people. You may want to create more appealing emails or redo your landing page to make it more attractive. Identifying key metrics and using them properly helps improve sales.
4. Keep an eye on the Return on Investment (ROI)
ROI is a crucial metric for any business as it determines your profitability and justifies your actions. A straightforward formula, dividing investment by sales, helps you arrive at your ROI. However, ROI derived from a sample sale can often be misleading. Only when you calculate it thoroughly do you get an idea of where you stand. And to do this you need to have the goals and aims of your business at your fingertips.
Be aware of your budget (often a tight budget for start-ups), and calculate the total sales possible through your digital marketing efforts before you arrive at the ROI. To get accurate statistics, you need Key Performance Indicators (KPIs) to fall back on. KPIs indicate the leads you have got, the total traffic generated, and from where they came from (social media, blogs, search engines, and so on). Your KPIs will also indicate how much sales can be attributed to organic methods, referrals, paid campaigns (PPCs), and direct visitors to your website.
Performance reports gleaned from your campaigns are indicators of the ROI and tell you which are your weak spots.
5. Pay-Per-Click (PPC) works Faster
While organic search is good, it takes too long to produce results, making it unviable for small businesses. Almost half of the small companies use PPC as a part of their digital marketing campaign strategy. However, with frugal budgets, it is indeed a challenge, and every penny counts. While search engine optimization works at a slow pace, PPC can help create brand awareness at an incredible rate by letting you gain instant visibility to your targeted audience. PPC campaigns enable you to gain instant leads as it uses the terms often used in online searches (keywords) to target specific searchers. Keyword bidding can be tricky business and can make or break your campaign, so it is better to leave it to experienced analysts who know what they are doing. The good news is that PPC can help generate healthy ROIs.
6. Relevant Content to Attract the Right Customer
Companies that have budget constraints need not worry too much as there is still a way out. Using social media and relevant content, you should be able to reach your target audience. Digital marketing tips from experts dwell on the importance of identifying the target audience, which is easy if you know the buyer's persona. Use your content to create a successful marketing plan, and always remember that knowing the customers' likes and dislikes is key to success. Getting feedback from your customers regularly (through short surveys) helps gain valuable insights.
7. Create an Email Database
One of the hottest digital marketing tips includes creating an email database, especially beneficial for start-ups and small businesses. Most marketers have realized the real value of email marketing as one of the top lead generators in the industry. Most marketers have realized the true value of email marketing, one of the top lead generators in the business. Statistics show that a dollar spent on email marketing is likely to fetch a handsome ROI of $40 to 44. Email marketing helps create brand awareness besides being a reliable lead generator. Ultimately, email marketing can lead to a steady increase in sales, leading to consistent revenues due to increased website traffic, thanks to call-to-action buttons (CTAs). Even small businesses can afford MailChimp, an email automation platform.
8. Use Facebook Live to your advantage
Most online businesses have a Facebook page. If you do not have one yet, it is time to create one. The next logical step is to add Facebook Live, which features live videos, a hot favorite with most Facebook users. With live-streaming trending on Facebook, marketers need to take advantage to reap the benefits.
9. Subscribe to YouTube to host Videos
Video marketing has been trending since 2017. If you haven't benefited from it yet, it is high time you used YouTube, as 75% of the Internet traffic comprises video clips or GIFs. Images say it better than words, and YouTube is the happening place for videos, and it is easy to create your YouTube channel. Successful websites feature a video on their landing pages as it helps increase conversions.
Key Takeaways
It is quite obvious that relevant content is key to success in digital marketing. It is compelling content that helps identify the target audience and attracts them to your website. Social media plays a key role in digital marketing as it is the hangout for people who love being online, and people online are the customers digital marketing companies look out for.
Conclusion
In a nutshell, digital marketing is affordable not just by big businesses but also by small businesses and start-ups with a shoestring budget. While organic methods are time-consuming, they are probably more reliable in the long run. You can use paid campaigns to launch your business and maintain them through organic methods.
FAQs
1.

What are the ways to increase revenue through digital marketing?
Some of the best digital marketing tips you can get include creating business accounts with all the leading social media platforms. Another digital marketing trick you should know is increasing your users' engagement by using cutting-edge SEO tactics for your website optimization. You may also want to focus on opting for a UX-oriented website design. One of the best digital marketing tips for start-ups is using Google Ads to increase revenues.
2.

How does digital marketing help reduce costs?
Some helpful digital marketing tips and tricks for reducing your costs include constantly measuring the ROI from the campaigns you run, and keeping a hawk's eye on your budget also helps. Other digital marketing tips to grow your business include educating your customers instead of winning them over via advertisements. Have data at your fingertips and analyze it to prevent committing any mistakes. Automating your marketing activities using AI is one of the best strategies you can adopt.
3.

Is it possible to advertise without spending any money?
One of the best digital marketing tips worth considering is starting a website featuring plenty of informative blogs. It is essential to make your presence felt by being active on social media, and figuring in as many Internet Directories as possible. Other digital marketing tips include joining online forums and giving frequent press releases. You may also want to ask your customers to share their reviews on Google since most buyers first check reviews before buying any product or service. Finally, guest blogging is one of the digital marketing tips for start-ups as it helps you get a foothold in your domain without spending much.
4.

How can I improve my online business using digital marketing?
The hottest digital marketing tips include optimizing your website to be compatible with multiple platforms. Other digital marketing tips worth considering include making checkout a less harrowing experience for online shoppers. Include COD or free shipping as additional lures to increase revenues. Including videos in the content is one of the hottest digital marketing tips for start-ups.
5.

What are the best ways to improve my digital business?
One of the essential digital marketing tips for start-ups is the need for fuelling your digital marketing campaigns from day one. It is crucial to have analysts working with you to ensure you are on the right track. Have a robust SEO strategy, and use social media to your advantage to increase revenues. It is equally essential to have a winning content marketing strategy, which is one of the best digital marketing tricks worth trying out.