Content
A Guide On SEO And Its Types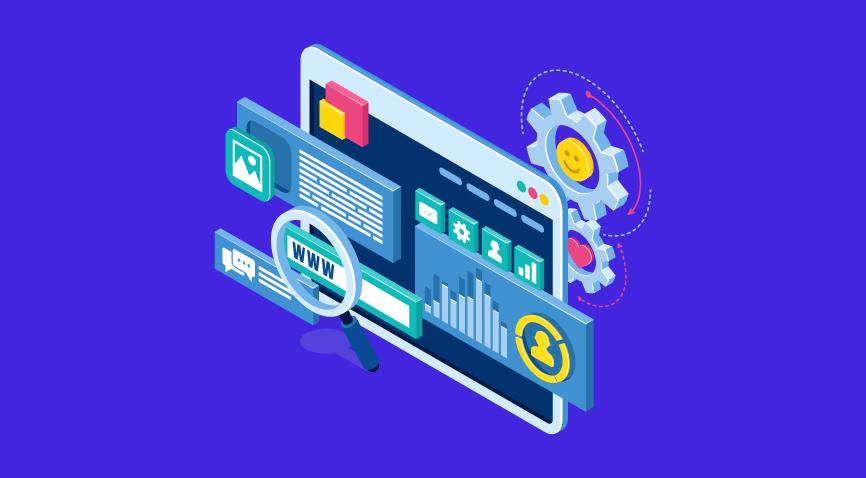 Table Of Contents
Role Of SEO In Driving Website Traffic
Types of SEO
Key Takeaways
Conclusion
FAQs
Driving traffic to their websites is the topmost priority for all online businesses. It is the first step for lead generation, increasing sales, or even brand awareness. To drive traffic, businesses adopt many different strategies. These strategies can vary depending on your innovative potential. However, in this article, we will talk about Search Engine Optimization (SEO) and the types of SEO in digital marketing.
Role Of SEO In Driving Website Traffic
Online marketers have always taken SEO seriously to improve their rankings in search engines. And who would not when 40 percent of website traffic begins with a search query! Once your website occupies the first page of Google's search results with the help of SEO, your site will get more visibility leading to more traffic and, eventually, increased revenue.
Earlier, SEO was just about adding lots of search terms or keywords. However, with time, search engines became smart and updated their algorithms. Thus, now SEO is more about high-quality content and sites.
Still, the most fundamental aspect of SEO is incorporating keywords in the title, meta descriptions, and/or content body. These keywords indicate to search engines what your site is about, and then the search engines direct the users to your site when they search for those keywords. But, be careful while using keywords. Don't just paste them all over your page. Try to use long-tail keywords, which can be phrases that sum up your site or the users' intent while searching. However, ultimately, your content's quality, uniqueness, and relevance determine your website's outreach.
Types of SEO
To understand the concept better, let's look at the different types of SEO.
As already mentioned, for most people, SEO means inserting keywords. But, this is just a part of one type of SEO. To drive substantial traffic, you will need more than one type of optimization.
The main types of SEO are as follows:
1. On-page SEO
This is the most popular type of SEO, which most people are familiar with. It includes everything visible to the user on your website. It is mostly related to content. On-page SEO comprises tactics that help search engines understand the content matter and see if the website could be a valuable source of information for users.
On-page SEO types include the following:
Keyword research: This is the most common tactic. Using the right keywords is important for optimization to work. Conduct proper research on relevant keywords with a high search volume.
Keyword optimization: After you have found the right keywords, placing them in the right place is the next important thing. For example, include them in the title, first paragraph, and metadata.
Content creation: Your whole content should provide value to users. Focus on publishing high-quality content while adding keywords to it.
Metadata optimization: The meta title and description must have the relevant content and keywords for a good SERP ranking.
Internal linking: These URLs link to other pages on your website. Such links help maintain a seamless browsing experience. You should insert links alongside keywords to direct the users to high-authority pages.
On-page SEO is not just limited to the above tactics. In fact, having a website that is easy to navigate for visitors is also crucial. If your visitors have a hard time finding information, they will likely leave your site. Thus, much of the on-page SEO is focused on providing a good user experience.
2. Off-page SEO
Off-page SEO is comparatively complex. Contrary to on-page SEO, it is everything that happens on the part of your site that is not visible to the user. It is more about creating awareness and trust in your company, which will then lead to more visitors. To do so, pff-page SEO primarily relies on link building. Link building is the process of getting other popular and reputable websites to link back to your website.
The types of off-page SEO through which links can be built are:
Pitching articles: Look for sites or blogs relevant to your work and pitch your articles to them. Include a link directing to your site to nudge visitors to visit your site as well.
Competitor research: It is very important to know how your competitors rank higher than you. Check out their backlink profile. See if you can replicate their strategies.
Helping journalists: Journalists require insights for their news stories, and you can provide them if the story is related to your industry. This is an excellent way to earn links in their articles.
Remember that link building is effective only when earned and comes from reliable sources. Many links pointing to your site from popular and authoritative sites prove to the search engines that your site is valuable and trustworthy.
Off-page SEO practices comprise building connections with bloggers, journalists, social media influencers, and people of the same industry.
3. Technical SEO
Technical SEO is similar to on-page SEO but includes practices beyond the on-page factors. It refers to actions that help search engines crawl your website quickly and enhance user experience.
Technical SEO efforts include,
Mobile-friendly websites: Many users use mobile phones nowadays to search for any product or service. Thus, your site must be easy to navigate on a mobile device as well.
Page speed: A faster page loading speed will help you rank better since Google has now included load time variables as ranking factors.
Website structure: Make your site user-friendly with simple-to-understand features for everyone. A clear navigation hierarchy and properly placed internal links can make your site structure concise.
Key Takeaways
SEO and its types are ways to improve your website so that it ranks higher in the search engine rankings and drive more traffic to your site.
There are different types of SEO but the major ones include on-page, off-page, and technical SEO.
On-page SEO is the strategy most relevant to your content. The primary tactics include keyword research and optimization, high-quality content creation, metadata optimization, and internal linking. Moreover, focus on creating a user-friendly website since the purpose is to attract more visitors.
Off-page SEO includes tactics to build your website's reputation and authority. Most off-page SEO types are related to high-quality organic link building. Guest blogging, competitor research, and creating quality content are some popular ways of earning links.
Technical SEO includes tactics to improve your site's backend structure and foundation, for instance, site architecture, loading speed, mobile-friendliness, and security.
Conclusion
To get the best results, your SEO plan must use the different types of SEO in conjunction and not just rely on on-page techniques. Create a well-rounded optimization strategy catering to on-site, off-site, and technical factors. A multi-faceted approach will get you to the top of the search rankings.
FAQs
1. What are the different types of SEO?
There are many types of SEO. However, the most common ones are on-page, off-page, and technical SEO.
2. Which is the best type of SEO?
Even though on-page SEO is most commonly used, there is no such thing as the best type. You should be using all these types of SEO practices together to drive maximum traffic to your website.

3. Does SEO mean adding keywords to your content?
This is a small part of SEO, but SEO is a broader concept encompassing various practices and types.
4. What is the goal of SEO?
SEO is used to attract more visitors to your website and boost traffic. This will lead to increased sales and awareness for your brand.
5. What are the aspects of technical SEO?
Technical SEO includes tactics to improve your site's backend structure and foundation, for instance, site architecture, loading speed, mobile-friendliness, and security.