Pepper SPOTLIGHT
Turning the Pepper Spotlight ON with Ep.1 | The Growing Influence Of Podcasts ft Amit Doshi, Head of IVM Podcasts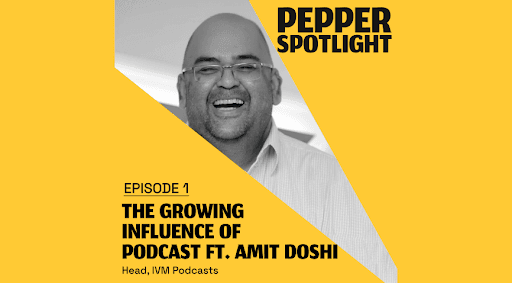 We are proud to bring out one of our next ventures: Pepper Spotlight, a podcast where we will dive deep into all the questions you could have about the content and various other popular trends based on content and its creators.
While stepping into a not so explored industry, people have many questions such as:
What is the future of content in India?

Are we heading towards a passion economy?

How can creators monetize their digital products?

Is every creator an entrepreneur?
There are many more questions that we will be answering through Spotlight. My name is Pawan Rochwani, and I am your host for Pepper Spotlight. Our goal is to deliver as much value as we can, to help you get better at your craft.
Listen to the Podcast here! Spotify | YouTube
Stay tuned here– https://spotlight.peppercontent.io!
In today's episode of Pepper Spotlight, we are talking to the Head of Indus Vox Media Podcasts, Amit Doshi; A person who keeps people hooked through just one sense: audio.
Quote: A podcast is not a substitute for your social life. Listening to a podcast can be a substitute for social life, but creating podcasts cannot be a substitute for a podcast host.
About The Guest:
Amit Doshi is someone who is obsessed with gin, scrabble, and creating podcasts. This man, who survives on coke and American football, believes that the Indian podcast industry is in a rapidly growing phase. Let's probe into his brain and find out the insights of the podcast industry from the expert himself.
How has podcast consumption changed in India in the last few years, and what future does it hold in our country?
As we are headed to a phase where people are consuming all forms of content available on the internet, Amit Doshi believes that podcasts are growing rapidly in India. The growth graph is still not like the hockey stick growth, but the Indian Podcast Industry is getting there. People are currently discussing podcasts and their content which shows that the numbers have increased.
Based on the numbers of IVM Podcasts, Doshi added that the monthly listeners are now 40 to 50 times more than what it was four years ago. Hence, the growth rate is marvelous.
What are the current podcast trends in the Indian podcast industry?
In the initial stages of launching the podcast in India, Amit saw that the major traffic came from Bombay, Delhi, and Bangalore. With time, Hyderabad was another traffic-generating place. From that time to the present scenario, tier 2 cities are now becoming active listeners of the podcast. Although the number of listeners from the major four cities is increasing as well, they are no longer the major source of traffic.
Doshi told us that podcasts are now penetrating in all parts of the country. He also spoke about how the regional language content is consumed more, and that's why the regional areas have more listeners than the metropolitan cities.
What are the niches that are being explored in the podcast industry in India?
IVM Podcasts have produced shows in different genres such as comedy, marketing, entertainment, politics, travel, entrepreneurship, poetry, and the list goes on. The reason being that podcasts work in all kinds of categories. Amit reveals that the thought that podcasts can only work in particular genres limits the growth of audio content.
He believes that there are people with specific interests, and there is no such platform where they can discuss it, and podcasts of that particular category can help them interact with like-minded people.
Is IVM Podcast trying to create a supply site for consumption for Indian audiences in the future?
Amit thinks that there won't be any demand if there isn't a supply. He also says that in India, the lack of supply has been a major issue. The aim is to create as much supply as possible, at a reasonable cost, when it comes to production perspective. Hence, this is our approach to this business. Also, we make sure we cover the interests of as many people as possible.
Are podcasts considered as mainstream content, like YouTube or blogs?
A blunt no would be his answer. Amit acknowledges the fact that we need to get there, but there's a long way to go. When text and video content is available, audio content that includes podcasts, music, and radio, is considered as second class citizens in the world of content.
Television gets a bigger chunk of revenue as compared to radio.
YouTube gets a better share of revenue as compared to Saavn, Spotify, or IVM.
That's how it has been, and a lot of growth is needed. However, there are issues with the regulatory system that have slowed down the growth of the same.
Other than the topic of the podcast, what are the other factors that matter while starting with the podcast series?
Other than the genre or the topic of the podcast, Amit suggests that you should write your first ten episodes. By writing, he wants you to write the outline of all the episodes, as this will give you a form of discipline. It will also help you know that the idea that you have for the show is sustainable.
People usually run out of ideas after a few episodes, and prior visualization of the next 10-12 episodes will give you more time to further plan your ideas. Other than that, Amit says that the host's knowledge and curiosity for the subject is essential to make a podcast captivating. There is no magic potion that you can put in your podcast to make it work. It's just the hard work that you're willing to put in your work that counts.
How important is the production quality, and the editing of the whole piece?
Adding to the requirements, he says that the way you produce your podcast matters a lot. Nobody notices good quality production, but everyone picks on poor quality production. Anyone who is listening to a podcast, a single sense triggering content, nobody wants disturbance in such an intimate content format.
You may shoot a video from your phone, and then there is a full feature film by Sanjay Leela Bhansali, both of them might be visual content, but they are two different things. Hence, if someone says that you can be a podcaster with a mic and a recorder, that's not it. You need the proper equipment to do the job efficiently. Everyone can do it, but it takes time to build an entire podcast show. It takes hours, and a whole set of knowledge to create something worthy of listening.
What are the best practices to promote a podcast?
Before this wave of podcast content came in, promoting and distributing podcasts was difficult. Amit spoke about how Spotify, Saavn, and other platforms put up podcasts on their platform. Before, it took convincing to get a deal to get the content on their platforms. Things have become easier as compared to what it was a few years ago.
However, it is difficult to promote audio content as compared to other forms of content. The social media graphics, blogs, newsletters are just a click away. But that is not the case with audio content. This intimate content needs you to plug in your headphones and listen to the content. The audio content doesn't require you to engage with the gadget through which you are listening to the podcast.
Hence, you need to build a brand to promote it. Once your brand is known to people, they care about what you have to say about a particular topic. Otherwise, no one is going to invest in a 30-40 minutes conversation. Engaging with your audience will help you build that base for your podcast.
If celebrities or important personalities step into the field of podcasts, will the industry get more traffic?
According to Doshi, this can help to an extent, but it's not a sure-shot method to attract a new audience. Even in the west, some celebrities started off their podcasts, but some of them failed miserably. Putting a famous person over a podcast doesn't guarantee success.
However, he also agrees that if an influencer with a million followers puts up a swipe-up link, at least one of the followers is going to swipe up and start listening to what that person has to say in a specific topic of discussion.
Is Spotify exploring with its content and becoming a platform for podcasts as well?
Amit believes that this is a part of their bigger picture. Audio is the core part of their business, and they want the podcast to become a major part of it. While talking about the analogy given by Ben Thomson, one time cost versus ongoing cost, he says that when it comes to songs, these platforms have to pay a royalty to record companies for the revenue they get, as each play is an ongoing cost to them. On the other hand, most podcasts are a one-time cost.
Hence, these OTT audio platforms are doing it because this shift is better for their revenues.
As a podcaster, should one be omnipresent or should one focus on the platform that is becoming OTT for podcasts?
If someone is working as an independent podcaster, they should be platform-agnostic and should be present everywhere. In case if you are working for a particular platform, you cannot do that, but as someone who isn't bound by a platform, you shouldn't care where people listen.
Should an independent podcaster list their shows on platforms that seek subscription?
Amit Doshi is of the opinion that this is an interesting model and is beneficial. Whether we talk about early access, micropayments, Patreon style, or pure subscription, a podcaster should follow that medium and put up the content under subscription cost.
If censorship comes into play, and if podcasters cannot place ads in their content, will it affect the independent podcasters?
Amit expressed his worry that if independent podcasters are restricted from doing paid promotions and brand collaborations, the OTT audio platforms will be pissing off the podcasters. Podcasters are not being paid for putting up content on Spotify. It is a relationship of equal give and takes. If this equation is changed by either end, there will be ramifications, and it will include putting limited or no content on Spotify or any other OTT platform.
What are three pieces of advice you'd give to aspiring podcasters?
As mentioned before, write the first 10 to 12 episodes for your show, and layout a plan on how you want all of it to pan out. You should have an idea for a show, not just an episode.
Secondly, you need to know the insights of the topic you are going to speak about. In conversational podcasts, no one can fake expertise, as the host needs to know about what he is talking about. It's a full-fledged interview that will last longer than half an hour, and you can't sustain it if you have no knowledge about the topic of discussion, or you lose the trust of your audience.
And finally, you don't have to try to be different and talk to interesting people. As said by the expert himself, "A podcast is not a substitute for your social life. Listening to a podcast can be a substitute for social life, but creating podcasts cannot be a substitute for a podcast host."
Lightning round
Who are the dream guests for your different podcast shows?
Being a 40-year-old dude and living in Bombay, his list of dream guests starts with Amitabh Bachchan. Another person added to this list is Mani Ratnam. Other than these; he would have loved to talk to Late Sh. J. P. Narayan.
What is your favorite podcast?
He began talking about his favorites with The Assassination and Undercover. His favorite conversational shows consist of Bilson Show, Larry Wilmore, Pivot, Exponent, and being a basketball fan he is obsessed with NBA podcasts such as Open Floor, Forty-Eight Minutes, etc.
He never revisits the podcasts, but there is one single episode that he has visited twice, and it is by his favorite Ben Thomson: Economy Of Podcast Industry.
Favorite genre of podcasts?
Doshi compares NBA podcasts to a grown man's soap opera, as a lot of drama goes around silly issues. NBA podcasters are fun according to him, and that's why it is his favorite genre.
What is that one question you would want to ask Ben Thomson?
He ponders over this and decides to ask, "How did you think that a general technology such as a newsletter will be such a great business model?"
Rank the following forms of content according to your likeability: Books, podcasts, newsletters, YouTube, and blogs.
For him, it's books and podcasts at the top, as that is what he enjoys the most, followed by YouTube, blogs, and newsletters.
What do you prefer: audio podcast or video podcast?
Doshi says that it depends on what he is doing at that point in time. If he is on the go and in a phone in the pocket phase, it is audio podcasts for him. Otherwise, he watches video podcasts. He doesn't come home to sit and listen to the podcasts. It's just the pandemic that has made everyone sit at home and listen to podcasts, otherwise, he would prefer watching television over listening to podcasts at the end of the day.
To listen to the full conversation with Amit Doshi, Founder of IVM Podcast tune in to Pepper Spotlight (https://spotlight.peppercontent.in).