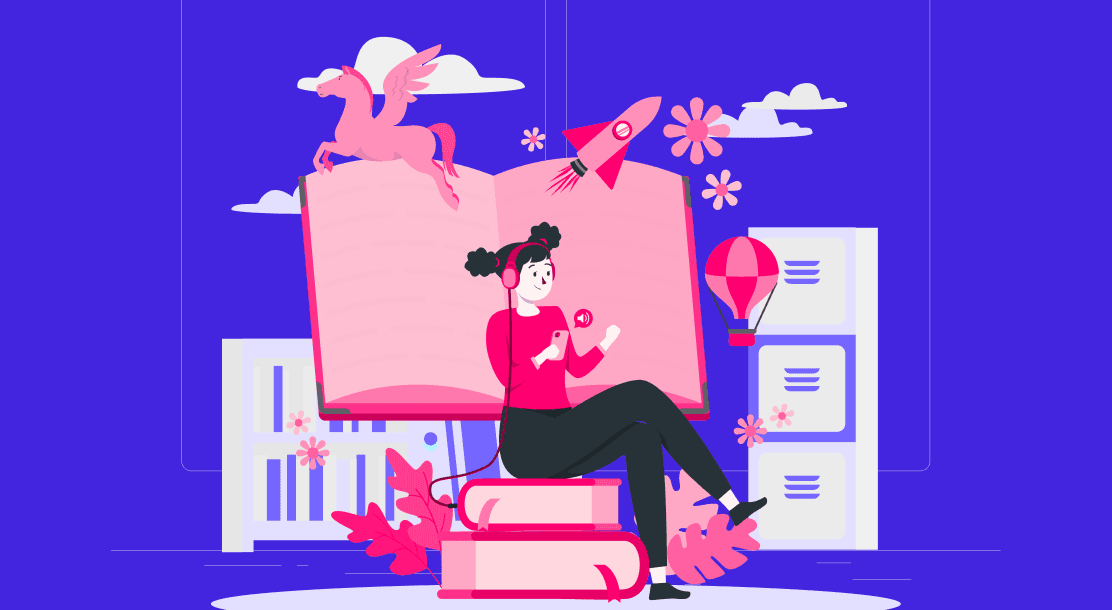 Do you seek fame as an author and earn a sizeable income, too? This article will help you realize your dream by offering tips on how to write and sell e-books.
Table of Contents
10 Tips on Writing and Selling an E-book
Key Takeaways
Conclusion
FAQs
Every human is the hero of his life. And every hero wants to be in the limelight. Yes, even the most introverted personas seek validation; however, they may seek it from specific quarters. A majority of writers dream of authoring a bestseller. The fact that you are going through this article indicates that you belong to that breed! Moreover, you may also wish to write and sell e-books to make a good living.
So, without any further ado, let's look at the ten tips on how to write and sell an e-book.
10 Tips on Writing and Selling an E-book
1. Zero in on a topic
Creating an e-book to sell is not a cakewalk. It requires serious focus and commitment! Considering that even a short e-book contains around 25,000 words, you would be better off writing on a topic you are passionate about. Otherwise, it would be a task to write and sell e-books successfully.
Also, keep in mind the popularity of a particular topic. It is paramount because if the subject you pick is too niche, not many people would be interested in your book. Hence, the best solution would be to find common ground between the two choices. Look for the elements in the intersection zone. And, voilà! You will get your shortlisted topics. And it is okay to take time to do this.
2. Research thoroughly but with a time restraint
Thorough research is essential, even if you are a pundit of the genre. You have to read through books on the same topics. It will aid you in augmenting your knowledge and may save you from possible future plagiarism charges. The research (reading) would also come in handy to provide citations (if required).
The downside of such in-depth research is that you may lose track of time. Hence, you must allocate a fixed number of hours/days for this task and watch the clock. Remember that though you are passionate about the subject, your ultimate goal is to optimize your time to write and sell the e-book.
3. Chalk out an outline
If creating an e-book to sell is an adventurous journey, an outline is a roadmap you require to reach the destination.
Think of the outline from the perspective of your potential readers.
Try to gauge what they expect from the book.
Put yourself in their shoes and ponder! If you have to deliver the expected output, determine what topics you should cover.
Think of the potential outcome – good or bad.
This will help you create significant benchmarks (chapters titles) for your e-book.
4. Start writing
Start writing your ebook. The more you write, the more aligned your content will get. Here are a few ideas that may help you to accomplish this task.
Write during peak productivity hours.

Be aware of when you are most productive in the day.
Use a timer to support your will to adhere to the timings and utilize that time. This will also aid you in measuring your output continuously with respect to invested time.
If you witness an excellent output, you will be more motivated and continue to produce great content at a good pace.
You may also use caffeine-laced drinks (for energy and refreshment) and specialized techniques, such as the "Pomodoro" technique, to further boost your productivity.
Of course, you want a secluded spot to pour your thoughts on paper; however, that may not always be possible.
Utilize time and effort even amidst distractions.
Train yourself to write anywhere, for example – in a restaurant.
If you get bored with continuous work, you can distract yourself momentarily.
Taking short breaks between work may also save you from the dreaded "writer's block." However, it is a double-edged sword, and you have to rein in your distractions with some self-control.
Stay on schedule

It would be a great practical idea to schedule time with respect to the chapters in your e-book.
Writing an e-book could feel like a Herculean task (especially for first-time authors), so you should strive to stick to a schedule.
Moreover, you will be even more encouraged as you complete milestones successfully!
Avoid pauses to proofread/edit or check for references

Apart from minor mistakes (including spelling errors) or punctuation errors, you would be better off not immediately going for in-depth proofreading or editing.
Similarly, you may check for references and put in citations later.
You may use highlighters or screen grabs for revisions in the meanwhile.
5. Proofread and edit
Once you have finished writing your e-book, it is time to proofread and edit it. If any of these task(s) is/are not your forte, outsource to seasoned professionals. However, always remember that it's your creation, so you should monitor every activity. Hence, tell the proofreader/editor that they may fix punctuations and grammatical errors and improve the language; however, they should not change the context or add/delete any significant part without your permission.
6. Create a captivating cover
Now that your book is ready with its content, you have to design an alluring cover and images for your e-book. Akin to that, you must inspect the images and cover prior to publishing.
If you are not talented with designing skills, you may post the job to sites such as Upwork, Guru, Fiverr, PeoplePerHour, etc. Remember that if you have to write and sell e-books successfully, you must think like a salesman! Just as a salesman takes exceptional care of the packaging, you have come up with a catchy title and beautiful cover for your e-book. After all, that will make the first impression on your prospective book buyers.
7. Market via crowdsourcing
Crowdsourcing is perhaps the most powerful marketing technique if you can use it effectively. If you follow one of the greatest modern authors – Paulo Coelho, on his blog/social media, you know that he uses crowdsourcing to engage his fans and promote his pipeline works.
In fact, you may start the promotion work as you write the e-book. Sharing the journey of your creative nirvana is your best bet to spike your audience's curiosity. Actively engaging with your audience on social media or a blog would be like partnering with them to create the final product. If executed properly, a significant part of your audience would turn into fans. They will continuously discuss and debate about your book. Thus, you would have an unpaid army doing your bidding of promoting your book, and they would also be eager to grab a copy of your e-book the moment it hits the market.
Here are the steps that you can take for crowdsourcing:
Ask your audience for their opinions and other relevant questions
Urge them to participate in your polls
Tempt them with free copies, using contests
Post excerpts from your e-book
Post reviews by influencers
Create and post images and videos (short) for promotions
Go live on social media for questionnaires
Encourage them to like and share your posts
8. Guest blog to gain exposure
The best part of guest blogging is that it cements your industry expert/influencer position. It aids you in enhancing your reputation as an authority figure. This reputation would be handy while promoting your book.
Consider this – suppose you have guest blogged at an author's blog, whose follower count is in thousands. Depending on your blog's effectiveness, you are bound to get some visitors and followers on blog/social profiles. Sooner or later, if you continue guest blogging, you will gain a sizeable following. Plus, with every guest post, your book is being promoted for free to the followers of your host.
To achieve this objective, you need to email host bloggers (site owners) with a considerable following. Alternatively, you may also contact them on social media. You may not receive a positive response on the first go, which is why you must follow up with them.
9. Integrate the e-book in your e-mail signature
The people with whom you exchange emails regularly are bound to be intrigued by your new signature. Even your new acquaintances may click on the e-book link. Remember, some of these recipients may forward your emails, too. Thus, it is an effective strategy for free marketing your e-book.
10. Write and sell e-books via multiple platforms
As they say, do not put all eggs in one basket. Similarly, don't bank only on a single site to sell your e-books. You may need to format your e-book to sell it on several platforms simultaneously. However, that should not stop you from taking the plunge. Don't control the number of platforms to sell your e-book on—the more, the merrier!
Key Takeaways
You do not have to be super-talented or an industry leader to successfully write and sell e-books; however, you must be passionate about the topic.
Creating an e-book to sell (comprising a minimum of 25,000 words) is no meager feat. And, thus to accomplish it, you have to be on top of your game in terms of research and consistency of output.
Contrary to the popular proverb, "Do not judge a book by its cover," your book will be judged by its first impression! Hence, it needs to be armed with a catchy title and captivating cover. Market via maximum sources, including crowdsourcing!
Do not bank on a single site. You have to write and sell e-books via as many portals as possible.
Conclusion
While creating an e-book to sell is not a walk in the park, you can overcome this challenge by leveraging your passion and professional outlook. Hopefully, this article has helped provide you with some tips on how to write and sell an e-book. You may also get in touch with full-time authors who write and sell e-books for a living for further guidance.
In the meanwhile, do check out Pepper Content's e-book writing services.
FAQs
1. How to successfully write and sell e-books?
To write and sell e-books, you must first use your passion and expertise to write an unputdownable e-book. Later, you have to market it via various sources (including crowdsourcing), and finally, sell it via several sites. 

2. What are the major steps to creating an e-book to sell?
1. Start from scratch on a topic that you are passionate about. 
2. Research the topic thoroughly while keeping an eye on the clock. 
3. Chalk out an apt outline.
4. Start writing your e-book. 
5. And finally, proofread and edit the content prior to publishing.
3. What is the ideal number of words in an e-book?
An e-book (short) should be around 25,000 words.

4. How to quickly create an e-book to sell?
To quickly create an e-book to sell, you should work around distractions, stay on schedule, and avoid pauses to proofread/edit. Once, you have finished writing the entire e-book, you can get into the proofreading/editing mode. 

5. How to finish an e-book?
1. Ideally, you should finish an e-book by tying the entire content together. 
2. Summarize the content and finally finish off with an inspiring call for your readers to take action (based on the directions of the e-book). 
3. Always keep in mind that a strong finish is a must for your e-book to feel impressive to its readers. 
4. And, in this way, it is also an element that you cannot afford to ignore if you wish to write and sell e-books, successfully!