Marketing
30 Mind-blowing Content Marketing Examples to Check out Right Now!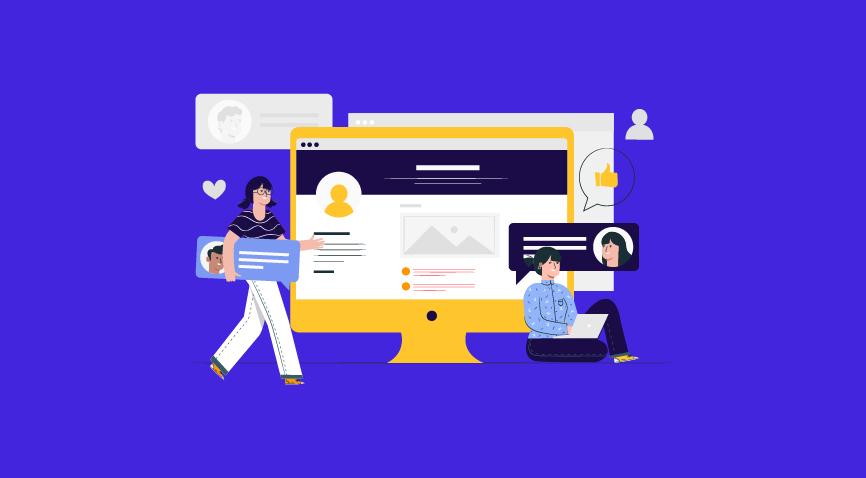 Spoiler alert, though. It's not as easy as it seems. According to HubSpot's State of Marketing report, proving ROI remains the greatest challenge for marketers.
Looking for inspiration for your next content marketing campaign? You've come to the right place.
The world of marketing is ever-changing. Trends and tactics ebb and flow like a raging river no less, and the currents are determined by the content we create. Nobody puts it better than leading marketing consultant and columnist Rebecca Lieb: "Content is the atomic particle of all digital marketing."
Content marketing is all about adding real value, bit-by-bit (or perhaps atom-by-atom), to the customer's life.
Ultimately, if you stick to the value-addition rule, good content will do three things for you:
Gains new leads
Nurtures the leads to follow through to purchases
Builds loyalty and trust
So dive in and take inspiration from some of these brilliant content marketing examples from India and across the international content marketing ecosphere.
Content Marketing Examples Across Different Types of Content
Blogging content marketing examples
You'd think that app marketing is all about social media and has little to do with blogging, but bill-splitting app GoDutch is here to shush the naysayers! In fact, they pin their latest blogs on Twitter and also have a blog story highlights section on Instagram!
The Y-Combinator-backed firm puts out nifty blog content that addresses all the common problems that can be solved by going Dutch, from awkward first-dates to pesky roommates! But that's not all. There are also financial knowledge-based articles for good measure, bringing balance between value and engagement. You'll also notice that their blogs are categorized using #tags, bringing the SEO & social media strategies full circle.
Among the top Direct-To-Consumer brands in India, BoAt's success can only be attributed to omnichannel marketing. You'll see BoAt ad campaigns everywhere, from the front page of major news publications like Times Of India to the features column on the Amazon homepage. While these can be seasonal, BoAt does one thing consistently; to stay in the news cycle, and that's blogging.
The result: Check what Google Trends shows as the top related topic for the highly competitive keyword "best bluetooth earphones".
ChargeBee helps individuals, small and medium-sized enterprises to automate their revenue streams. They deliver expert pricing solutions for B2B (and especially SaaS) businesses. With the advent of microservices and containerization, more tech platforms are looking to alter their revenue model to suit the new tech ecosystem. The ChargeBee blog is full of valuable insights on a relatively new concept that CTOs, CFOs, Change Managers, and entrepreneurs may be struggling with.
Their blog page is divided into cohesive categories and has a good mix of both long and short reads.
If there's one Indian firm that harnesses the power of blogging to its full potential, it's ClearTax. ClearTax doesn't just have one blog; it has four that are nailing long-form content.
ClearTax Learn: This blog covers everything you need to know about GST in plain terms. It is divided into 12 categories for easy navigation.
ClearTax Chronicles: Breaks down the Indian business and finance news cycle. Notice the smart switch from sans serif to serif fonts to make the content appear more news-y.
Fintech Glossary: Didn't understand a word or term you read? Look it up in the glossary!
ClearTax Engineering: All about the tech that ClearTax uses. This blog is on Medium and not the website itself. Clever use of a blogging platform that tech enthusiasts love.
This one is a great takeaway for all the content strategists who routinely repurpose new titles to old blogs and vice versa. With Qualcomm's blog QnQ, it's not just the consistency that impresses but also the meticulous attention to diversification. You won't find similarly titled blogs on the Qualcomm page!
You may have noticed that most examples on blogging have a personification angle; the companies name their blogs something beyond just simply "XYZ blog". Cosmetics marketplace Nykaa calls its blog "Beauty Book"; so old-school, yet so charming.
Notice how they constantly use doctors and editors in their titles to establish authority.
Social Media Content Marketing
Health conglomerate cure.fit was among the few gym clubs in India that was well-prepared for the lockdown challenges, thanks to their social media game.
With their insta posts consisting of everything from dance challenges to memes, the brand has garnered a cult following of 800k+. Subsequently, they were able to profitably shift to the online model and take advantage of digital to spread their wings.
Among the most followed Indian illustrators on Instagram, Alicia Souza is unafraid to bring dollops of her personal life to social media and share the inspiration behind her work.
She's a bundle of positivity, and naturally, her engagement rates are through the roof! She frequently receives collaboration requests with all kinds of consumer brands, from Asus to C Krishnaiah Chetty and everything in between.
Bottom line, if you want inspiration for storytelling as a content marketer, take it from an illustrator! There's much to learn from the people who condense 24 hours into a single post and can do it daily.
You may be wondering why an eCommerce platform with a very visible SHOP NOW button describes itself as the "positive news platform". But that's exactly the story behind Better India's success. Better India leverages social media to provide a platform for those who are in-it-to-win-it when it comes to the global climate crisis.
The brand frequently gives the much-needed voice amplifier to conservationists and other eco-enthusiasts, constantly inspiring more people to action. What does this mean? They take user-generated content to a whole new level!
They currently have a small array of eco-friendly products and also build relations with brands to create sustainability challenges.
Most importantly, they now have their full website up in Hindi, Gujrati, and Malayalam, paving the way for regional marketing strategies.
Noida-based tech services firm HCL has garnered a following of 2.5 million on LinkedIn. The company frequently posts insights on their LinkedIn page, constantly nudging followers to read a report or blog.
The result: Check how often the company remains fresh in the minds of its followers.
Visual Content Marketing
With the advent of the pandemic, the real-estate sector has definitely taken a turn for the worse in India. Apartment complexes have been struggling to arrange site visits even for those who are genuinely interested in cashing in on lower rates. One of India's premier construction firms cleverly got around this problem with the virtual launch of its complexes, Primrose hills, in August 2020.
Prestige went live on Facebook and YouTube for the event and garnered foot traffic through articles on major news publications. But there's more.
The company invested in a 360-degree virtual tour of a fully furnished apartment. Notice how the navigator shows you the angle of view on the left, so you get a clear idea of the size of the apartment. This can easily be turned off, too, with a simple toggle switch.
Visual content need not just be limited to graphics and video. There are plenty more tools available in the market to give your leads valuable content.
Virtual assistant and conversation analytics firm Haptik integrates infographics in its blog posts very frequently.
Notice how the banner ad calls out an infographic to a very topical subject. Infographics are a great way to provide content snippets on trendy topics. Not only that, the brand uses clever graphics even on its case studies page.
When it comes to B2B marketing, the idea here is to help the marketing/business development team create quick screenshot-worthy slides for approaching the C-suites. This is a long-term strategy, but trust that you will gain a soft spot from the secondary decision-makers.
When it comes to visual marketing, you'd be hard-pressed to find content that's more quick and responsive than Dunzo. Their social media pages are occupied by posts that cleverly marry topical stuff with Dunzo benefits.
The characteristic green background with bold black fonts is simply too hard to miss. What's brilliant is the frequent appearance of the iconic delivery-boy illustrative; celebrating the bottom-line workers is a tried and tested strategy for any organization, be it B2B or B2C. Learn more about the brands with excellent content marketing strategies here.
Arguably the most well-known wine brand from India, Sula Vineyards' motto is simple; who needs Napa when there's Nashik? The brand infuses simple graphics with product photography and panoramic stills to create beautiful mosaics.
What's unique about this process is that there's room to break the monotony.
Intersperse with skillful design work to switch things up and provide variety to the audience. There's also the informative/educative aspect infused here without coming across as pompous or condescending.
Here's a challenge. Count the number of design inspirations from the above picture starting from the left. First visual – rustic. Second – vintage. Third – Boho-chic. And, all are uniquely Indian. Despite so much visual drama, they all work well together.
The secret sauce may just be a carefully chosen color palette.
The lesson here: Working with a blank canvas gives you more creative freedom, but try working with themes and realize the importance of creating mood boards. This is one way to beat the consistency crisis with visual content.
D. E-book Content Marketing
Another new unicorn on the block, Zenoti, is a cloud solution provider for salons, spas, and medspas. Their market segment is ripe with budding chains as well as single-owner businesses. When COVID-19 severely impacted the spa market, Zenoti stepped up its content game to garner the trust of its leads. Here is a snippet of its frequently updated e-book resource page.
Payments gateway Instamojo uses e-book marketing for a niche audience. As millennial business owners are quite tech-savvy, their main concern is to find the best rates between competitors Razorpay and PayU in India. However, there's a whole segment of non-tech savvy business owners who are apprehensive about going digital. For them, Instamojo has created a "store" that sells free e-books. It's a nifty way to capture leads without relying on churn.
It's also a neat way to show how anyone can open an online store.
Among the first online edutech firms in India, Jigsaw Academy's main clients are young graduates and freshers who want to accelerate their career path. The main concern of youngsters is often whether industry or sector is performing well. "Which industry will give the best results, and is my future safe?" To answer these pressing questions, Jigsaw Academy's ebooks collate data about the industry segments they provide educational services for.
If you are a content creator or marketer, there's very little chance that you haven't used a single HubSpot resource for inspiration. Despite being a software firm first, HubSpot relies so heavily on providing value to its customers.
Its e-book resource page is one of the most comprehensive and neatly categorized.
E. Video Content Marketing Examples
It would be sacrilege if we didn't mention CRED as a top video content marketing example. As for the lessons to learn, well, the video speaks for itself. Don't be afraid to experiment and break the rules. Also, Rahul Dravid is the best! The multi-series ad continued the theme for Kumar Sanu and Jackie Shroff.
Oyo broke the hotel industry and paved new paths in India. One secret to their success is inclusive marketing campaigns. OYO's YouTube page is filled with vlog series, sketches, and travel diaries to help gain traction.
New moms are constantly in a state of worry about whether they're doing what's right for their little ones. To help alleviate the troubles, baby care products manufacturer The Moms Co uses video marketing to provide parenting tips. This fits in very well with their brand ethos that advocates for toxin-free products for baby care.
8X8 integrates voice, video, chat, contact center, and enterprise-class API solutions to provide an all-in-one package for remote working. Most importantly, their main USP is security, and as a result, their solution can be relatively complex to understand. However, it is very much the need of the hour as cyberattacks continue to grow. They have some of the most comprehensive video and webinar content to help each industry understand its challenges.
F. Miscellaneous
Clovia and Zivame are both lingerie marketplaces that started at the same time. Zivame has raised $40 million in funding, while Clovia managed about $10 million. Here's the analysis:
While Zivame relies on social media marketing, Clovia takes SEO very seriously.
The capital costs and sheer resources required for social media are far more than SEO that relies on written content. Of course, Zivame has the resources for higher spending. But, Clovia's website includes a magazine section that's filled with lots of valuable written content. They've now even branched out to providing content in regional languages as well.
Here's their net revenue trend.
Cloud kitchen BBK is present in 22 cities of India. It's the preferred choice for offices to order in. But as the pandemic grew, safety was a big concern for staff that couldn't work remotely. How does a cloud kitchen respond? By setting up a live kitchen video stream that runs 24X7. The remote culture offers many workarounds to tackle big problems with simple content.
G. Podcast and Audio Content Marketing
Online brokerage Zerodha's success story is very well known in the start-up ecosphere. Zerodha heavily relies on education-oriented marketing to break the stigma around the stock market in India and gain more leads. One avenue they've used for this is the Zerodha Educate podcast, which is currently among the top 100 podcasts on Apple Podcasts India.
This luxury housing and construction firm became the first in India to launch Alexa-integrated homes. The smart homes can control the lighting and heating and in-house entertainment through voice assistance. This may seem too over-the-top but will come really handy in the future as more senior citizens look towards easing their needs. If you want to try something pioneering, build content using the Alexa Skills Kit. It's not capital intensive and will give you immense data and insights, in the long run, to put you ahead of the curve.
Early-stage investor Matrix Partners India has about 60+ investments under its portfolio. The firm's podcast, Matrix Moments, brings candid conversations between founders to help those on the line for their A-series be well-prepared. It's a cyclic educational journey that works well for the establishment.
It sounds funny that food businesses that rely so heavily on visual marketing would even consider podcasting. But Pooja Dhingra, pastry chef and owner of Le15 Patisserie is here to say otherwise! NoSugarCoat is one of the most popular podcasts in India
Newslaundry is a news service that solely relies on crowdfunding for ground reportage. It gains leads by providing free podcasts in pop culture and daily news. But it also has other podcasts only available to subscribers.
Keeping the politics of it all aside, their content strategy is noteworthy. For example, if you own a pub or cafe chain, consider creating a podcast to feature your live musicians on a podcast. You hit two birds with one stone by giving artists a platform to showcase talent and garnering clients by asking them to join you at the establishments to catch the artists live.
A Few Extra Tips and Tricks
Good content marketing examples contain a plethora of angles to explore for niche B2B and B2C markets. If you're ever in need of inspiration, here's what you can do:
Try new tools and processes.
Research well and maintain mood boards and inspirational content as a handy reference. Bookmark, save, and subscribe should be your mantra. After all, inspiration can come from anywhere; a walk in the park or the dreams you see while napping in the noon.
Enjoy the process
Want to know more about Content Marketing? You can get inspired by TED Talks that can teach you everything about content marketing.
Concluding thoughts? Here's an all-too-familiar Albert Einstein quote, "Creativity is intelligence having fun."
FAQs
1. What are the examples of content marketing?
A lot of brands are nailing their content marketing by using various strategies and creating experiences.
2. How do you explain content marketing to anyone?
Content marketing is the use of different content marketing strategies to attract customers, engage them and turn them into leads. It is today the holy grail of advertising.
3. How do you use content marketing effectively?
Consistency and creativity are key to using content marketing effectively. It should help improve reach, visibility, building brand authority, and generating leads.
4. What companies use content marketing?
All types of companies including B2B and B2C use content marketing today since it has become important to promote your brand online and this can't be done effectively without content marketing.