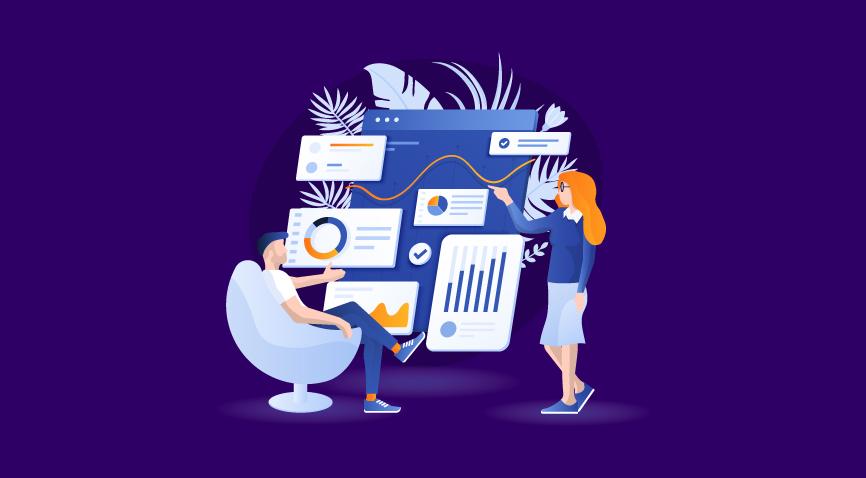 Table Of Contents
What is SEO?
What is Conversion?
Benefits of Optimizing Your Website
How To Optimize Website SEO: An 8-Step Guide
Key Takeaways
Conclusion
FAQs
The technique of getting your page to rank higher in search engines like Google is known as search engine optimization or SEO, which is both a science and an art. Since search is one of the most common ways for individuals to find information online, ranking higher can result in more visitors to a website.
Organic search traffic is different from paid search traffic. Paid adverts frequently appear at the top of the results page in Google and other search engines. Pay-per-click (PPC) traffic is a term used to describe traffic that comes via SEM (search engine marketing). The top result for a standard search query will receive 40-60% of the total traffic for that query. It might come as a surprise to you, but only a few people who visit a website or search for something on Google click the next page for results. Even a minor increase in search engine rankings might result in more visitors and, potentially, business for a website.
As a result, many businesses and website owners may try to manipulate search results so that their site appears above their competitors in the search engine results pages (SERP). This is when SEO becomes very important.
SEO is the process of obtaining targeted traffic to a website through the organic ranks of a search engine like Google, Bing, or Yahoo. This encompasses providing high-quality content and monitoring the technological health of your site. The more visibility your pages have in search results, the more likely you will attract new and existing customers to your company.
Because organic search is the most common way for individuals to find and access online material, having a sound SEO strategy in place is critical for improving the quality and quantity of visitors to your site. Basically, SEO is all about enhancing a site's organic (non-paid) search results rankings.
Consider your search habits and how they relate to email marketing. Your ultimate objective is to be on the first page (or even higher) of Google's search results for a specific subject area.
What is Conversion?
Conversion isn't the same as SEO. It is the step in an Internet marketing campaign that leads to a specific result. A user's status changes from that of a visitor or prospect to that of a buyer or customer. This process is often referred to as 'converting' in technical terms. For commercial websites, conversion is an important KPI. The conversion rate is frequently used to determine the effectiveness of advertising or SEO work.
Conversion is frequently linked to a sale; however, defining conversion just by that criterion is excessively restrictive in Internet marketing. When a visitor completes the desired activity on your website, they are said to be converted. If your primary purpose on a given website is to go to the next page, this could be a click-through. It could be something as simple as clicking on the link. It could also be a customer that purchased your product. In a nutshell, conversion occurs when someone performs the activity you want them to perform.
Benefits of Optimizing Your Website
The technique of utilizing controlled experimentation to improve a website's ability to drive business goals is known as website optimization. If done correctly, website optimization can provide numerous verifiable business benefits. The website optimization method finds the optimum version of web page elements that assist visitors in achieving a specific goal. The effectiveness of a website's conversion of visitor traffic into email subscribers, readers, or paying customers improves through optimization. As a result of the increased efficiency, customer acquisition, and traffic-generating initiatives – such as web searches – Google AdWords, social media, and email marketing generate a higher return on investment (RoI).
Let's understand the importance of optimization.
Keywords assist in finding what one is looking for
Visitors will find the relevant page on your site if your content is optimized for these keywords. People might choose a different alternative and locate more easily accessible information if they don't. However, it's more probable that they'll investigate their possibilities before moving on to anything else.
Search engines interpret your website
Your page will likely not rank well in search results if it lacks all of the necessary information for a search engine to interpret it. Worse, the sites that outrank yours are almost certainly owned by your competitors. Each search engine's algorithm for ranking pages is different, but big search engines like Google and Bing utilize hundreds of parameters to determine how to organize results.
Click-through rates (CTR) can be improved by using unique title tags and meta descriptions
The title tag and meta description are two of the simplest elements to optimize on any page. They inform search engines and visitors about the page's content. Although meta descriptions have no direct impact on rankings, they can increase the click-through rate (CTR) for pages that already rank in search engine results.
Each page can be ranked for a variety of keywords
If your website has 100 pages, you may be able to rank for 100 separate searches. Google will only show one page from each site in its search results. This means that if you have five pages that are all optimized for the same term, they will compete with each other. You want your pages to compete with other sites in your industry rather than with each other. To do so, you'd have to optimize each page for its own set of keywords.
Increased organic traffic
On the other hand, search engine optimization is a free means of getting organic visitors. You will have to pay to create and promote the content, but it will be much less expensive than paid advertising. Compared to paid search, which closes at less than 2%, organic search closes at approximately 15%. Invest time and, if necessary, money to increase your organic traffic.
How To Optimize Website SEO: An 8-Step Guide
1. Analyze data
You may need to make some changes if a substantial number of visitors ignore your CTA. Google Search Console traffic data and user activity reports help to paint a clear picture. Look for certain trends in the data to discover how your visitors explore your site's various pages.
A keyword is a term used to describe what people will type into a search engine while looking for anything. It might be a short keyword like 'digital marketing' or a long-tail term like 'how to construct an effective digital advertising campaign.' Shorter keywords are harder to rank for because they have a higher search volume.
There are different relevant keywords on each page or blog article. Your chosen keywords should ideally be in the title, web address, along with the post's first and last paragraphs. Image tags must include keywords, too. Put them in as long as they don't disturb the piece's flow.
3. Use permalinks
The URL you see when you view a web page is a permalink. Permalinks reveal a lot about your website's overall structure. To make it easier for search engines to index your site, use clear and significant language in your URL.
Having a page that has been online for an extended period is beneficial to SEO. Older pages rank higher because they have been published for a longer period. It's critical to be able to update your pages with new and relevant content. It is also crucial to have a timeless URL structure, so you don't have to keep upgrading it.
Assume you're writing a post about the 'Top 10 weight loss tips for 2021.' This is a fantastic subject! However, in your permalink, remove the year 2021. As a result, you'll be able to update the post and write about the 'Top 10 weight reduction Tips for 2022' later.
The same rule applies to pages dedicated to certain holidays. It happens once a year, and you'll want to bookmark this page for future reference.
4. Say NO to keyword stuffing
Search engines are extremely smart and can detect keyword stuffing. You should create content that will keep readers interested. Make sure you cover everything you know about your topic. You must provide your audience with an overview of the desired topic and responses that are tailored to their specific needs.
More words may not always imply higher quality, but they indicate that the issue has been well explored. According to backlinko.com, there is a link between the number of words in an article and its ranking, as well as the depth of the piece.
Aside from presenting your topic in detail, writing in a clear, beautiful, and conversational style might help you stand out. Don't cram your term into every sentence in the hopes of achieving a high keyword density. Trying to beat the system by stuffing as many keywords as possible into every available space will not succeed, and many people will be penalized as a result.
5. Website optimization for mobile
You don't want to miss out on those excellent conversion opportunities – especially as the number of individuals utilizing mobile devices to access the internet grows. Additionally, Google has developed the mobile-first index, implying that focusing on mobile-friendliness may help you rank higher.
The most straightforward approach is responsive design. You may get WordPress themes with responsive design built-in for free or for a fee, so you don't have to worry about adding any extra code.
6. Image optimization
Images are quite significant in terms of readability. They aid in the visualization of your material and its comprehension by readers. They are, nonetheless, vital for SEO because they help in the crawling of your website. An image cannot be crawled or indexed, but the image ALT-text, or image description, can be crawled and indexed.
Have you ever paid attention to the graphics that appear above your search results? They're also a terrific technique to drive traffic to your site and, as a result, the signal that your site and photos are relevant to the search topic. Compression of your images is also essential. Image size and format can significantly impact the website speed, which is important for SEO. As a result, ensure your photos are appropriately optimized. Using picture compression software is a simple way to do it.
7. Faster page load time
When it comes to SEO and conversions, page speed matters a lot, and it's crucial for website ranking. People spend only a few seconds on your homepage before deciding whether or not to investigate it further. If a website you are surfing takes time in loading the pages, you will hit 'back' and leave that website to visit another option. Similarly, if you're trying to fill out a form that won't submit due to slow speed, you'll soon give up.
A website that loads quickly provides an excellent user experience. Because of the limited amount of time people are willing to wait these days, if your page takes too long to load, it will have a greater bounce rate. Although bounce rate is not a criterion that directly impacts your ranking, it is linked to page speed. Page Speed Insights from Google provides you with vital information about how quickly your site loads across all devices and what you can do to make it faster.
8. Keep updating the content
You'll want to run an SEO audit frequently to keep your content updated. Having outdated information on your website will only result in lower quality and quantity visitors. Examine older pages and websites, evaluate the content, and optimize everything correctly. If your material no longer serves a purpose and is not properly optimized, it will likely affect your ranking.
Key Takeaways
User activity reports and traffic data from the Google Search Console help provide a clear picture.
To make it easier for search engines to index your site, use clear and significant language in your URL.
You should create content that will keep readers interested.
Aside from presenting your topic in detail, writing in a clear, beautiful, and conversational style might help you stand out.
Compression of your photos is also essential.
The technique of utilizing controlled experimentation to improve a website's ability to drive business goals is known as website optimization.
First, the website optimization method finds the optimum version of web page elements that assist visitors in achieving a specific goal.
Visitors will find the relevant page on your site if the content is optimized for the relevant keywords.
CTR can be improved by using unique title tags and meta descriptions.
Increase your organic traffic by investing time and, if required, money.
Conclusion
Like anything else, once you know the basics of SEO, you will get a great headstart in website optimization. Gather as much information as possible and do your research. Ensure that your content is tailored to your target audience but is much better than your competitors' content. Keep on-page and off-page SEO separated and ensure that the page loading time of your site is minimum. Of course, your website must be optimized for desktop and mobile. Attract as many backlinks as possible and optimize your website for conversions.
Concentrate on the user experience and the patterns that user behavior reports reveal. Over time, you'll observe a rise in traffic and conversions based on your hard work. Additionally, even outdated content can continue to benefit you. Don't dismiss your efforts as being simply temporary. You can draw people – and drive conversions — for years if you write good, evergreen content.
FAQs
1. How long does it take to get a Google ranking?
A good response is six months to one year, although this is very dependent on the number of resources you devote to your plan, the level of competition, and what others who compete for the same inquiries are doing.
2. What are the most important ranking factors for Google?
Optimizing for these characteristics entails producing excellent content that other websites will want to link to, as well as content that Google will recognize as the top result for any given search query. Various ranking factor studies, on the other hand, have looked deeper into Google's algorithm to shed light on the regions that have the most impact on organic performance.

Take the SEMrush Ranking Factors 2.0 study, for example, which identified additional factors such as,
Time spent on the job
Total number of referring domains
Backlinks that are followed, and more
3. What is the distinction between on-page and technical SEO?
The content of your page, meta tags, graphics, and other elements are all covered by on-page SEO. Consider these the elements of the page that are visible to users.
On the other side, technical SEO is concerned with how Google crawls and indexes your website. Consider site performance, structured data, canonicalization, XML sitemaps, and hreflang, among other things.
4. What is the page speed score? What is an ideal score?
PageSpeed is Google's measurement of your site's speed, and it's worth noting that it's been a ranking component for a while now. Aim for as fast a page speed as possible while making sure you understand what you're up against. Improving your page Speed score beyond a certain point can be incredibly resource-intensive, and you may find that your site already performs better than your competition. If your page speed score is 85/100, getting to 90/100 may be difficult, costly, or time-consuming. There are more critical topics to focus on if all of your competitors are below 80/100.
5. What are Google penalties?
A Google penalty means that your site is no longer listed in search results or that your rating for your chosen keywords has plummeted. Your target audience will be unable to locate you if your site receives a Google penalty. When you become invisible to your target audience, your traffic and, as a result, your revenue suffers.

Any website could be affected. A Google penalty can occur from sincere and well-intentioned efforts to increase your site's ranking. However, once you've received a Google penalty, regaining your good rating and getting back into Google's good graces isn't easy.