Content
12 Content Writing Challenges, and How to Overcome Them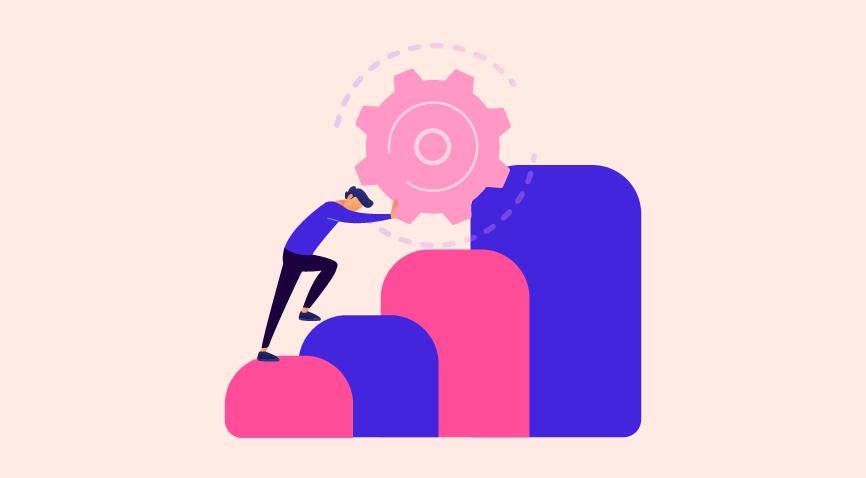 One of the most crucial content writing challenges is ensuring readability. There are times when writers get carried away by thoughts and ideas, and tend to deviate from the core objective of the content. Being a writer has many benefits, but it has its share of challenges as well. Writing content is not an easy job; it requires unique skill sets and expertise. And it takes time and effort to grow as a writer. Many of the challenges that content writers face are unforeseen.
Content writing is often a tough path to walk, with its particular set of writing challenges for beginners. However, if you are already aware of some of the challenges you could face as a content creator, it might be easier to be prepared to combat them. This blog's objective is to share general problems and challenges faced by writers when they begin their writing journey, together with useful tips on how to do away with them faster and more effectively.
12 Challenges Faced by Content Writers
While content writing can give writers a lot of freedom, it can also introduce a list of challenges that can intimidate them easily. If you have become a content writer recently, you must know of these writing challenges. Let's take a look at a few of them.
1. Readability
One of the most crucial content writing challenges is ensuring readability. There are times when writers get carried away by their own thoughts, and tend to write on things that stray from the goal at hand. Sometimes, while demonstrating language proficiency, writers also tend to use complicated language or uncommon phrases, which might come in the way of the content's readability.
2. Writer's block
Writer's block is a situation where writers find it challenging to express their thoughts or feel depressed for not developing relevant, informative, and engaging content. This kind of negative feeling often arises out of past failures, burn-out, criticism.
3. Meeting deadlines
The primary reason for failing to meet deadlines is an inability to balance work and personal life. Try to finish writing within the given time-frames. That will leave room for other activities in your life, thereby helping you balance life and work deadlines. Sometimes, writers are provided with tedious tasks that need to be completed within a short span of time. However, they not only need to finish an article, but also proofread and review it. Therefore, they might end up churning out average content. Not to mention, they might miss deadlines as well.
4. Curtailed creative freedom
Restrictions on creativity can also be a challenge for a writer. When a client hires a writer, they are expected to deliver content based on their needs. Thus, professional writers sometimes find little scope for creativity, and this can be frustrating at times.
5. Finding quality work
Finding quality work as a writer is challenging, and a major portion of content writers have ranked this as a major challenge faced by the fraternity regularly, especially new writers.
Why is it so? Many content writers get onto the bandwagon without fully scrutinizing the various avenues to get work in. Remember, if you're having difficulty finding gigs, you are certainly not alone.
There are many ways in which one can find good work. You can begin by engaging with local businesses, startups, and advertising firms as they search for talented writers all the time. Many online writing platforms, such as Upwork and Fiverr, have assisted thousands of writers in finding consistent freelance work. There is also LinkedIn, the world's favorite platform for finding jobs and building professional networks. You can also join several freelancer communities online.
6. Extreme competition
Vigorous competition exists among content writers on practically every platform. The objective is simple: to get as many clients as possible by underbidding the competition.
You need to build your own brand to survive in this competitive scenario. This can be done by increasing your know-how about several domains and offering a higher value to your clients than other writers.
7. Managing price negotiations
As a writer, you are your own boss, and can monitor the rates you want to offer for your services. Many new writers are fine with working for low prices, and in the process, they ultimately underestimate their self-worth.
Clients notice this and try to seal the deal at prices that are lower than industry standards.
When you ask co-writers, probably all of them would recommend starting at modest rates when developing writing skills. The focus at such a time should be on gaining confidence and experience, and thereby delivering better value. This will put you in a position to work out better prices that justify your efforts.
8. Lack of work
This is likely to happen when you're just starting out. However, once you have gained some experience and built a network, which will happen over time, you will find yourself with ample projects. The best way to start on the path of success is to use content marketing to market yourself.
9. Research
You must have exceptional insight into and understanding of what makes a domain work effectively for writing great content. But in your content writing journey, you will probably encounter hundreds of projects that need content from domains you were previously unaware of. The best way to tackle these challenges faced by writers would be to do in-depth research of the topic and develop an organized and statistically correct content piece.
Remember, it is crucial to leave a good impression on your client and readers.
The internet is your best friend and guide. Irrespective of the topic, you can find at least a dozen relevant websites and articles that can give you a great deal of insight into the subject. Comments, user reviews, forums, and social media platforms are great for researching the topic you are about to write on.
10. Unlimited rewrite requests
You will encounter a wide range of clients throughout your career. Some of them might be overbearing micro-managers. They will attempt to guide you endlessly for a task they require you to do. They are one of the main challenges of creative writing? Such overbearing clients diminish your creativity by asking you to rewrite sections repeatedly, leaving you exhausted mentally and wasting your valuable time.
Although clients should get what they want, a line must be drawn, and you should only sign up for a certain number of reworks. So before starting to write on a topic, have an in-depth discussion with the client and understand their expectations. Get your clients to give you references before preparing the first draft. This can aid in steering the content flow suitably.
11. Never-ending work
Are you thinking about becoming a content writer? Be prepared to dedicate 12 to 14 hours of the day to your work if you really want to deliver quality content. When going after perfection, new writers often fail to set healthy time limits for their work, which affects their personal life.
They begin early, work until they finish, and are too tired to spend quality time with themselves, their family, and loved ones. Every project requires an organized timeline, which is why it is recommended to plan your day properly. You can start by dividing work into small portions that can be covered in the day.
12. Delayed or no payments
Clients who delay payments can impede your progress. You invest your efforts to deliver content within the set deadline and share the invoice after the actual confirmation. The due date passes, and the client does not release the payment. All you can do is follow up. Make use of your contract and do away with late payment issues by requesting clients to make a deposit amount firsthand.
How to Overcome Challenges in Writing
Be it web content or ad copy, the following remedies are applicable to writers of all genres.
1. Develop readable content
If you want to enhance the readability of your content, follow these tips:
Come up with riveting introductions. Strong opening sentences ensure that readers stay hooked.
Use proper formatting: short paragraphs, headings, bullet points, and appropriate visuals.
You can also opt for online courses to hone your writing skills.
Use easy-to-comprehend language as if you are conversing with your readers. Conscious word choices and catchy titles should also be used. Avoid being repetitive.
2. Overcome writer's block
Every content writer struggles with this challenge. However, what matters is how you deal with it.
Practice freewriting. It is a good way of developing thoughts. In this technique, you write without taking any breaks. Just let your ideas flow. Edit later.
Listen to music.
Walk and spend time in nature.
Brainstorm ideas.
Build a habit of reading.
Avoid distractions.
Spend time with people who make you feel good.
3. Use hacks to avoid missing deadlines
Missing deadlines is one thing that writers really don't want to do, as it directly impacts their professionalism. Use the following tips to avoid missing deadlines.
Follow your passion and prioritize
Start opting for projects based on your passion. Also, prioritize. If you have a lot of work assigned, start with the complex one that may take time. Classify assignments as per Eisenhower's urgent/important principle.
Avoid negativity and be realistic
Chalk out schedules for writing and maintain them at any cost. Be positive and tell yourself that there's no reason you shouldn't meet deadlines. Banish all negative thoughts or fears about failing to meet deadlines. Just manage your schedule well.
Stop procrastinating
Beware of procrastination. Identify your procrastinating triggers. For instance, if OTT binge-watching stops you from writing, avoid getting addicted to such services.
Choose writing service platforms that understand your challenges and help you work around them.
4. Blend your creativity with SEO
You need to understand what your clients or your audiences want. An effective SEO strategy will help you offer solutions to your audience's problems. So, while you aim to be creative, do not forget to align your content with SEO objectives.
Content writers face challenges every step of the way, from searching for work to getting paid. Irrespective of your niche or preferences, there are certain obstacles every writer faces that can affect their performance. This blog was an attempt to give you a broad outlook of a few of those issues. The tips given here focus on helping you address and deal with a few writing challenges. Being a writer is a tough job, but working on these issues can be a satisfying and enriching experience.
FAQs
1. How should a content writer deal with writer's block?
Every writer is scared of the controversial writer's block, which is part of how to overcome challenges in writing. Whether you are trying your hand at a new project or trying to invent an idea, this problem may disorient you.

Being unable to come up with fresh ideas is mind-boggling, and for some people, it may last for many weeks and days. Don't focus your attention on this problem. If you are stuck, you have to find a way to redirect your attention. Writer's block cannot be dealt with easily if you think about the scarcity of ideas for a particular project. Instead, take a break from things, treat yourself, or go for a walk. These activities may re-energize you.
2. What should a writer do if they are not feeling creative enough?
When a writer is not feeling creative, the ideal thing to do is look for creativity in other ways. If you enjoy activities like painting, drawing, or anything else that requires creativity, the time to do it is now. Visualizing ideas will help you get your creativity back and lend your work a new feel.
3. How should a writer deal with not being productive enough?
Working from home can affect a writer's work negatively, especially when working on long-term projects. Huge writing projects often demand you to focus on a singular topic, which can be exhausting. A common enemy of all writers is procrastination, and it is often confused with writer's block. 

When dealing with this issue, you must keep your workspace neat and organized. You can keep distractions at bay in this manner and focus on your writing. Additionally, set short-term goals that will encourage you to work on your projects more. The key to productivity is smaller and measurable goals.