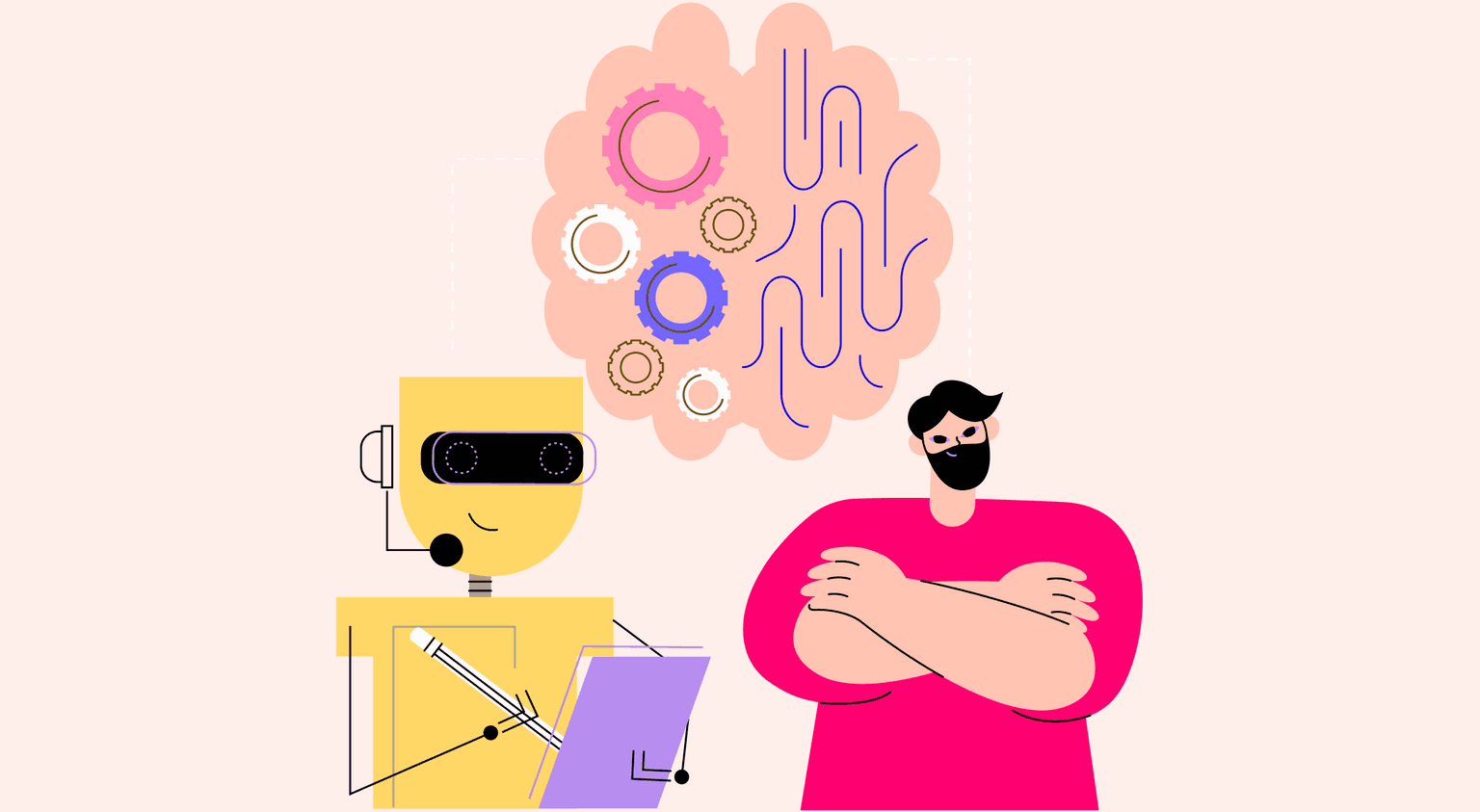 AI writing tools have taken the content creation world by storm. This blog addresses the many disadvantages and advantages of artificial intelligence.
The business and technology world is hailing the advent of Open AI's ChatGPT as the next big thing. With this new tool, artificial intelligence writing has exploded in the last few months. From its official launch, OpenAI's ChatGPT just took less than a week to cross the coveted million-user mark. You can fathom the enormity of this achievement when you compare it to Twitter, which took 24 months to reach the same flag post.
Over the last couple of years, AI has already been transforming how content is created and communicated with customers. Organizations of all sizes are freely using AI writing solutions in advertisements, blogs, social media posts, customer care, and other allied business processes to drive home better efficiency at a reduced cost.
This blog outlines the many disadvantages and advantages of artificial intelligence and its role in content creation.
Advantages of AI Writing Tools
1. Scale and efficiency in writing
One of the biggest benefits of AI writing tools is the processing time for output. AI writing tools produce significantly faster results than their human counterparts. A two-page research-driven article can take a human writer anywhere between 30 mins to an hour. The same content can be produced by an AI writer in a few minutes. Once this matrix is multiplied by the number of articles produced in a working day, the output scale takes a spectacular leap.
2. Cost-effectiveness
Depending upon the number of articles, length, and background technical knowledge required, human writers can cost your business a few hundred dollars per project. This price is worth it since a well-researched article will get you a higher ranking when you subject your website to SEO. However, an advantage of the AI platform is that it mostly comes on a monthly subscription basis, and you are free to generate as many articles as you desire.
3. It gets your brainstorming session started.
It's quite common for writers to feel stuck. One of the key benefits of an Artificial Intelligence platform is that it can develop detailed outlines on the subject you or your team is trying to attempt. This helps fresh ideas flow in. You get to overcome your writer's block, and your team has a productive brainstorming session.
4. Helps improve the quality of your content
A common advantage of any AI writing platform is that it works in tandem with your concurrent thought process and helps you create a well-researched and high-quality piece.
5. Enhances your productivity
An important benefit of AI writing tools is the boost that your content generation gets. You can have a faster turnaround time when it comes to content creation and publishing, thus freeing up your schedule for other business-related meaningful chores.
6. Can automate content creation
Imagine a case scenario where content for your marketing/advertisement campaign gets auto-generated and published. One of the key advantages of AI writing platforms is that such automation is a possibility, and it does not require any manual intervention.
7. Can boost your SEO efforts
A benefit of AI writing platforms is that they help optimize SEO efforts. Once SEO is optimized, your business website is all set to get higher rankings in reaching out to a wider audience base.
8. Can create personalized content
An advantage of an AI writing platform is that when plugged into content creation efforts from the beginning, it empowers you to create personalized en-masse messages for your target audience. You will be able to connect with customers more closely with these endeavors.
9. Can increase the accuracy of your content
The benefit of an AI platform is that it prevents you from committing common human errors while generating content. This ensures that your articles do not carry common mistakes.
Disadvantages of Artificial Intelligence Writing Platforms
Now let us look into some disadvantages of AI writing platforms.
1. Plagiarism and quality of content
One of the main disadvantages of AI writing platforms is the way they are structured. An AI writing platform is a simple software that pieces together content from various websites and writes it syntax-correctly. This software is still error-prone and can produce below-par quality articles that can be out of context. Chances of plagiarism, too, always remain high.
2. Google algorithms can devalue your content
In its helpful content update, Google has mentioned that in its search results, it aims to publish helpful original content written by the people for the people. The update further adds that Google does not want to publish "search-engine-first" kind of content. A major disadvantage of an AI platform is that it does not understand what the searcher is looking for and simply stitches content together. Thus, the content doesn't come across as written by humans, for humans.
3. Your content can falter on Google's E-A-T
Google also has a quality rater for content that assesses content based on expertise, authoritativeness, and trustworthiness (E-A-T). A major disadvantage of the artificial intelligence platform is that the content it creates usually falters on the Google E-A-T parameters.
4. You will require human intervention
Another disadvantage of AI is that it cannot function properly without human supervision. You will have to allocate human resources to the process to get satisfactory results.
5. It is error-prone
Even though technology has evolved by leaps and bounds, a disadvantage of AI systems is that they can still spew erroneous results. You will have to remain careful as the output cannot be blindly published in the public domain.
6. Lacks a human touch and personality
A major disadvantage of artificial intelligence writing is that the prose does not bear the kind of personality that it does when a human writes it. Humans write with emotion, creativity, passion, and conviction, which the output of these machine-learning-driven platforms cannot achieve.
7. Human ingenuity has a role to play
However, it should be duly noted that AI writer generators are not heaven-sent miraculous products whereby good quality content can be produced at the touch of a button. They will not write this blog post all by themselves.
For proper functioning, they require precise instructions and quality human supervision. At the end of the day, it is the human who is at the helm of affairs that determines whether or not these tools are adding value to the final cause.
Content Generators Have Moved To The Next Level
Content curation platforms that use artificial intelligence writing as a core offering for businesses are now making a splash. A case in point is Peppertype.ai. Peppertype.ai by Pepper Content can leverage the AI-powered platform to ideate, create, distribute, and measure your content and prove your content marketing ROI. In fact, it has a proven track record of reducing costs by 62%, increasing lead generation by 54%, and growing conversion by 30%!
Having said that, as a business owner or a marketer, before you label Artificial Intelligence writing as the Holy Grail for content generation, there is a need to dig deeper into its virtuosity and look into both sides of the coin. The benefits of Artificial Intelligence writing are galore, and so are the disadvantages of AI writing. Look at them closely above before getting into artificial intelligence writing.
FAQs
1. Can you define artificial intelligence content writing?
By using technologies such as Natural Language Processing (NLP), if an AI writing platform can create content automatically, it is called artificial intelligence content writing. As a user, you can give prompts to the application regarding your subject of choice, and the program will generate the content accordingly. Long prompts are not required.
2. Is it advisable to directly publish content generated by AI writing platforms?
Even though Google does not have specific guidelines barring the publication of content generated through AI platforms, you should avoid directly publishing automated content that is SEO optimized from such platforms. Make sure that an expert has had a thorough look into the final content before publishing.
3. What are the features associated with free AI writers? 
You can generate and rewrite existing text using free AI writing tools. The features include paraphrasing, co-writing, a plagiarism checker, and a summarizer tool.