SEO
The Best E-Commerce SEO Guide for Business Growth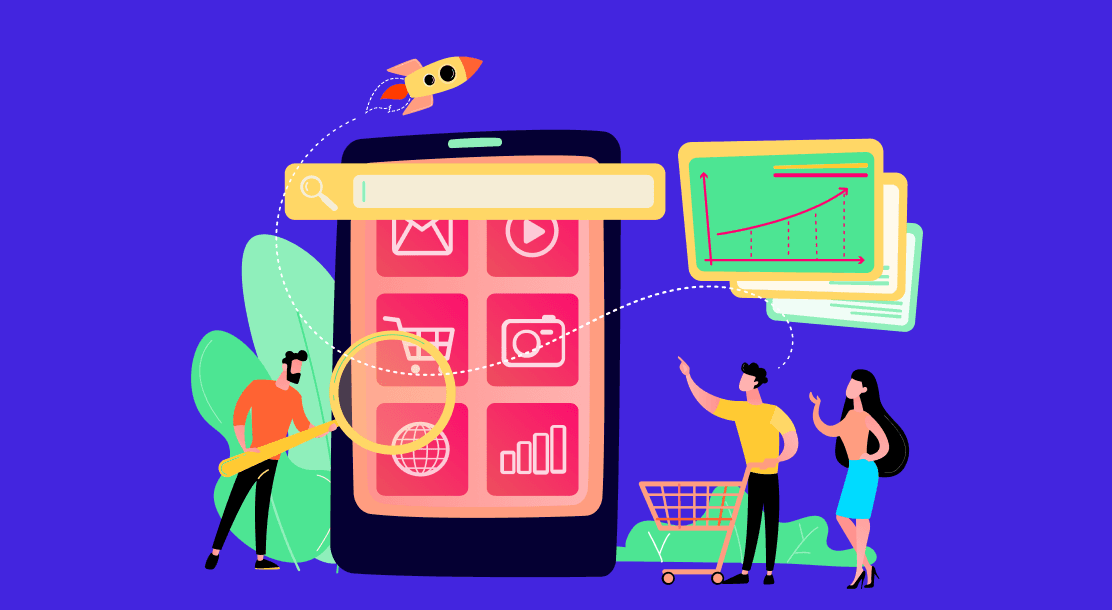 E-commerce SEO is crucial to your online business—it brings traffic, ensures you rank on Google, etc. Take a look at SEO's role in e-commerce and business growth.
Search engine optimization (SEO) is a practice that helps your web pages rank higher in organic search results. Search engines use crawlers to collect information from a web page and place it in an index. These crawlers analyze information carefully so that search engines can decide the order of page listing based on the query posed. Various factors, such as page-level keywords, domain-level keywords, user engagement, link features, etc., determine the ranking of your page in a search query.
In this article, you will understand the importance of e-commerce SEO for website growth.
The Role of SEO in Online Business
Have you noticed that when searching for something online, you tend to click the links on the first page? A high-ranking site on a search results page is considered high-quality by web crawlers. Over time, this boosts your website's image, which also helps you get repeated engagement. Thanks to this traffic boost, people who like your website will also share it on their own social media channels. This action will compound the traffic growth of your website.
SEO is an excellent solution for reaching a wider audience to expand your business. Tools like Google Analytics and Google Trends can track the changes to website traffic and conversions. This data gives you insight into a user's shopping patterns and behavior. With SEO tracking, you can understand where your business is falling short in conversions and growth. Thus, you can find better ways to build organic traffic.
Simply put, if you want to be a noticeable brand or even a trendsetter in the market, you cannot do it without leveraging SEO for e-commerce websites.
How to Leverage E-Commerce SEO for Website Growth
You must employ e-commerce SEO strategies to be at the top of your business game. After all, if users can't even find you, why will they purchase your products? As per Search Engine Journal, the click-through rate for the first organic search result is 28.5. However, that number drops to a mere 2.5% for the tenth organic result in the list. This means that the click-through is 11 times higher if you are ranked number one in the search list.
Nearly everyone is leveraging SEO for e-commerce sites these days. However, there are a few tips to take you ahead of the crowd. Here are the steps to help you maximize your online growth and thereby your conversions.
1. Use effective keywords
First, think of words people might search for on Google to find your website. For example, if your shop "Mithai Makers" sells sweets, your keywords might be "buy sweets," "buy Indian sweets," "buy Indian sweets online," or "buy Indian sweets in London."
Established brands have a competitive ranking for certain keywords. However, having more specific keywords – called long-tail keywords – differentiates you from the rest of the crowd and elevates your ranking. Based on the above example, keywords like "Chhena Poda shop" and "Soan Papdi Diwali discounts" (rare sweets and offers) will rank you higher.
With tools such as Google Analytics and Google Keyword Planner, you can find the best keywords based on search volume and current trends. Additionally, you can optimize for keywords focusing on purchases (e.g., besan laddoo bulk orders). Therefore, you can increase your sales volume.
2. Make the URL easier for web crawling.
A URL indicates the information a site contains. A short, descriptive URL is considered more user-friendly than a link with an endless string of characters. Google Search Central recommends adding simple and localized words instead of long identifying numbers in the URL.
For example, the link "https://www.mithaimakers.com/gulabjamun" is better than "https://www.mithaimakers.com/product/86750" for ranking higher in a search query. Google also recommends removing any underscores, avoiding using session IDs, and clubbing two keywords together.
3. Be careful while describing products and images.
The term "alt text" has become popular in recent years. Alt text is basically text that appears in place of an image on a webpage. This is useful in case the image doesn't load or if a visually impaired person is using a screen reader to access your website.
Since search engines cannot read your "images," they rely on this text for more information. Adding alt text offers a better UI to your website's viewers. Alt text can also be optimized to increase the organic traffic to your website. Adding a keyword, if possible, to your alt text will help your images rank higher in searches. Only 38% of Google's Search Engine Results Pages (SERPs) show images, so this domain can be used to step ahead of the rest of the crowd.
4. Check backlink data
When other websites link to your web pages, they boost your page. Search engines deem your website credible, increasing your site's visibility. While earning links from popular sites is great, the websites you link to also matter. Linking to high-quality, credible content gives your site the impression of being trusted. However, backlinks are not easy to earn.
Link building as a new site requires a few key steps to follow.
You should use accurate anchor text that doesn't send a user to spammy information. After all, Google uses anchor text to rank a page.
Linking reclamation is essential for finding and fixing broken links. Some sites may also mention your page, but fail to turn your mention into a link. You can rebuild your SEO authority with tools like BuzzSumo, Ahrefs Site Explorer, and Google Analytics.
Examining a competitor's backlink profile can help you know more about their link-building strategies. Tracing these links can help you target them to rank amongst the best pages.
5. Avoid duplicating content
If your content is just like anybody else's, why do you deserve to rank higher? Duplicating content can confuse search engines as they do not know how to rank you.
Here are some steps to avoid duplication by using SEO for e-commerce sites.
Add canonical link elements and HTML links to the duplicate page. Redirecting duplicated content to the original page helps Google choose the best results for indexing.
Disabling comment pagination and session IDs is useful for avoiding duplication.
Avoid copying and pasting your product's description from a retailer. Describing the product in your own words keeps it in line with the brand's style. Many brands mindlessly duplicate descriptions, which hurts the ranking of both pages. Give your products their own unique voice.
In Summary
Leveraging e-commerce SEO for website growth is a crucial but underrated business aspect. Taking small but consistent steps in your SEO journey will help your business to grow exponentially.
FAQs
1. Which are the best e-commerce SEO tools that are currently available?
The following are some of the best e-commerce SEO tools for growing your website's reach:
1. Ahrefs
2. Google Analytics
3. Moz Pro
4. SEMRush
5. Copyscape
6. Google Search Console
7. Helium10
8. Yoast SEO
2. What are the pros and cons of Google Keyword Planner for e-commerce growth?
The Google Keyword Planner is great for finding the average keyword search volume but lacks info on its difficulty or reach. Tools like Semrush and Keyword IO display the list of keywords a page ranks for, along with keyword difficulty.

3. What is the difference between Google Analytics and Google Search Console?
Google Analytics is better for analyzing user behavior, conversion tracking, and knowing your audience's demographics. You also get information on active users and the devices they use. 
Meanwhile, Google Search Console is noteworthy for finding organic search data and keeping track of technical SEO issues. The Console tool is also useful for analyzing backlink data, identifying mobile usability issues, and tracking index coverage.

4. What are some basic steps to leverage SEO for e-commerce product pages?
1. Use the right keywords.
2. Optimize your content and media files.
3. Use unique products or meta descriptions.
4. Optimize content for smartphones.
5. Add detailed FAQs to assist with queries.
6. Highlight testimonials and great customer feedback.