Marketing
Successful B2B Digital Marketing Campaign Examples from Zoho and Freshdesk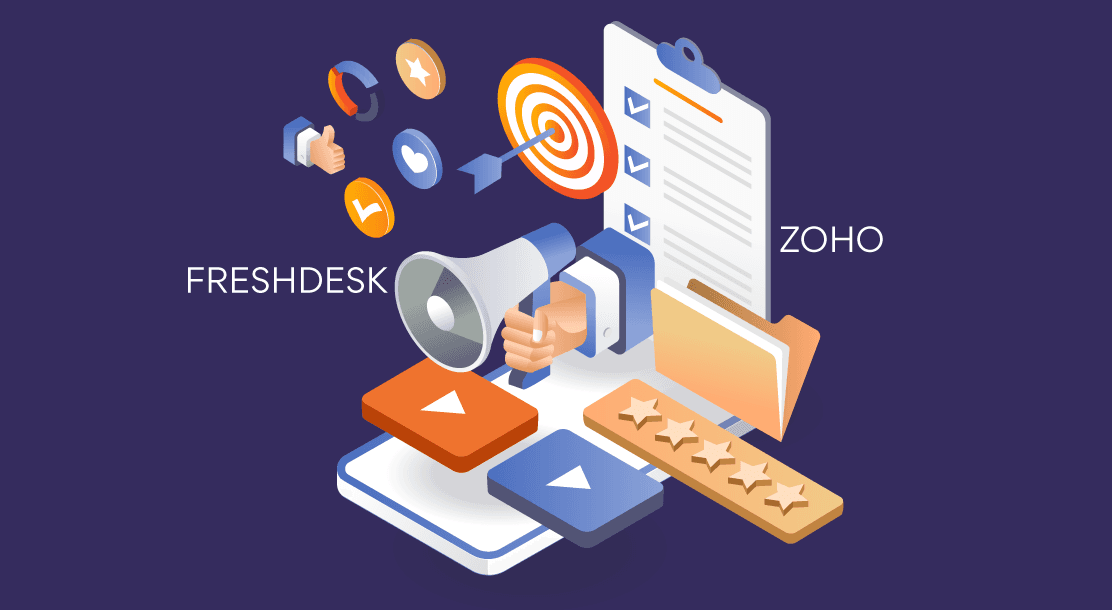 Table of Contents
Benefits of B2B Digital Marketing Campaigns
The Zoho Story
The Freshdesk Story
10 Successful B2B Digital Marketing Campaign Examples from Zoho and Freshdesk
Key Takeaways
Conclusion
FAQs
Benefits of B2B Digital Marketing Campaigns
Digital marketing's role extends beyond brand recognition and traditional advertising. Companies, corporations, and individuals have all recognized its significance. They use these abilities to engage with the market more effectively, improve their online reputation and visibility, and remain ahead of the competition.
In today's fast-paced world, successful digital marketing campaign examples give you a sneak peek at how you can advertise yourself. The primary factors of digital marketing campaigns are their ability to speak to prospective and existing clients, answer inquiries, and handle difficulties. You may also interact with a larger audience, which means that a lot more can be done than simply selling.
People are spending more time online as the Internet grows in popularity. The Internet is used by about 7.7 billion people worldwide. Conducting searches, checking social media, and purchasing things online has become a part of everyday life. Your clients are online, emphasizing the significance of digital marketing. They're searching the web for your products or services. You risk losing those leads to your rivals if they can't discover them because you don't have an internet presence.
The business world is highly competitive. With the rapid advancement of technology, low barriers to entry, or ease of entrance into many sectors made possible by specialized markets, most business academics and organizations are constantly seeking methods to gain a competitive advantage in a ferociously competitive environment.
This is also the case with B2B companies Zoho and Freshdesk. B2B digital marketing campaigns from Zoho and Freshdesk have transformed the way of doing business and brought new dimensions in the form of innovative strategies to connect with the customers. Let's go through a few lessons from successful digital marketing campaign examples of Zoho and Freshdesk. But before that, let's know more about these companies.
The Zoho Story
Zoho is a company that develops software to solve business challenges. Zoho has been in business for almost 24 years. Tony Thomas and Sridhar Vembu founded it in 1996 under a different label – Vembu Software. In 2005, the firm changed its name to AdventNet and focused on producing software solutions and database search technologies. In 2009, Zoho changed its name to Zoho Corporation, naming itself after its CRM package.
The company primarily develops software and web-based technologies that enable organizations to function totally on the cloud. And over 40 web-based apps are available at the firm. CRM, email marketing, and applications software are the three primary categories of products.
The Freshdesk Story
Freshdesk is a cloud-based online customer support software that provides help desk support with smart automation to get things done faster. It has been a popular solution for companies looking to boost consumer interaction and manage clients as they grow.
Freshdesk provides some very valuable client involvement capabilities, such as:
A help desk with several channels
Artificial intelligence (AI) and bot features for team collaboration
Management of many communication channels
Help agents and clients can use a self-service support site
So, what are the smart strategies that have made Zoho and Freshdesk what they are today? Here are some examples of digital campaigns that are worth considering!
10 Successful B2B Digital Marketing Campaign Examples from Zoho and Freshdesk
Zoho manages all marketing efforts in a single platform. Email marketing is fully automated, including the delivery of the event and schedule-based mailings.
Letter designer on the Internet
A no-cost tariff for startups
Management of social media posts automatically
Reports and analytics
CRM connectivity on each side
By adding subscriptions and categorizing them based on specified criteria, the program helps you establish and grow your audience lists. The best thing is that you won't have to worry about bounces, unsubscriptions, or spam addresses since Zoho Campaigns will handle them for you. Moreover, one of the essential features supplied by Zoho is the capability to A/B test several variations of your email by topic name and contents to achieve the best results.
2. Digital customer experience by Freshdesk
Online buyers lose interest in your brand when dissatisfied with the user experience. As a result, Freshdesk constantly analyzes and enhances the company's digital client experience. According to a recent PWC analysis, a positive digital customer experience ensures a larger share of the wallet.
More than 86 percent of purchasers are prepared to pay more for an excellent customer experience. Organizations that prioritized customer service achieved incremental revenue growth from 4% to 8% during the pandemic. Another reason you should customize client journeys is that if consumers can't discover what they're looking for within scrolls or clicks, they'll leave your page. If a consumer has to wait just 1-3 seconds for your page to appear, the likelihood of a bounce jumps by 32%. So, Freshdesk has been making improvements to provide a great customer experience.
3. Mobile-friendly campaigns by Zoho
Zoho's mobile-optimized templates, which are created for smartphones, are ideal for when you have a basic message to communicate and the bulk of your audience is constantly on mobile. Modify the template as you would any other standard template on the Zoho platform, evaluate it, and your digital campaign is ready to go live. If you don't know how many of your clients are mobile, you may examine the device reports accessible after a campaign to see if you have a strong smartphone audience.
4. Freshdesk campaign tracker
The Campaign tracker app for Freshdesk manages your email marketing from the convenience of the online helpdesk. Freshdesk allows you to rapidly add contacts to your email lists and keep them updated on your products or services. Contacts may be exported to Campaign Monitor from contacts. Aside from managing mailing lists, the software also allows you to view campaigns.
5. Freshdesk aligns marketing activities with customer support services
Creating a firm where promotion and customer service can seamlessly connect requires more effort, but the advantages are well worth the time and effort. It can make procedures much more efficient, significantly enhance employee happiness, and you may save a lot of money.
For example, if you are running a digital campaign on social media sites, you should provide multi-channel choices for client involvement, which may occur via messenger. You may start a help channel using Twitter or Facebook Messenger Direct Messages, so consumers don't have to leave the platform they're on for contacting you.
6. Track and optimize Zoho campaigns
To analyze campaign efficacy, measure your campaigns' progress in real-time using your dashboard. These extensive reports provide you with the overall picture and feature critical KPIs that are important for improving your campaigns. Keep track of analytics like the number of openings, click-through rates, bounces, unsubscribes, social media activity, and even geolocation information. After a marketing campaign has concluded, review the outcomes and optimize them based on the marketing data to make the required modifications to future initiatives.
7. Personalized interaction through video chat
Customers who choose to communicate with all companies from the comfort of their own homes have made video customer service a particular preference. Remote customer support has cleared the way for video encounters to gratify customers. Customers demand an engaging medium to comprehend better the offerings they pay for, from video verification to how-to manuals, feature updates, and product evaluations. Video customer support is here to stay, allowing consumers to receive a first-hand look at reported faults and fixes.
8. Marketing automation tool by Zoho
Great campaigns are those that increase sales. Zoho CRM assists your marketing teams in creating and executing focused campaigns, as well as passing quality leads to Sales. With Zoho CRM's campaign automation solutions, you can keep your sales and marketing teams on the same page while getting the most out of every campaign you develop. Create, deploy, and measure campaigns customized to your business, from delivering personalized and top email campaigns to conducting a webinar or survey campaign. Set assignment ownership, allocate budgets, and track campaign progress from within Zoho CRM. Zoho CRM integrates your Google AdWords expenditure with your sales data, allowing you to see which campaigns, advertising, or keywords are assisting you in converting leads to customers.
9. MailChimp integration by Freshdesk
From your help desk, you can customize your email lists and deliver targeted email campaigns to consumers. You may connect your Freshdesk account to MailChimp. Integrating your customer support software with a campaign automation tool like Mailchimp will assist your customer service team and other consumer functions. These functions include gathering leads, segmenting your client base based on their behavior, assigning them to specific lists, and creating effective digital campaigns to engage consumers.
You may use this advanced marketing tool to create email campaigns for frequent events like product updates, downtime messages, and feature launches. Track campaign statistics to identify consumers who have opened and clicked on or reacted to an email and design nurturing journeys depending on their actions to take them closer to making a purchase decision. The MailChimp interface with Freshdesk connects customer analytics to campaign data, revealing how consumers responded to campaigns in aggregate and individually.
10. Engaging email template by Zoho
With Zoho Campaigns, you can quickly create and customize an email template. You will be able to generate professional-looking email templates within minutes by selecting from a gallery of various pre-designed themes. Designing newsletters or promos has never ever been easier when paired with Zoho's drag and drop editor. You don't need to be a design professional to utilize these simple and adaptable template layouts. Instantly begin with any template, input your content, graphics, and call­-to-­action, and you'll be done in minutes. Rest assured that each of the Zoho templates available is responsive, guaranteeing that clients can easily read your digital campaigns from any platform of any size.
Key Takeaways
Tools to support your digital campaign: Various marketing automation tools provide complete visibility throughout your campaign's journey. For instance, if you have a goal to increase your mailing subscriptions, you can opt for MailChimp software. Also, Zoho's CRM tool integrates all your marketing activities on the same page.
Mobile-friendly campaigns: More and more people use smartphones for search engines, social media news, and transactions. When most daily digital activities are conducted through mobiles, optimizing your marketing campaigns and aligning them with mobile-friendly apps is essential. Zoho brings mobile-optimized templates that can be created in no time and communicate general information with the audience.
Personalization is the key: Hyper-personalization is the new trend and is here to stay. People rethink a product when they feel it suits their requirements. This is possible through real-time interaction where they are made to understand the same. Personal chat delights clients with hyper-personal interactions because it has been designated a high-touch medium for instant communication. Consumer metrics may be examined and used to trigger personalized chatbot dialogues tailored to consumers' demands.
Tracking the performance may add value to the campaign: You can improve your promotional strategies and make changes whenever needed only when you get a clear picture of your marketing data. Tracking and evaluating the campaign gives you complete visibility of your B2B digital campaigns and helps you modify your plans for future marketing campaigns.
Excellent customer experience improves brand value: Your clients expect to be able to access everything they need in seconds by clicking a mouse or tapping a screen. As per Social Stamina, 64% of consumers anticipate a response within an hour after tweeting, and 85% expect a brand to reply within six hours. The longer it takes to address their inquiries, the more likely they will move to your competition. As a result, it is critical to improve the customer experience.
Conclusion
Customers evaluate your brand image on its simplicity of use, online experience, communication consistency, and assistance across channels. The above-mentioned successful B2B digital marketing campaign examples may assist you in defining your marketing efforts while demonstrating your unique value to potential consumers. Earn their trust, increase conversions, and cultivate long-term customer connections as you study and alter your marketing methods from successful examples of digital campaigns, and significantly increase the value of your brand.
FAQs
1. How does the Zoho campaign work?
Zoho Campaigns is an email marketing tool that allows you to import and manage your leads' and customers' email databases and send email messages to them.

2. Does Zoho CRM support marketing automation?
Zoho CRM enables your marketing teams to conduct campaigns more efficiently by passing quality leads to sales. To help you simplify and automate your marketing operations, Zoho CRM includes a variety of built-in digital marketing capabilities such as lead scoring, Google Ads integration, and segmentation.

3. What are the features of Freshdesk?
Freshdesk provides several valuable customer interaction capabilities, such as an Omnichannel help desk, collaboration within a team, chatbot and artificial intelligence (AI) skills, management of several communication channels, and help agents and customers can use a self-service support site.

4. What are the benefits of Freshdesk?
Freshdesk's benefits include creating a convenient environment for your users and supporting employees. Your customers can utilize a simple self-service option, while your employees can handle more tickets in less time. This allows you to reduce the pressure on your personnel while increasing client satisfaction.

5. Is Freshdesk easy to use?
Freshdesk is a robust CRM that provides your customers with email ticketing, live chat, and phone assistance. It's simple to use and has many options, although subscriptions that include automation can be costly.

6. How do I share a digital marketing campaign on the Zoho campaign?
Select Campaigns and then Regular Campaigns from the Navigation bar.
On the top-right, click Create Campaign.
Change the campaign name, add a topic, and choose a sender address.
Choose recipients, add content, and send campaigns for approval.
After you've evaluated your campaign, click Send Now.