Marketing
5 Content Marketing Lessons From Shopify's Blog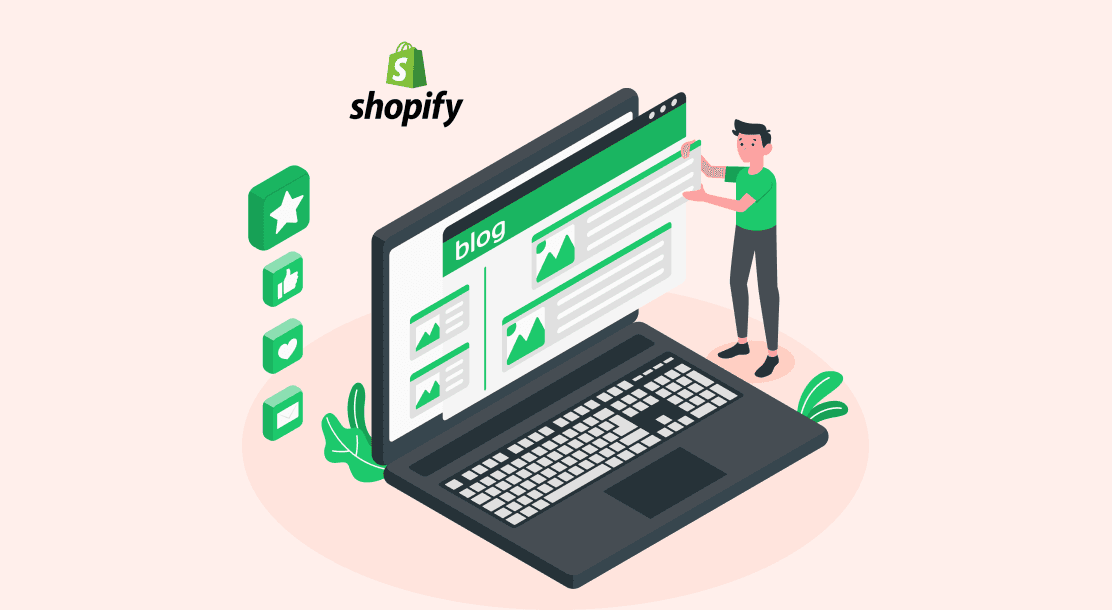 The success of ecommerce company Shopify content marketing can be attributed to the great features of the Shopify blog. Here is what you should learn from them
E-commerce has led to one of the most essential and irreversible changes in our shopping and consumption patterns. We owe the ease of shopping, ordering, and returning items, commodities, and services from the comfort of our home to the multiple e-commerce platforms making our lives better and more convenient.
Shopify is a well-known giant among the world's leading e-commerce platforms. Tesla Motors, Google, Wikipedia, and several other prominent names – whether in the tech industry, automobile, or information – have their names associated with Shopify.
Shopify undoubtedly has one of the finest content marketing strategies in the arena of e-commerce, and there are some beneficial lessons that marketers can learn from Shopify content marketing. Although a significant chunk of Shopify's success can be attributed to its special software, the Shopify blog and podcast also have a crucial role to play in this victory.

Shopify's blog is a lesson for those entrepreneurs trying to navigate the landscape of e-commerce. The blog provides the training and resources required to build and grow a successful online business. It imparts its audience the necessary knowledge and education to start a sustainable and long-term business.
Main Features of the Shopify Blog
The excellence of Shopify content marketing can be attributed to the brilliant features of the Shopify blog. Let's look at some of its main features:
1. Multiple blogs on one site
Shopify's blog site allows you to run and operate multiple blogs. You are not restricted to just one blog, which is usually the case with several blogging sites. With the Shopify blog, you can segregate information based on categories and your requirements. You can have separate blogs for company news, a second for promotions, a third for inspirational content, etc.
2. Managing comments
Shopify's blog offers you different options as to how you would like your blog comments to be managed. The disable comments" option allows you to disable all comments, but it is not advisable as it does not help you get feedback from your audience. "Comments with Moderation" allows you more control over the comments. "Comments automatically published" supports your need to engage with your community actively as a business.
3. Tags to organize blog posts
On Shopify's blog site, you can assign one or more tags to blog posts. This later helps your audience find relevant posts when searching for specific tags in your online store.
4. Automatic RSS feed
Another great feature of the Shopify blog is that it automatically produces an RSS (really simple syndication) feed for each blog post created by you. This enables the viewers to subscribe to it and receive updates and notifications the next time you post something on your blog.
5. SEO for your site
This is undoubtedly one of the best Shopify blog tips that other blogging platforms need to learn from. While you might have usually been using Google to conduct keyword research for each blog post idea, the Shopify blog automatically delivers the required SEO basics for your site. You can edit the SEO content by adding it to the built-in SEO function.
5 Lessons To Learn From Shopify Content Marketing
Shopify content marketing examples and Shopify blog tips can be powerful resources to steer you through the process of crafting successful and effective content marketing campaigns and set more substantial business goals. Here are five key lessons that you can learn from the Shopify blog.
1. Brainstorm seed keywords
Seed keywords are the crux on which rests your keyword research process. Without the seed keywords, you cannot define your niche or identify who your competitors are. Whenever you are using a keyword research tool, it will ask you for a seed keyword. This will help it to generate a list of keyword ideas. Start by thinking about your niche and product, and consider what questions the customers might be inclined to ask. If your business goals are crystal clear, well-defined, specific, and measurable, generating seed keywords will be a walk in the park.
2. Put keywords into a keyword tool
Several tools are available to assist you in the keyword research process. One free tool recommended by the Shopify blog is Ubersuggest. Ubersuggest tells you the estimated number of times a given keyword is searched for on Google once in every 30 days. This helps you to prioritize your list.
Another tool suggested by Shopify is Google Keyword Planner.
The keyword planner tool is your direct access to information from Google pertaining to your keywords. Therefore it is higher in reliability and accuracy. But you will require a Google Ads account to use this tool. Next on the list is Ahrefs. This is an exceedingly advanced keyword research tool. Though the plans are a little expensive, it is used by industry experts for search engine optimization.
3. Appraise keywords based on volume and competition
After using one or two keyword research tools with the seed keyword in mind, you will get a list of keywords related to your initial search. The keywords generated will vary on their level of competition. You can create an excel sheet and add all the relevant keywords in it, color-coding them according to their level of competition.
Using the Google Keyword Planner, you can check the competition level of the keywords listed using the filters. With this information, you can shift through the necessary and not necessary keywords and appraise them based on the volume of searches performed on them respectively and the level of competition they have.
4. Think of keyword relevancy
Low and medium competition keywords tend to perform better. Now you can choose the best keywords from this list based on which ones best describe your site, posts, products, pieces of content, and services offered to you. Maintain the record of these on the excel sheet and add categories- volume, competition levels, long-tail, etc.
Refine your keyword list. It is essential that you cross-check the list of keywords that you have chosen. Make sure they are low in competition, have a high search volume, and, most importantly, if they match what product or services your store offers. It is natural to get a little carried away while compiling a keyword list. We tend to add a few extra keywords. The competition strength in keyword research tools represents the competition levels for paid search. To find results for organic research, find out which websites already rank well for your chosen keywords.
Be selective while shortlisting keywords and look for relevancy. There are avalanches of pieces of content available out there. Ask yourself, if someone searches for that particular keyword, will they land on an appropriate page or product on your site? Boil down your list to 5-7 primary keywords and keep an extra batch of 15-20 that can be used as secondary keywords. A broader list helps you keep your options open in case a few of the chosen keywords are not yielding adequate results. But make sure you have selected the ones that will be primary.
5. Create a content calendar and start writing
One timeless Shopify content marketing advice is having a content calendar. With a content calendar, you can plan content updates and ensure variety in the content you create. After conducting initial industry research and choosing the best time slots and channels for disseminating your content, you can plan it in a coordinated manner on the content calendar. Several organizing and scheduling tools are available to help you sort information on the calendar.

A content calendar will help you prepare what content needs to be posted, shared, or uploaded. A predictable schedule helps the audience know in advance what they can expect to see on your brand's social channels or blog site. An important Shopify blog tip: Create a sustainable content development schedule. One that does not overwhelm or burn you out.
Content is definitely the king, but quality content takes the cake. When charting content on your content calendar, make sure you create time-slots for engagement with the target audience's response, comments, and reshares, on your content. Make sure that you offer only high quality content. Be consistent with your style, tone, and manner of conveying information across social media channels and your blog site.
Conclusion
If you are an entrepreneur, there is no better place to learn the art of launching and developing your business than Shopify. Not only does Shopify provide you with tutorials, blog posts, collective knowledge, and informative pieces of content from other successful business owners, but it also offers you some of the best content marketing lessons. Shopify content marketing strategies rely on its keyword research. They maintain their efficiency and consistency with content calendars.
FAQs
1. What is the benefit of Shopify?
Shopify offers you an easy and hassle-free method for quickly launching your online store without worrying about servers and other developmental costs that are usually incurred in setting up an e-store. The interface is highly user-friendly. And you can navigate with ease, as the features are logically structured.

2. What is the main purpose of Shopify?
Shopify is a commerce platform that allows you to launch, build, grow and manage your business. With Shopify, you can conveniently set up an online store and sell your products. Shopify shop owners can also sell in physical locations with their POS, Shopify Point-of-Sale app, and accompanying hardware. 

3. What makes Shopify different?
Shopify is different and much preferred than other e-commerce platforms as it offers flexibility and ease of use. Added to this are the features of unlimited bandwidth and online storage. Shopify's online stores allow users to set up their blogs. Setting up a blog with high quality content will enable existing and potential customers to build a community online and grow their audience.

4. What platform is Shopify built on?
Ruby on Rails is the framework used by Shopify. Compared to Magento, it has more straightforward and logistical steps. Ruby on Rails is a vital core application on which hundreds of other apps run their application. Shopify's core application still uses Lutke, the original codebase.

5. Which is better: WordPress or Shopify?
For those who already have a WordPress website, it is more logical to go with WordPress for e-commerce. But in case you do not have a website yet, Shopify is a better choice. It is a dedicated and hands-off solution for e-commerce. Shopify hosts the user's site and provides all the necessary tools to set up a blog. In WordPress, the user has to host their own site and install plugins for e-Commerce tools. 

6. What is the backend of Shopify?
Shopify does not allow its users backend access. In case you want to change your own code, you can definitely do that on Shopify. If one wants to edit the files of their theme, they can select 'Themes' from the 'Online Store' in the 'Admin Panel.' Then, they can 'Customize Theme', and press 'Edit Code' from where the user can modify the files.