Content
10 Tips for Writing Epic e-Commerce SEO Content in 2022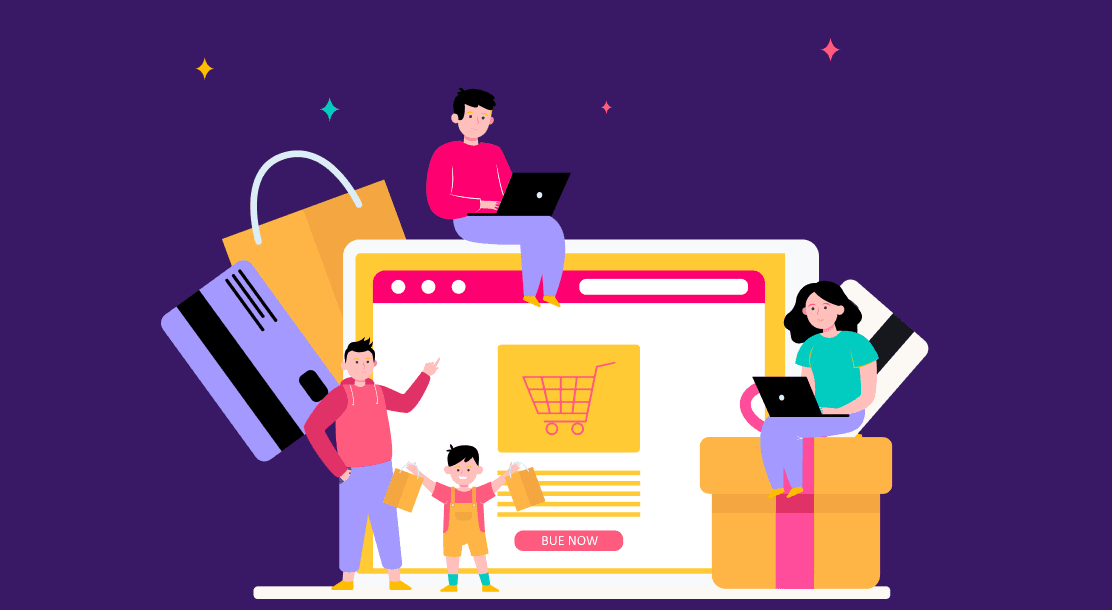 Want to write content that ranks for your eCommerce website? Check out this guide where we have mentioned 12 best practices to write e-commerce SEO content for your websites.
Search engine optimization (SEO) delivers the best ROI of any e-commerce marketing effort, yet most e-commerce websites are not built with search engines in mind. As a result, they depend on social media or sponsored advertising; both are excellent but require a steady flow of money and efforts to keep going.
There is no recurring cost after getting to the top of the search engine results page (SERP) when it comes to SEO.
Well-written e-commerce SEO content for your website is necessary if you're retailing products and want to reach the broadest possible audience. The more well-optimized your e-commerce website is to search engines like Google, you will receive more traffic.
Understanding SEO for e-Commerce
E-commerce search engine optimization is a collection of optimization techniques that help your website rank better in search results. SEO for e-commerce allows you to show up in more relevant search results, which will enable you to create more traffic, leads, and sales to develop your online business.
There are several ways to improve your online business' search engine rankings, including SEO for e-commerce. Your store's online exposure and foot traffic will improve thanks to a search-engine-optimized website with compelling content.
E-commerce content optimization is an inexpensive method of increasing traffic to your website by improving its visibility on SERPs. You want your page to be as highly rated as possible to get the most traffic potential.
You need to check that your website is optimized for search engines; from the keywords you choose to the technical structure of your webshop and whether your web store is mobile-friendly, all impact SEO optimization.
The reasons why SEO is essential for e-commerce are:
Primarily you help more consumers locate your products. Customers are actively looking for the products that your e-commerce company sells. You may increase product visibility and brand recognition via SEO for e-commerce.
E-commerce SEO aids in the dissemination of information about your company's brand. For those who have never heard of your company, e-commerce SEO is an excellent approach to introduce them to your brand. As a result, you enhance your brand awareness.
SEO for e-commerce provides a better audience experience. By investing in commerce SEO, you'll be able to serve your customers' expectations better. You need to optimize your website to rank higher in search results, which helps you give a better user experience and improve sales.
Search engine optimization helps increase revenues, which is the primary objective of any business. When prospects see your products through search, they take the time to examine them to determine whether they are a suitable match. The more relevant your search results seem, the more likely you will attract customers who are more inclined to buy from your company.
10 Best Practices for Writing e-Commerce SEO Content
Great SEO content for e-Commerce websites is crucial for sales funnels. You may increase your e-commerce conversion rates while also improving your marketing copy by blending creativity and precise optimization.
E-commerce business owners have to work harder to convince clients that their product is a good match since they don't have the opportunity to touch and feel the products before making a purchase online.
Writing content only to describe a product's qualities might be a costly blunder for budding businesses. However, web retailers need to write descriptions that assist them in drawing attention to their products' features.
Web retailers who don't underestimate the need for creative e-commerce SEO content have lower bounce rates and more excellent conversion rates than those who don't get this step right.
As an online retailer, it's not easy to stand out against the millions of other sites that compete for your customers' attention. The sheer number of e-commerce websites necessitates as much differentiation in your shop.
By following a few best practices, you may significantly impact your search engine results. As time goes on, this enhances your chances of being more visible and attracting more natural consumers and leads.
Let us delve deeper to discover how to follow the best practices of writing e-commerce SEO content to improve the bottom line.
1. Conduct keyword research to rank in relevant search results
You may optimize your e-commerce site in various ways and not all of them are appropriate for every site or product. Every online retailer should follow a few basic rules, and one of them is doing proper keyword research.
Your e-commerce customers use keywords to seek relevant products while using a search engine. You'll need the right keywords to get your products in front of potential buyers. To appear in relevant search results, you must choose the correct keywords for your product pages.
Start by browsing your product categories to see if there are any other keywords you can come up with. You may acquire a list of keywords to utilize on your product pages from this search.
Long-tail keywords are what you want to focus on while doing keyword research. Three or more words is the maximum length of a long-tail keyword. To increase the number of qualified prospects for your company, try using these terms. Long-tail keywords are often preferred since they bring in more quality visitors.
You may find success with specific short-tail keywords (keywords that just have a few letters in them), but you'll have to compete with many other businesses for such keywords. Even long-tail keywords in a search might make it challenging to establish the specific purpose of the searcher.
Long-tail keywords are far more specific in their search intent than short-tail keywords. The searcher's intent focuses narrowly on long-tail keywords than on short-tail ones. As a result, using lengthier keywords is essential to succeed in eCommerce SEO. You may also use Google's keyword planner to find relevant keywords.
2. Create helpful content
The content marketing plan for e-commerce should begin once you choose the main keyword and a few associated keywords. Content is a powerful tool for boosting your website's visibility in search engine results and bringing in more targeted customers.
You need to generate ideas for topics before you can begin developing content. Keep your content focused on topics relevant to your sector, and you'll see a boost in visitors. As a result, you'll better know what keywords your content should include.
To provide engaging e-commerce SEO content, include your target keywords throughout your page to let your viewers know what they're searching for. Avoid crowding your keywords if you want them to seem genuine.
As a rule of thumb, make sure your content fits the searcher's purpose while creating it. Use your keywords to find out what other businesses have to say about a subject. It will assist you in creating content that better reflects the searcher's goal, allowing you to get to the top of the results.
Additionally, ensure that the e-commerce content optimization and formatting are done right. Your content must have a conversational tone to rank high. The data should be presented in an easy-to-understand style. Avoid jargon and phrases exclusive to your industry.
If you want customers to discover the content they're searching for on your site, you need to simplify it for them to skim. Make sure that a reader can quickly access your content. Make it easier by using short paragraphs, bulleted lists, and headers.
3. Write eye-catching meta descriptions
You'll get a short description of your page below the title tags in search results. In a 160-character description, they offer an idea of what customers may expect to discover on your site.
Meta descriptions play a crucial function in supplying them with information about your website. With enticing meta descriptions, you'll see an increase in sales.
Your product or service description should contain keywords relevant to your audience. Including relevant keywords in your website's content can assist both Google and searchers see that your page is relevant.
4. Produce enticing title tags
SEO for e-commerce sites relies heavily on title tags since, in addition to keywords, Google examines title tags to establish the page's context. They have a direct impact on Google's search results. First impressions are made by title tags, which appear at the top of the search results.
The title tags for each page on your website should be drafted in a few minutes. If you want customers to click on your result, you'll need an appealing headline.
However, the most crucial thing to remember is to start your title tag with your core keyword. The first few words of your title are often all that searchers read, so it's critical that you immediately get their attention.
Keywords in your title tag will help your content rank higher in search results. Don't go over the character limit while working on your title tags. Your title tag only has 60 characters, so you'll want to use title tags with 55 characters or more. You run the danger of having your tag removed if you don't.
5. Create easy-to-understand URLs
In addition to improving the user experience, a simple URL structure may assist your SEO efforts in e-commerce.
Use your page's keywords to add context and aid in the recall of your URL rather than a bewildering jumble of random letters and numbers for your clients.
It's also simpler to share items on social media and other websites when your e-commerce site has a clear URL structure since it gives search engines more relevant data. With user-friendly URLs, your online business may be more accessible.
If you have categories or folders on your site, you may put them in your URL. A new tool for your consumers to track where they are on your website will be available. They should be as legible and understandable as feasible to get the most significant outcomes.
Here's an example of something you should avoid, for instance:
https: //www.example.com/article-about-hiking/
This URL format would be much more efficient:
https: //www.example.com/hiking-articles
A precise URL structure can help you rank higher in search results and create a better context for your visitors.
6. Boost your website design
All e-commerce sites must have a well-structured site architecture. This is because most online stores have thousands of product pages.
There are a lot of pages to keep track of, from category pages to specific product sites. You may create a flowchart for your website's visitors using the site architecture. SEO for e-commerce sites relies heavily on a well-designed site architecture that makes it simple for consumers to find what they're looking for.
For enhancing your website design; it is critical to keep it:
Well-organized
It's easier for consumers to go back in time if you have a well-structured route. Use breadcrumbs to keep track of where you left off. You can use navigational breadcrumbs for your site to be organized.
Scalable
You'll be adding new pages as you add items and content to your online shop, so make sure your website is expandable. The architecture of your site must be able to accommodate the additional features. Organize your categories so that you can quickly create new product pages.
When designing a website's structure, it is essential to think about your visitors. Determine how simple it is for visitors to discover the pages on your site by reviewing your site's structure.
7. Accelerate your e-commerce site's page speed
Today's consumers aren't ready to wait for a website to load, so page speed is a ranking factor. It is the time it takes an internet user to access a web page. Scripts, pictures, and stylesheets that aren't hidden from the user may all be added together to picture load time accurately.
Your conversion rate might rise up to 7% if your website loads in only one second faster. In addition, websites that load in less than five seconds have a 70% longer user session and a 35% lower bounce rate. Sluggish e-commerce sites may lose clients.
You may use Google's PageSpeed Insights tool to see how quickly your site loads. In addition to reducing the size of photographs, you may speed up your website by:
Reducing the size of large JavaScript, CSS, and HTML files
Making sure that your server's settings are correct
Hosting videos on third-party platforms like YouTube, etc.
Making sure that your server's settings are correct
Setting up caching in your browser to speed up page load times
Eliminating redirecting steps
8. Start backlinking for your e-commerce site
Backlinks are external links pointing to your site. They are an essential part of any e-commerce SEO strategy since they may both increase traffic and enhance the authority and credibility of your site.
Because search engines see backlinks as endorsements, you must build a backlink profile for your reputable and helpful website. High-quality connections bolster your site's trustworthiness. They may also affect your website's search engine rankings. The following are a few methods for building these crucial backlinks.
Composing guest blog posts
Building internal backlinks
Using social media to share content
Commenting on blogs and participating in forums (if allowed)
Advertising on social networks
Creating and distributing infographics on the internet
These ethical methods may take time, so don't employ shortcuts by purchasing links. Links purchased at a low price may be of dubious quality or violate Google's restrictions. Low-quality links may negatively influence your site's reputation and damage your search engine results.
9. Showcase your products using schema markup
Additional information regarding eCommerce SEO content may be included using HTML components known as schema markups. You can enhance e-commerce SEO by using these markups, and the product ratings, price, and stock levels are included in your search results utilizing schema markup.
Rich snippets may be generated by using schema markup. As a means of highlighting certain things in the search results, search engines use these. If you have schema markup in place, you'll better see those features appear in search results.
Customers will be more engaged and better able to make judgments throughout the research process if this information can be shown immediately in search.
Additionally, the adoption of Schema markup improves your e-commerce site's SEO. You may identify yourself as an online entity (containing your name, URL, and phone number) and indicate what things you provide.
E-commerce templates include:
Review Schema
This allows you to identify particular reviewers of your website or blog post and enables searchers to find product reviews.
Product Schema
This is an organization, product, or service extension. It helps online searchers find new products and services by offering comprehensive product data, including photos, prices, and availability. Product schema also enables product advertisements on SERPs.
Product Availability Schema
This schema gives details about the available products. An e-commerce site or a single page may be used to exhibit this for the customers. This list typically details the name, description, price, images, and variants of the products.
Price Schema
This is a method for pricing products or a price range.
Video Schema
Video schema describes the content and structure of videos. Video schema might comprise an audio language, video resolution, and video age rating.
10. Protect your online store
Encrypting the data you get from consumers is something you'll have to do as an e-commerce shop. It's essential for your customers to feel safe when they enter their payment card information and address into your website. If you want to keep people coming back to your site, you must ensure it is safe.
To do so, you may apply for an SSL certificate. An SSL certificate encrypts your site's data so that nobody with harmful intent can access it. Additionally, HTTPS (opposed to unencrypted HTTP) is prefixed to your website's domain name.
E-commerce sites must have strict security measures to protect their customers' personal information, and search engine optimization for eCommerce sites places a high priority. To boost your eCommerce SEO strategy, you must safeguard your website.
Key Takeaways
Keyword research to find out what clients are looking for in terms of keywords.
Strategic keyword placement in meta tags and text is an integral part of on-page SEO.
Use technical SEO to ensure that search engines can properly index your website.
Use content marketing to increase the number of organic visits.
Link building to increase your website's authority.
Using technologies like Google Analytics and Ahrefs to measure SEO success.
Conclusion
E-commerce SEO content improves website visibility, generates new leads and consumers, and builds brand loyalty. SEO for e-commerce websites takes time, so be patient. To be leagues above your competitors, follow the instructions in this article. If you lack time, you may hire a professional service provider to develop your e-commerce SEO content.
FAQs
1. What is e-commerce SEO?
E-commerce SEO is a strategy to boost your website's visibility in search engine results pages (SERPs).
2. Why do e-commerce websites need SEO?
SEO is vital for e-commerce sites. With it, your products will rank higher than your competitors' offerings for prospective buyers to connect on your site.
3. How does SEO help in e-commerce?
E-commerce SEO is an inexpensive way of increasing traffic to your website by improving its visibility in SERPs.
4. What should SEO site content include?
The most general keywords should be on the top-level pages of your website (homepage and pages one level below), while long-tail keywords should be in the site's tail.
5. What is a social signal in SEO?
Search engines use social signals to determine the popularity of a site based on the number of shares, likes, and general social media presence it has.