Marketing
5 Essential SEO Strategies for Small Businesses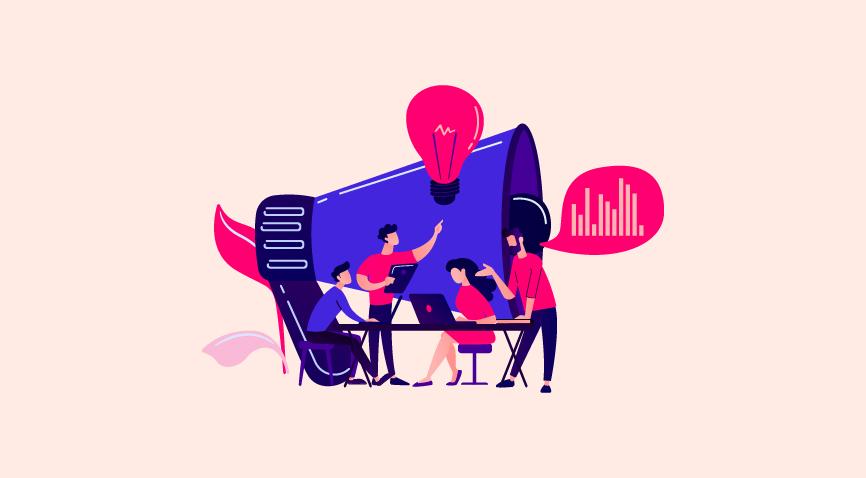 Table of Contents
Top 5 Tips for Small Business SEO
Conclusion
FAQs
Every small business owner wants to see their website ranking in the top spots of Google. And for this, they are putting in all the efforts to develop a robust SEO strategy. After all, there is no use investing time and money to develop a stunning website if your customers cannot find it, is there? This is when a powerful SEO strategy for small businesses comes into the picture.
Having said that, climbing to the top of search engine rankings isn't always easy. You may have been frustrated many times to see your competitors showing up higher on search engine results pages (SERP). But fret not, as we can help. Today, we look at some small business SEO tips that can help you improve your rankings on search engines. So, let's get started.
Top 5 Tips for Small Business SEO
In this section, we cover the five strategies that can help boost small business SEO.
1. Tap into emerging search trends
Every year, Google continues to refine and update its algorithm. And to boost your SEO efforts, you need to stay up-to-date on the latest changes. This will help you identify the best practices and develop content accordingly.
In addition, every online business owner must find service-related keywords and content gaps, where they can offer great value by issuing relevant content and addressing unique customer queries. The primary aim of all search engines is to find answers to customer queries. So, one of the best small business SEO tips is to produce content that satisfies users' search intent and directly answers their questions.
Also, small businesses offering eCommerce services must know how to optimize their product pages for SEO. This is one of the leading business SEO tips that immensely help improve your rankings. Unique and well-optimized content written specifically around your product not only answers customer queries but also boosts the overall rankings.
Content plays a crucial role in achieving a higher ranking on search engines. Unique and high-quality content that offers value to the readers not only obtains better rankings but also boosts conversion rates.
The best SEO strategy for small businesses is to create persuasive content that offers quality information to the readers. Avoid over-stuffing your content with keywords. Search engines are programmed to recognize when you are trying to game the system by stuffing the content with keywords for SEO purposes. People don't want to read such content, so search engines won't feature it in their results.
Pay attention to your headings. Use appropriate headings to lend a logical structure to your content. This grabs the attention of search engines and ensures a better experience for the audience. Also, try to offer a comprehensive answer to the most common search queries of users.
3. Use the right keywords
To boost small business SEO, you must focus on using the right keywords. And for this, there is a need to do in-depth keyword research. Posting blogs or any other website content that does not specifically target particular keywords has little chance of showing up on the top ranks of Google.
That said, you can use a keyword research tool such as SEMrush or KWFinder to identify the keywords people are searching on Google that match your business services. Make a list of the potential keywords and make sure they are frequently used in online searches. You can use a keyword difficulty tool to assess how easy or difficult it is to rank for each keyword.
Once you build your list, use these keywords on each web page to make it rank higher on search engines. Make sure to include relevant keywords in the URL, title, and metadata. This is highly important, as it tells search engines what your page is all about.
Another thing to keep in mind when developing an SEO strategy for small businesses is to use long-tail keywords. Such keywords signal greater search intent and must be captured.
4. Manage your online listings
In today's digital era, existing online and appearing in front of your potential customers is extremely important. Not everyone drives around to see what local options they have. Instead, they conduct an internet search to find their options. So, if your business isn't properly listed, you are certainly behind.
To begin with, you must create a Google My Business account. This is great for boosting your local SEO efforts. Google My Business is a tool that also allows you to show up on Google Maps. This means, if people are searching for "ABC near me" there are chances they will find you on Google Maps, at the top of the search results.
In addition, your industry may have unique opportunities for online listings. For instance, you might have a listing on a local restaurant directory or a Chamber of Commerce website. All these listings ensure relevant backlinks to let search engines know that your business is valuable and high-quality.
To boost SEO for a small business website, it is a great idea to write stories about the customer's interactions with the business, their experience, feedback, etc. These success stories or reviews are among the best things that can be published on a website.
They can really boost search engine rankings and improve the overall conversion rate. However small a step it may sound, it can drive more people to your business and strengthen their trust in your offerings.
Conclusion
Understanding how to develop a robust SEO strategy for small businesses can mean the difference between success and failure. The aforementioned small business SEO tips can help you boost your SEO campaign and ensure long-term growth. You'll be surprised at how this can boost your profits and grow your small business in a brief period.
FAQs
1. How does SEO work for businesses?
SEO is how you help customers locate your website when they search on search engines like Google, Yahoo, Bing, etc. By appropriately building your website and optimizing your content for keywords, you can drive more traffic and generate more sales.

2. Is SEO good for small businesses?
Yes, SEO is great for small businesses. Search engines use complex algorithms to offer exact results to people's queries. Thus, if you provide relevant and meaningful content, you can easily compete with both small businesses as well as big corporations.

3. What is the best SEO strategy for small businesses?
Some of the best SEO practices for small businesses include the following.
Align your content with search intent.
Create compelling tags and meta descriptions.
Optimize your page speed.
Focus on a robust internal linking structure. 
Manage your online listings. 
Share customer stories.
Improve user experience.
4. Which SEO techniques are in trend?
Some of the trending SEO techniques are as follows:
Enhanced user experience
Improved page speed
Better focus on user intent
More evergreen content
Interactive experiences
Website optimized for mobiles