Content
Learn Effective Ways to Create an SEO-Friendly Blog Post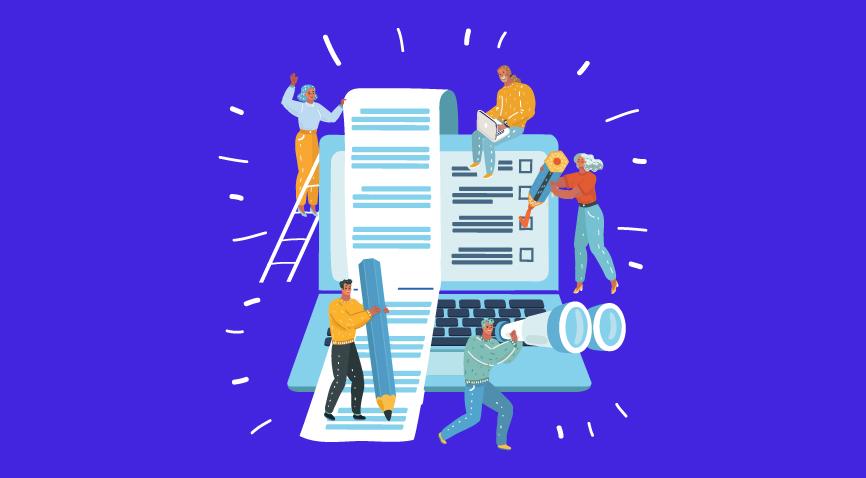 Table of Contents
Seo-friendly Content Writing Tips for Blogs
Think
Plan
Write
Optimize
Post
2. Key Takeaways
3. FAQs
Let's start by answering this question. When you first thought of writing a blog, what was the first and foremost thought that came to your mind? Was it, 'but what should I write about'? Or was it, 'am I good at writing about cooking, fashion, technology, banking, and lifestyle'?
Well, if these were your first thoughts, you had started out on the right foot.
But, like in all aspects of life, writing a perfect SEO blog post needs thorough planning and execution. With increasing competition with regard to attracting audiences, expanding the reach of your blogs, and attaining a higher ranking on the search engine results page (SERP), you need to focus and plan with additional factors in mind.
Some effective ways or steps that can help you write an SEO-friendly blog can be summarized as follows:
Seo-friendly Content Writing Tips for Blogs
1. Think
Don't rush into writing. Sit back and think through everything you want to achieve with writing a particular or a series of blogs, especially SEO blog posts. The points that you should brainstorm over include:
What are the areas that interest you?
Under the interest areas, what are the topics that you want to discuss or write about?
Do you want to write a single blog or a series of blogs?
Do you want to write multiple short blogs or one long descriptive blog?
How frequently do you want to post? Weekly, fortnightly, monthly, quarterly, etc.?
What solutions are you trying to provide to your audience through your writing?
Is there any specific goal that you want to achieve with your blog? Do you want to establish yourself as an authority in the selected subject or do you want to attract traffic to your website or want a ranking on SERP? Establish the goal, especially SEO goals.
For a better SERP performance, a blog should have a minimum of 300 words, says Yoast.
2. Plan
Once you are through with the brainstorming session and have jotted down the ideas about what topics you want to go ahead with, the next step is to plan how to approach and design the content for maximum impact.
In this step, you will be planning the following:
Structure of the blog:
Jot down the quick points that you want to add in the introduction, the body of the blog, and at the end. And plan a summary if you want to share a gist before the start of a long blog.
Finalize a word count depending upon your decision on whether you want to write a short or long blog. Though there is no scientifically proven number, a word count of anywhere between 500-2500 words is good.
Decide if the blog will be a listicle, a purely content-based blog or it will also have some images. Then shortlist the images that you want to use within the blog.
2. Finalize the keywords:
Research and shortlist the keywords that will make the blog rank better in SERPs.
Select keywords that are related to the content; a close match would be preferred.
Also, the more popular the selected keyword, the more benefit you will get from it.
The writer should also opt for some long-tail keywords as they have a better chance of getting a ranking. A long-tail keyword is a longer-form keyword and a more precise keyword. For instance, 'red color running shoes'. In other words, gun for a perfect SEO blog post.
An ideal 'Keyword Density' or 'Keyword Frequency' in content is 2%, i.e. in a blog with 100 words, the keyword should appear 1-2 times, according to Alexa Blog.
3. Decide on a title for the blog:
A title should generate curiosity amongst the readers, and they should be forced to click on it. But it should not be misleading or clickbait. Ideal titles usually read like 'Top 10…' or 'How to…' or 'Step-wise guide to…', etc.
The title should give a quick understanding to the reader of what to expect from the blog.
An ideal title should have 50 to 60 characters
The title should include the keyword
4. Call-to-action element:
Decide if you want to make the blog interactive and would like to add a call-to-action element to the blog. You can ask the reader to share your content over a tweet or WhatsApp, etc. if they have found it interesting.
3. Write
Now get down to the actual thing – the writing of the blog. Put the entire thinking and planning into words.
And while you are engrossed in the process of writing, remember the following points to come up with an interesting, useful, and SEO-friendly blog post:
The first and foremost thing that any writer should never forget is 'always write for the reader and not for Google search'. If your content is not fresh, unique, and easily understandable, no matter how many times you have added the keyword in the blog, it will not be ranked anywhere on SERPs. The keywords should be part of the content and not the other way round. Writers should refrain from forcefully stuffing keywords in the content.
Always write original and unique content. Plagiarized content is a strict no-no in the writing world, and search engines frown upon this practice. And, above all, plagiarized content can get you into a lot of legal hassles. Avoid it with a capital A.

Plan the structure of your blog in such a manner that you have clearly defined headings and short paragraphs. This will help you retain the attention of the reader for a longer duration.

If anything, what the reader dislikes most is not understanding the content because of incorrect spelling or wrong grammar. E.g., writing 'Tale' instead of 'Tail' can lead to miscommunication and confusion, and the reader might get confused, and eventually lose interest and quit your page.
Proofread your content multiple times to make it error-free and ensure consistency before you post it.

And lastly, write in such a manner and tone that even an eighth-grader can easily understand your content.
4. Optimize
As we prefer to call it, the next steps will be 'the operational aspect' of blogging. Follow these steps to create an SEO-friendly article for your blog without resorting to keyword stuffing in your content.
For understanding this aspect of blogging, refer to the following image:
The above image shows a search result page. Some of the elements in the operational side of the blog need to be optimized to get a ranking on SERPs. These elements are:
SEO title: A title that is shown on the SERPs and is the actual title of the blog too.
Permalink: It is the unique link for each blog, and it comes after the main website name (in the image, it shows as 'perfect-apple-pie').
Meta description: It is the short description of the blog below the title and the permalink.
The simplest thing that needs to be done to optimize these elements is to add your shortlisted keyword in these elements while creating the blog. This will help you get a better ranking.
5. Post
The ultimate goal, the raison d'etre of that blog, is to hit that post button and let the world learn from the knowledge that you have shared.
If you follow the tips mentioned above, you will come up with a perfect SEO blog post.
Key Takeaways
Think before you write.
Know the essential components of SEO blog writing.
Decide on the length of your blogs.
Avoid keyword stuffing.
Come up with unique and engaging content.
Avoid plagiarism.
FAQs
1. How to write a blog post for SEO?
1. Have a clear blog outline 
2. Structure your SEO blog post
3. Pick a catchy title 
4. Use correct types of headings 
5. Keep your content brief and to-the-point 
6. Add relevant links 
7. Reel in keywords and key phrases 
8. Optimize the blog post length 
2.

How to write SEO-friendly content?
1. Conduct a thorough keyword research
2. Structure your SEO blog post
3. Formulate SEO-friendly URLs
4. Optimize meta title and description
5. Optimize graphics 
3.

What is SEO-oriented content?
SEO is search engine optimization, which means optimizing a website so that it can be easily found via search engines like Google. SEO-oriented content includes keywords, key phrases, meta titles and descriptions, optimized images, etc.
4.

What are some SEO-friendly content writing tips?
1. Include headlines and subheads
2. Add links to previous content
3. Optimize the length of your article
4. Choose your keywords wisely
5. Optimize your images
6. Make the content shareable
7. Write well-researched content
8. Use content optimization tools
5.

How do I become an SEO content writer?
1. Study and practice SEO 
2. Build a portfolio
3. Experiment with your content 
4. Master researching quality content & references 
5. Leverage social media 
6. Sign up on websites for SEO gigs
6.

What is SEO content writing? 
SEO content writing is the art of writing content keeping the practices of search engine optimization in mind. The idea is to plan, create and optimize content with the aim of ranking it in search engine results.