Marketing
Real Estate Digital Marketing Campaigns: 4 Successful Examples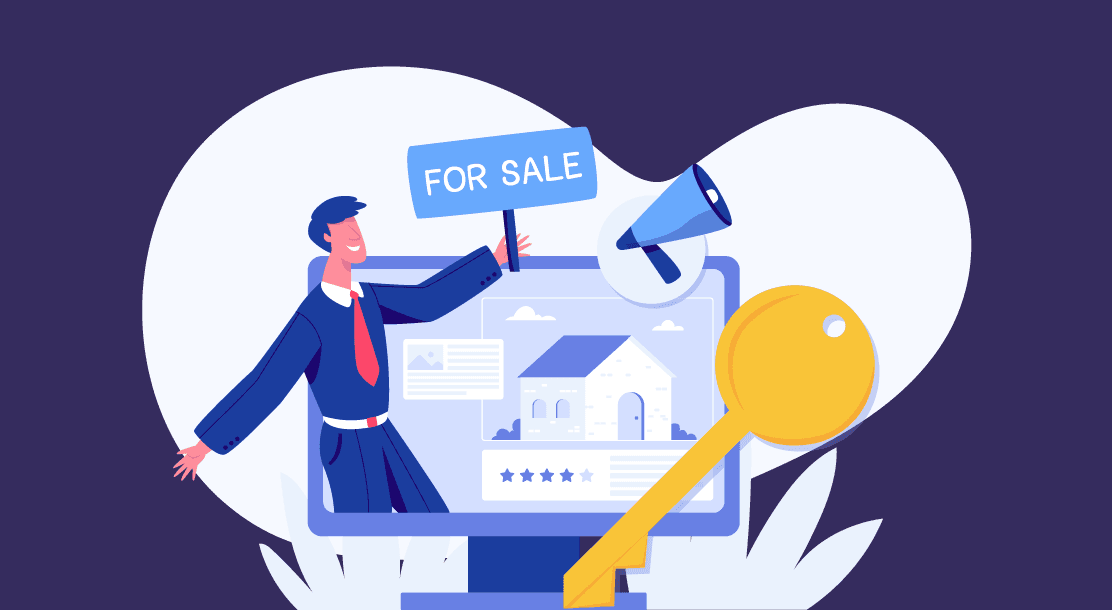 Table of Contents
How to Create Real Estate Digital Campaigns
4 Successful Digital Marketing Campaign Examples in Real Estate
Key Takeaways
Conclusion
FAQs
As more and more residential and commercial spaces emerge, the real estate sector is witnessing a full bloom. In such a scenario, the entry of new agents, intermediaries, and businesses is imminent. It's evident that amid such cut-throat competition, real estate businesses need to stand out to succeed.
A decade ago, real estate companies relied on traditional media for marketing. But with the advent of technology and shortened attention span of the consumer, offline marketing no longer cuts it. This is why top players turned to attractive real estate digital marketing campaigns to gain customers' attention.
In this blog, we talk about some of these campaigns. We will also discuss important digital marketing principles and strategies real estate businesses should adhere to. This will give you a good idea of how marketing has evolved in this industry.
How to Create Real Estate Digital Campaigns
How can real estate developers engage with India's next billion internet users? Much of the country's population is active on the internet. From a cup of coffee to a billion-dollar condo, everything is searched for, compared, and bought online. In such an age, real estate agents and companies need to step up their digital game to capture this huge market. There is a plethora of online channels real estate businesses can utilize to connect with their potential customers. Here are some of them.
Online directories
Platforms like Bing Places, Yelp, Just Dial, IndiaMART, and many others feature real estate businesses. Such online directories are a great way to gain visibility among your target customers who search for businesses like yours. Since the traffic on these platforms is already high, you need not make extra effort to be visible.
Social media platforms
Today, every business needs to have a social media presence to connect with customers. In fact, social media pages are more or less becoming testimonies of the credibility of any business. Real estate companies can lead the way by creating thought-leadership content and offering valuable information to their customers on social media channels, such as Facebook, Instagram, Twitter, and LinkedIn.
Google My Business
Google My Business (GMB) is an important part of building local SEO. It gives your business the necessary exposure as well as the tools to manage its online presence. On your GMB profile, you can add contact details, location, services, reviews, and much more. In short, everything a customer would want to know about your business can be showcased on this platform.
Paid ads
Paid search ads can be a great way to give that extra push to your real estate business. Google offers several types of paid ads, such as display ads, search ads, image ads, video ads, and more. Based on your needs, you can create attractive ad campaigns to promote your business. These ads also overcome geographical restrictions at an affordable cost.
Organic website traffic
While paid ads can bring quick results, the long-term sustainability of online marketing strategies depends on organic methods. That's why it is crucial to build your online authority through website SEO. It will also get you many inbound leads, which are more likely to convert, as compared to paid ads.
4 Successful Digital Marketing Campaign Examples in Real Estate
Many companies have nailed their real estate digital campaigns with out-of-the-box ideas and execution. Let's have a look at some head-turning digital marketing campaign examples in real estate.
1. Mahindra Lifespaces
Mahindra Lifespaces came up with one of the best digital marketing campaigns in the real estate industry. The real estate developer knocked it out of the park and got up to four times higher returns on its ad spend through a Facebook lead generation campaign. This was between December 2016 and December 2017. The company partnered with Social Beat to create a campaign for Indian and non-Indian buyers.
What stood out was its focus on video ads, including a special Mother's Day video that caught many eyes. The company utilized carousels to flaunt stills of the properties within a single ad unit. Moreover, it not only engaged with people who submitted their lead forms, but also with those who were in the middle of their buying journey.
2. Godrej Properties Limited
Godrej is a known name when it comes to great advertising. This is reflected in its series of real estate digital campaigns. In November 2021, the company launched one such campaign, known as "Everyday Joys", with the aim to create spaces that represent everyday moments of happiness.
The company created three heartwarming video commercials that reinforce home as the heart of the best personal memories. This campaign celebrated family life, community, and belongingness, which are all linked by houses. The campaigns were created by Ogilvy India. The videos were launched on all major social media platforms, making for a winning digital marketing campaign example.
3. DLF India
Through its digital campaign, DLF aimed to solve critical issues related to transparency and trust between agents and customers. The DLF Cares campaign, which was launched in 2021, was distributed on all online platforms as well as on-ground. The company broadcasted live videos of their employees who stood up for disadvantaged communities in critical COVID-19 times.
As part of the campaign, DLF employees contributed to sanitization, safety measures, electricity, and other basic services. The company also held live video interviews of the residents to reinforce transparency and trust among its customers. This real estate digital marketing campaign continued to spark positive conversations around the DLF brand.
4. 99acres.com
99acres.com has a reputation of coming up with hilarious and light-hearted ad campaigns that align with the brand's voice. Launched in February 2021, #NoTwistOn99acres is among some noteworthy real estate digital campaigns. The campaign highlights the accurate and factually correct listings on the company's website in a quirky manner.
The ad shows conversations in an Indian family, against the backdrop of a test match between India and England. The video ends with a surprising twist and great ad copy to emphasize on the genuineness of information on 99acres. The campaign was shared on all major social media platforms.
Key Takeaways
Online media has unlimited potential to grow and sustain real estate businesses. It's the only way to survive the cut-throat competition in the industry.
Companies can register themselves on online directories to gain visibility. Real estate digital campaigns on social media platforms can also boost brand value.
A good balance of paid search ads for short-term results and SEO for long-term organic results is preferable.
Mahindra Lifespaces did an outstanding job in utilizing Facebook ad formats. It resulted in a higher ROI and also lower ad spend.
Godrej showed us how emotions can be a powerful driver of consumer behavior in real estate business.
The DLF campaign emphasized on the need for transparency and trustworthiness in the industry. It also highlighted the power of social channels in ad distribution.
99acres taught us how a quirky tone can also work brilliantly in digital marketing campaign examples. It also emphasized the significance of accuracy and genuineness of information that a brand offers its customers.
Conclusion
The real estate sector is in dire need of great digital marketing efforts to survive. Since the entirety of the customer base has transitioned to online media, real estate digital marketing campaigns are unavoidable. In this blog, we discussed some great examples of digital marketing campaigns that all businesses can learn from and implement.
FAQs
1. What is digital marketing in real estate?
Digital marketing in real estate is a medium to promote the services and offerings of real estate agents and businesses online. It includes various channels through which businesses can acquire, nurture, and convert leads.
2. Does digital marketing work for real estate?
Yes, it does. In fact, digital marketing is now a must for real estate businesses to ensure survival. Since most customers are active online, it's important for businesses to market themselves digitally. Traditional channels alone may not bring in great results.
3. How do you attract high-end real estate clients?
The best way to attract loyal and high-end clients is by first establishing your authority. By providing valuable content and great service, you can attract quality leads. Your online presence also exposes you to potential high-paying clients.
4. How do digital marketing companies do real estate?
Companies use different online channels to showcase their services and brand proposition. This includes online directories, company websites, platforms like Google My Business, and social media. By continuously being active on these platforms, brands can attract many customers.
5. What are some examples of marketing strategies in real estate?
There are hundreds of real estate companies that make for great digital marketing examples. Some noteworthy names are Mahindra Lifespaces, Godrej Properties Limited, DLF India, and 99acres.com.
6. Is marketing important in real estate?
Yes, there's no doubt that marketing is important in real estate. It brings in new clients and ensures constant revenue for the business. It exposes the company to various opportunities for growth and expansion.