Pepper Content
Pepper Content Partners With Skillshare to Help Creators Upskill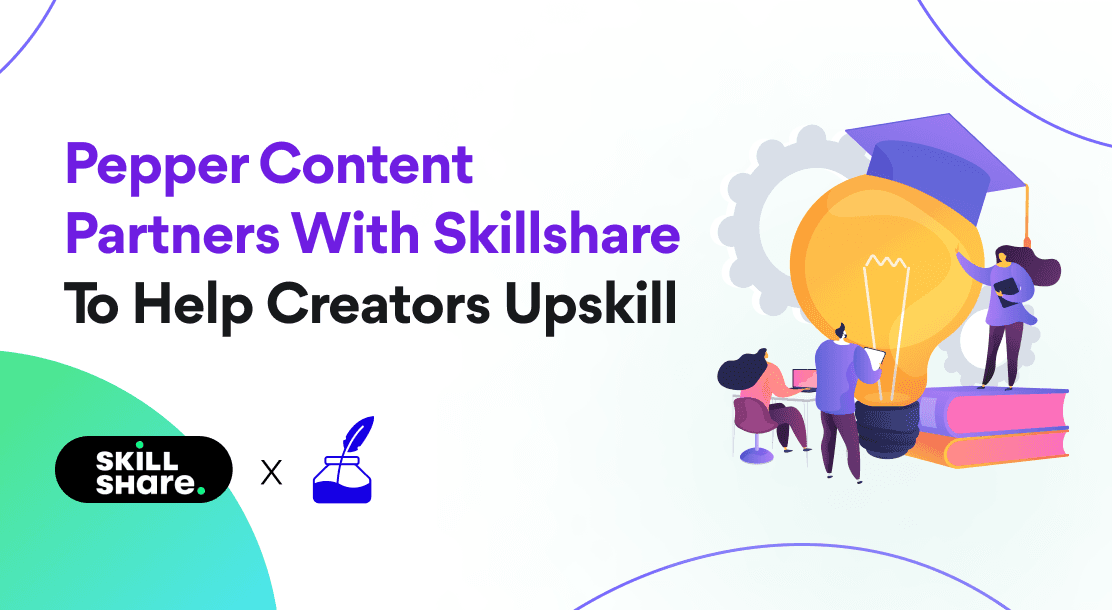 Content creation has become one of the most sought-after dream careers for both youngsters and those looking for a second career. Naturally, there is a deluge of information promising to turn you into a stellar creator, and yet, aspiring creators continue to feel lost when embarking on this path. Pepper and Skillshare have decided to solve this problem.
There Is No Cap on Knowledge
We are thrilled to announce our partnership with Skillshare, one of the largest community-based learning platforms. Since we are one of the world's largest content marketplaces, this partnership is a match made in heaven—two companies offering a solution to creators wanting to make it big.
We, at Pepper, deeply care about our creator community, and are always striving to add more value to your freelancing journey. We regularly add upgrades and features designed to optimize your efficiency. But we don't want to stop there. We regularly receive requests from creators wanting to learn and practice more. In that vein, we have decided to offer free Skillshare courses to select creators.
The Goal
"Learn as if you were to live forever."
The creator economy is a unique space. Having grown to Rs. 1,300 crore in the past couple of years (as reported by India Today, 2022), it holds opportunities for everyone to grow. It has a democratizing ability to place control and creative satisfaction in the hands of the creator.
It is no secret that we aim to become the number-one content marketplace globally, and we know that we can only grow by creating a culture that leaves no one behind. And our latest collaborator Skillshare operates on the same belief.
We want to empower the passion economy so that people have multiple ways of making money, a viable path to finding happiness in their purpose, and unearth unprecedented career opportunities. The future of growth is content and storytelling. And the rise of a global, empowered consumer community has put the necessity for quality content at the forefront.
We believe that learning is a lifelong process; and now more than ever, creators are required to equip themselves with skills that go beyond content creation. We are optimistic that this initiative will help you supercharge your creative process and introduce you to courses that will get you access to an untapped pool of knowledge.
How It Works
Skillshare has 35,000+ courses from reputed instructors, across diverse categories including design, photography, writing, editing, and more. Ten of our top creators will be handpicked every month, and will receive a whole year's worth of Skillshare subscription for free.
The ten best creators will be chosen based on the number of assignments taken up and submitted, the quality of work (lesser reworks, high approval rates, and consistency), adherence to deadlines, and milestones reached, among other metrics. In simpler terms, all you have to do is create winning content.
These online courses also have a practical component, i.e., projects wherein you can apply your learnings (we're all for hands-on training!) And have we mentioned that there is no limit to the number—and categories—of courses you can choose?
Once we have shortlisted the winners, a customized link will be sent to each, following which they can sign up on Skillshare and begin learning! For new creators, this is the best time to get into the business. And for those who've been around for a while, there has never been a better time for advancement.
The Top 10 Creators of April 2022
Michelle Lopez, writer
Sonali Srivastava, writer
Talha Shaikh, writer
Ishaan Mahajan, writer
Ayushmaan Sinha, designer
Varun Grover, designer
Ishwariya Ramanathan, translator
Raksha Shetty, translator
Mayukh Lahiri, editor
Andrea Lopes, editor
Your name could be on this list next month. So put your best foot forward and get cracking!