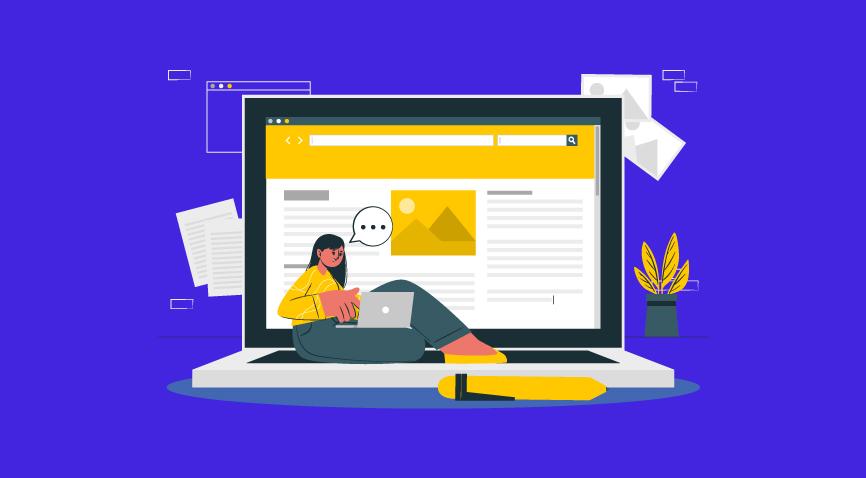 Table of Contents
The Lifecycle of a Blogging Career

Understand why you need to blog
Choose your canvas (or rather, your paper)
Do some math
Share with intent

10 Top Types of Blogs For Freelancers
Making Money as a Blogger
Conclusion
FAQs
Doubling as a creative outlet and a monetization tool, blogging is a unique activity that allows you to share your wisdom with the world. What could get more rewarding than that?
Whether you want to earn some extra income through a passionate pursuit or you're looking to make blogging your full-time freelance gig, there's much to learn about the brass tacks of the business. In this article, we tell you how to turn your knowledge and insights into a cash-flow project. And the types of blogs to start with.
People these days are considering blogging as an alternative to the regular 9-to-5 job. Blogging is a great way to express yourself, bring out your creativity, and nurture your passion – at the same time, it can meet your monetary demands. But, first, you need to know how to start freelance writing and the types of blogs you can experiment with.
The Lifecycle of a Blogging Career – How to Get Started as a Freelance Writer
1. Understand why you need to blog
In today's gig economy, finding networking opportunities that open doors for you is central to gaining a strong foothold in the market. Whether you're a mid-career technologist with a fervent mastery of 0s and 1s, an early-stage entrepreneur, a college grad with a passion for baking, or someone who just simply loves to write, your window of opportunity will shine the light on you when you can lucidly articulate what you know. Blogging is the one outlet that can establish you as an expert fairly quickly (even without a long resume).
One can start blogging about any topic that sparks interest in you and the reader as well. Don't forget that while you are free to choose a genre of your choice, and you are allowed to put your feelings into words, ultimately you are also writing for the target audience. The path to freelancing and blogging is not that buttery smooth.
To be frank, the picture isn't as rosy as the travel enthusiasts of Instagram will tell you. But, realizing that your freelance career as a blogger is a long-term strategy is the first step to creating a beautiful piece of architecture that routinely attracts valuable visitors to your website. Apart from giving you the ability to monetize, blogs are also a gateway to much more. Just know about the types of blogs to start with. With blogs, you can:
Land your dream job
We've all beefed up our resumes as freshers with innocuous details like 'passion for music' and 'enjoy reading', only to fumble at the last moment when the employer asks the inevitable question, 'Why do you want this job?' Well, if you are really passionate about your field of work, starting a blog is the best way to show and not just tell. Here's an example of how a fashion blogger landed her dream job as a merchandiser in a prestigious firm.
More so than other professions, this holds true for those who want to write full-time. Having a blog isn't just going to land you gigs but will also double as a bargaining chip for upping your rates.
Build your personal brand
If you're particularly interested in beginning your solopreneur journey, blogging is the best way to start. Here's how James Clear did it. His blogs primarily address self-care and living better principles. He's not just a published author now, but he has also delivered speeches at renowned companies like AmEx, Google, Honda, and Ikea.
Note that becoming your own personal brand doesn't mean your career is limited to coaching. There's much more that can be done. In fact, the e-commerce business marketplace, Groupon, which connects local businesses to customers, also started off as a simple blog. It's not uncommon for health bloggers and fitness enthusiasts to start their own product line as well. They knew what types of blogs to start with and found their niche.
Generate leads for your website
If you already own a company or plan to start one, leveraging the power of SEO through blogs will help you garner quality leads. In fact, SEO drives 1000+ % more traffic than organic social media, according to a brightedge.com report. It's a soft-selling tool that works very well for those who are partially interested or simply curious about your products or services.
E-commerce giants like Shopify extensively use blogs to drive traffic to their sites. It's a good example of how blogs act as a resource base for potential customers to decide why they need your product. In fact, Shopify's blog page goes beyond the norm and even advises its leads (usually small businesses) about how they can simplify everything from tax to shipping. This means that blogs aren't just a lead generation tool but also a great client servicing and PR exercise, helping you slowly and steadily build your online reputation as the turnkey solution.
Note that garnering leads through blogs isn't just limited to businesses but involves freelancers as well. Here's how Freelance Web Designer Arul uses his blogs to build authority about his knowledge on the subject.
2. Choose your canvas (or rather, your paper)
There are several popular blogging platforms on which you can start off your endeavor to build your audience – just know about the types of blogs to start with. Here are a few:
WordPress: WordPress is a website builder with incredible blogging tools. While the basic blogging service is free, you can go with their pro option if you want a custom domain name (such as www.itsmyblog.com). On the basic plan, your domain name will simply look like https://itsmyblog.wordpress.com. The builder is very easy to manage, and you get plenty of customizability options.
Wix: Much like WordPress, Wix is also a website builder. You can use it as a blogging platform with the Wix Blog App. The site has a very easy-to-use drag-and-drop builder that you can customize extensively. If you're not familiar with website building, Wix is much easier to use than WordPress.
Blogger: Blogger is Google's free blogging site. All you need is a Google account to start blogging here. However, note that it's easier to monetize your blog if you have your own website (like with Wix or WordPress).
Medium: Started in 2012, Medium now boasts of a highly enthusiastic blogging audience. It's easier to build your network on Medium than on other blogging platforms. However, monetization chances are low, and your audience is tied to Medium, so losing your account would mean losing your audience too. Most bloggers use a mix of both Medium and their own websites to build their audience.
As mentioned earlier, choose your canvas, but do so wisely. You need to focus upon your current scenario, future plans, and work as per a business model to get what you want. Getting a platform to build a website for your blog is a different thing, but taking your blogs to the target audience or the importance of a customized domain name or the route to commercializing your website and your blogs is another thing. Choosing a canvas is important if you want to learn how to become a freelance writer with no experience.
3. Do some math
To ensure that your blog is easy to read, you need to ensure that your website is well-designed. Here are some guidelines to follow:
Always use a banner image to make your blog look attractive.
Learn about SEO and make sure that your blogs are search-friendly.
Use tags and hyperlinks to increase traffic.
You need to track how many visitors you're getting, what kind of content they like, how long they're staying on your website, and whether they click the links you add to your blogs (basic math and statistics principles can go a long way in helping you analyze better). Use Google Analytics to understand audience behavior.
If you are using any of the above-mentioned platforms, then website builders like Wix provide you with statistics about the visitors. They also help with the traffic data of your website. You need to learn and analyze the taste of your audience and work accordingly to boost your blog. But before that, know the types of blogs to start with.
4. Share with intent
No matter what blog platform you're using, make sure that you promote your blog extensively on social media. Build an audience through LinkedIn, Facebook, and Instagram. One can always start the promotion from home, friends, relatives, colleagues, and contacts. They are the nearest ones who will support your blogs by visiting the website and sharing the content with others as well.
You can also use paid promotions like Google and Facebook Ads to garner initial interest. However, it's recommended that you do this only after having a somewhat populated website, i.e., at least 5 to 6 blogs are up. And there should be different types of blogs to start with.
Go SEO-friendly with your blog, so that people can actually find you and your website. Know your target audience and promote the blogs accordingly.
10 Top Types of Blogs For Freelancers
We missed a step on the lifecycle of a blogger – clarifying your purpose, after studying the types of blogs to start with. This is, in fact, the single most important thing you need to decide on before you start investing your time, money, and resources in blogging. Why?
The goal of a blog is to generate consistent traffic by building an audience that comes back to read your articles time and again. To do that, you need to be clear about who you are, what you do, and why you consider your blogs worthy of reading. The best way to do that is to start by writing about one topic you're particularly comfortable with. It can be any passion or hobby (or career line).
A very select few can break this norm; one such example is Ariana Huffington, who started HuffPost. But, she was on a mission to build a brand that could counter the narrative of Drudge Post. The fact that her blogs covered various topics was a consequence of the goal rather than the goal itself.
If you're unsure about what your blog should be about or the types of blogs to start with, here are some stats from RankIQ that could help you get closer to the answer:
Still not sure? We've got you covered with all you need to know about 10 types of blogs. Read on to learn from the best out there.
1. Food Blogs
A food blog is not just a monetizer but an essential starter kit for those who have a penchant for cooking. Even though social media and video content can be more appealing, good video editing requires special skills and equipment that may need heavier investments. Even if you've got it all, you still need a blog where you can give out the exact measurements. Plus, your followers who actually try your recipes at home will be much more pleased with a handy guide by their side than with having to skim through longer videos to remind them of the techniques or timings.
From restaurant reviews to homemade recipes, a food blog is a visual delight. Here's the Love & Lemons blog that immediately gives you a sense of classic farmhouse-style Smokehouse Deli vibes.
For the love of food, a blog is a fun project that can easily help you build a product line or cookbook to scale up your freelance blogging career within a few years.
Another inherent advantage of food blogs is that they benefit from trends without sounding condescending. You can choose to specialize in vegan, vegetarian, or keto diets or simply offer alternative recipes on your site. As a visceral part of existence, food communities are generally quite open and encouraging. Here's how Rachna's Kitchen highlights kid-friendly recipes as well as sparkling shrub mocktails.
2. Fashion Blogs
You may already be aware that fashion relies on a visual-heavy medium. So why start a blog instead of using the Instagram influencer model?
Vogue and Elle still perform well in eMag formats, and there's a reason why sites like Nykaa and Zivame have a very active blog platform. This is because there is so much more you can do with blogs that short-form content isn't optimized for. For example, 'On-trend look this festival season' or 'How to style a red tunic' are popular search terms on Google, for which blogs can provide the answer. Check how Jalisa Garon uses a specific 'outfits' section on her blog page.
Here's an example of a really well-laid-out blog by Sarmista Goswami with super-cool click-worthy content.
A blogging platform is also a good place to collate all your Instagram, Pinterest, and Facebook followers under one roof. Moreover, you can also expand to other niches more easily and test whether your audience is open to lifestyle and travel tips as well from you, using a blog. Here's how Akanksha Redhu does it:
In the interest of equality, here's a top-performing men's fashion blog from cheekily coined www.apetogentleman.com.
Top perks of being a fashion blogger? Free goodies arrive at your doorstep frequently, and you also get invited to major events. Keep going, and you may even get a call from the top brands around the globe.
3. Lifestyle Blogs
If you're the kind of person who has an interest in a variety of topics, including decor, travel, DIY ideas, arts and crafts, and food, a lifestyle blog could be the perfect choice for you. One of the first lifestyle blogs that garnered much attraction was Gwyneth Paltrow's Goop:
Lifestyle blogs can also rely heavily on niches as mommy blogs do. Here's how single mom Anupriya Kapur collates all her interests with the blog www.momontherun.in. She not only provides parenting advice but also has a separate section for her interest in coaching amateurs to take up 5K and 10K marathons.
Lifestyle blogs are definitely a hit these days when everyone out there is concerned about their health, looks, ambiance, surroundings, and much more. Whatever is your life's concern, that can be developed into a beautifully written lifestyle blog.
4. Finance Blogs
As the freelance economy catapults, money management has become an extremely important topic of conversation. Moreover, people are now more open to investing in the share market and improving their income. If you have a special talent for tracking the stock market, you can start your own blog and provide coaching or training to help youngsters stand on their own two feet. In fact, finance blogs are one of the best types of blogs to start with. Here is one of India's top options trader PR Sundar's blog.
However, finance covers more than just the share market. Today, we know different ways to earn money. Some are really doing well in their career with a handsome income. But not everyone is smart enough about managing their money. Financial blogging can provide that guidance.
You can advise on investments, insurance policies, and government schemes to educate readers about the finance policies available. Here's an example from www.bemoneyaware.com:
Even in finance, you can find your own niche by offering specific advice for a niche group. Here's an example from www.clevergirlfinance.com, which focuses on financial planning for women:
5. How-to Blogs & Listicles
Some blog types inherently use popular search phrases and bitesize content that easily draws a lot of attention. Listicle blogs use headlines like 'Top tips for' or '50 useful hacks' to get user attention quickly. Here's an example from www.10best.com:
How-tos are easy clickbait blogs that essentially tap into popular Google search terms. It's almost like the online version of the For Dummies books.
6. Professional & Tech Blogs
If you have a penchant for tech, a blog on your interests can get you started on a never-ending journal that lets you put out all your insights for the world to see. This is one of the most exciting types of blogs to start with.
If you are a technology fiend, then there is no dearth of hot topics to write about. You can write for yourself or maybe for some tech-based firm to promote a gadget, service, or software.
No wonder, there are dedicated print media pages and separate episodes on digital media that deal solely with technical stuff.
Tech blogs can cover various topics, from your favorite entrepreneurs and budding startup stories to the hottest software in the market today.
More often than not, sticking to a niche is much easier in the tech sphere. For example, here's one that purely focuses on Photoshop, aptly named www.photoshoptutorials.ws:
Apart from that, there are several other niches that you can cover in professional blogs. Professional bloggers can upsell niche B2B software products, and as a result, their per-click income for affiliate marketing tends to be quite high. Here's how Chatbots Magazine does it.
7. Movie & Pop Culture Blogs
While gossip-mongering sites often get a bad rep, it's important to note that there's an audience out there who truly cares for all things pop. If you have a genuine interest in movies and pop culture, you can combine clickbaity hits from top-performing artists with your nuanced reviews on movies and TV shows to garner a young and dynamic audience.
Be a movie critic, OTT reviewer, or simply a pop-culture promoter, youths out there are ready to get engaged in your content.
The ScoopWhoop story is one of the best examples of what impactful writing can do. And how choosing the right types of blogs to start with can help.
8. Inspirational Blogs
Inspirational blogs tend to collect successful or even just impactful stories and give them a blogtastic twist to encourage audiences looking for motivation or simply just positive content. This is one of the best examples of user-generated content. One such successful blog is www.tinybuddha.com.
However, there's more to inspiration than just deep thinking. The Better India is a collective that talks about people who put sustainability at the forefront.
9. Health & Fitness Blogs
Health and fitness are always trending topics. Once you get on the fitness wagon, there's no going back. These blogs are adept at garnering a dedicated audience with very little churn rate. India's very own startup HealthifyMe is a prime example of blogs that can boom in a relatively short span of time.
Moreover, health and fitness blogs benefit monetarily from showcasing healthy treats, protein powders, and dietary snacks available in plenty in the market today.
Here's the homepage of www.indianbodybuilding.co.in:
10. Travel Blogs
Although the pandemic has affected travel bloggers, be assured that they'll be back with twice as much vigor once it's all over. Travel blogs inherently do well because people follow you for two things – for living an aspiration virtually and seeking genuine advice from people who've been there and done that. Travel bloggers get the best treatment from top hotels, trending restaurants, and even gift shops. But most of all, they get the best benefits from hotel and flight booking engines. Travel blogging is one of the best types of blogs to start with.
Here's a snippet from popular travel blog www.traveltalesfromindia.in.
Making Money as a Blogger
As mentioned earlier, blogging is a long-term strategy with minimal returns at the start. But, as you grow your audience, you'll soon be able to do what you love and love what you do. There are several outlets through which bloggers can make money, and each has its pros and cons:
Through advertising: Most blogs carry Google ads on several visible portions of their site. While Google ads revenue isn't much, it's good enough to help your blog become self-sustaining. Be sure not to overdo it, as you might turn away your audience due to the constant barrage of distracting and irrelevant content.
Through affiliate marketing: Affiliate marketing is the process of showcasing other company's or people's products on your page. Amazon and even niche product sites have quite comprehensive affiliate marketing policies set up for bloggers. You get paid for displaying the products and for every click, and every purchase in varying amounts.
By upselling your own products: If you already have a product or you can offer services like courses or coaching classes, you can use blogs to generate leads for your product.
Established bloggers use a combination of all three monetizing strategies to varying degrees. While it takes time to do this, it's certainly a rewarding experience, especially if you carefully balance your main income and your freelance profession.
Conclusion
Whatever maybe your area of interest, be confident that people are here to seek genuine advice from you. Create robust content with meaningful insights, and people who learn from your experience will become your biggest advocates.
Blogging not only paves way for your passion but, in the long run, can provide you with an entire career. Nothing can flourish overnight. You need to put in the effort and do a bit of hard work combined with smart work to get the fruits. So, just groom your skills of blogging and you are all good to go on your freelance journey of blogging. Ready to get started on your freelance journey? Know the types of blogs to start with and then just go ahead.
FAQs
1. Can a blog be commercialized?
Yes. One can commercialize their blogging website through affiliate marketing, advertising, or by putting up products and services for sale.
2. What platforms can be used to start blogging?
A few well-known platforms like WordPress, Wix, Bloggers, etc. offer free as well as premium website-building services that can be used for blogging. 
3. What are some of the best genres for a blog post?
The genre of a blog post generally depends on your particular interest and taste. But blogs that are really performing well include food blogs, fashion, and lifestyle, tech blogs, healthcare, etc.
4. Can one choose blogging as a regular career option?
Choosing blogging as a full-time career option isn't that easy. One always needs to start from scratch, with little or no monetary gain initially. Though one can choose the field as a full-time career option, it is advisable to do so once you have established at least a small repo. 
5. What can be done to promote a blog?
The easiest and most common way to promote a blog is to make content SEO-friendly. It will make your content visible to more people. Otherwise, one can do paid promotions.
6. Can one write about finance?
Financial blogs are a great help to audiences who lack knowledge. People tend to look for assistance on Google and such blogs might prove beneficial to them.
7. Are blogs on the entertainment industry worth writing?
Yes. Sports and entertainment are the two categories that attract youth and teenagers. This is one of the best types of blogs to start with. One is surely going to get an enthusiastic audience with such blog posts.