Here are 9 steps you should follow to achieve an organized and successful content operations process that diminishes duplication of efforts and optimizes workflows.
As a content marketer, you understand that creating and publishing content is only half the battle. Content marketing is not just about creating content; it's also about how that content is managed, and distributed. To ensure your content makes a significant impact, you must have a streamlined process in place for managing your content. This is where content operations come into play. In this article, we'll explore the critical elements of developing an effective content operations process and why it's essential to your overall marketing strategy.
What is Content Operations?
Content operations is the big-picture view of everything related to content within your organization – strategy, creation, governance, measurement, and management. Content operations help bring order and structure to all of your team's content activities.
They also refer to the processes and tools used by marketing teams to plan, create, publish, promote, and measure their digital content effectively. It encompasses everything from digital asset management to editorial calendars and workflows.
To put it simply, content operation platforms are the backbone of any successful marketing strategy. Just like how a well-oiled machine functions seamlessly with all its parts working together in harmony, streamlined content operations allow your marketing team to create and distribute high-quality content at scale.
Content operations don't need to be daunting or complicated. It merely involves understanding who creates the content in your organization and how they do it. Once you have defined those processes clearly in a documented framework and implemented an efficient workflow system, you will empower your brand's ability to deliver amazing customer experiences.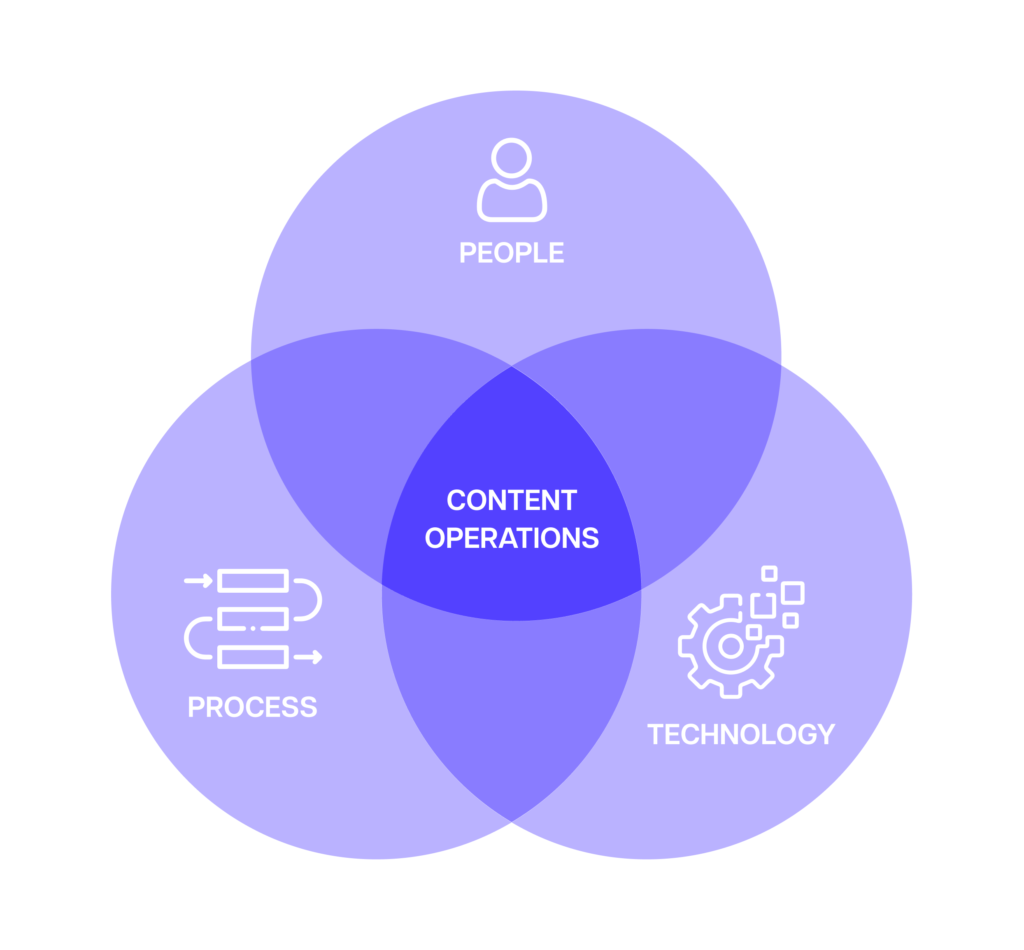 Why Do You Need Content Operations?
The simple answer is that streamlined content operations ensure the efficacy and efficiency of processes, people, technologies, and cost. The lack of a centralized process for creating or managing content across different channels like social media platforms or email campaigns can lead to silos among teams working on various channels. The result? Duplication of efforts and low productivity due to lack of clear direction.
Moreover, if you're involved in digital marketing or running an e-commerce website with frequent updates such as adding products or services pages weekly/monthly basis – streamlining the entire process can save time and money while increasing revenue.
Without a clear process for managing your digital assets and workflows, there's no way to ensure that every piece of content is consistent in terms of quality, brand voice, or reaches its intended audience.
An effective content operations platform allows you to streamline workflows between multiple teams while increasing efficiency so that everyone can focus on what they're good at.
For instance, if you lack proper asset management systems and accidentally overwrite or misplace files regularly –especially large visual files- this can cause chaos within your team and impact brand consistency across different channels on which these visual assets are published like website, social media, email campaigns, etc.
To get started on building a successful content operations plan for your company follow the nine-step guide below:
9 Steps to Build an Effective Content Operations Process
1. Articulate the purpose of the content
Every content marketing effort should have a clear purpose statement. Why are you creating content? What is the goal of your content strategy? This question needs to be answered before moving on to other aspects like ideation, creation, distribution, and management. Simon Sinek's famous quote applies here: "Passion alone can't cut it. For passion to survive, it needs structure. A why without how has little probability of success."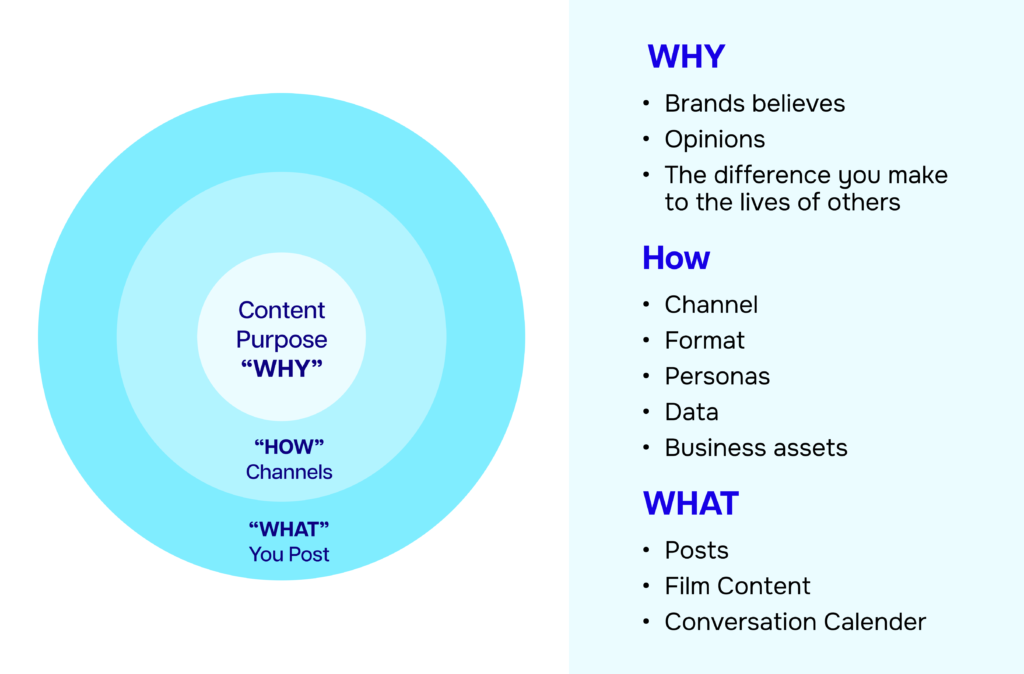 For example, If your company aims to build brand awareness through social media platforms, then your purpose might be "to increase our social media followers by 30% within the next six months." This clearly defines and aligns all teams involved in achieving that goal.
2. Define your content mission
After defining the purpose of your content strategy, it's time to define your mission statement. What is your brand's unique voice or value proposition? Does it align with or directly support a higher corporate-level objective and/or message? The clarity of your mission statement should inform all creative efforts.
3. Set & monitor a few core objectives and key results
Now that you have defined your purpose and mission statements, figure out how to determine success by establishing a few core objectives and key results (OKRs). OKRs are goals that provide quantifiable, measurable outcomes for each objective set out during planning.
For example, if one of your objectives is to increase blog traffic by 50%, then key results may include an increase in site visits from search engines or email subscribers over a specific period.
4. Organize your content operations team
With OKRs set, you need people to get the work done! An important step in building a streamlined content operations process is to define clear roles and responsibilities. Assigning specific tasks to different team members can help streamline workflows and eliminate confusion.
For instance, you could have one person responsible for identifying new topics to explore while another is responsible for managing the editorial calendar. By ensuring that everyone knows what they're responsible for, you can avoid overlaps or delays in the production of marketing materials.
Also, determine who will report to whom on the team so that everyone knows their role and responsibilities within the organization's larger framework.
5. Formalize a governance model 
Create a governance model to ensure adherence to agreed-upon goals across all teams involved in content creation, management, and distribution. Get buy-in from senior management advocates who can help you secure the resources and budget you need to execute your content operations strategy.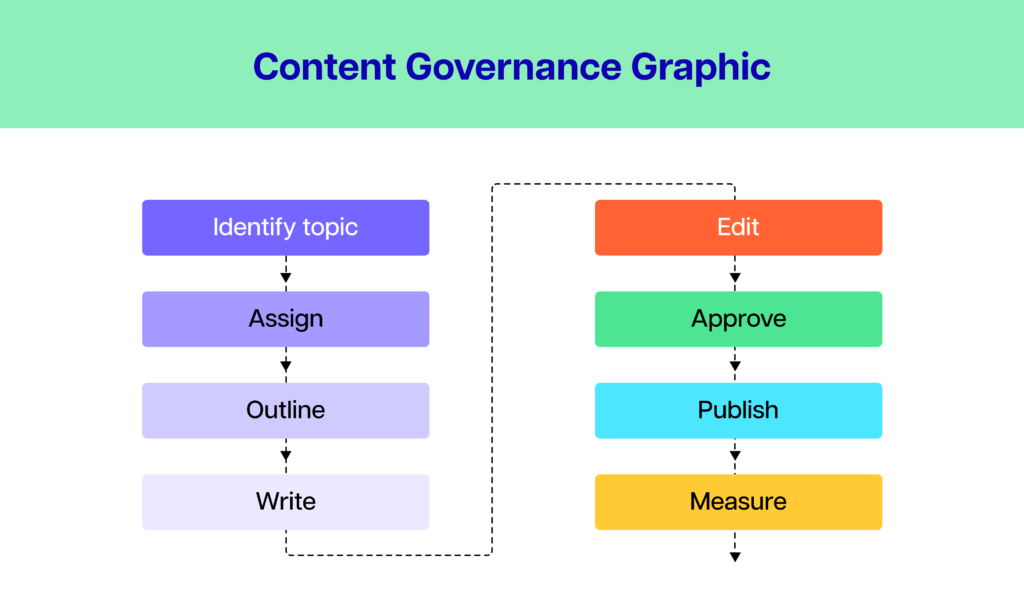 Maintaining records for all aspects of content marketing is essential in monitoring progress over time. Creating a comprehensive playbook outlining every aspect of your business strategy can help automate, streamline, and improve governance over time.
6. Set up a content asset home
Digital asset management is a critical component of any content operations platform or process. You need a centralized location where all your marketing materials are stored and easily accessible to everyone on your team.
There are several tools available in the market that can aid with this aspect of content operations – such as Google Drive; Dropbox, Bynder, etc., which allow easy collaboration and efficient cross-channel distribution.
To ensure all assets are well-arranged within these tools, consider adopting folder structures and file naming conventions that make finding assets easier along with strategies such as metadata tagging, etc.
7. Create efficient processes and repeatable workflows
Adherence to governance requires a clear line of sight into how content is generated from start to finish. Map out each step along the way, including identifying who's involved (internal and external resources), how progress is tracked, who the doers and approvers are, and what happens to the content when completed – all with an eye toward streamlining processes into a core workflow.
Developing repeatable workflows creates consistency in the quality of every piece of content produced. Techniques such as templating checklists can simplify the content production process while ensuring every team member has a clear understanding of their role in the process.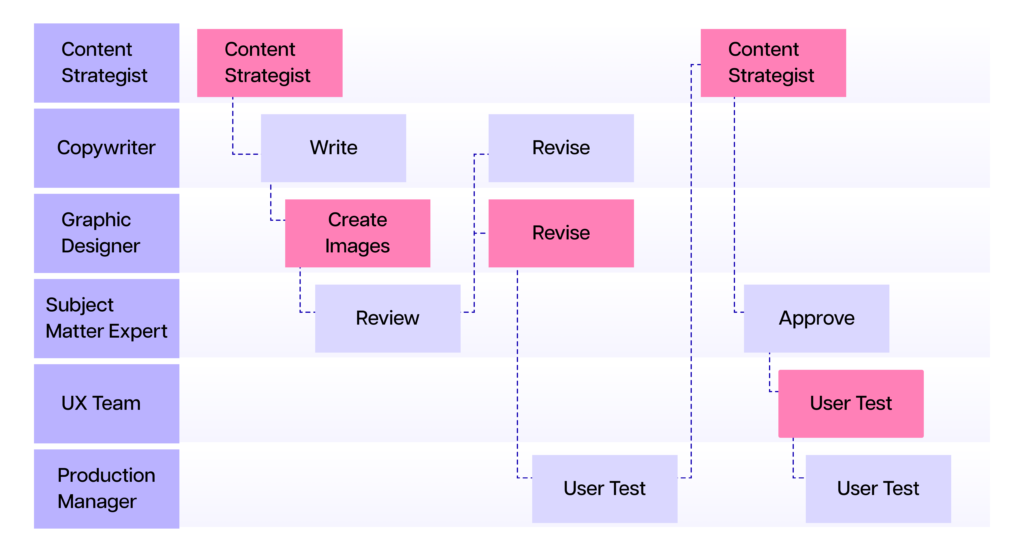 8. Deploy the best-fit technology stack
Review your technology stack and eliminate redundancies wherever possible while utilizing inherent capabilities within your existing tools to automate where possible. For example, if you run a campaign on the first Monday of every month, deploy technology to automate that process.
9. Measure performance and refine your operations process
Measure your results against OKRs set earlier in the process. Monitor performance closely and adjust as necessary to stay aligned with corporate goals.
Also, try to implement a review and quality assurance (QA) process. Incorporating feedback from external reviewers into your review and QA processes are crucial when improving the quality of your content output. Key questions to consider when setting up this process include who will conduct reviews and how often they will be conducted.
Developing a clear and effective content operations process is critical for businesses looking to streamline their marketing efforts. By following the eight steps outlined above, you can establish processes that increase productivity levels, maintain quality control, and drive growth. With a streamlined content operation process in place, your business will be ready to take on any challenge.
Introducing Pepper CMP
Pepper Content Marketing Platform is a powerful content marketing platform that empowers businesses to scale content marketing efforts by marrying enterprise workflows, expert talent, and Artificial Intelligence.
Most content tools work in isolation. Marketers subscribe to one tool for keyword research, sign into a marketplace to find the subject matter experts to actually create the content, use multiple spreadsheets to manage their editorial calendar and the content production process, and a plethora of other tools for analysis and more. Pepper's Content Marketing Platform is home to the most efficient tools in the hands of a marketer. Instead of function-first, it is built with a workflow-first approach, keeping the marketer at the front and center of its technology.
The platform leverages the expertise gained via Peppertype.ai, launched two years ago with a global base of 400,000+ users. Not only has AI been integrated into the content creation process through powerful prompts, but it is also placed strategically along the entire content marketing process, to shortlist and assemble the perfect team of creators and experts for a customer, define strategy through smart keyword research and intelligent features like Content Audit and Content Refresh.

FAQS
What are the benefits of implementing a content operations platform?
A content operations platform streamlines the entire content creation process, from ideation to publishing. By centralizing everything in one place, it eliminates inefficiencies and improves collaboration between team members. The platform also provides valuable insights and analytics, helping teams optimize their content for maximum impact.
How do I create an editorial style guide?
An editorial style guide is a set of guidelines that dictate the tone, style, and voice of your brand's content. Start by defining your brand's values and audience, then create a list of dos and don'ts when it comes to language, grammar, and formatting. Be sure to share the guide with all team members involved in content creation.
What techniques can I use to generate ideas for my content?
Brainstorming sessions with team members are a great way to generate ideas. You can also leverage data from social media analytics or customer feedback to identify pain points or topics that resonate with your audience.
How do I ensure a consistent brand voice across all channels?
Creating an editorial style guide is a good start, but it's also essential to have regular check-ins with team members to ensure everyone is on the same page. Consistency in tone, messaging, and branding across all channels is vital.
What is the best way to measure the impact of my content marketing strategy?
Metrics like page views, lead generation rates, and social media engagement are all helpful in measuring the impact of your strategy. However, it's important to tie these metrics back to specific business goals like increased revenue or customer retention.