Marketing
20 Creative Ways to Improve Digital Marketing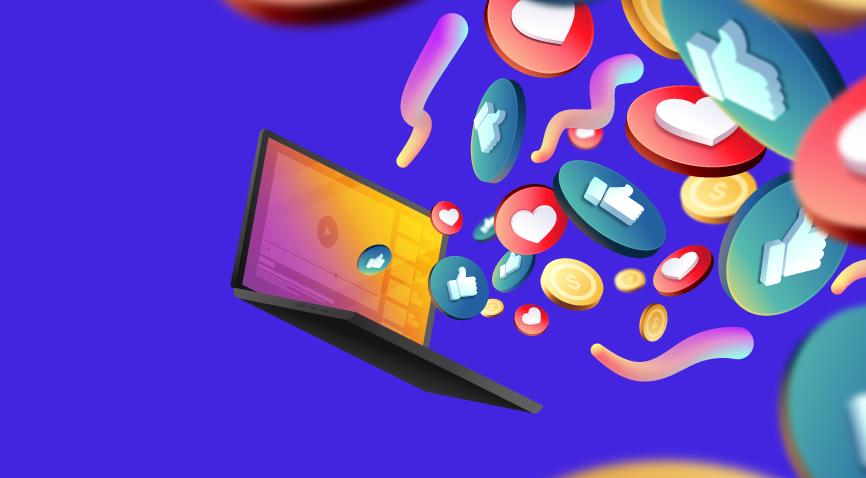 Table of Contents
Intro
20 Creative Ways to Improve your Digital Marketing
20 Tools to Elevate your Digital Marketing Game
Conclusion
Key Takeaways
FAQs
Over the past few decades, technology has slowly been enmeshing itself into our lives. Pretty much everything from retail to education has become dependent on technology and specifically, the internet. The same goes for business and marketing. Digital marketing strategies have taken the world by storm. Marketing is an art and digital marketing is no different. It requires creativity to be able to stand out in a crowd, and you probably already know that if you don't stand out in a crowd, your products and services aren't going to sell. Lucky for you that we're around to tell you how your business can effectively improve its digital marketing by incorporating the creativity that it needs.
20 Creative Ways To Improve Digital Marketing
1. Make use of data analysis
Data analysis is crucial to any business. Marketing techniques such as acquisition of customer insights and making customer personas can drastically boost the quality of your marketing. It ensures that you reserve your resources for parties that you know will be interested in your products and services. Analyze their purchases, engagement, interests and demographic data to get a better understanding of who your ideal customer is. You can then effectively cater specifically to their interests.
2. Email marketing campaigns
To a "millennial" and "Gen Z" crowd, emails may seem like they're on their way to being obsolete. However, that couldn't be further from the truth. Emails are currently the second most popular content distribution channels and are therefore still very effective. But what are the advantages of this strategy? By using email blasts, you can reach a large audience quickly and cost-effectively. There are different levels of creativity that you can exercise in sending out emails. Personalization is key to an email marketing strategy and if you can manage to engage your creativity in this aspect, you're likely to get a much higher click rate on your emails. A visually appealing email can do wonders to your engagement rates as well.
3. Digital advertising
Advertising has always been a part of businesses. In the earlier times, advertising of products was done via radio and newspapers, then on television. Even though these methods are still widely used, they can be expensive and may not be worth the price for your business. Today, you have inexpensive and effective outlets for advertisement such as social media, forums and search engines at your disposal. They have the absolute upper hand especially because they allow you to target your audience and set your budget accordingly. You can spruce up this whole process by effectively running A/B tests and making your advertisements visually engaging.
4. Content is paramount
It would be futile to have a conversation about creative ways to improve digital marketing without emphasising the importance of content. Whether you choose to express your brand and product through video, text, audio or images, the content must be engaging enough to captivate the consumer. Not only should it be engaging, but it should also be simple and easy to understand. Close to half of all buyers wish to engage with 5 pieces of content before even engaging with a vendor. So consistently producing engaging content is key to growing your business.
5. Visual appeal
When's the last time you entered a website or encountered a marketing email that didn't have some visual oomph to it? Apart from the actual content itself, your entire strategy must incorporate a visually appealing and user-friendly function and aesthetic. This means that your website, emails, advertisements, proposals, must all be visually appealing. Moreover, it must also be reflective of your brand. It would be helpful to hire a designer who knows what they're doing and whose vision aligns with the said brand.
6. Search engine optimization
This is a crucial step to improve digital marketing. By investing in SEO, your website will be visible among the top websites whenever a user types in keywords related to your business. This improves the chances of the user engaging with your website. The creative aspect of this stems from the kind of research you can do to figure out the keywords that best suit the algorithm as well as your content.
7. Identify digital platforms
The digital landscape is vast and it can sometimes be tricky to navigate it. You need to figure out which platform works best for you. Let your creativity loose across different platforms and formats and see which ones receive your content most promisingly.
8. Use social media influencers
Close to half of all social media users depend on influencer recommendations for products. This means that if you get an influencer to endorse your product, you have an automatic boost in sales. Getting to them is the hard part though. You need to already have a repertoire of content that backs your worth and creatively express your proposal in a way that will stand out. Maybe use a video or a song to stand out.
9. Add character
Sometimes you find businesses that don't do anything differently from competitors other than effectively project their charisma as a brand. Build a slogan, maintain consistency of your brand image and add character to your posts. It helps your business stand out.
10. Use videos to make content more visible
Imagine not just a visually appealing website, but also a video that pops up on the landing page, rather than a dull, testy website. Wouldn't you be more intrigued and captivated by the fact that information is handed to you rather than having to look for it? In any case, viewers retain 95% of a message when they watch it in a video, says invideo.ip.
11. Be mindful of posts
The last thing you want to do is offend your customers. There are multiple sources that advise brands to be controversial but especially if you are a small company, this could hurt your reputation and turn customers away.
12. Make use of referral programmes
Referral marketing allows the customer to market for you. If you incentivise the sharing of your content or products, you're more likely to get people to refer your brand to their friends, families and followers. This is important because it literally helps grow your brand exponentially.
13. Engage with trends
Whether or not you think internet trends are cringey, the evidence suggests that people like to engage with them. Incorporate the latest song or dance trend into your posts or have a go at the new 'viral challenge'. This increases your visibility and shows character.
14. Engage With audiences
Building a relationship with an audience makes your brand much more memorable. Interact with them via live streams, meet-and -greets and responding in comment sections.
15. Offer heavy discounts
Who doesn't like a good discount? Some creative ways of giving discounts are cashbacks or rewards. Cashbacks motivate customers as they get a direct benefit of cash in hand as compared to conventional discounts. However, vouchers help in gaining repeat customers.
16. Increase brand visibility
Many big companies are seen in interviews, articles or shows of major publications. These publications enjoy great viewership and contribute greatly to the sale of the businesses.Maybe you aren't getting interview requests but you can still approach other businesses to propose guest posts. This makes you visible to their audiences.
17. Stay up to date
Let's say your business has introduced a new product into the market and you've advertised it on your website but it's nowhere to be seen on your social media platforms. This will drastically cut your sales. Ensure that all your platforms are up to date with new, engaging content about new products. Also, keep updating content so users don't get bored of your page.
18. Market on podcasts
Podcasts have become quite popular after the social media boom. And the best part of a podcast is that it does not require a visual medium. They are highly accessible owing to the fact that you can engage with it without having to devote all your attention to it. It can be consumed on the go.
19. Leverage customer insights
Many times, businesses forget their most powerful source of information. Their customers. Use polls, questionnaires and forms to figure out what your customers' or audience's preferences are. For example, if you find that they value privacy very highly, you can make that a priority for your products. It puts things in perspective to know that 80% consumers are more likely to make a purchase when brands offer experiences personalized to them.
20. Get in major online retail stores
You have nothing to lose. Most online retail stores such as Amazon, only take a cut once your product sells, and a small cut at that. Visibility is more important. Put up some well-shot images of your product/service and get out there.
20 Tools to Elevate your Digital Marketing Game
Alright, we've given you some great insights into how to improve digital marketing strategies. However, much like Batman without his utility belt, your efforts are going to be much less effective without some handy marketing tools to help you out. Here are 20 tools that can help you take your marketing game to the next level
If you're looking for creativity, BuzzSumo is a tool to have. You can find new and popular content using a selection of keywords. You can also receive a breakdown of popular trending posts in those categories and a list of influencers who share keyword-related content.
2. Visage
This tool helps you create perfectly optimized social media graphics for any platform, with graphics templates that make it easy to sculpt your brand's style, tone and consistency.
Sprout Social is an all-encompassing social media marketing tool that features multi-level access that makes it easy for coordinating and delegating. Expect full post scheduling capabilities, a detailed analytics platform, and even a social listening tool.
Well, if you're looking for the "Oomph" factor, this is certainly a must-have tool. Upload multiple posts at the same time and schedule when each post should get published, across multiple platforms. The tool also offers intuitive follower analysis to improve audience engagement.
This is one of the most popular social media marketing tools. It lets you schedule posts in advance on several different social platforms. You can measure content engagement with its analytics tools and see how well your campaign is performing.
You know how we talked about connecting with influencers? Influential is a smart matchmaking platform that connects businesses with influencers across social media outlets. It is powered by Watson, IBM's powerful AI software to research your social media profile, finding those engaging with your content and how they're engaging, to pair you with influencers who match well with your brand.
Sometimes creativity involves conciseness. Bitly is a link shortener that fits on any platform. It is customisable, and can track your results with individual link analytics, ultimately helping you optimize your marketing efforts based on the insights you collect.
Creativity is best achieved in collaboration with multiple parties. With Loomly, built-in calendars, workflows and deadlines make both scheduling and brainstorming content a breeze. It in fact also helps users by curating fresh content based off of trending topics on social media
Audiense takes listening to a whole new level by helping companies identify and segment their social media audiences.This makes it easier to run laser-targeted ad campaigns and also dive deeper into your customer personas, digging into demographics, personality straights and beyond.
Whether you need to organise users into mailing categories, cater promotional campaigns to users, analyze demographics, send thank you or welcome mails, this platform does it all for you. You can even have access to several of these features for free.
A lot of users value their security and privacy. ZeroFOX is a security as well as a public relations tool that works with all major social media platforms. ZeroFox identifies and protects brands against social media hackers, removes disruptive and offensive content, and helps eliminate impersonation profiles. It even protects followers against scammers.
If Twitter is a big part of your social media marketing, this is the tool for you. Analyze and optimize your Twitter audience. The tool suggests people for you to follow so that you can grow your base.
AgoraPulse helps make mundane tasks like scheduling fun. Fun is always an integral part of the creative process.has all the basic scheduling and analytics features, helps run contests, quizzes, and promotions too. With their free trial itself you can see how your social media marketing campaign stacks up against your competitors.
Sendinblue is a marketing and communication platform that features both email marketing tools, CRM and landing page creation. With multiple design templates, Sendinblue's email design functions make it easy to create visually engaging emails.
WordPress is a hub for creative content and this is a tool that is essentially a giveaway plugin for the platform. Its drag-and-drop giveaway builder and viral giveaway templates help create fun online contests. The "verified bonus" feature lets you reward certain users with extra contest entries on specific actions like:
Follows on social media platforms
Views on a Facebook post/video
Visiting your YouTube channel
Sharing your content
This tool lets you engage with visitors at exactly the right moment. Its simple drag-and-drop templates help build visually stunning lightboxes, pop ups, and landing pages. Grow your mailing list, recover abandoned carts and more.
Curate content and relevant multimedia from various platforms such as YouTube, Instagram, Flickr, RSS feeds, and more. Thereafter, you can schedule and customize your posts on each platform and maximize the effectiveness of each and every post.
Canva is an absolute must-have if you're looking for a creative tool in your artillery. It helps you create wonderful visuals for your webpages, content and advertisements.
Adwords may not be the most inexpensive tool in the market but if you have relatively deep pockets, it gets the job done. With search ads, video ads, app ads and display ads all encapsulated in this tool, it can help your brand go viral.
Listening is also part of the creative process. Tagboard helps you listen to online discussions and keep a tab on hashtags and keywords of your choice. You can also monitor brand and product mentions, which is a boon if you want to keep track of engagements, which you should be doing.
Conclusion
There you have it. Some incredibly valuable insights on how to improve digital marketing creatively, so go forth and spread your creative wings and take your marketing game to greater heights.
Key Takeaways
Data analysis is always helpful for businesses. It helps businesses identify their target customers and build strategies accordingly. Hence investing in a decent data analysis software is crucial and gives the businesses a head start.
Use of various digital marketing tools and data analysis software can help businesses boost their sales.
Creative advertising is a key part to an effective digital marketing startegy.
Hire a good content designer so that the content of your website and ads are creative and reflective of your brand.
Make use of SEOs for a greater visibility on the search engines.
Engage with trends on social media to market your product. They are becoming an increasingly effective means of marketing.
Give creative rewards and incentives to customers such as cashbacks and coupons. These not only help the business retain the clients but also help in the mouth of mouth marketing.
Leverage the contributions of social media influencers. They can help the business reach a wide array of people quickly and cost effectively.
Using referral programmes to enhance marketing can help achieve literal exponential growth of reach and brand awareness.
Use podcasts as a marketing medium as they have a large viewership and can help deliver content in an engaging manner.
FAQs
1. What is creative digital marketing?
Creative digital marketing is a marketing technique that uses various new and creative methods and ideas to market the business and brand on digital platforms. Leveraging social media influencers, making creative videos, and making effective use of marketing tools are a few examples of creative digital marketing.
2. How do you become creative in digital marketing?
Being creative in the digital marketing space requires close observation of the market and the customers. Subsequently, you must figure out a way to make the USPs of your product/service stand out in a creative manner.
3. Is digital marketing a creative career?
Digital marketing is now the new norm in the marketing space. Conventional marketing has become obsolete and newer methods of marketing are replacing it. These new methods require creativity as they are now catering to audiences with shorter attention spans. Hence digital marketing is indeed a creative career where you require a balance of marketing acumen and creativity.
4. What does a creative marketer do?
Their main role is to add a creative touch to the marketing and content of a business. They usually take help of various tools and methods like video advertisement, campaign advertisement, implementation of rewards and schemes, marketing on social media platforms, etc. A creative marketer also studies the market and the behaviour of the customer carefully and implements a marketing strategy accordingly.

5. What does a digital creative director do ?
The main role of a creative digital director is to make content, especially video content for businesses on digital platforms. These platforms could include social media, Youtube, etc. The main aim of video content is to send the message of the company to the user in an effective and lasting manner. The video must be creative so that the viewer remembers it for a long time. An engaging video advertisement on a digital platform can boost the sales of a business rapidly.
6. How much do creative marketers make?
According to a study by Glassdoor, creative marketers in the USA make on an average $92,529 per year, while the lowest salary is $10,000 per year.