Marketing
How to Create Targeted Content for Every Stage of Your Marketing Funnel Automation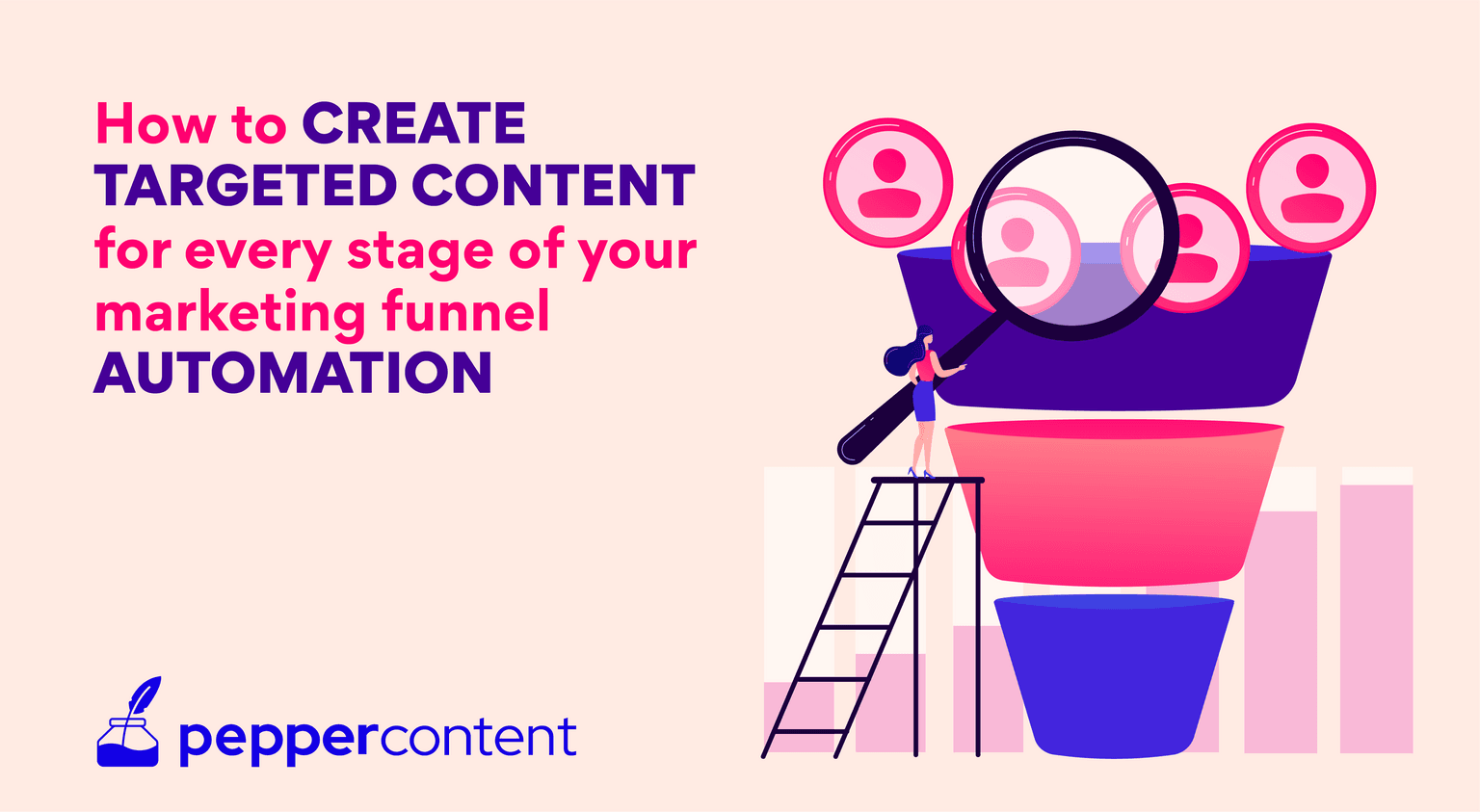 You must create unique and targeted content for every stage of your marketing funnel automation to ensure your leads turn into customers. Read on to know more.
Selling isn't that easy. It is more complicated today than it was decades ago. Because customers today have the knowledge of the world at their fingertips thanks to the internet. They can get all the information about competitor products, quality of services, and other discounts available in every online marketplace that exists. This is why the answer to how to do content marketing has become more elusive than ever before.
According to research conducted on the purchase pattern of consumers and it was found that:
An average client researches the internet, looking at around three to five content pieces before conversing with a salesperson, according to a HubSpot survey.
It was also found that 87% of customers start their inquiries on multiple online channels such as various websites and customer reviews.
Present-day purchasers are keen and savvy when it comes to buying new items. They check various bits of information before proceeding from one purchase decision phase to another. Let's look at how you can create unique and creative content for each stage of the marketing funnel automation.
How to Create Targeted Content for Your Consumer
The content that will push a BOFU customer to buy your product can include case studies, vendor comparisons, trials, consultations, and live demos, amongst other things.
The right content will enable the positioning of your brand as better than your competitors. Give your customer all the information required to support the customer in making that final purchase.
The main focus of the content marketing strategy is to identify and attract a well-defined audience, engage them and then drive action, the result being the sale of your product.
Now, let's look at the different types of content that fit into these three marketing funnel stages.
Stage 1: Creating targeted content to attract leads (TOFU)
1. Ads
Running advertisements is perhaps the most effective method of rapidly expanding your site's traffic. As a rule, you should focus on one of the two sorts of promotions:
Search engine advertisements (Google Ads)
Social media advertisements (Instagram, Facebook, YouTube, LinkedIn, Twitter)
Both are excellent methods of boosting your brand image. You will have to invest a little energy in sorting out who your potential customer is.
2. Landing pages
If you are running paid advertisements, then landing pages are where you will direct most of the traffic. When it comes to landing pages, these are a few things that big brands follow.
Always focus on putting forth reliable information.
Give details to your customers about a product or a service and tailor your page around that specific information. For example, if you have a camera company, your landing page should have the details of your latest camera and its features like ISO, shutter speed, and frame rate. Along with product details, you can also offer some discounts or cashback, so it becomes easier to capture new arrivals to your site.
3. Videos
For someone unaware of your brand, product, or service, videos are an excellent method of disseminating a ton of information within a brief time frame. Such leads either don't know your identity or have never seen your items, so you need to grab their eyeballs with really innovative and exciting videos.
Stage 2: Targeted content for engaging prospects (MOFU)
1. Blog posts
Now that you have successfully attracted your potential clients, it is time to keep them engaged as the next step in the marketing funnel automation process. Your leads have now seen your landing pages, tracking down your online presence, and now they know that your brand exists.
Informative blog posts are one of the best ways to engage your clients. A blog is where you can write and share interesting facts and statistics about your industry. Post more information about a product or a service, guides, advantages, and disadvantages, and write on other interesting topics. You can use blog posts as 'top of the funnel' content and during this stage.
2. Social media
Social media marketing can be an incredible method of pulling in new leads. Apart from getting new leads, you can keep your existing clients engaged and regularly offer them interesting content.
Stage 3: Content for delighting potential customers (BOFU)
1. Special offers and loyalty programs
Many online business brands use a straightforward 'one and done' approach. They need the present deal and never look at how they can pull in their past clients, who, as you will know, are more likely to purchase your products or services.
A simple, consistent, and well-known technique for delighting your prospects is to provide them with selective offers and run a loyalty program. Setting up a loyalty program will help you draw in and engage your best clients. It will make them return for more, and you can turn them into brand ambassadors along the way.
2. Case studies
Case studies are important for each phase of the client venture, including the 'delighting existing clients' stage.
In any case, the principal point at this stage is to reconnect, engage and delight your customers. You need a decent customer relationship management or CRM system that stores clients' information so that you can send coordinated and focused messages that, ideally, incorporate some notes and case studies that show your knowledge about the product.
Conclusion
We are living in a fast-paced world. Most people need to do their research, progress at their speed, and buy when they are prepared. So, companies that play a supporting role through this process with important, top-notch content are the ones who will keep on capturing the market share.
Those extra steps play a considerable role in making customers happy, leading to returning customers. These are individuals who will make a special effort to elevate your image. Therefore, creating targeted content for every stage of your marketing funnel automation is vital.
FAQs
1. What is TOFU?
Standing for Top of the Funnel, this is a section of the content marketing funnel that targets a large volume of leads. It includes those marketing activities that do not force the customer to buy but offer relevant information that tells the customer that your product fulfills a need or problem they are presently facing.
2.

How do I measure success for TOFU?
The success of TOFU activities can be measured by:

1. Reach: Total impressions by a channel
2. Engagement: Total number of interactions with your post
3. Consumption: Number of views or unique pageviews
4. Retention: Amount of time spent on your page
3. What is MOFU?
MOFU stands for Middle of the Funnel. It is a stage in the content marketing funnel where the marketer positions his organization as the best source of the product a consumer requires.
4. How do I generate good leads?
1. Identify the target audience
2. Start promoting your product or service
3. Create a marketing funnel
4. Create amazing content for the customer to consume
5. What are the three stages of the marketing funnel?
– Lead generation
– Nurturing the leads
– Acquisition of customers and expansion of the contact base