Marketing
How to Create a Landing Page That Converts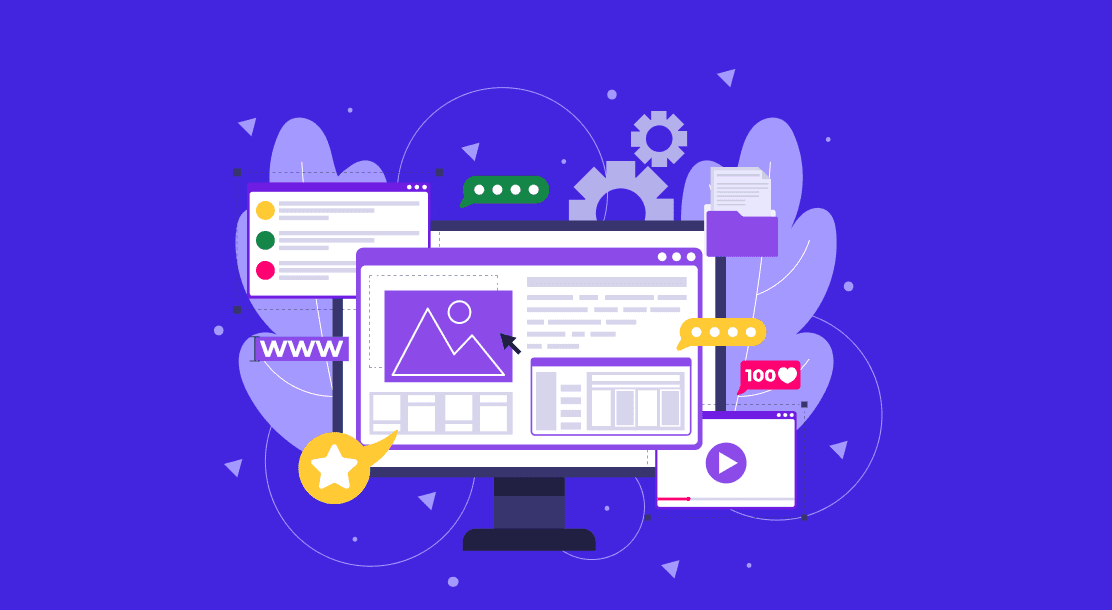 Table of Contents
What Is a Landing Page?
What Makes a Good Landing Page?
5 Key Landing Page Creation Tips
Key Takeaways
Conclusion
FAQs
Today, marketers face tremendous competition and challenges in the world of digital marketing, SEO, and paid search advertising. The first crucial step in successful digital marketing is to establish an online presence with a professional website that caters to the demands of your consumers.
That said, if you want to generate leads, referrals, and sales, a landing page is one of the best options to succeed. Developing a landing page can be a simple task if you learn the basics. Now the question arises, "How to create a landing page?" Before we get into the technicalities, let's understand what a landing page is.
What Is a Landing Page?
A landing page is what draws in leads and customers through interesting offers. It's usually a standalone page, which is strikingly different from the homepage or any other page. It serves a single, simple, and focused purpose. A landing page can give a special offer, piece of information, or a deal, in return for contact information. If used at the right time and with the right content, this page can help you attract 100% traffic. This is why it is extremely crucial for marketers to learn how to build a landing page.
If you look at leading landing pages, you will see that they generally offer incentives, such as an ebook, free trial, or free webinar entry, among others, in return for visitors' contact information. A good landing page will do its job by convincing a potential customer to provide personal details in exchange for whatever your brand has to offer. Experts in the marketing world suggest keeping multiple landing pages to target segmented populations.
What Makes a Good Landing Page?
A good landing page can do several things. Listed below are a few of them.
1. It zeroes in on the offer, not the company
Your company's future customers are visiting the page for a certain cause, and you cannot dupe them by not giving them what you have promised. It will severely impact your company's reputation.
While your landing page should be an extension of your company, it cannot solely talk about the brand. It needs to provide the visitor with some incentive to continue reading. Ideally, it should be in the form of solutions to your customers' problems.
2. It is free of distractions
The content on your landing page should consist of a clear value proposition and call-to-action. Cluttering the landing page will only confuse the reader.
3. The forms are not intimidating
Lengthy forms can overwhelm visitors and may motivate them to move on. If you can't cut down on your form, break it down into steps, and let the user see where they are in the process. For example, listing their name and address may be step one of four.
4. It speaks to a specific audience
Segmenting your customer base helps in targeting specific consumers through customized campaigns. Personalizing landing pages based on your audience's specific interest helps in greater engagement and lead generation.
Quality lead generation is highly achievable when talking to specific audiences. Demographic data collection should consist of more than simply a name and email address. It should also provide some idea of why a person decided to visit your site, and whether they will connect with your company in the long run.
5. It clearly guides the customers on the next step
A landing page should be designed in a way that it doesn't make the visitor feel lost or clueless. It should have links to other offers, social media profiles, or an email list.
Here is an example of a good landing page.
5 Key Landing Page Creation Tips
A landing page has one simple aim: inspire the desired action and explain the benefits of performing said action. Here are some tips on how to make a landing page that succeeds.
1. Choose a simple and eye-catching template
When designing a landing page, you can use a professional template. It will ensure your landing page doesn't only look good but also has a strong visual hierarchy that instantly attracts the visitor. A landing page should be made up of a single page, divided into separate sections. Headers, subheaders, buttons, and images need to represent the page's message powerfully and effectively.
When choosing a template for your landing page, keep in mind that increase leads and enhancing customer experience should be your top priority. Name your landing pages clearly. If multiple pages exist on the same system, the names can easily help you distinguish one page from the other.
2. Make it SEO-friendly
Another tip on how to build a landing page is SEO-friendliness. It is easy to optimize landing pages for search engines by using several advanced SEO features, which can help boost your chances of getting found through organic search. If you have a blog, you can add a link to the landing page within a blog post. This can be a good opportunity to get additional organic traffic.
It is equally important to decide on a relevant domain name and make sure all your links and CTAs are working. You can even create a PPC ad campaign on search engines and link it to the landing page.
3. Choose a striking design
One of the most significant landing page creation tips is to choose an impeccable design. Along with engaging content, your landing page should also feature striking images and other visual content that will make the visitor want to click instantly, and even discover more about what you're offering.
Keep the text informative, with enticing headers that will give visitors a reason to read on. Personalize the page so that it becomes unique to the brand's purpose. Keep in mind that colors should be consistent, CTAs should be clearly defined, and fonts should be legible.
In order to ensure these objectives are met, you need to go for a design that is simple yet powerful, one that delivers a smooth browsing experience. All buttons should be labeled with a clear microcopy, and they should stand out against the page's background.
Don't undermine this landing page creation tip. If you have a form on your landing page, communicate the benefits of completing it. Provide short, impactful blurbs of value that ultimately persuade the visitors to complete the process. Your content should be professional, colorful, and clean. Use graphics to attract the visitors, and add crisp sentences to describe them.
5. Test extensively
Test your landing page for dynamic content and user experience. Your content should display neatly on any type of screen. For example, if the logo does not appear as beautifully on a smaller screen, you must make the requisite adjustments. You must also analyze your page's overall performance before making it live. Regularly testing your landing page can help you gauge what's working for your audience and what isn't. A/B or adaptive testing can be done for analysis.
Key Takeaways
A landing page is a standalone page on your website that draws in leads and customers through interesting offers.
A landing page offers incentives, such as an ebook, free trial, or free webinar entry, among others, in return for visitors' contact information.
A good landing page is focused on the intent of the campaign and has clear CTAs.
Conclusion
One of the greatest advantages of a landing page is that it is comparatively easy to make. This means you can build more than one landing page and test the performance of multiple designs seamlessly. While you're at it, refer to the above-mentioned tips on how to create a landing page to gain marketing success.
FAQs
1. What is the difference between a landing page and a website?
While your website promotes your company from multiple sources, a landing page is to bring traffic from ads, and its sole purpose is lead generation.

2. What is a landing page in terms of digital marketing?
It is the web page where the visitors land immediately after clicking on a CTA through email, social media, or an ad. 

3. What is a Facebook landing page? 
A Facebook landing page is one that is attached to a Facebook ad. The idea is to entice your customers on Facebook and generate leads.

4. How to build a landing page? 
Some key landing page creation tips include SEO-friendliness, picking a simple template, including engaging visuals and content, and testing extensively.